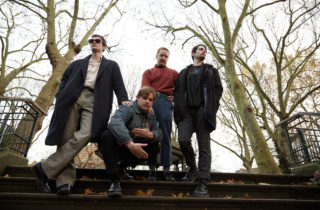 Do Nothing – The results are in, and it looks like everyone gets a big old slice of nothing
Songs about crooks and bastards from a Nottingham band informed by Simon & Garfunkel, "downer shit" and a commitment to keep changing
Chris Bailey has figured out how to be himself. The frontman of Nottingham band Do Nothing, who are set to release their debut EP early in 2020, might have taken the long route to arrive at this point, but the British guitar music firmament had better steel itself for his impact.
"In the past I've tried to be something else, I've always tried to emulate something that I like," he tells me. "But there came a certain point when I just started doing exactly what is me. We used to play quite complex music, but I just wanted to do something a bit more minimalist, that just had the ingredients that it needed and left a bit of space. And then later on you can add some fucking bells and flowers and shit when you've run out of simple things to do."
If 'LeBron James', the lead track from the EP, is anything to go by, then Do Nothing are not quite the simple band that he makes out. Kasper Sandstrom's guitar is clipped and chirrupy, slick and abrasive in alternating turns, grounded by the devious post-punk groove of Charlie Howarth's bass and Andy Harrison's drums, over which Bailey scatters a flurry of spoke-sung attack lines, a stream of non-sequitur exclamations. It is a wry, knowing track that side-steps the obvious confrontations of punk, detouring with unexpected left turns just when you feel you are getting a grasp on their character. As breakout songs go, it is a slam dunk.
The strangeness that lies at the heart of the track is no accident, and what's more, Bailey suggests that this is just the start. "In the future, I don't want this band to be exactly what it is now," he explains. "I want to have room to make something a bit more experimental. So that's what I'm trying to do, I'm trying to give enough indications so that when we get a bit weirder in the future, people aren't saying, 'what the hell is this?'"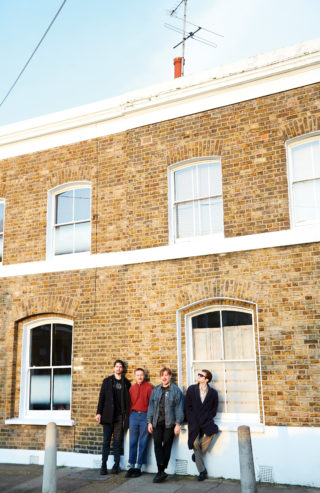 Speaking to me in between meetings regarding the shooting of the 'LeBron James' video, the sense of momentum is impossible to ignore with Do Nothing at the moment. They recently headlined one of The Great Escape's First Fifty shows in East London and have rapidly been building a reputation as one of the most formidable live acts in the country. In a year that has thrown up quite a number of sharp new guitar bands snapping at the bit, Do Nothing still stand out.
Bailey, when pushed, jokes that it could be described as "the Idles effect", although he is hesitant to say the proliferation is a reaction to the politics of the day. "It's definitely going around at the minute; there's definitely this post-punk wave happening now. But that wasn't the plan [for Do Nothing] initially, it wasn't like, 'oh, post-punk is the thing now, let's be post-punk'. We sort of started doing it quite a while ago and we've just happened to coincide with this nice little buzz around this kind of music."
With only three songs officially released, it is too limiting to categorise Do Nothing into any one style anyway. Bailey himself indicates that there could be reason to expect a greater darkness to creep into their sound palette over time. "My favourite music is really sad, downer shit. I love that stuff," he says. "That's an itch I want to scratch. I want to do stuff that's quieter and stuff that's prettier, but I think that will come. When I say sad, I mean like Alex G; his music is really beautiful in a really simple way. That's the flavour of his music; there's a drop of melancholy in it. I want to drop that into mine, if I possibly can."
Most of the early press around the band has fixated on comparisons with the dance-punk of LCD Soundsystem and the sprechgesang vocals of Mark E. Smith. Whilst the latter is an unavoidable mental leap that Bailey may have to get used to people making, the former rests entirely on a kneejerk reaction to one of Do Nothing's earliest songs, 'Gangs', which even Bailey accepts invites the James Murphy parallel. Whilst he does admire the work of Smith and Murphy, it's another luminary that Bailey has in mind when considering his own writing: "If I had to say somebody that influenced me it would be Tom Waits, in a way. In some of his stuff, he does spoken word things and his lyricism has a fair bit of humour in it which I took from him. My brother showed me him when I was young, and if I had to choose one of those people to be like, it would be Tom Waits."
Attempting to understand 'LeBron James' can feel like trying to triangulate the intentions of a tennis ball cannon, such is the seemingly random bombardment of barbed, witty lyrics, like: "The results are in, and it looks like everyone gets a big old slice of nothing." References to the 'Marge vs. the Monorail' episode of The Simpsons and the Fyre Festival documentary dart past your ears with sudden, surprising ease. When pressed, Bailey says the song is about "fucking bastards… you know, crooks", although he hastens to add that the eponymous 6'9" star is not insinuated in that accusation.
"It is all intentional, it's not just random and abstract," Bailey says, explaining the thought process behind his lyric-writing. "But a lot of it is very specific to me, almost in a way that makes it pointless for anyone else to listen to it. It's just dumb thoughts that I have and I express them in a way that means something to me. But it always has an overarching theme or reason behind it. It seems like a stream of consciousness thing, but it is all very thought out."
The four members of Do Nothing are long-time friends from their school days in Nottingham, playing in various bands until settling on the current lineup in 2017. As mentioned, their early incarnations tended toward penning over-complicated arrangements, due in part to their collective admiration of bands like Adult Jazz. Bailey's own musical background is a little more linear, however. "My dad is a folk singer in an a cappella group, which is adorable. I grew up with four-part harmonies ringing through the fucking house," he says, explaining that it has led to him having an indelible bond with the music of Simon & Garfunkel ("I love them endlessly, they're my favourite thing"). These days, they share musical tips whilst on the road, just as every band since time began, with their current obsession being Richard Dawson's 2020: "he is the king of new music, as far as I'm concerned," Bailey enthuses.
Their start in Nottingham came thanks to early support from the fabled venue The Maze, which announced its closure earlier this year, in a move that is echoed in towns and cities throughout the country. Bailey believes the loss of such institutions means it is becoming less easy for new bands to make their first steps. "I was thinking about this the other day: if I was a kid starting a band now, where the fuck would we play? I guess we'd play covers in a pub or something." Despite that, there is a tight group of young artists in the city that give hope that the independent spirit will triumph, from established acts like Kagoule, who Bailey describes as "the fathers and mothers of Nottingham alternative music", to newcomers like Megatrain and Alice Robbins.
With recording and mixing for the EP all but complete, thoughts are already starting to turn towards a debut album. "It is a very scary idea to me. I want it to not just be a collection of tunes that we've done. I want it to be its own thing," Bailey tentatively explains, evidently sensing the weight of his own expectations. It is already clear that Do Nothing are a band that think carefully about their every move. 2020, prepare yourself.
Loud And Quiet needs your help
The COVID-19 crisis has cut off our advertising revenue stream, which is how we've always funded how we promoted new independent artists.
Now we must ask for your help.
If you enjoy our articles, photography and podcasts, please consider becoming a subscribing member. It works out to just £1 per week, to receive our next 6 issues, our 15-year anniversary zine, access to our digital editions, the L&Q brass pin, exclusive playlists, the L&Q bookmark and loads of other extras.