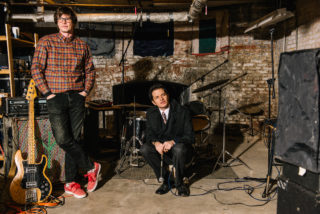 Ed Schrader's Music Beat – Post-punk inspiration in grief, caffeine and Dr Frasier Crane
Schrader and Devlin Rice in hyper conversation
"What I love about Frasier…" Ed Schrader explains as I attempt a well-timed interjection, "is you have different voices playing out these plots." He rapidly continues: "The dad's a rugged salt of the earth guy, Frasier's the posh egomaniac and then Niles is more Beta." Schrader's now at one hundred mph. "I feel like they are all playing out different aspects of an argument that I am having in my head," he finishes with a ta-dah.
"The thing is, you're going to have to fight to get some words in. He will just keep talking," long time friend Devlin Rice tells me, as Schrader pours another cup of coffee from his Baltimore kitchen. "Oscar Wilde said 'we are multitudes' but I digress, it's always good to relate to the young audience by making Oscar Wilde jokes."
There are multiple warnings from Ed Schrader's Music Beat about the length of our discussion but nothing prepares me for the psychological dissection of Frasier within minutes of starting. "My birthday was a week ago," says Schrader. "Mr. Dan Deacon gave me three different Frasier sweatshirts, one has the dog Eddie on it, another has the logo and the last one has Frasier wearing a very nice cardigan, probably taken in early Frasier and Cheers crossover days."
Ed Schrader's Music Beat are a provocative post-punk duo (comprised of Schrader on vocals and Rice on bass) who released two visceral full lengths in 'Jazz Mind' (2012) and 'Party Jail' (2014). In the years since they've added Baltimore's own Dan Deacon as Producer and created their new album 'Riddles'. Now they are a trio of Frasier super-fans and comfortable in their new skin. "We went in with a bunch of material, which would have been a logical follow up to 'Party Jail', says Rice. "We are proud of both records but it felt like we wanted to push ourselves to see what we could do sonically."
"I got to the point where I thought, well I could bang on a drum and yell 'Rats!' for the next 15 years or maybe challenge myself a little bit," says Schrader. "I feel like the early records are this big ink-well and you're scrawling images on the cave wall but with 'Riddles' we took out the felt tip pen and we wrote the constitution, we tattooed it on Dan Deacon's back."
The result is a remarkable album by three friends determined to break new ground. With Deacon on board for his first project in this role they've created a rich textural landscape far beyond their previous work full of beautifully dense pop songs that are still enjoyably off-centre. "That's true," Rice says, "this process really brought out abilities which we haven't been able to tap into before. You see Ed at karaoke and he's normally burning the house down…" He laughs as Schrader croons away in the background. "Don't go breaking my heart," he gladly sings before explaining, "I look forward to the studio as most people would look forward to the dentist but Dan made it feel like home – we were literally in his home.
"Dan would get me to sing a song I was familiar with so he'd say how about Police's 'Tea in the Sahara', which is a really trippy song where Sting is singing about a mythical figure, so I would keep singing that over and over, then he'd shout OK change the words, now change the tone, now just get rid of the words and hum, now think of something red, now something blue, it was like What about Bob?, you know?"
"Dan was Richard Dreyfuss," laughs Rice.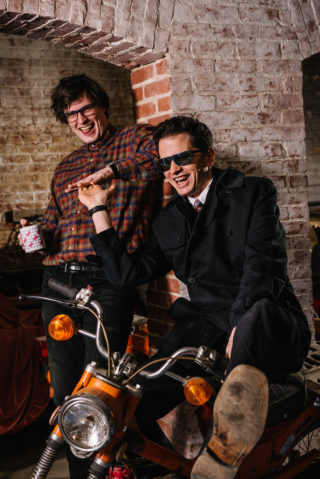 A tight unit who stayed up all night recording after watching Bar Wars on cable TV (another lengthy digression), the newfound patience paid off. "There were songs that sounded like b-sides for 'Party Jail' and Dan said let's take a step back," recalls Schrader. "He said, 'hey I really enjoy these demos but I think you need to say something new.' Meanwhile, as John Lennon said, life is what happens when you're busy making plans and there were all these tumultuous life issues that were happening. Dan was having relationship problems and both Devlin and I dealt with death in the family. My stepdad died and that's who a few of the songs on the album are about. When those types of things happen you are sucked into reality. A lot of my early art I would put on different hats and I feel I was running forward and when he died it forced me to stop and be present." For a moment there is silence. "When he died I was in Puerto Rico standing on top of a mountain," he continues. "He was someone I had a mixed relationship with so I didn't know what to feel at first; I thought I will just go about my day and get through it. We got into the car and started driving and this Phil Collins song came on from the '80s and he was a big fan of Phil Collins – as soon as I heard it I lost it. It was called 'Do You Remember', it really pulls the heartstrings.
"I apologised to my girlfriend for making the whole day weird and she told me it was OK. Meanwhile we are zigzagging this crazy mountain and there were chickens on the road. I started laughing because I thought he would appreciate this."
"It's all in the song 'Culebra'," says Rice. "Just take a listen." Which I do. The closing track of the album, it's a haunting tale full of Schrader's typically cryptic lyrics but there's something more direct about this new shape that takes the breath away.
And it wasn't just Ed who experienced upheaval during the recording process. "Upheaval seems like an understatement," says Rice. "My brother died when he was 28 of Cystic Fibrosis. In the last 5 years of his life as his world became smaller I moved back home with my parents to help with the maintenance. Having conversations with him about death and being with him as he died as a family was incredibly beautiful. In a snap moment, everything in my life was answered, I felt very strongly pushed in a direction with the band, being away and being on the road made sense to me. I just thought this band is so cool and I love it so much."
Somehow the topic turns to coffee again. Rice puts on another pot as Schrader tells me about their favourite vice. "It blew Dan's mind because he only just started drinking coffee towards the beginning of recording," he says. "He was like, 'Jesus guys you drink so much of this stuff.'" It makes sense when you know that Rice has a job roasting specialty coffee. The band are even running with their own blend (Ed Schrader's Music Bean's) to coincide with the album release.
Is this the reason you talk so much, I ask. "Yeah," says Rice. "Good luck trying to wind it down as we just keep going."
Free Protomartyr flexi disc with this month's magazine
Subscribers to Loud And Quiet now receive a limited edition flexi disc of a rare track with their copy of the magazine
This month's disc is from Detroit punk band Protomartyr