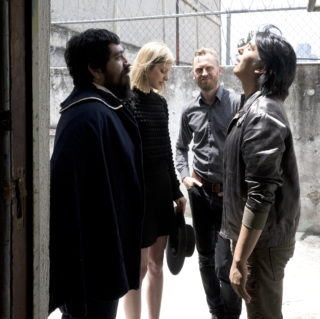 Anika returned to music by accidentally forming Exploded View
My interview with Anika takes place over Skype on a hot blue June afternoon. She's at her home in Berlin and I'm in the kitchen of a rented apartment in Harlem, New York. In the week leading up to our chat a series of violent events has played out on both sides of the Atlantic, reverberating across continents and plunging almost everybody into a dark, contemplative mood. First, Christina Grimmie, the 22-year-old musician who came to prominence on America's reality singing competition The Voice, was shot dead while meeting fans after a concert in Orlando, Florida; the next day over 100 people were gunned down at a gay club in the same city; 49 of them were killed, many survivors remain in hospital with life-threatening injuries. As the world reeled and the media tried in vain to explain these unexplainable acts, Jo Cox, a UK politician and mother of two young children, was murdered in broad daylight as she met with her constituents in Birstall, West Yorkshire. Although we're on different continents, recent events have closed the geographical gap. The distance seems small.
Before the interview, I spend the morning listening to the self-titled debut album from Anika's new band, Exploded View, a collaboration with Mexican musicians Martin Thulin, Hugo Quezada and Hector Melgarejo. 'Exploded View' is a thoughtful, contemplative post-punk record ("to be honest I would have termed it 'school band post-punk,'" Anika tells me, as we mull over the genre of the work. "What would you call it?" My answer, "erm, experimental pop?", is met with an unimpressed silence). Dark, rhythmic and remarkably prescient; the first single, prophetically titled 'Orlando', is a mournful musing on the fragility of life. It could have been written as a tribute to the Florida massacre, although it was, in fact, recorded in 2014.
"Yeah," Anika sighs when I ask her about the song title, as if her feelings on the matter are too vast to articulate. "That was the thing. It was really a strange, strange coincidence when that happened the other day; when that happened with the name – we've been talking a lot about it as a band."
The song was actually named after Virginia Woolf's novel, Orlando: A Biography, and the repeated refrain, 'Life, it sings / Or croons rather / Like a kettle on a hob / Life, life what art thou?', is a direct quotation from that book. In an email I receive a few days after our interview, Anika tells me that "the main character [of Woolf's novel] has become a symbol to all those who believe they can free themselves from the restrictions imposed on our bodies, on our freedoms; the song is a celebration of life's simple pleasures; of union in our differences." In this way it seems an ideal record to release right now, and the ties to the terrible shootings in Florida only serve to underpin the message — although Anika is, understandably, nervous about appearing to cash-in on a tragedy.
"It's a very difficult issue and we're still figuring out what to do, because obviously we want to be respectful to the people [involved in the massacre]," she says. "And it's difficult. Do we change the name of the song? Or do we release it and then speak a lot about the events? Which I think is an important thing to do. But it's tricky.' And it is, indeed, a delicate balance to strike; on the one hand being given a platform to speak out on world events, and on the other, taking care not to fuel the fire of hatred that's behind such violence. "As musicians, as people in the public, you definitely have a responsibility to address issues and to really put your stance across," she says. "And Martin is gay, so for him he really wanted to speak out because of that. But it's very difficult, you know, I do have to admit."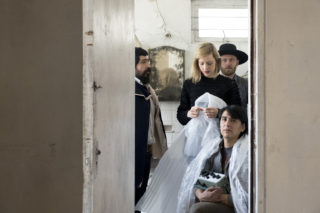 The grimly serendipitous timing of 'Orlando''s release is characteristic of a project that's been produced through struggle and accident at almost every stage. By 2014, Anika explains, she felt disconnected from music and uninspired. She'd made the move to Berlin after releasing her first album in 2010 (the Nico-ish 'Anika', recorded with Bristol trio Beak> was a treasure for dark dub fans who found it), in the hope that cheap rent and a vibrant artistic community would provide an ideal environment for creativity. She soon found that that wasn't the case. "It was great for a bit, but then I realised I lost my struggle. There was nothing to battle, it's just too easy here."
So she travelled, and eventually found herself planning a trip to Mexico, hoping to make a documentary. "But I needed the flight to be covered, so I got a booking at a festival there and then I was like, 'oh shit, I don't have a band!' So I put the band together remotely – my friend helped me. And we started rehearsing; we had a week before the show and I'd sent them all of the songs and we'd been trying stuff online, and I went there and we started to play and I was like: 'WOW'. This was the first time I had that passion for music again, you know? It was a tough time, but it was the first time I was making music out of necessity again. And it was sort of enjoyable. I mean, it was also very challenging, but that's what was nice. We ended up, kind of by accident, writing an album. And we became very good friends and then I went back and re-recorded it and now we have a band, so that's it. That's the story."
But how do you write an album by accident?
"We were rehearsing for the shows and we were waiting for one of the other members to come, and he was always late, which in Mexican time means like eight hours late or something. We just ended up just playing. They started playing and I started writing lyrics and it was like this psychological unwinding; words from the unconscious just coming out. I was dealing with a lot of my problems at the time and they came out in the songs — so, you know, sort of by accident."
Anika believes passionately in the restorative power of music, as both an individual and collective therapy. Making and listening to music is a way of coming to terms with who you are, of finding out what matters in a world that wants you frightened and hating yourself. "Why is it that we're at this point now?" she asks. "I think people have just forgotten what the point is. They're not sure what the meaning is. In Europe, and especially in England, we're so surrounded by advertising. And what's advertising's biggest way of selling? It's fear. It's saying 'you need to buy this make-up because otherwise you'll be ugly', 'you need to buy this because otherwise you won't get a boyfriend' – it's playing on fears; when you're surrounded by all this shit all the time of course you're going to get complete panic attacks. Especially in America and Europe, anxiety disorders have been rising massively and why is it?"
In a way, Anika's whole existence; her nomadic lifestyle, travelling the world, using music as a way to connect across cultures, is a push against the consumerist European way of life, and especially against the conservative British culture that sanctions any attempt at non-convention with judgement and ostracism.
Anika and I both grew up on the outskirts of London and her description of a Little England obsessed with status and the maniacal fulfilment of 'adult' milestones is familiar to me: "When I'd go home, old friends would ask the same questions: 'do you have a house? Do you have a car? Do you have a boyfriend? Are you planning on getting married?' – all these things, what do they mean?" she laughs, incredulous. "I hate this. I used to go back and I'd say: 'to be honest, I've still got a bike. I still rent a flat and I've got housemates. I don't have a mortgage. I don't have a house. I've nothing actually.' But does that make me a worse person? I dunno. Does that mean I'm not living in reality? Does that make me not a responsible person? I don't know. I think I'm happy. I took risks and I'm happy to see the world. It's made me appreciate so much more, going to places like Iran and realising that people are people wherever you go. People have got the same problems, you know? And dressing up your life with all this bullshit, these safety nets, I mean, what does it mean? '
Anika's Skype camera isn't working, but I imagine she shrugs at this moment. I hear a yawn. She apologises for rambling, for her tiredness; takes a sip of tea. "Music can play so many different roles. It's great for escapism, but I think right now it's good to remember that it can help you with your fears as a therapy. Music was great for my teenage angst. It's great in the political times. It doesn't have to be overtly political but you can listen to it for more than escapism. You can listen to it to unpick the hurt that's congealing in your chest."
Please support Loud And Quiet if you can
If you're a fan of what we do, please consider subscribing to L&Q to help fund our support of new musicians and independent labels
You can make a big difference for a few pounds per month, and in return we'll send you our magazines, exclusive flexi discs, and other subscriber bonus bits and pieces
Try for a month and cancel anytime