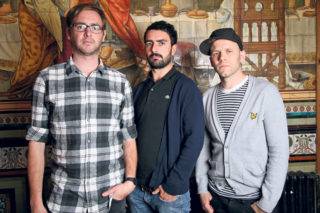 From promoting electro bands to being one
You'd be forgiven for any apprehension. Having made their name as London's premier indie DJ duo with their residency at the Barfly, their foray into making music wasn't one of popular music's high points. In fact, in the grand scheme of things, the single possibly ranks somewhere below 'Barbie Girl' by Aqua as one of the greatest crimes against music ever committed. Thankfully, the Queens of Noize never got the chance to inflict any more lasting damage, and the "song", 'Indie Boys Don't Deserve It', will remain a little-heard abomination to remind everyone what can happen when indie music eats itself and gets the trots as a result.
Yes, given the past form of Barfly DJ duos, there's a possibility you might be somewhat apprehensive about the Filthy Dukes move into making their own tunes. But thankfully, as anyone who caught the Filthy Dukes' triumphant debut live shows at this summer's festivals will tell you, any such reservations are wholly unfounded.
The Filthy Dukes' Camden night, 'Kill 'Em All, Let God Sort It Out', was itself a reaction to the Queens of Noize brand of indie DJing. At that point, Tabitha and Mairead were still London's foremost indie DJs and with Dukes Olly and Tim wanting to provide an alternative night for the more electronic-influenced indie music coming through, they initially found some resistance. "Apart from Trash, there were no nights like that," explains Olly. "We started booking that type of band and having a mixed music policy. It was really hard to begin with – everyone was kinda getting angry with us, just wanting the Kaiser Chiefs!"
It's now fair to say Kill 'Em All has become one of the most influential nights in London, paving the way for the acts that now dominate the UK indie scene, and broadening the musical horizons of the kids who once demanded they play Kaisers records. Having brought electronic music to the Barfly, Olly and Tim completed the dance/indie cross-pollination by setting up a Kill 'Em All residency at Fabric nightclub.
The live project was born back in 2005, when the Filthy Dukes were asked if they could remix the Rakes' single 22 Grand Job. Having never produced before, they turned to their friend Mark – a producer who has worked with Soul Mekanik and Justin Robertson – to help adapt to the studio environment, eventually recruiting him as the third Duke. It was a mix for The Maccabees that led to the band's label, Fiction, signing them. "They liked the remix so much that they brought us in and said "have you ever thought about making your own music", says Tim. "We had, but we'd never really had any spare time to sit down and make our own music," continues Olly.
Fiction have been a good fit for Filthy Dukes, lending them their expertise on what makes for good singles, giving them final say in artwork and remixes, and the freedom to collaborate with the artists they want to – the forthcoming album features guest vocals from Late Of The Pier, frYars and Plastic Little (whose vocals are lent to new single 'Tupacrobotclubrock') amongst others. Avoiding big name guests, they chose to stay true to the ethos that established Kill 'Em All. "Also, we found that with the less established artists they were more prepared to put 100% into it", says Mark. "More established artists might have held themselves back".
Having spent the past year working on their album, the Filthy Dukes made their live debut this summer, appearing at Glastonbury, Field Day and Bestival, and were blown away by the reception they received. There are positives and negatives to be drawn from the move from DJing to live performance: "There's a lot more stuff to carry!" says Tim. "With DJing you can just turn up, play for a couple of hours and go back to the hotel." But as Olly explains, there are plus points: "You get more female attention. DJs just get geeky guys coming up saying 'hey, I really like that remix…'".
With the album due out in early 2009, and having recently completed their first UK tour, you may have thought the Filthy Dukes might have less time to put into Kill 'Em All. But as the band contends, booking new exciting artists keeps them sharp – there will be a new Kill 'Em All night planned for next year, and there are plans afoot for their own label too. Are the Filthy Dukes expanding the empire? "I don't know if it's an empire," says Olly. "It's… musical fun. It's certainly not a very lucrative empire!" Whether it's lucrative or not, the musical fun being had by Filthy Dukes and the indie heads they're inspiring isn't going to end any time soon.