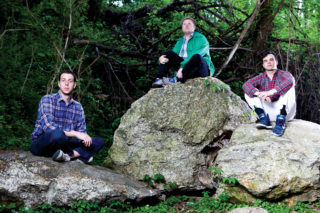 Future Islands are the Baltimore band who've made an unapologetically emotional new album
An interview with Samuel T. Herring about his band's new record, 'In Evening Air'
'Getting personal' can have varying results in the world of popular music. Often, an artist's insistence on 'telling all' either ends up smelling like fame-money-and-swan-burgers-ain't-all-they're-cracked-up-to-be-y'know? (Robbie Williams/Lily Allen), or has us hugging our knees to the laid bare warbles of Antony & The Johnsons, wishing we'd put on 'Walking On Sunshine' to fish us out of despair, not what must be a leaked counselling session tape set to music. A musician saying, "It's a very personal record," basically means, "love meeee!" or, "don't you dare love me, I don't deserve it."
Occasionally, though, a band vent via their music without being phoney pop-prats or too-earnest-for-comfort. The Smiths did it with wry wit; The Cure in a pantomime parade of eyeliner and backcombing. Baltimore-based Future Islands manage it with choral electronics and the unapologetic growl-come-wail of singer Samuel T. Herring who flirts with self-reflective distress one minute and nostalgic optimism the next. 'In Evening Air' is their new album, and one that's deeply personal and powerful, thanks, in no small part, to Herring's willingness to read from his diary pages.
"I'm really proud that you feel that way," says the frontman, cheerily. "I like to feel that I take it all out and leave it all out on stage. I take great pride in my words and how they convey a message. This record came from a very hurt place for me, but I can't imagine singing about something I didn't feel strongly about, or something I didn't believe in, and it's easy for me to perform with a lot of emotion, which I do get criticised for."
Herring often grimaces his way through large sections of Future Islands shows, wearing on his face the pain of tracks like 'Tin Man' as he croaks them out like a post-punk Louis Armstrong. Other times he gently sways and looks to the lighting rig, clutching at air and softly singing. "Seeing us live is the truth," he says, a fact he considers right of neighbouring post-hardcore friends Double Dagger.
"To be honest with you I look at a lot of other writers who inspire me because their words are so simplistic, in speaking about love and loss," he continues. "When I discovered Daniel Johnston it just blew my mind because I found myself wrapping my own emotions in poetry where he would just come out and say, 'I love you', or, 'You broke my heart', which I would never say. But to be able to say that is amazing."
Herring, William Cashion [bass] and J. Gerrit Welmers [synthesisers/programming] moved to Baltimore from Greenville, North Carolina, approximately a year ago, shortly after the departure of their drummer.
"I was pretty certain that Future Islands was going to split up," explains Herring "so I decided I was going to move to Baltimore to be around music because I was living in the middle of nowhere and was losing my mind. And then William was like, 'I'm gonna do that too'. And we eventually got Gerrit to move up, begrudgingly.
"Moving here was great for us because it took us out of our comfort zone of being around our good friends and the routine of life. It put us on edge and got something out of us."
Essentially, that something is 'In Evening Air' – a post-wave (as they call it) record of fearlessly delivered inner feelings that aches chapters of lost love, heartbreak and homesickness to eventually reveal a resonance of new beginnings.
"The opening track [the Arcade Fire-ish 'Walking Through That Door'] is kind of about that move and about old memories of back home," says Herring "especially for me and times in my life I've felt I missed out on because I was in a really bad state. Like, I had some really bad problems when I lived in Greenville. That line, I want to be the one to help you find those years that you've been talking about… dreaming of the south – to me it takes me back home and reminds me of those old days.
"Y'know, it's important that we, as human beings, I mean, get out and live something else to make ourselves stronger, but, y'know, you're always stuck in those ideas of remembering those times when you were 19 or 20. They seem so distant and like the best days of your life. A lot of the album comes from all of those feelings and feelings around the move – leaving our loved ones, going through the loss of love. Like, Gerrit split up with his girlfriend, William was dealing with those feelings of really wanting to go back home, and at the turn of the year when we started writing this album I'd just broken up with a girlfriend, so there is a combination of those feelings in there."
Herring openly admits that a large majority of the record is about his ex, 'Vireo's Eye' a final goodbye to the lady in question. But it's not as if his head is on my shoulder. He doesn't even sound glum as he talks about the past. Perhaps that's because, as he says, he leaves it all on stage. Future Islands seems to be his therapy, and in turn our gain.
On paper, 'In Evening Air' should be uncomfortably honest, but Welmers' pitch-bending synths and mid-tempo, programmed drums prevent the anguish of Herring and sombre bass of Cashion from being overwhelmingly sad. It's a dark/light formula that many try to concoct and few master. If anything, the music of Future Islands is largely danceable and ambiently joyous.
Back home Herring used to rap, and is all too happy to discuss underground hip-hop (he's particularly a fan of early 90s East Coast, anytime West Coast and the first releases from Anticon) and to recount the days that he'd battle, and occasionally "get stomped on".
"Yeah," he laughs. "I went to a rival high school basketball game once and I was searching kids out to battle and I found this kid who was supposed to be really good who had his whole crew around him. I was by myself and I started rapping and they all just starting booing me, y'know, just because, and I was a white boy rapping. Then he started spitting writtens at me and people were chanting along and then they all went crazy. I was like, this is terrible! I was 16 or 17 and it really took the ego out of me. I couldn't rap for six months, and that's kinda the power of words, which is amazing."
Today, Herring uses the power of words not to shout down others but to call out to them; to convey the most personal of messages, the overriding one being that emotional, honest pop music, when done right, can be very powerful indeed.
Loud And Quiet needs your help
The COVID-19 crisis has cut off our advertising revenue stream, which is how we've always funded how we promoted new independent artists.
Now we must ask for your help.
If you enjoy our articles, photography and podcasts, please consider becoming a subscribing member. It works out to just £1 per week, to receive our next 6 issues, our 15-year anniversary zine, access to our digital editions, the L&Q brass pin, exclusive playlists, the L&Q bookmark and loads of other extras.