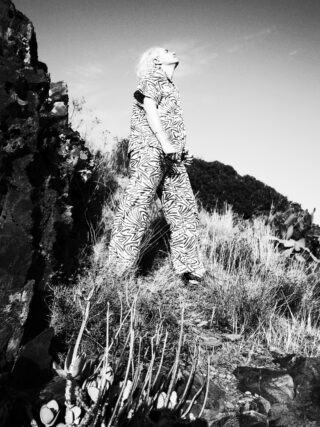 HAAi: listening to the crowd
Teneil Throssell is at the forefront of a new wave of collaborative, inclusive club culture
Teneil Throssell was built for the road, as much as a person can be. As HAAi, she's steadily earned a stellar reputation for her DJ sets and live mixes, which fuse euphoric strains of dance music with psychedelic sound play. HAAi is a risky performer, switching moods on the fly, unafraid to bring the noise or push the tempo in either direction. She's playful and skilled, but crucially, she listens to the crowd as much as they do her. 
If you catch her this summer, HAAi will be bouncing around the booth in her signature sunnies. Her selections are often fantastic, of course, with playful blends of techno, unearthed house classics and new dubs sat alongside oddball selections. But what makes her sets connect is her audience interaction, an ability to know what's needed, and an aliveness that draws us all a bit closer. 
"I feel like when you're travelling, and you're playing a bunch of shows in a row, you're mentally ready for it. I feel like I could play at any moment," Throssell tells me over the phone as she wanders around Soho on a sunny morning. "I just got back from Australia via Belfast and Istanbul. I'm getting life semi-organised to go away again this weekend…  I kind of love the adrenaline. It's helping to fight the jetlag."
We've caught her in a rare period of relative downtime between shows, as she prepares to release her debut album, Baby, We're Ascending. Her year began with a series of emotional and resonant performances, with clubbing back on the cards. First up was an all-nighter at Phonox on New Year's Eve. Her two-year residency at the Brixton club is part of what has catapulted her to underground stardom. 
"That felt like a real homecoming. The final residency show there was so magical, so I didn't want to play there again. I didn't want to taint that. But then, of course, I went back, and it was just as magic. I got to play for seven hours. For me, the ideal way to bring in a New Year is to play a super long set somewhere that feels like home."
Later she tells me that those long-haul sets are her favourite, for their looser pace and poignancy: "Especially if it's an all-night thing, you know that people are there to see you. They know what they're in for, to expect weird twists and turns."
Last month, she returned to her native Australia. When Throssell first left for the UK, she was a psych-rock musician (you may remember her old band, Dark Bells) with only a cursory interest in dance music. Her latest return has her in a reflective mood.
"I have a different reconnection with Australia every time I go back home. This one was particularly special, because the tour had been postponed for a couple of years. When it finally got planned, it was postponed for another month. I just sat there with my bags packed in the flat for a month, waiting. It's kind of a strange way to live."
Still, HAAi is living it. She laughs off recent gig chaos, like a six-hour flight delay that had her arrive just a minute before performing in Istanbul ("There was a blizzard. I've never seen snow in Istanbul. It felt like a real Get Him to the Greek moment"), or the tight deadlines of editing the visual details of her live set "in a little corner of Dublin airport."
It's easy to wonder how she keeps her cool during the hectic schedule, and how she retains her ability to tap into the energy of a crowd.
"It comes from a place of deep care and awareness. It's trying to work out what people want. I don't know if that's fully something that can be learned or if it's just in you, but you can definitely develop it over time. The part that has developed for me is having more confidence in what the right thing is. Not in an egotistical way, but knowing if we take this kind of chance, people will be excited for it."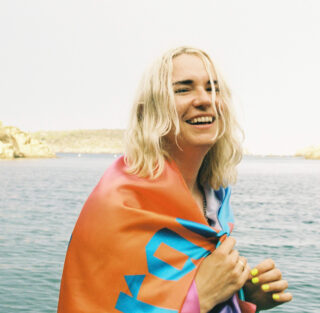 The aliveness of a HAAi set is carried through to her debut album, though it now manifests in more inward-looking songwriting. Though she's back in tour mode now, the album was written in the opposite environment. 
"The pandemic changed the direction that it would have gone in. We were existing in a time where people were wanting music to sit and listen to rather than things that make you dance. There were no dancefloors. 
"Normally, when I make tracks, they're semi-functional. I would be making them on a plane or an airport because I wanted to make something to play that weekend. It felt too heart-breaking to make something for a dancefloor that didn't exist. I slowed things down a notch. Once I sunk my teeth into it, it was such a nice thing to explore properly."
While there's more open atmosphere, like the catharsis and intimacy of 'Bodies of Water', the album never settles in one sound for long. It's a frenetic, freeing record with the same aliveness as her sets. It's a record of extremes, too, with her former life in rock playing a role.
"I've always had a real affinity for extreme frequencies. I love having moments of real toughness, something to make people's kneecaps rumble a bit."
Opener, 'Channels', is a microcosm of the album's wider approach – warm synths, warped samples and blips of noise crash together, creating an alien landscape to explore. The intentionally giddy tone reflects Throssel's recent self-discoveries.

"Six months into lockdown, I was diagnosed with ADHD. Everything made more sense for me, in how I work and why I feel like I'm built for being on the road – and also in how I reacted to being locked in the house. It made sense to me why my music can be quite erratic. I wanted to not cover that up. I feel I spent a lot of years of my life trying to push down the hyperactive side of me because I didn't really understand it."
In expressing the affirmation that comes with sharing those sides of herself, she hopes to continue that conversation for others. 
"I've had chats with friends who have ADHD who said it was such a relief to finally kind of get to the bottom of it, because in school in the '90s, you felt like you were a bit stupid, I guess. You couldn't work out why you weren't keeping up as easily."
As much as it's a record for herself, she frequently gushes about her co-collaborators, who provide threads in the album's wider tapestry – artists like Quinta, who composed and recorded full string arrangements from afar. Or her engineer, Francine Perry (a.k.a. La Leif) – "When you have someone working in the room with you, they end up becoming part of the creation of the music as well. There are parts to the album that wouldn't exist if Francine wasn't there."
One of her favourite moments comes from Kai-Isaiah Jamal on 'Human Sound', whose elated spoken word emphasises the cleansing that can come in the form of a kick drum. The two happened to live in the same building – "literally a friendship that blossomed on the stairs" as Throssell puts it.
"It was something that just came up so organically. I had to recheck the lyrics for them to be sent off to the label yesterday. It's one thing to hear their poetry but to read it on a sheet of paper blew my mind."
To hear this and other recent tunes like her glorious rave collaboration 'Lights Out' with Romy and Fred Again, you might assume that HAAi is a natural collaborator, but that only started with this project.
"One of the reasons was that I felt protective over what I was doing. It was a solitary kind of thing. The other reason was a lack of confidence, because I was only used to working in this linear way. I wasn't sure if it was conventional or not. There's this thing you feel as a not-straight-male in music. You always feel like someone's going to tap you on the shoulder and say, 'Well, that person was involved, who's making your tunes?' That was something that I was extremely protective of. [Collaboration] actually came from a conversation with my manager about the importance of bringing people into your creative circle and presenting opportunities for them."
This communal approach to collaboration started with her close friend Jon Hopkins on the album's epic title track. That opened avenues for HAAi, including giving her the freedom to use her voice on record for the first time. 
"It's quite a vulnerable thing to do. It's one thing to sit behind a computer and make glitchy techno, and then a whole other to put yourself and your words into something. I shied away from it for a long time, because there was a part of me that felt it was over-indulging. I wasn't sure if people were ready to hear it." 
That decision has led to some of the album's most gratifying moments, buoyed on by the support of her close collaborators, who HAAi intends to honour on the album's physical version. 
"I'm not sure if anyone's really seen it yet, but the inside of the album is a big collage of everyone who had any kind of contribution to how it turned out. It's nice to put a face to people who have had input on something. It looks like a big family."
Photography by Imogene Barron