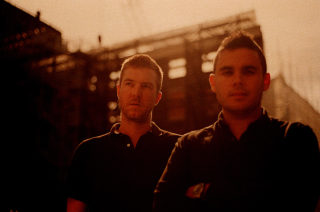 Hamilton Leithauser + Rostam – Two ninths of modern indie rock royalty interviewed
The ex-Vampire Weekend/Walkmen collaboration born in a shared hometown during the holidays
Hamilton Leithauser and Rostam Batmanglij, together catchily known as Hamilton Leithauser + Rostam, are sipping on their coffees outside BBC Broadcasting House in central London. Our national broadcaster is putting that licence fee to good use, filming something for their autumn programming that involves upwards of 30 pooches running riot around town. It's quite the scene, and the two musicians are looking slightly bemused after a week of promotion and interviews on the opposite side of the Atlantic from home. I, on the other hand, am worried that the recording of our conversation will yield nothing more than a half hour of barks. But with one (former) quarter of Vampire Weekend and a fifth of The Walkmen waiting on me, I decide it's best to press on.
But how, indeed, do two ninths of modern indie rock royalty come to make an album together? Having grown up a mere mile from each other in Washington D.C., they didn't meet until much later. "We were five years apart," Rostam, the younger of the two, is keen to point out. "Which is a big deal in high school," Leithauser agrees. But long after their bands had established themselves a chance encounter on tour saw them bond over the music that they love. From the Beatles to Bad Brains, they found that before long they didn't even have to ask each other if they liked a band – the answer always seemed to be yes. "We can both reference obvious and obscure things," says Leithauser, explaining the telepathy that takes over when they're together. "There's an understanding that we'll both want to try doo-wop music, for example, which isn't the most obvious thing to think when you first meet someone. Like, if I don't know you I'm not going to assume that that's what you would like to do. But we did and it worked quickly."
Despite that, however, they didn't realise that they had the beginnings of an album on their hands. Batmanglij had worked on Leithauser's solo LP, 'Black Hours,' and he assumed that this was the genesis of another similar project. Leithauser says that it was at least six months after they started working on their debut record that it dawned on them that it was indeed a true collaboration. And while there wasn't a whole lot of material left on the cutting room floor, there was some healthy experimentation at the start, even if just to figure out what wasn't going to work. "We had a song that started like a hardcore song," laughs Batmanglij. "And then we did this weird country, 'O Brother, Where Art Thou?' version and we were like, 'This ain't us!'"
"Yeah, and that Irish song never made it," says Leithauser, almost blushing. "Yeah, we gotta come back to that one."
And although the punk and country will have to wait in the vaults until album at least number two, 'I Had a Dream That You Were Mine' draws on a spectrum of sounds and eras that keep it sounding fresh on repeated visits. 'In A Blackout,' the first song they wrote for the record, moves along with a gallop that wouldn't be out of place over the top of a Spaghetti Western (and yet somehow stays classy), 'Rough Going' revolves around a honky-tonk piano motif, while 'When The Truth Is…' is an updated take on that shared love – doo-wop (think The Platters meets Vampire Weekend). The theme, it seems, is a desire to take pre-1980s sounds and bring them into the 21st century. "There's Leonard Cohen in there. You can hear early Johnny Cash on there," Leithauser muses.
"Or even Springsteen," says Batmanglij. "He crept his way onto 'In A Blackout.' In an unexpected way. Maybe the last thing I added to the song was the synth, so it's subtle."
Leithauser pipes up immediately, stirred as he reflects on the birth of the album. "But it changes the era of it," he says. "That triplet guitar is straight Leonard Cohen. And I've wanted to do a song like that for years and years but it never got beyond the point where it sounded like someone trying to copy Leonard Cohen and doing something that was done in 1967." Then he tried it with Rostam, a producer with an obsessive ear for the minutiae of a snare sound, the tiniest nuance of a hi-hat frequency, and who can list Frank Ocean, Cass McCombs and even Carly Rae Jepsen on his CV. Says Leithauser: "When I do it with him, he's able to bring a new sound to me playing that gives a much bigger, modern effect."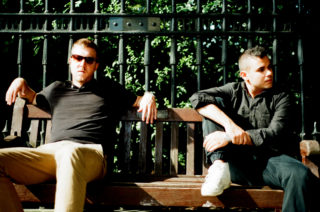 Being from the same city, the pair found that they were both in D.C. during holidays, meaning that some of the album ended up being recorded in Rostam's parents' home, in the bedroom where he grew up. "My parents have always been pretty nurturing of my creativity," he smiles. "In comparison to being in tenth grade and having drum sets in my bedroom and banging away, having Hamilton croon is a bit easier. And we didn't do that much; we did a few days around Thanksgiving and Christmas."
"Well, they did enough that I thanked them for it!" Leithauser laughs. "They could've been irritated. It was long enough, and we were there late sometimes… And I was singing loud."
Volume, it's fair to say, isn't an issue for Leithauser. When the pair decided to work together, Rostam made it his mission to tease out every possible texture and tone from Leithauser's embarrassment of vocal riches; to make songs, as he says, "that placed the crooner right beside the howler, the screamer besides the whisperer." It was a collaboration that was buried somewhere in his subconscious for years.
"I would listen to a Walkmen album and I would love it," he says. "I would think it would be so cool to one day do a song that has an organ like 'Postively 4th St.' with Hamilton's voice."
When it came to recording the singer, Rostam was so careful to capture everything and in the right way that he would ask him to sing the same lines over and over again, an octave this way, a totally different way that way. It meant that they made breakthroughs they wouldn't have otherwise made. Their debut single, the gorgeous baroque pop soon-to-be anthem 'A 1000 Times,' for example, contains a first verse which is an octave higher than the second, the inverse of which your ear would naturally expect, but it works beautifully, flying out of the traps and settling into itself, all the while keeping itself tantalisingly taught rather than building up to an obvious climax.
But for a man who can move from choirboy falsetto to guttural yell with what seems like the gentlest sleight of vocal chord, Leithauser is disarmingly coy about his ability. So much so that he didn't even realise he could sing until he was already in his early 20s. "I was a late bloomer and I wasn't very big," he says. "It was the first time I realised I could harness this, like, manly energy." Rostam laughs like a schoolboy. "It was the first time I had the balls to actually sing and not feel like an idiot standing up with five people in the audience and really go for it with full energy." Batmanglij takes the opportunity to drop Leithauser in it, asking if this is the interview where they get to talk about his prom night. He sniggers. "I guess I always wanted to be the lead singer," he says. "There was a band and I was young… and drunk… and I took the mic from the singer and went, 'Fuck you, fuck you.'" He mimes pointing his finger at the audience.
In addition to its multi-coloured approach to genre, a notable feature of the duo's work is that their songs are stories. There are straight-up love songs, but they don't dominate, and the record is all the richer for it. 'The Bride's Dad', for example, could sit confidently separate to the music as a standalone tale of a wedding from the point of view of, yes, the bride's father.
"I'd never written a waltz before," Rostam enthuses.
"It was at Christmas so I had this Christmassy melody," adds Leithauser.
"… And you were like, 'This is too Christmassy,'" says Rostam. "So I thought he was going to give up on it but then a few months later I asked him if he ever came up with anything else and he said, 'Yes, I've come up with something amazing. And it's all a true story.'" Leithauser sits back, allowing himself what seems like a rare moment of self-praise. "I was really proud of that one, actually."
Loud And Quiet needs your help
The COVID-19 crisis has cut off our advertising revenue stream, which is how we've always funded how we promoted new independent artists.
Now we must ask for your help.
If you enjoy our articles, photography and podcasts, please consider becoming a subscribing member. It works out to just £1 per week, to receive our next 6 issues, our 15-year anniversary zine, access to our digital editions, the L&Q brass pin, exclusive playlists, the L&Q bookmark and loads of other extras.