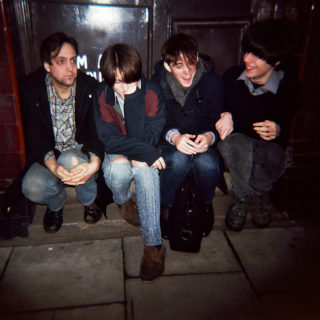 Hatcham Social are more broke and happier than they've ever been
Broke, more homeless than ever, and with an ex-Klaxon in their midst, you'd expect to find Hatcham Social grumbling into their pints. "It should have been me," drummer Finn might moan, still tapping out 'Atlantis To Interzone' on the tabletop, his frontman brother, Toby, fretting about where he'll be bedding down tonight. Bassist Dave and relative newcomer Jerome would then rustle up enough cash for said pint (singular), having decided that one between four is better than no pints at all to stare bleakly at. Adding to this, we've heard that Toby currently is grappling with the flu.
Inside The Griffin, Shoreditch, we quickly notice that not even one pint has made it in front of the band, but maybe that's because Hatcham Social are far from the hangdogs that their circumstances have many presuming them to be. Yes, Finn used to play in Klaxons, but he stopped mucking about with gravity rainbows as quickly as he started. He shows no sign of ever regretting his decision to leave and form Hatcham Social. And no, this quartet aren't smoking rollies made with tenners just yet, but a newly signed record deal to release a debut album suggests that a similar time is coming. 'You Dig The Tunnel, I'll Hide The Soil' is the name of the record; an optimistic collection of swooning pop songs, as bittersweet as The Smiths at their most outstretched to puzzled teens in isolated bedrooms across the land.
"The whole album is basically about…" Toby pauses for thought. "As far as I can see, most of my life, and for all of the people here, you're just working. It sounds really cliché, but that's what you're doing, and especially in the UK, it's such a trudge. We do a tour of the UK, and what a load of shit! Y'know, we go to Italy, and maybe it's because we're not going to all the tiny houses full of thugs, but you get back to Southampton and you get shouted for being a wanker. Barnesbury, whatever these places are called, all of England, and it's just like Billy Liar – there's got to be something better than that. Maybe us making this band is like us making our own world."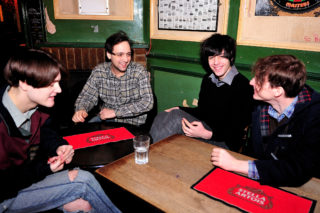 The band's name certainly suggests just that; Hatcham, an old English word for 'a clearing in the woods', Social – as in club – a place of comfort and safety. Few have infiltrated this world, but those of note include Charlatans frontman Tim Burgess and newest band member Jerome Watson. The former produced 'You Dig The Tunnel…', the latter now plays synths, guitar and a chaos pad within the group, and has done since November 2008.
Introducing Jerome was simple enough, the band having purposely written their album in such a way that an extra pair of hands was needed to play the new material live. Before then, three was the magic number for this group of friends – Dave Fineberg and brothers Finn and Toby Kidd.
A trio, Hatcham Social began, like most bands, as a reaction to feeling unsatisfied with the music on offer to them – "It wasn't like, 'let's change the world', it wasn't that U2-ish," explains Toby. "It was much more we wanted to do stuff that we enjoyed and we didn't see it out there. There seems to be this very corporate indie world, which is what indie has become, and then there seems to be lo-fi electro stuff, but there wasn't quite what we wanted to be doing."
So the band recorded a single, adamant that it "must be sung rather than shouty, because everything was really shouty", and proceeded to send 'Dance As If…' to a handful of indie record shops. What followed seemed to be Hatcham Social's new addiction to sharing their music. They released three more limited 7", two cassette tape EPs, and, most recently, a free digital covers EP called 'Party', as well as a Japanese mini album and one for the US and Canada only. 'You Dig The Tunnel…', is presumably a big hit for these release junkies.
"It's part of what we didn't want it to be about," counters Toby. "Most people put out a single as an advertisement to get signed to a big label, to put an album out, become famous, whatever… Maybe that is what we were against. We wanted to put out singles because we liked making music, and putting out a single wasn't just about getting to the next stage. Y'know, we put two tape EPs out, six tracks, and most of the tracks on the them are as good as those on the album; they weren't throw-aways, they were just what we were doing at the time, and now we're doing something else. This isn't it particularly 'happening' anymore than they were, y'know? Jerome hasn't come now when we've 'made it' anymore than if he'd come in before. It's just about us as a group, doing what we want to do, travelling to a few places and meeting some interesting people. I suppose a bit more money might get involved now, but to be honest, not at the moment. I'm more homeless than I was six months ago. Don't get me wrong, we'd like to be in a position where we're not homeless, and that's something that we're striving for in a different way to before, but I'd be quite happy if no one ever bought the records but we were able to do it all the time."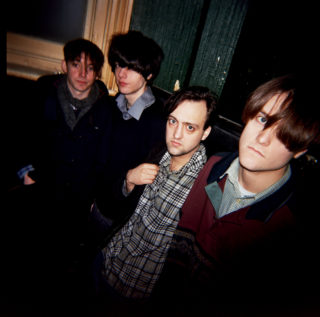 Even with a fuzzy head, Toby is clearly Hatcham's leader, or so his vocal nature would suggest. And enthusing about his band's music – admittedly while supping on a Lemsip – seems to be the best medicine for his head cold. Along with Finn (the band's most calm member, whom Alan McGee calls "the coolest drummer in the world"), Dave (or "the fact man" as he's known to band mates, reeling off release dates on Hatcham's itinerary like an Excel spreadsheet) and Jerome (the quiet but excitable new guy) he talks sincerely about what his band are trying to achieve.
In April 'You Dig The Tunnel, I'll Hide The Soil' will be released in the UK via Fierce Panda, the indie label licensing the record from Hatcham Social's equally indie American record company, TBD; a fussy enterprise that only work with four other bands – White Rabbits, Underworld, Other Lives and some chancers called Radiohead. Notably, it's a record of melodies, beautifully boasted from the dreamy, opening 'Crocodile' – complete with a xylophone hook, T-Rex guitar chugs and a Marc Bolan purr from Toby – through to the scratchy, erratic finale of 'Give Me The Gift'. In between sit tracks like 'Hypnotise Terrible Eyes', perhaps the most Smiths-y song here; a more savage sibling to Morrissey and Marr's 'You've Got Everything Now'. Previous Loog single 'So So Happy Making' has made the cut too; easily the best 80s pop song never written within Margaret Thatcher's reign, and one that single handedly pushes for a remake of The Breakfast Club.
There's gloomy indie that dances in the forest clearing Hatcham Social have made for themselves ('I Cannot Cure My Pure Evil') and the kind of sun-kissed songs that The Coral are capable of ('Penelope (Under My Hat)'). And then there's a reading of Lewis Carol's Jabberwocky, originally a quick fix to a studio session that had hit a wall, now a fittingly otherworldly benchmark in Hatcham Social's debut album.
"It was a song that we were struggling with," explains Dave. "We couldn't work out what to do, and, at Finn and Toby's dad's demo studio, there was this big book of poetry, so we thought, 'we've got to do something with this' because the backing sounded really nice…"
Toby: "And it was also one of our favourites to play so we didn't want to ruin it. It had to be special, and not just another song that wasn't as good as our others."
Dan: "We did it and gave it away for free straight away, and it's turned into something. Tim was adamant that we did it for the album, I remember that."
Tim – as in Burgess – first met the band whilst on a DJ tour with Finn's number one fan, Alan McGee. He was duly pushed a copy of their then new single, 'How Soon Was Then', into his hands and took just three weeks to insist on producing the band, initially taking on the band's next limited single, 'Til The Dawn'.
"We didn't know what Tim's influences were, really," says Dave "and suddenly he had all these records that we were listening to, like Pastels and Orange Juice, which was when we started to really click."
"The Charlatans are a great, underrated band," adds Toby. "Sonically and melodically they've done a lot more interesting things than Oasis or any of those other bands. Tim is really amazing with melodies, but interesting melodies and he helped us to experiment on the record with sounds, and things like cutting up pipes. What it came down to was, there was no one else that would have known the record as well as Tim."
Unlike the Gallaghers, Burgess has never been afraid of adapting to current music scenes, which explains all of those East London sightings and turns at The Horrors-hosted Cave Club. An ex-baggy embracing the new or an old man trying to be 20, either way, if he wants in with Hatcham Social the hippest parts of town is where Burgess will have to venture. Because this quartet have appealed to Shorditchians and the New Cross set to quite a staggering extent. And there's no pretence within the band that they haven't.
"I think that you can't help…" Toby pauses for thought once more "you don't live in a vacuum, so anyone who says that they're not part of something is a liar. Innately, we're not essentially trying to be like a lot of those people. I think we started off with a different point of view to nearly everyone else. And how do we feel about current bands? I just don't think we care. That's other people's business, what they're doing. We get asked this quite a lot, but it doesn't matter what other people are doing or thinking, you've just got to get on with what you're doing. There are people that inspire you, like every time I see Electricity In Our Homes I'm inspired, but that happens to be three people who are just really talented."
"Fuck gimmick bands," Toby will later say, before reiterating that they remain "just a band, doing stuff we enjoy." And on that list of things they enjoy is a spot of travelling, having already toured not just the staples of the UK and mainland Europe but Russia and the Faroe Islands also. The former was the biggest culture shock that they've come up against, the latter, they say, "is an amazing place with no poverty or crime, where people pay a massive amount of tax and are just completely content."
"Not that I'm the fact man or anything," says Dave "but there's 16 islands in the Faroe Islands, and when we're rich enough we're going to buy four each, and that will become the Hatcham Social haven."
Please support Loud And Quiet if you can
If you're a fan of what we do, please consider subscribing to L&Q to help fund our support of new musicians and independent labels
You can make a big difference for a few pounds per month, and in return we'll send you our magazines, exclusive flexi discs, and other subscriber bonus bits and pieces
Try for a month and cancel anytime