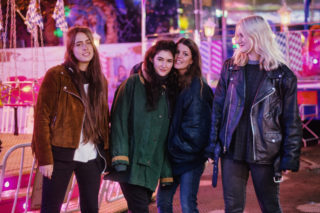 Hinds: 'Our success? It's been like throwing a baby into a swimming pool'
Carlotta Cosials' eyes light up when I ask her about her recent US tour. "Everyone is just so curious and grateful. They tell you that making music is a really worthwhile thing to do and you're doing good for the world. Even airhostesses, when they find out you're in a band, they're like: 'You're doing a good thing, here have a free drink!'
"In Europe, people are more like: 'What is that? A guitar? You must be rich, so you have to pay extra.'"
"We always meet security guards who are like: 'You guys are in a band? But you're girls,'" says the band's drummer, Amber Grimbergen.
Ana Garcia Perrote (guitar) sadly nods in agreement. "It's like it doesn't compute to some people; they look at us like we're hippies or something. They assume that the only reason we have a guitar is to play Bob Marley covers around a campfire."
Chatting with Hinds is a window onto the amount of bullshit girls in bands sometimes have to deal with. Sat around a kitchen table in Clapton after an afternoon navigating Hyde Park's Winter Wonderland, vocalists Carlotta Cosials and Ana Garcia Perrote chat like two best friends should, constantly interrupting and laughing with each other. On the opposite side of the table, bassist Ade Martín is quieter, slowly smoking cigarettes and nursing a can of Stella, while Grimbergen, the band's Dutch-born drummer, is the most thoughtful of all. She sits there quietly, with the occasional knowing smile spreading across her face whenever one of her bandmates cracks a joke.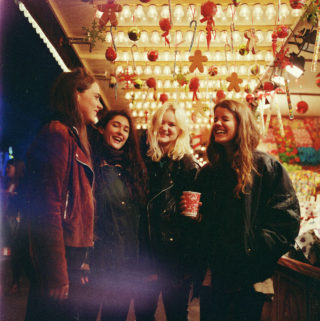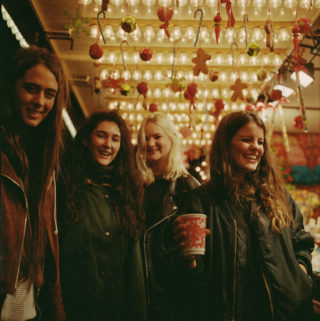 There's a very clear dynamic to Hinds. Cosails and Perrote have known each other for years and started the band back in 2011 after a trip to the seaside with their then boyfriends. Jamming out a cover of Bob Dylan's 'It Ain't Me Babe' on an acoustic guitar, the duo resolved to form a band when they returned to Madrid. Originally they only intended to play a set of covers to mates and relatives. "It was nothing more than a hobby at first," says Perrotte, recalling the days when Hinds were known as Deers, before being pressured to changed their name by Montreal band The Dears. They'd played the Velvet Underground, too – a group whose scrappy, lose play they've inherited.
"For our mums it was probably a bit of a joke," says Cosials, "but we took it super seriously – we really wanted to make sure that we were doing the best covers we possibly could."
Reforming after a year-long hiatus in late 2013, almost no band I can think of has hit the ground running as fast as Hinds have. Their first two demos, 'Bamboo' and 'Trippy Gum', were plastered all over the US and UK music press almost as soon as they'd been posted on the band's BandCamp and Soundcloud pages. Soon after, the likes of the Pastels, Patrick Carney and Bobby Gillespie were heaping on the praise.
Since adding Grimbergen and Martín, they've become a unit. The contrast between the band's first UK shows at the Lexington and their more recent gigs supporting Florence and the Machine highlight how far the band has come in twelve short months. Where at first, they were similar to a lot of objective garage rock outfits – all colliding, ramshackle guitars and nonchalant attitude – Hinds have grown into a reasonably slick pop band these days. Draping sweet-voiced call and response vocals over strutting reverb-drenched guitar and low-slung bass, they've gone from scatty college band to (on account of their singing accents) CCS doing the MC5 pretty much overnight.
The noise Hinds make might sound effortless – or even careless – on the outside, but Stephen King said it best when he said "the only thing that separates talented people from successful people is hard work."
"I don't know how some people do it", exclaims Perrote with an exasperated huff. "I recently heard how Mac DeMarco just locks himself in his house for a few weeks and writes like 20 songs. We can't even do that! If we disappeared for like five hours, our manager would be straight on our case. We've got no time for that."
People like my dad would love the girls in Hinds – dictionary definition of grafters. Most of the band hardly knew how to play their instruments when they got together in 2013. For Cosials, the very idea that some bands would prefer to sit back and see what happens seems absolutely crazy. "Even before we started this band we all worked really very hard on the things we were doing in our lives," she says. "We have a real passion for what we do, and it makes you want to put the hours in. We're constantly asking how we can improve, how we can be better."
"We don't have a background in music," admits Perrote, "and it makes us work so much harder. It's like throwing a baby into a swimming pool; it has to learn and has to learn fast. Being in Hinds is a bit like that."
Hinds have been on the road almost constantly since they played their very first show at a battle of the bands in Madrid, which they won. By their fourth show they were in London, and then Berlin for their fifth. "At one point we were playing sold out shows in London and a lot of my friends back home didn't even know I was in a band," says Perrote. At SXSW they crammed in 16 shows in five days. "We didn't eat. We didn't sleep. We didn't shower. We ran everywhere while we were drunk all of the time," they told Interview magazine at the time.
But touring has brought them into contact with a lot of people who can't seem to get their heads around the idea of an all-female rock band, even in this day and age. "I'm sure stuff like that happens to boys too, but it seems to happen to us all the time," says Perrote who, like her bandmates is keen to stress that these kinds of incidents are thankfully rare. "It's like we're very young and we're girls in a band, it blows some people's minds."
Sexism and the music business is a hot topic at the moment and it's a question that Hinds have had to deal with a lot. In the week before I meet the band, NME was sharing a video of the women reacting to Apple Music's Jimmy Lovine's ill-judged comments, where he said on a CBS broadcast, "I always knew that women find it very difficult at times – some women – to find music."
"Being in this band has been a real education for us," says Cosials. "We've been doing a lot of press this week, and it's made me realise how passionate we get about all this stuff. I think some of the anger stems from the last two gigs we played in Spain and all the nasty comments and stuff we're still receiving. The bad comments about sexism and stuff, mostly come from Spain – the UK, Australia, Germany, America, have all treated us without fault. The idea that we have to prove ourselves to our home is ridiculous!"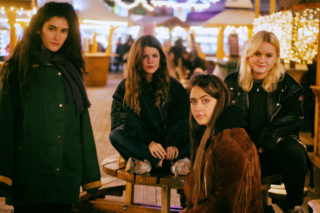 Hinds of course find the abuse perplexing. Looking over their Facebook and YouTube videos, it's obvious that Hinds love their fans and for the most part, their fans love them straight back. However, among all the positivity, there are a few comments that lay the vitriol on pretty thick. "It's like they think the rest of the world is stupid," explains Cosials rolling her eyes. "They're like; 'you guys probably don't realise this, but this band is only popular because they have contacts, or they're a product of their manager, or they're cute, or because their boyfriends helped them.' It's impossible for them to even imagine that we can be successful in music all by ourselves."
"It's a shame really; I love Spain and Spanish people," adds Perrote. "All these people who make all this noise kind of stick in your mind. I mean, take those two gigs we just played – they were both sold out, everyone was having fun, everyone came to get pictures with us and partied with us, but then, because of all the reviews and shitty YouTube comments, you just remember the bad things. You have to remember that it's the number of people who came and had fun that is the important thing, not the people who showed up just to write shit."
Listening to the girls laugh and joke around with each other, it's apparent that Hinds are having way too much fun to let a few shitty comments bother them that much. Besides, they have bigger fish to fry – namely, their recently recorded debut album for Matador, 'Leave me Alone'. Up until now the band have only written songs designed for a live audience, so writing a collection of songs that have to work as a cohesive record has been a whole new experience. As you'd expect, Hinds were keen to treat it as an opportunity to develop their sound.
"We didn't want to do an album that was just about getting drunk all the time – 45 minutes of drunk songs would get a bit boring, eventually," ponders Perrote as we talk about the range of moods on 'Leave me Alone'. "We went through a completely different process of songwriting. It was winter, we were always in a rush, we were sad, and we missed doing certain things. It was a really weird time, but we didn't force ourselves to be happy or joyful or whatever ­– if we were sad or feeling more chilled, we said let's just use that."
The album shows a new side to Hinds' music. As carefree and as charmingly ramshackle as their early demos and singles, the debut album displays a new, sharper control of tempo and texture. More surprisingly, it has a hefty sense of emotional weight to go alongside the chunkier guitar sounds and more fleshed out bass. Unlike a lot of bands inhabiting the garage rock genre, Hinds have always backed up the wide-eyed exuberance of the music with a soulful sense of longing in their lyrics and vocals. But this is something new. Songs like 'Fat Calmed Kids' and 'I'll Give Your Flowers Back' add an almost mournful quality to their music. Like the Beach Boys managed on tracks like 'Let Him Run Wild' and 'Wendy', it's a suckerpunch of bitterness coming after a kiss of sweet pop music.
"We've always written in a very intuitive way," explains Perrote when I ask about the band's writing process. "We don't really know any scales or anything like that; it's more like me and Carlotta riffing off each other. I think it's a really good way of working – I mean, I've learned a few pentatonics just through the sheer amount of music we've been writing, but I still try and forget the stuff I know and figure songs out as I go along.
"I think we write music as a listener not as musicians," says Cosials. "As a listener you can think something is stupid and still like it; it doesn't have to be rational."
"We only do the music we'd like to listen to; that's one of the only rules we have," agrees Perrote. "The idea of playing a finger-tapping 8 minute guitar solo seems kind of ridiculous to me."
One of their friends shows up with some more beer and the girls noisily scamper over to the room next door to grab one. I grab my coat and prepare to head out into the cold November night. As I'm working the latch on the front door, Perrote comes bounding out of the lounge with one of the new sleeves for 'Leave Me Alone'. "It's exciting isn't it?" she says, thrusting the case into my hand. It's hard not to agree with her.
Please support Loud And Quiet if you can
If you're a fan of what we do, please consider subscribing to L&Q to help fund our support of new musicians and independent labels
You can make a big difference for a few pounds per month, and in return we'll send you our magazines, exclusive flexi discs, and other subscriber bonus bits and pieces
Try for a month and cancel anytime