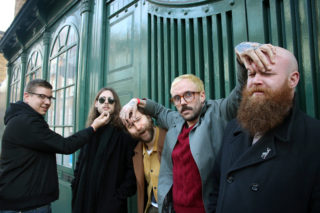 IDLES – The Bristol punk band for the age of social collapse and Kanye West
'Our aim isn't to start a revolution, but we talk about politics in the pub, so it'd be weird if we didn't sing about it'
"There's a safe umbrella around music at the moment," sighs Idles lead singer Joe Talbot, taking a sip from his lime and soda. We sit listening to the generic sugary pop song in silence for a couple of seconds before he continues. "That's how it is I suppose, when there's not a lot of money ticking over, it's often only the top branch that get heard."
The Rose and Crown feels like a bit of an anomaly in London Bridge these days. One of the areas last old boozers, its white-lined pool table and flat screens showing the bowls are at odds with the stone-baked pizza and craft beers they sell over the road. Yet, Idles seem at home here. This interview feels a bit like a typical conversation you could eavesdrop on in any pub. Joe Talbot is forthright and articulate, talking passionately about music, politics and his home in Bristol. His mate and lead guitarist Mark Bowen is slightly quieter, jumping in to embellish a story or drop a clever zinger. If you didn't know they were both in a band, you'd think they were two good friends chatting shit.
"People often say we're an angry band. We are, but more as individuals," says Talbot when I ask the pair about their last single, 'Well Done'. "I've got a bad temper; Bowen can be a bit fiery and we're all hungover a lot. We can all be shitty people, but we're also functioning adults who talk and think about this kind of stuff".
'Well Done' came out late last year with a surprisingly brutal swipe at Mary Berry, Saturday evening TV and middle-class sanctimony. The lyrics, though well observed and intensely vicious, weren't nearly as jarring as the band's new stripped-down sound. The hammering drums and slash-throat guitars were a far cry from the brooding indie rock the five-piece were once renowned for.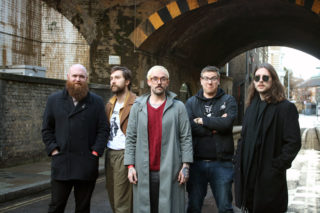 Upcoming single 'Stendhal Syndrome' turns its fire on the liberal bubble. It points a finger at people who use their convictions to shut down dialogue. "Art is a language of freedom and expression that can be spoken by all," the band posted on Facebook recently. "If you don't like what people are saying, move on. Don't shut them up. That would make you a prick. This is a song reminding you of what a prick sounds like."
Both songs tap into the sense of frustration and anger that is following in the wake of Brexit and Trump's victory. Like Fat White Family and Sleaford Mods, Idles too are riding this wave, although they might not admit it. "Our aim isn't to start a revolution or anything like that," muses Bowen when I ask them about their band's politics. "We talk about political things in the pub, so it would be weird if we didn't sing about it."
"It's not like we've tapped into a zeitgeist, it's more that the zeitgeist has tapped into us," adds Talbot. "People are a lot more socially aware than they were five years ago. They're a lot poorer than they were and politicians are getting away with a lot more than they used to. It's creeped in slowly and now bands like us and Sleaford Mods are getting popular you have people popping up saying, 'who are you guys? You're just tapping into shit.' Nah, we've always been here but the situation has changed. Conversations up and down the country have turned more political. It's what people want to hear about right now."
"Do you find you want to write more political stuff now because of what's going on?" asks Bowen, stepping into the role of interviewer. "No. I want to be more obtuse," answers Talbot obligingly. "It would be lame to be like Green Day singing all that American Idiot stuff; it's, like, well done. I bet Little Mix will come out with a political song any day now. I want to be more expressive and explore myself as a man within this political climate. That's what we're doing with the album. I'm interested in how politics affects my psyche, my emotions and my role in society. Basically, I don't want to keep talking about the bastards and focus more on me as a bastard."
'Brutalism' is that album. Named after the harsh concrete architecture that sprung up in the aftermath of the Second World War, it's as unsettling and monolithic as the buildings that inspired it. Part pointed polemic about crumbling civil society and the dismantling of the welfare state, and part tribute to Talbot's mother who tragically passed away during its recordings, it's the first record that truly captures the intensity that lies at the heart of Idles. Savage, frantic, but surprisingly minimalist, it's also the closest you'll get to the band's live show without having to get your shoes soaked in beer.
"We were having such a crap time writing," says Bowen as the conversation switches to the new album.
"We were at a point where if we weren't at the point of full collapse, then we were definitely close," adds Talbot. "It wasn't fun and if it's not fun then you really shouldn't be doing music. I mean, there's plenty of shitty jobs out there."
Bowen picks up the story: "We talked about what we wanted to do and we decided to borrow the philosophy of the brutalist movement. We wanted to take things back to fundamental principles and work from the ground up. A lot of this album is just bass and drums really, and on some of the songs the bass is playing one note."
It's an approach that especially chimes with Talbot, who is something of a self-confessed architecture aficionado. "I wanted to use this album to rebuild ourselves in a cheap, easy way. So, in one way it's kind of a cathartic building block and a big, brash headstone for my mum. It's an analogy that really works for us – like many great things; it clicked. Honestly, it's transformed our outlook, the way we write, the way we work together, everything."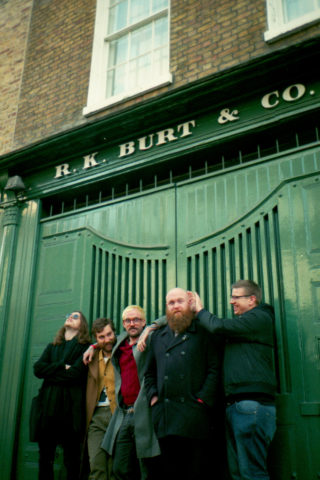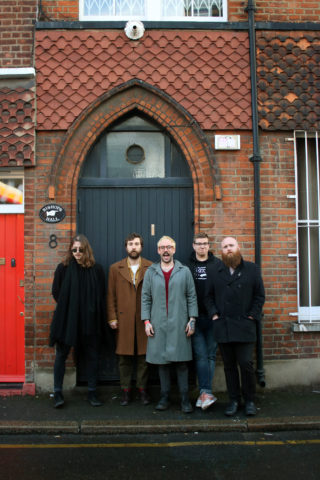 Idles do feel like a band reborn on the back of the debut album. Originally emulating Gang of Four, Bloc Party and The Walkmen, this record sees the five-piece ditch their post punk trappings. "As we've developed as a band, we've incorporated the individual influences that we didn't really focus on at the start," explains Talbot. "The bands that last are the democratic ones. I know that word has a slightly different meaning these days, but in our case, it means combing all our individual likes while still managing to work together."
Despite being a punk band, Idles are a mess of competing influences. They cite jazz, The National and minimal techno as inspiration while Talbot grew up on a diet of hip hop, garage, jungle and R&B. In fact, you can draw a direct line between Kanye West and 'Brutalism'. "'Yeezus' really helped us come out of our shell," enthuses Talbot. "That idea of bravery and restriction really inspired us.
"The fact that Rick Rubin gave him two weeks to write lyrics and he came up with all this abrupt and brash sounding music is so cool."
"What did Kanye call Rick Rubin?" adds Bowen excitedly.
"He said he wasn't a producer; he was the reducer. He basically took all this work Kanye had done with loads of different producers and went, 'keep that bit, ditch that bit.' He took Daft Punk and Evian Christ and boiled it down. A lot of 'Yeezus' is like that – Kanye really took a risk on it."
With the dregs left of my pint, I ask Idles about how they're dealing with all their growing attention. Talbot just shrugs. "We've stuck to being ourselves; you can't force it. All you have to do is stick to your guns and one day Theresa May will become Prime Minister. Then everyone will be looking at you."
"So have we been lucky that everything has turned to shit?" says Bowen. A sly grin spreads over his face, perhaps sensing an avenue for a bit of friendly piss-taking.
"Yeah!" exclaims Talbot, hardly missing a beat, "what else would we be talking about if things hadn't turned to shit? It would be whack; I'd be singing about trainers."
Loud And Quiet needs your help
The COVID-19 crisis has cut off our advertising revenue stream, which is how we've always funded how we promoted new independent artists.
Now we must ask for your help.
If you enjoy our articles, photography and podcasts, please consider becoming a subscribing member. It works out to just £1 per week, to receive our next 6 issues, our 15-year anniversary zine, access to our digital editions, the L&Q brass pin, exclusive playlists, the L&Q bookmark and loads of other extras.