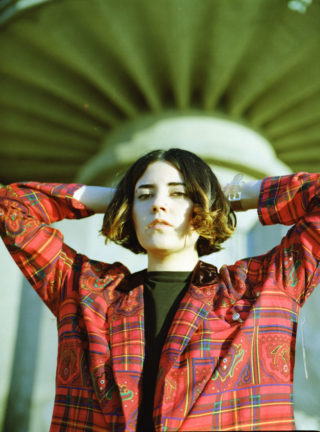 Jackie Mendoza – Love song experiments from the border of Mexico
A passion for pop music free from convention
It seems apposite to be talking with Jackie Mendoza about her debut EP on the night before Valentine's Day. Entitled 'LuvHz' – pronounced 'love hurts' – its six tracks variously deal with unrequited love, navigating long-distance relationships, and unhealthy infatuations.
These lyrical preoccupations have been the bread and butter of pop music from its inception onwards; what is fresh and intriguing with Jackie Mendoza is the way in which it's presented.
Tracks have abstract structures in which Latin-driven dance beats skitter to the surface, twinkling ukulele pans from left to right, and synths shimmer and float into the middle distance. These elements are grounded by Mendoza's Spanish and English vocals, and a love of pop music that means the lack of convention is always reeled in at the point of collapse.
"I think it's what comes naturally to me," she notes of this fusion from her home in Brooklyn. "Because I love pop and I love having that in my music, but also mixing some less traditional sounds and beats, and I want to get the Latin influence into it. But I always lean towards the pop structure because I like it."
This openness to inventive sounds and ideas is perhaps best observed on 'Puppet Angels'; the most aggressive dance track on the EP. It came about when Mendoza was in the studio with her producer, Rusty Santos, and they basically took the beat of another song, 'Loco Flow', and made something else.
She chose to work with Santos because of her love of Panda Bear and Animal Collective, both of whom he's produced. As someone with Mexican heritage, she was also interested in the fact that he's starting to work with more Latin artists. "I could see that he was really excited about working with me," she says. "He helped me out a lot with production and just adding his own little flair to it."
She's planning to collaborate with him again on an album that's scheduled for release in 2020 through Luminelle Recordings. "I'm trying to mix and match poppy with more experimental for it," she says, "and push myself to step even further away from the poppiness and try new structures and new sounds."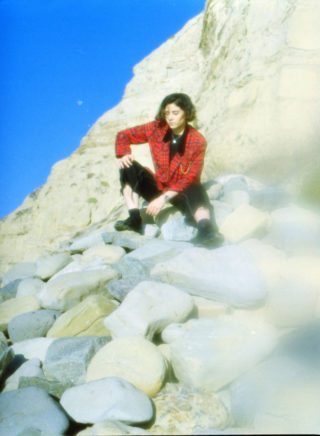 Aside from her love for classic pop songs (that she then mutates into something harder and far more eccentric), Jackie's heritage and geographical upbringing can't help but increasingly politicise her music. She was raised in San Diego, 10 minutes from the border of Mexico – her motherland. So 'Loco Flow' stands out on the EP for addressing the current climate in American politics. "I'm challenging myself to write about different things I care about," she says, "not just love pop songs. I think it's a challenge every artist faces: what statements do you want to make and what do you stand for?"
In today's political climate, amid reports that people are being attacked for speaking Spanish in certain parts of Trump's America, it could be said that singing in the language is a statement in itself. Jackie says that it isn't intentionally, but that "it does feel empowering to be in America singing in Spanish when people of all races are being discriminated against."
As she wrote in a Notion blog, she also wants to be, "a person Latin queer people can relate to."
She tells me: "I feel like I never really had that example and now I can be an example for anyone who's like me." If she'd had such a role model herself, she says, it would have encouraged her to come out at a younger age. "It would have helped her feel less weird or more comfortable. I guess I would have felt like, oh, there's someone out there that's like me – I don't feel so alone."
This evolution in sound and confidence has been ongoing since she got involved in music in 2013. It was then that she joined dream-pop band Gingerlys, who are currently in the process of re-grouping after the departure of a member. In parallel she launched her solo career so that she could be more experimental.
Her initial self-released tracks were far removed from where she is now, being traditionally structured folk that was performed solo on a ukulele, which is almost unimaginable when you hear 'LuvHz'. The tiny instrument is still in the mix, apparently, but it's completely unrecognisable: warped, spacey, and buried in beats that feel almost out of time to other percussive flourishes.
'De Lejos' is the track that marks the transition from conventional ukulele to a more electronic sound. "Because in that one I stripped away all the synth-iness and the regular beat," she says. "Just using little bursts of sound made it more experimental than pop."
Despite this, she still considers the ukulele to be her key instrument. "I just feel more comfortable writing on it," she explains. "It's easier but there's also room to experiment with it with pedals. I feel it suits my voice really well. It also holds a special place in my heart because I started playing it in middle school."
School is where Jackie discovered her voice, too, in musical theatre, performing in productions of Hairspray and The Pirates Of Penzance. "I was very, very shy growing up, and that really helped me get more comfortable with myself," she says. "I think from there I fell in love with performing and making music, singing. And then I thought I don't have to do this on stage like a play, I can do this on my own."
Photography by: Tayo Okyekan
Please support Loud And Quiet if you can
If you're a fan of what we do, please consider subscribing to L&Q to help fund our support of new musicians and independent labels
You can make a big difference for a few pounds per month, and in return we'll send you our magazines, exclusive flexi discs, and other subscriber bonus bits and pieces
Try for a month and cancel anytime