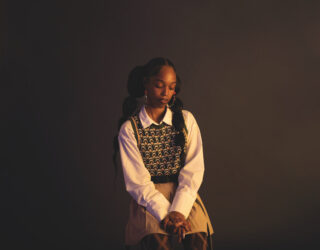 John Glacier: it really is that deep
Getting to know the not-so-elusive Hackney artist
Elusive, enigmatic, mysterious: in the limited amount of press John Glacier has done so far, these are the sort of descriptors you'll usually find following her about. As a result, it's difficult not to approach an interview with the East London rapper without a mild sense of trepidation: what if she proves hostile, or shuts down every line of questioning? 
As it happens, Glacier is a fun, frequently fascinating interviewee. Ask the right questions and she'll talk animatedly – and at length – holding forth today on subjects as far reaching as social cleansing in Hackney and the mechanics of the music industry. So when I mention her reputation for having an aura of inscrutability, she seems genuinely bemused. 
"I don't believe I'm elusive or an enigma or mysterious," she shrugs, perched on the sofa of her manager's apartment in Margate, wine glass in hand. "I'm very talkative, very open, very honest. People see me out. I spam my Instagram page with what I'm doing in my day. So it doesn't make any sense to me. I'm just a human."
That's not to say that any of these descriptions are entirely inaccurate either. Glacier can be brutally economical in her responses, and would never elaborate out of politeness or to dispel nervous energy. When I enquire why the male pseudonym she bats back, "Because I'm John Glacier!" laughing. Ask her about the specifics of her creative process, and she regularly retreats into vagueness, saying things like, "There's not much thought behind it," and, "I just start writing and see where I end up."
If it can all feel a bit evasive at times, it's worth asking yourself whether any of that stuff really matters. Culturally, we're so conditioned to want context but, really, what more do you need than the music? Maybe it's just not that deep. As Glacier puts it, "Let's say I told you the whole project was about my favourite pair of socks: it would just take away your own world of what [the music] meant to you. And, anyway, nothing's ever as interesting as people make it out to be." 
Except that Glacier is making some of the most interesting music in the country right now. Released at the end of July, her debut project – SHILOH: Lost For Words (second on our Albums of the Year list) – remains every bit as astonishing today as it was on first listen, setting Glacier's low key, almost conversational flow amongst a range of hazy electronic soundscapes overseen by executive producer Vegyn (Frank Ocean, Dean Blunt, JPEGMAFIA). From the eerie, arpeggiated synths of 'Cryptomnesia' to the sun-warped guitar textures on 'Green Elephants', via the serene drones and shuffling brush work of 'Some Other Thing', there's a hallucinogenic yet soulful quality to these productions, only heightened by Glacier's use of pitch-shifting. 
Considering both her freeform approach to experimentation and her abstract, almost stream-of-consciousness-style bars, it's tempting to draw comparisons to Dean Blunt (with whom she has collaborated previously as part of his Babyfather project) while the sense of intimacy she conjures brings to mind an artist like Tirzah. Glacier herself has nothing to say on SHILOH's specific influences today, though she talks freely about the artists that shaped her in childhood.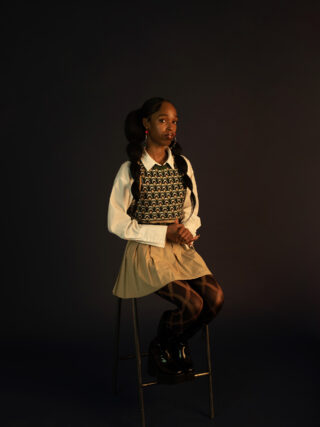 Growing up in Hackney Central, Glacier and her siblings would spend hours hanging out in their father's Caribbean food shop, leaning into their Jamaican heritage by listening to reggae and dancehall artists like Vybz Kartel, Gyptian, Mavado, and Sizzla, as well as soca and hip hop. She cites the most commercial of pop music as influential too, including Atomic Kitten and Westlife, as well as UK hip hop and grime artists like Wretch 32, Kano and Dizzee Rascal.
She looks back fondly on the multiculturalism of Lower Clapton Road at that time, long before the artisan coffee shops and boutiques inevitably moved in. "There was a massive Jamaican community, a massive Pakistani community. And then suddenly [developers] were offering people money to leave, basically. Some people took the money, but my dad wouldn't because he knew why they were offering it to him: they didn't want people like us there anymore."
It's a feeling Glacier is still brought back to every now and then with a jolt. "I went to this pub in London Fields this summer with my mate, and everyone was just staring at us. And I was like, 'Oh my gosh, I was born here, like, fuck off!' I feel like if [gentrification] was inclusive, then it wouldn't be an issue. But some of the new people in the area are racist. They're not in-your-face racist, it's more subtle than that." She confronts microaggressions like these on 'Icing', drawling in the chorus, "Don't see me as human, no no / Chocolate browning, shining, shining." 
As she explains, music has always been an outlet for processing difficult experiences and feelings. "Instead of me ranting about stuff, I can just make a song, get it off my chest, let it sit there, and I no longer have to deal with it. So this project was literally a huge purge of emotions: it was me laying everything out and then killing it. It's a form of peace."
That diaristic feel is further reflected in the project's purposely rough-hewn edges. Instrumentals are often deliberately lo-fi, and at the end of 'Platoon' we hear Glacier telling Vegyn on mic, "I think I did a better flow on that, I think." For Glacier, preserving that authenticity is integral to who she is as an artist.
"I'm not the type of artist that's ever gonna take the form of something they're not. My main goal is letting people know that I'm me, otherwise it's so awkward. Like, imagine if I put out like this crystal clear image of me that was near-perfect, and then you met me in reality. You'd be bloody disappointed, because I'm quite shy. Some people, they get themself into mad uncomfortable positions in life by putting up a false image of themselves, that they then have to step out into the real world and uphold. I feel like that weight would be way too much for me to bear."
It's an approach that could feel at odds with much of the music industry, but Glacier is well aware of her worth. "If labels are looking at me as a business opportunity, I will be smart and do the same," she shrugs. "And if you get frustrated with the industry, it's just about reminding yourself that if you wanna make music, you can always make music. It can just be for pleasure, and not business."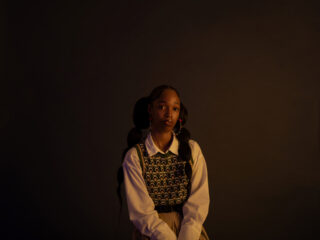 Knowing yourself is a key theme on the ironically-titled SHILOH: Lost For Words, which sees Glacier speaking freely about her relationships, both with herself and others. It often feels revelatory, particularly on 'Platoon' where she admits, "I've been searching for myself in the wrong places." Meanwhile, religious imagery is scattered throughout, which feels a curious choice considering Glacier herself is not religious. "I feel like sometimes when you've got nothing, you've just got to have faith," she reasons. "Like, life's rough – if you have like the comfort blanket of faith, stuff will work out."
As well as spirituality, there's plenty of dark humour to be found here – if you look deep enough, that is. "I feel like people that experience depression find laughter in places where others might not," Glacier says with a wry smile. "So some people might find humour or joy in places where it seems like there isn't joy."
For someone pouring so much of her soul into her writing, Glacier seems impressively indifferent to any audience reaction today. "I live in my own head," she says, a statement that could easily feel disingenuous, but coming from an artist as defiantly independent as Glacier it rings true. When pressed to consider who might benefit from these songs, she suddenly becomes more forthcoming.
"I feel like women would understand what I'm talking about, or relate to the songs, more than anybody else. And that's the main purpose. I'm a loner so a lot of times when I've been bogged down, I didn't really have anyone to talk to. So music was my way of putting stuff out. And if my music doesn't speak to you, then it's probably not made directly for you. It's music for loners. Music is my friend. Literally, I write every day, I make a beat every day, I'm always doing something music-related. I can't live without music. And that's not a lie. It's my life support."
It's a moment of unchecked candour that seems to startle Glacier herself. Turns out, it really is that deep.