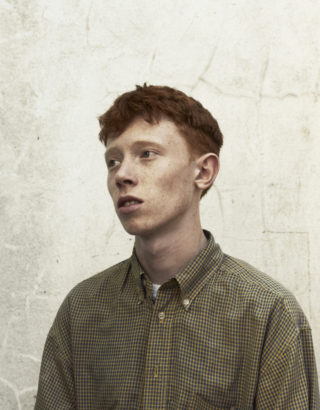 King Krule is better at giving interviews than he thinks he is
Six Feet High And Rising
Where better, I ask myself, to spend a scorching July evening than an industrial estate in North London? I'm there to meet Archy Marshall, who has been rehearsing with Mount Kimbie ahead of their live shows together this summer and so I'm directed to meet him near the practice space. Apparently his friend lives in one of the warehouses, which is hard to countenance when I arrive at the sea of concrete rectangles. The backdrop, however, seems perfect for us to shoot an artist whose music is founded on raw, jagged aggression and doggedly rough textures.
The Loud And Quiet photoshoot is underway and as I get closer I see Marshall being directed to climb on to a discarded stack of wooden palettes. It's a comical scene, his pale, deep-set face remaining expressionless throughout. The absurdity isn't lost on the 18-year-old Dulwich songwriter, but while he's quite clearly bored, he remains stoically compliant and doesn't complain, instead choosing to entertain himself by contorting his limbs as he stares unflinching down the lens.
Ennui aside, Archy Marshall is perfect for the camera. Under a shock of tousled bright red hair, his gangly upper limbs are covered by a long, button-down shirt that's become his trademark, but although he cuts a striking figure, he winces in embarrassment when a member of his management company turns up to show him a sneak preview of his new video and a series of promotional close-ups. "Awww… no…" His unease drives home just how young Archy Marshall is.
Over the next 45 minutes I watch him and his mate as they wander around the area's dreary environs. When an ice-cream van arrives it seems to make a bizarre sort of sense, the Doppler effect of its passing chimes giving the scene an eerie, offbeat feel. I imagine that last month's L&Q cover star, David Lynch, would be proud. A peeling sticker on the back of the van reads Mind The Children, but the gelatiere is greeted only by an orderly line of fully grown workers from surrounding factories that had until now seemed completely derelict.
Impressively, Mr Super Ices does pretty well, and Marshall and his friend are eager to add their custom. Despite the extensive menu at his disposal, Archy opts for a creation of his own; a double cone with lemon sorbet topped off with a dollop of whipped ice cream and chocolate sauce. We spend the next few minutes waxing lyrical about his and his pal's choices. "You can tell it's cheap," the latter confides, "but it's good, man. You know, in that cheap way."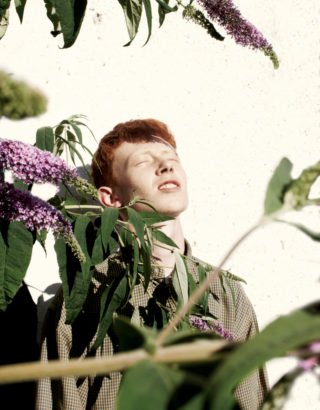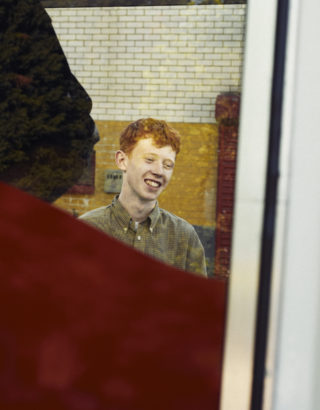 Photo call rounded up, I ask Archy if he's excited about our interview. He laughs. "I've done about 35 recently." I take it as a no. Luckily he gets a reprieve when his partner finds that he's locked out of the warehouse that he seems to share with an impossible amount of others. A few stones are thrown at the window, and we get a few odd looks but neither seem too flustered and it's another reminder of our gap in age as my mind wanders to the logistics of tube routes and what time I might get home.
Eventually we get settled down and, sensing that this might be hard work, I ask if there are any questions he would prefer not to entertain. In return, I receive a predictably pithy response; "I don't give a fuck." That, however, is where Archy Marshall's reluctance ends. When we get around to discussing the nitty gritty of his life and his music, I find an endearingly articulate young man, blessed with an eloquence that belies his years. He seems to know exactly what he's doing and where he wants to go. His self-awareness when it comes to his personality, his art form, and his own definitions of success are delivered with impressive succinctness, carefully choosing each and every word that's delivered in his impossibly deep register. In a sea of chatter, where artists and journalists can babble on ad infinitum, his considered approach is refreshing. When I ask if the music he creates is an outlet for a personality that he himself has described as "dry", he agrees. "Yeah, the music's perfect because it's an acceptable face," he says. "A lot of the thoughts inside my head and probably your own and probably everyone else's; they're unacceptable thoughts and I guess it's just a way of putting a nice face to these unacceptable thoughts."
A lot of the attention around King Krule has centred on his voice. Half-croon, half-spleen, it rose out of a fundamental need to be heard. "It's really about understanding that I got to be here in front of this mic," he tells me. "It's about playing live and I've been to so many gigs where no one was listening to me. I'd just be there and I didn't know how to get people's attention so I kept a really aggressive energy throughout a lot of my live sets and I started to get noticed for my voice." While its raw physicality is one aspect, a lot of effort goes into controlling its range of dynamics. He says: "That's where, I guess, when it goes into higher parts a sort of more emotionally tonal side comes out and then when I want to bring it down to a dry level I can. It's very, very, very … what's the word? It's just very expressive and it feels – I don't know how to explain how it happens, but it just feels really nice to do." I say that it sounds like it feels satisfying. "Yeah, man. Really satisfying. Self-therapy."
His music is often built on a visceral kernel, but what makes Marshall's music so captivating is its dichotomies. Out-and-out hostility is paired with achingly beautiful melodies right across next month's debut album, '6 Feet Beneath The Moon', marrying carnal punk howls to Reinhardt-style guitar lines on 'Ocean Bed' and stuttering trip-hop drum machines to lullaby piano motifs on 'Neptune Estate'. And so while his aesthetic is unique in blurring its boundaries, there is a recurring deference to a number of distinct, ostensibly disparate genres. "I was always around a lot of hip-hop and a lot of modern music as well – dance music," he says. "It just comes from me taking in as much as I could."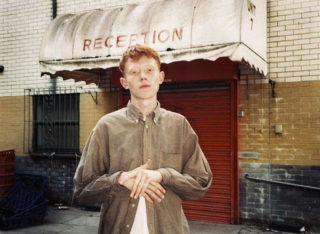 The rockabilly of the late 1950s, however, is central to the King Krule style, and the mention of the era sends him off on an encyclopaedic checklist of touchstones, exuberantly recounting its folklore. "Yeah, it took me a while, man, but I was always surrounded by a lot of music so I guess it took me a while to actually get turned on by that music and start respecting it. It took me to be mature enough, until probably about 15, to start listening to music more in-depth – I guess not more in-depth but I just started digging through crates and trying to find more music and trying to find more musicians, so I guess that's when it really came to a point where, like, I was listening to a lot of '50s rockabilly."
Marshall has clearly done his due diligence, barely pausing for breath as he lists off the legends of that brief period.
"I was really into the whole aspect of between '56 and '59. I guess it kind of died in the space of four years with Buddy Holly and his band getting killed in a plane crash, Elvis going to the army, Gene Vincent and Eddie Cochran in a car crash that killed Eddie Cochran, and Jerry Lee Lewis marrying his 14 year old cousin and getting sent to prison. So I think, yeah, it was a really interesting time and had a lot of my heroes from growing up. I guess there's references to Gene Vincent and there's references to that rockabilly style."
Marshall's relationship with music, however, goes back much further than that and he comes from creative stock. His mother was briefly a member of the post-punk band The High Bees, and his brother contributes the King Krule artwork. His uncle, who has played in bands since before Archy was born, was always a looming figure. "My uncle was a ska guitarist in a band called the Top Cats so I went to a lot of gigs and saw them play a lot. That's one of the main influences in making me want to be a musician and wanting to create rhythms. I would always be listening to Ian Dury when I was young, too, and a lot of my family listened to him. I grew up in South London and I was around musicians and creative people. I've been going to gigs since I was a really young person so it's just been a part of me, wanting to be a musician and wanting to write songs since I can remember. I don't really see any other way."
But although he's immersed himself in music since his formative years, he's quick to point out that he's by no means the finished article. "I'm constantly developing, I feel. And it's kind of hard because obviously I've done a few releases now and people are trying to pin me to a sound or trying to pin me to genres and I'm always going to try to take on board as much as I can, and I'm always going to try to be developing, for sure."
While many musicians' assertions that the best is yet to come might be taken with a sizeable pinch of salt, Marshall's innovative credentials are obvious. Having rebranded himself from Zoo Kid to King Krule in the last couple of years, he has also produced work under the noms de plume Edgar The Beatmaker and DJ JD Sports, monikers that provide outlets for his more experimental ambient, dance and jazz bents. The side projects, he says, allow him to grow creatively, providing a rough canvas for his experimentation before he fuses those sounds together under the banner of King Krule. "I'm even working on new stuff as well. I think it's just a way of easily developing. The King Krule stuff, I take from everywhere. With that other stuff it's more related to trying to create a sound. It's more a craft rather than the artform. I guess it's just nice to produce and get into that side of things. I'll keep releasing stuff not as Archy Marshall."
As well as the tutelage of his family, Marshall attended the BRIT School, a performing arts college in Croydon that counts Amy Winehouse, Jessie J, Adele (with whom Marshall shares a manager) and Katy B amongst its alumni. The mention of it elicits a smile from the singer, and he's careful to employ a degree of diplomacy when discussing those names. "I haven't really been a big fan of a lot of the people coming out of the school. I guess my music was picking up and the main thing I was worried about was trying to associate it with these other artists, but luckily enough the music spoke for itself."
Given the mainstream slant of the school's graduates, I unfairly expect Archy to reject its influence out of hand, but he's positive about his time there, telling me: "It was a really good educational system for me. I hadn't experienced such a good one in my life in terms of the fact that it was ordered and it was educational in the sense of knowledge rather than the sense of growing up. I think that's why I hold a lot of respect for some of the teachers there. A man called Derek Moir taught me a lot about history and social science. I guess that was a big thing."
It brings me on to the BBC Sound Of 2013, an award that he was nominated for, but eventually missed out on to California indie-poppers Haim. I suggest that he could have been catapulted into the realm of Jessie J and Mika. "I don't know," he says, "because I don't even know the band that won." Yet his disinterest doesn't seem affected or forced and it's certainly not meant as a slight on the winners. "I mean, all I can say is that I don't have a TV so I don't pay for the BBC to be about. I don't pay for a licence. I don't know. It was a good feeling but it was something that I didn't put a lot of heart behind. I just wanted to play the gig and get out there. To be honest I didn't really pay attention to it until I got to play the gig in the studios, which was really nice. But I'm not going to lie, I didn't really understand it," he says with a smile, revealing that the very concept had passed him happily by. "I didn't understand what was going on; whether I had to vote myself for other people or something. I didn't understand the aesthetic of it."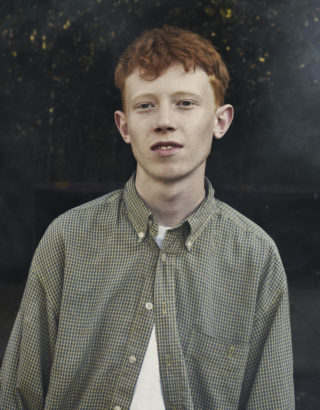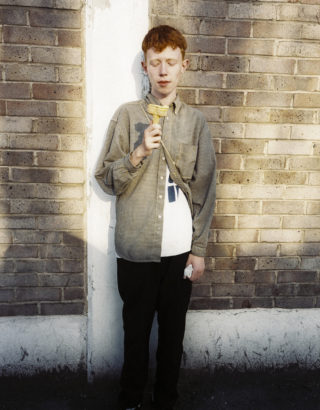 Though the Beeb passed him over, admiration has come from likely and not so likely sources, yet Marshall's been taking the attention in his stride as his star moves firmly into the ascendancy. He's been quoted as saying that he fully understood why Beyoncé posted the video for new King Krule single 'Easy, Easy' on her Facebook page; his music is, after all, "good," though a collaboration, he jokes, might be a while off.
"Beyoncé, yeah, sure, man, I'll meet up with her any day. I dunno, the only thing is that I'd be a bit scared of what I would say around her. I heard she's quite Christian. But she seems cool and I love musicians and I think if you're a musician and you've got a good word to say about another musician it's really nice. So I'm happy that I've got that respect from those people, definitely." As for Earl Sweatshirt, the similarly prodigious Odd Future rapper who tweeted a request for Marshall's contact details, the possibility of working together remains open. "Earl, I haven't met him, but I think I'm going out to L.A. so I'll probably meet him out there," says Marshall. "I don't want to force anything. I want it to be a natural thing. I want it to be a casual thing. If it works, it works, and if it doesn't, it doesn't. It would be good to meet a fellow musician like himself."
One collaboration that has already yielded fruit is the work he's done with Mount Kimbie and he's effusive at their very mention. "It was almost, not in an overly cheesy way, but almost a dream come true for me because I guess I'd been listening to them so thoroughly. So when it came to actually working with them I didn't quite know what to expect, but I love their music, I love their musicianship. I couldn't describe to you the feeling it was playing with them." As he speaks about rehearsing the two songs he recorded for their sophomore album 'Cold Spring Fault Less Youth', his enthusiasm reaches a crescendo. "It was such a nice feeling. I couldn't describe to you how happy it made me to play that song with them live. It was so good. I guess it's more about the connection between us. I really respect Kai and Dom. I want to work with them in the future, for sure."
And so, we move on to King Krule's own album. Despite his age, '6 Feet Beneath The Moon' is the result of at least five years work and the first single to be lifted from the album, 'Easy Easy', is a song that he wrote at the age of just 12. For all its melodic directness, look beneath the surface and it has remarkable lyrical depth. The minutiae of detail – an out of date sandwich and a Tesco receipt – sketch a baldly vivid scene in the tradition of Morrissey or Mark E Smith's kitchen sink imagism.
As with his kaleidoscopic approach to sound, Marshall has spoken of his love for poetry, particularly W.H. Auden, while his affection for the written word in its most physical sense evokes the poems of E. E. Cummings. "It's really hard to describe," he says. "I guess a lot of people would say I'm slightly artistic. I see a lot of beauty in the aesthetics of letters alone, and the shapes of them, and the way the punctuation is and how you can… just the tones of a word. That's how a lot of my lyrics were created initially; there are words that I'm almost in love with, and phrases that I'm almost in love with that I've created myself. I guess, lyrically, for me it's something of a spilling on to the page. It's really lucid at first and I write as many things as I can. I pick out whatever I can shout about and whatever I can really get out of my mouth. I dunno, it's as much about the melody behind it as anything."
He speaks with gusto as he describes his technique.
"It really empowers me when you're talking about something that you care about, and let alone that, it sounds fuckin' good so I guess it's just me mainly wanting to shout out some stories and shout out a lot of emotions that I found that style. I always wanted to disguise it as well. I didn't want people to see it for what it is, in black and white. I wanted people to feel uncomfortable in places. By uncomfortable I mean in fear of the unknown. Somehow it sort of relates to them and it's quite open to interpretation a lot of my lyrics, and that's what I like about them. But I'm constantly developing and I'm constantly reading more and I'm constantly writing better stuff. I'm just trying to keep going."
Born out of those teenage years, the album functions as a bildungsroman of the artist, its hero journeying through romance, sex, conflict and depression. It was important to Marshall to capture those early creations alongside songs that have been written in adulthood. "I don't think I could live with myself if I didn't get them on to vinyl, get them pressed, and they weren't part of my debut collection," he says. "But it was really, really fuckin' hard to record them. We recorded them probably about 4 or 5 times and it was only until the last few months when things started clicking and happening. I don't know, it was kind of as much a hard part just letting go of these songs that I've written that I feel will always be some of my best work. It was hard letting go of them because it's just hard to say that that's the final cut, but it was something that was just natural in the end." I ask if he feels content with the versions that will finally be consumed by the public from August 24 (Marshall's 19th birthday) and his answer is characteristically unequivocal. "Yeah, definitely."
Despite its sonic diversity, one thing that ties the record's sound together is how inextricably rooted in the nighttime each song seems to be, and Marshall admits that much of the album was created during the wee hours. "Aw man, I lived at night. Only until now, because I've started to work a bit more, I've just been literally getting up at three in the afternoon and going to bed at seven in the morning pretty much every day for the last, I dunno, three years. So I guess it's natural that it's really nocturnal. There's probably no other way that it could have been."
Part of the reason behind the sumptuous realisation of this sound is the production of Rodaidh McDonald, a man who has helped shape the sounds of the The xx. "I think Rodaidh really… why I like working with him is that he really gets that," says Marshall. "I feel with his production on the first xx record that he was really suitable for it, and he's someone who's probably more in touch with my sound better than I could be because I don't have the knowledge and the knowhow and I can't use a lot of the software and equipment. It was really good to have because he did show me a very… he did sort out a lot of sounds for me, forming it from being this rough project to something quite clean and quite grand in its own right."
Marshall says that the madness of the night, and its scope outside the confines of the daylight hours is something that is extremely attractive to both he and McDonald, explaining: "I think it's very, very nocturnal and that lunacy, the lunar life. We just experiment, man. We just experiment."
Having evangelised his music over the last couple of years to anyone who would listen, I consistently find myself telling people that they should watch King Krule's space, that he's the next big thing, and it occurs to me that I'm not exactly sure what that means. I want to find out, therefore, what Archy himself would view as success. "You know what, I don't actually know," he says. "What would bring myself a huge amount of happiness from the album is just getting the physical copy, the artwork, and being able to listen to it and being able to look at it, let it hit me that it's happened and that I've actually been able to do this. And then on the other side, you know, what I love as well as that, people like yourself who are really, really into it – and I'm glad that it's reached out all the way to Derry (my hometown) – that's something impressive in itself. I guess it's mainly… I can't say whether it's going to be big and I don't care if it sells a lot and I don't care if it sells a little. I just really want it to be a collection and just be sampled and fucked about with by other musicians and other people. I don't know, I just like it being out there, you know, and that's all I really want from it." He pauses. "That and a fuckin' massive yacht as well. A big yacht and ten BAFTAs." He stops again for a moment and his eyes glint with mock pride. "For my acting."
Please support Loud And Quiet if you can
If you're a fan of what we do, please consider subscribing to L&Q to help fund our support of new musicians and independent labels
You can make a big difference for a few pounds per month, and in return we'll send you our magazines, exclusive flexi discs, and other subscriber bonus bits and pieces
Try for a month and cancel anytime