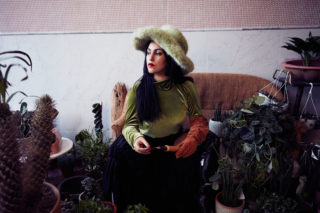 Lafawndah – A global outlook from an algorithm's nightmare
A creative "orphan" thrives in an industry that thinks in narrow ways
For a fiercely independent, multi-disciplinary artist pursuing a singular creative vision, the degree to which Lafawndah prizes community might seem surprising. Certainly stylistically, there's no obvious peer for the polymath performer, who mines indigenous sounds from all over the planet. But it's this hunger for connection that drives her to take the road less travelled, both figuratively and literally.
"It's important for me to make links because sometimes I feel quite isolated," she reveals today, in the verdant surrounds of Hackney's Conservatory Archives. Certainly geographically, Lafawndah's heritage is unique, being of Iranian, Egyptian and English descent, and raised in France. She repeatedly describes herself as "an orphan" creatively too, "because my music doesn't fit in with a thing that's already going on."
Her 2015 and 2017 tours with Kelela are cited as a case in point. "We only went on tour together because we're really close friends. Musically, no agent would have put us together, and yet it made it such an interesting tour.
"The industry thinks in such narrow ways, in terms of the type of connections that there could be musically," she continues, increasingly exasperated. "It's like, 'So these people are black and doing kind-of gospel: they should go on tour together.' It's very narrow-minded marketing, like, 'I can see that the people that like Solange also like serpentwithfeet,' and you're like [slow hand clap]. That's literally the world we live in – the algorithms are making the circles even smaller. It's like, why would you want to go to the same show that you've already been to?"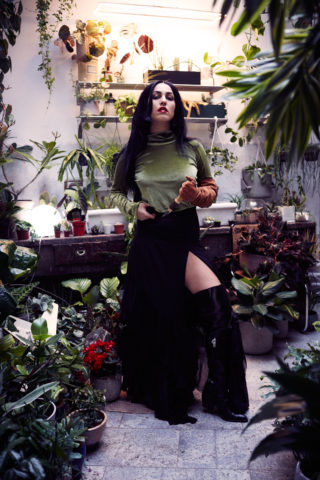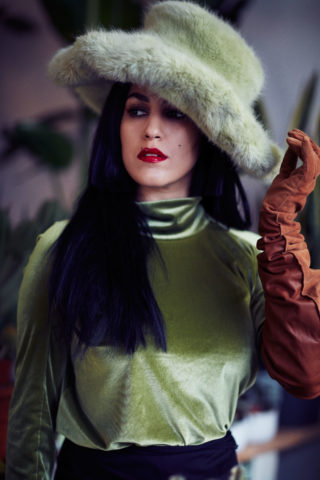 It was these twin desires to foreground an artistic kinship that transcends genre, and to offer a totally unique live experience, that inspired last December's Honey Colony show at London's Southbank Centre. Born from the mixtape series of the same name, Lafawndah assembled an all-star line-up – that included Mica Levi, Tirzah and Kelsey Lu – to participate in a production that fluidly blended performance, collaboration and experimentation.
When I raise her decision to foreground largely female and non-binary artists, Lafawandah cuts me short. "I mean, it so happens that they're the best artists in the world right now," she bats back. "It's not a statement. It's literally that I want to work with the best people, and they're the best. It's a really exciting time to be making music."
"For me the Honey Colony is so many things," she says. "I think that this economy that we're working in is isolating us because the hustle is so hard, so [the performance] was an occasion for us to create a context for us to share more communal experiences, because they're so joyful. And because if there wasn't a show, to have all these people in one room would have been impossible.
"And when you have a show that's just about kinship and personal connections, rather than just music, the kind of performance that delivers is very dynamic. We didn't know what it was gonna be. And there was this weird energy in the room. The audience started getting out their chairs and running onstage. Security were confused whether they should intervene, and we were like, 'No, no, this is what we want.' It was good anarchy." Lafawndah hopes it will prove the first in a series of live performances. "People have to book this not knowing what it's gonna be. It needs to be like that. But it's a virtuous bet."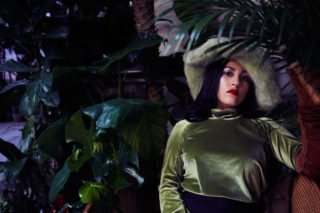 Lafawndah has plenty to keep her busy in the interim. Following last year's alliance with filmmakers Partel Oliva and veteran composer Midori Takada on musical short 'Le Renard Bleu', she's set to reunite with Takada in April to perform their collaborative work 'Ceremonial Blue' at the Barbican. And before that there's the small matter of releasing her long-awaited debut album.
Shared via her own Concordia imprint – on March 22nd to coincide with Persian New Year – 'Ancestor Boy' is the producer/singer's first solo release since 2016's Tan EP. It cements her as a sonic auteur in the lineage of Björk, offering an esoteric new permutation of electronic-pop in which fractured club beats collide with elements of avant sound design.
Out of economic necessity, it was recorded between Los Angeles, Mexico City, New York, Paris and London; essentially wherever Lafawndah could crash with friends for free. This nomadic existence proved integral to the record's global outlook and stylistic range, hopping as it does between hyperactive zouk ('Uniform') and hushed devotionals ('Joseph').
One particularly fruitful recording stretch took place at the studios of NY dancehall label Mixpak. "Mixpak is a label that was created by a bunch of white American people who became the spokespersons of dancehall," she explains. "At the time [I was] there, they created a lot of dancehall parties in New York and I remember the first time I walked into one of those parties. I was like, 'What… is going on in here?' It was literally just a bunch of white hipsters in Williamsburg dancing. There was no-one of colour. No-one. Not DJing, not participating. And that's where I started working on my album."
'Tourist', the track inspired by the experience, finds Lafawndah singing from the perspective of a coloniser. "Your home is my home now," she coos in the verses, and in the chorus she yelps, "Want it! Need it! Take It!" It's a refrain that might sound familiar to anyone with a passing interest in contemporary pop.
"Ariana Grande?" Lafawndah smiles. "You know her? She released a song called '7 Rings'. Do you know the chorus? The words are the same as 'Tourist'. I'm not telling you that she copied, I'm telling you because I'm fascinated by how much we nailed the thing. I'm literally writing that song from the perspective of someone who's entitled.
"['7 Rings'] is literally a blackface moment, featuring all the signifiers in the history of hip hop. I can hear and I can feel when something is taken. It's very different than something that has been studied and something that has been mastered and something that has been digested. If you're adding something to this conversation that you've digested, it's a very different thing than taking a signifier. That song is a signifier of all the songs without any connection. And she's talking about buying hair – it's just so upsetting."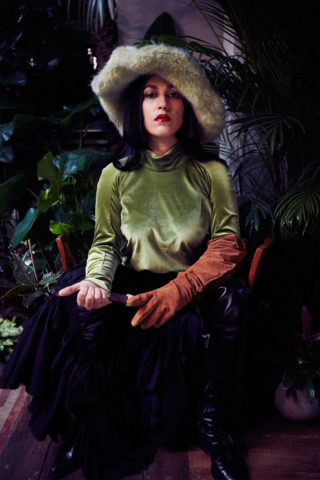 Lafawndah is acutely aware of the potential irony of the fact that much of 'Ancestor Boy' was created in collaboration with white men, including Gatekeeper's Aaron David Ross, James Connolly aka L-Vis 1990, and Nick Weiss of Teengirl Fantasy. "I'm very lucky because I feel like these are the people I will probably make music with for the rest of my life," she muses. "Previously, I've spent so much time massaging egos, and a lot of the time I've had to dim my light. I'd never do that now because I know better, and I've never had to do that since working with these men.
"But again, I think it has to do with economical reasons and race and gender. No person of colour and no woman is available to work for that stretch of time without getting any money back. That's the reality you know? Also, as first generation kids coming from immigrant parents, there's a certain level of expectation. There is a very strict idea about success that usually has an idea about being a doctor or a lawyer. It's a different approach than my white friends who have parents who are like, 'Yeah! You're an artist! I love it' and hanging out at their shows."
This was another motivation for founding the Concordia imprint. "I know so many women who are so talented but who are not well surrounded at all. They're just still at that stage where they're dealing with a lot of ego, they're not heard and they don't have the confidence to produce. That was me very recently, still. So I think it's important that this [record label] gives back.
"The idea is to create a home for all the orphans of the world. All the artists that don't sit properly, that are doing things that are challenging, that are not obeying enough of what's expected of them. Concordia is going to be their home."
This concept of community is further reflected in the recurring motif of the island, threaded throughout 'Ancestor Boy'. "An island is always in relation to something else because it couldn't exist by itself," Ladawndah explains. "The geology of it is really interesting to me, because it's coming from something that has exploded or shattered. And also what I love about the island is that it's literally the tiniest, most concentrated amount of land but so much stuff gets produced: the best music in the world, the most insane writers… There's this resilience, and this clarity.
"I think the whole album is about clarity," she says. "Clarity is a life process, but I'm coming from a period of my life where I had none. At all. I'm coming out of decades of fog, and this album is definitely my first step."
Free Protomartyr flexi disc with this month's magazine
Subscribers to Loud And Quiet now receive a limited edition flexi disc of a rare track with their copy of the magazine
This month's disc is from Detroit punk band Protomartyr