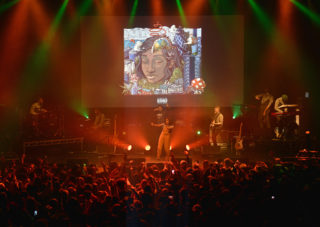 Little Simz – the independent artist who's always inspired by everyone who said no
'I'll never stop trying to look for different ways to make things cool, interesting and exciting'
On December 16 2016, just as the majority of the music industry swept their leftover mince pies into the bin and switched on their Out Of Office on for Christmas, Little Simz released an album. Unless you're Michael Buble or Elvis' estate, artists don't tend to release music in December. It's something about not getting any radio play in-between Slade and wrestling any shelf-space from Adele. But, Simbi Ajikawo had made a promise. Little Simz had told her fans that the follow-up to her 2015 debut LP 'A Curious Tale of Trials + Persons' would come out in 2016, and so she was simply keeping her word.
It's just a small example of how Little Simz has carved out an ever-growing community based on free-communication and respect over the past couple of years. The north London artist's story of independence has been well-trumpeted before: in her mid-teens, already making her own mixtapes, her attempts to enter the music industry via the traditional routes were consistently rebuffed. Since then, she's turned that to her advantage; starting her own label, releasing her own music and booking her own TV appearances.
Now it's at the point where Little Simz has curated her own festival. It was an event, held at London's historic Roundhouse venue on Sunday 12 February, that encapsulates Simz's desire to always do something different. She handpicked the performers for two stages (everything from all female jazz group Nerija to US rapper Mick Jenkins) while Mckay Felt, the illustrator responsible for her album artwork, created live art. It was much more than a standard show.
A few days before, while rehearsing for the event, Little Simz spoke to us about the reception for her most recent album, 'Stillness In Wonderland', where her drive as an independent artist comes from and her "genuine" friends in the industry.
L&Q: The last few years we've seen a lot more artists putting on their own festivals – everyone from Bon Iver to Drake – since you're doing this, is that something you'd like to do more?
LS: For sure, definitely. I'm kind of just taking this one step at a time but this is something I definitely want to do again. But I have to get through this one first and see. I didn't realise it was going to be this much work. It's been so stressful, on top of actual real life stuff happening – travelling, trying to conduct a tour and trying put together a festival. There's so much that goes into it that people will never know – it takes months of planning. Hopefully it'll be worth it.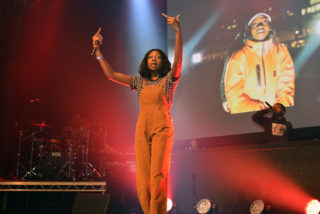 L&Q: If you're an independent artist you often have to work harder, do you let yourself enjoy those moments, like this festival, that you create for yourself?
LS: I'm always trying to think of where I can take it, how far I can possibly go and where my abilities reach. It's just a case of timing and being able to do it. I don't want to procrastinate and talk about it and say, 'Yeah I wanna do this.' I just want to go and do it.
L&Q: How far do you find yourself planning ahead? Do you think about where you might be in five years time?
LS: Nah, I have an idea but that's subject to change at any point. I just let that be what it is, I just focus on the now and make little short term goals. It seems that little bit more realistic to hit. Short term goals make for the long term coming true.
L&Q: You released 'Stillness In Wonderland' at a time when very few artists release new music, was that deliberate?
LS: Yeah, kinda. I'd been saying that my album was going to come out this year [2016], I could have pushed it until January and have it come out in the new year. But I know everyone would have been putting out music in January and I just felt… I said I was going to put it out this year, and that's what I'm going to do. Even if it's Christmas Day. Or New Year's Eve. You're going to have this album in 2016. Whoever listens to it listens to it. I know that I put all I needed into it and it'll reach the people it's going to reach. Just let it do its job. I've never been fearful with those kind of things to be honest, because I've been putting music out whenever I want, so I don't know what it feels like to not release something when I'm ready to release it.
L&Q: The Wonderland concept which runs through the album but you also created a comic book with it, a short film, lots of things… why is that important?
LS: It's cool that I get to do more than just put out music. I get to put on a festival, make a comic book, make merch, tour… I get to do so many things under this one umbrella. Every time I've done something different everyone has been really receptive or inspired in some sort of way. That's what I aim for and plan to always keep doing. I'll never stop trying to look for different ways to make things cool, interesting and exciting. I want everyone to be fully immersed in it. I'm not just trying to be another artist. I want it to be another world. I want it to take you somewhere.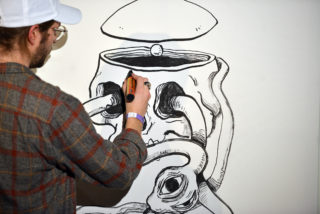 L&Q: You made your first mixtape when you were 15, how'd you feel when you look back on that period now?
LS: I was listening to some of my old songs the other day. It's almost like I've been writing a journal my whole life and I didn't even realise. When I'm listening back to some of the songs I made when I was 15/16, I can fully remember those points in my life. And now it's easy to forget.
L&Q: You've been a very driven artist to achieve what you have so far, especially as an independent, where did that drive originally come from?
LS: I guess being told "no". Being told, "that's not possible". "Who's done that before? No-one's done that before." "Who's going to work with you?" I'm the kind of person, when you tell me those kind of things, it drives me to want to go and do it. I'm not worried about being the first, I just want to do it, to say 'it is possible'. If I put on a festival and five people turn up then cool. Next time, I'll know how to make it so that ten people turn up. I just learn from everything.
L&Q: Those industry people who originally said no, have they come back to you? And how do you feel about that?
LS: That's been happening a lot as of late but I take those things with a pinch of salt. I'm not going to say 'you didn't want to work with me then, so I'm not going to work with you now'. I'm not that kind of person. I don't blame anyone for not getting it then because it's hard to believe in people especially if you're not emotionally attached to them. It's easy for my family and for my bros to believe in me, because there's an emotional attachment, but when it's someone just coming to you, it's like, it takes a lot for people to fully invest time, money and effort into something. If I wasn't being told those no's i don't think think I'd have the mindset now to want to put on a festival, to want to continue independent, or tour off my own back. The stars aligned.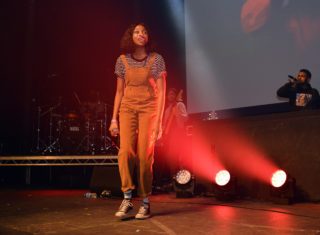 L&Q: At the end of February you're going back to the US to play a huge tour supporting Lauryn Hill. Has the reception to your music been different there compared to the UK?
LS: It varies and it fluctuates at times but I was unaware that my music had migrated to certain parts of America until I got there and I was like, 'Ah, I actually have loyal fans in Austin and I have fans in Philadelphia'. Which is cool. And sometimes it's not replicated here. When I look at stats I'm played more in the States than I am here.
L&Q: Why'd you think that is?
LS: I don't know. Sometimes it takes for Americans, or for that country, to give something the Okay for everyone to be like, 'Ok, this is cool'. It shouldn't really be like that. And it shows how sheep-like people actually are, especially, being that I'm from here. Anyway, each to their own. But it always takes for someone else to be like, 'Alright cool, we like this' for everyone to catch on.
L&Q: Finally, you've made some good friends in the music industry so far – people like Kehlani and Bibi Bourelly – are those relationships important?
LS: I've built some really genuine bonds and friendships the last couple of years with people who're really talented and I respect. It's always cool to be in an industry like this and still have people who're genuine. They're my peers, people who can push you and drive you. Especially when you're all the same age. It's all just very inspiring to be in that company.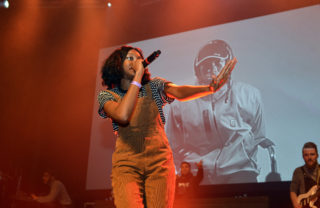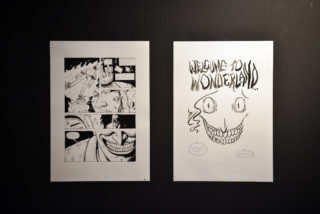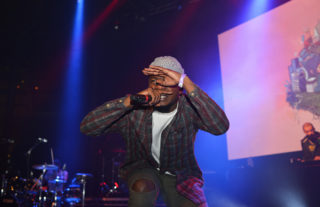 Loud And Quiet needs your help
The COVID-19 crisis has cut off our advertising revenue stream, which is how we've always funded how we promoted new independent artists.
Now we must ask for your help.
If you enjoy our articles, photography and podcasts, please consider becoming a subscribing member. It works out to just £1 per week, to receive our next 6 issues, our 15-year anniversary zine, access to our digital editions, the L&Q brass pin, exclusive playlists, the L&Q bookmark and loads of other extras.