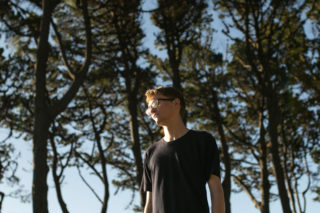 From a generation with no genre bias, Lontalius is making indie songs sound like Drake
"I used to get upset that people would say this is a great song and he's only 16." On the other end of the phone is self-proclaimed brat, Eddie Johnston. It's 9am in New Zealand and for a teenager he's putting a brave face on it. "That pissed me off as I want to make great music no matter what my age is. I am a bit too jaded for someone my age anyway, so I get annoyed." He might get annoyed but right now Eddie is a laconic delight – as softly spoken and precise, in fact, as the deftly melancholic pop songs he regularly scatters on Soundcloud under the name Lontalius. Right now he doesn't seem to mind about being labelled as a youngster, or indeed about anything at all. I decide to park it, though; best not mention his amount of years on earth anymore.
So instead, Eddie tells me about Wellington and its wide-open spaces. "I have been here my whole life; it's the cultural and liberal city in New Zealand and a nice place to call home. You do feel quite isolated from the rest of world so being able to go overseas recently has been really exciting. It's like the height of summer here, though, so it really is beautiful." I tell him it's deep midwinter in the UK but the frozen landscape and early nightfall make the perfect backdrop to listen to 'I'll Forget 17', the debut album from Lontalius out late March on Partisan Records. He laughs, almost in slow motion, and I imagine he's just got out of bed.
Eddie has produced a heartbreak hotel of an album that draws on a dazzling array of influences. Achingly now RnB in one corner and mournful indie soundscapes in the next, with plenty of space in-between. It's obviously a piece of work put together by someone in touch with popular culture, a young man from a generation without genre bias – inspired by Drake and shoegaze – and one who spends a lot of time on the internet no doubt. He laughs again. "Yeah, I guess so." As a matter of fact, I don't know of another new artist out there who has harnessed the Internet's power as expertly as Lontalius has. "Thanks, I think… I remember I went to this music conference thing and they were telling the audience Lorde has this fantastic Internet presence. I was like, of course she does, she's 17, you know. We're all the same."
There goes Eddie bringing up his age again. The Lorde connection, though, there's kinda something to that. "We just had a mutual friend on the Internet and we hung out a few times but that was just before she blew up," says Eddie. "I haven't really seen her since! I'm sure she would be cool if I reached out to her again though."
At the same time Lorde was blowing up, Lontalius was evolving into something of a quieter online sensation. His Casio covers of popular hits, by Drake, Pharrell and Beyoncé, produced a word of mouth following that spread like wildfire. "I'm not scared of the Internet, for sure," he says. "Especially for people my age, it's been a breeding ground for people like me who put songs on Soundcloud. We have all these opportunities that we wouldn't get otherwise because I live in New Zealand that's as far away from the rest of the world as possible."
The Lontalius we hear on 'I'll Forget 17' has an originality and confidence far beyond the confines of his bedroom set-up, and Eddie explains: "The way trends work, music that gets put on Soundcloud, it all happens super quickly. If I were to make a song with all the trends that were around right now and got it released properly with my label it wouldn't come out for a year and the trend would be gone. It's easy to copy other people, it's definitely a lot harder for any musician to try and be original but I think I have been lucky. I went to far too many DIY punk shows when I was 13 and quickly got bored with the DIY thing. Even though I do a lot of stuff myself, the lo-fi element disappeared and it was pop music and RnB that started to really excite me in the music world rather than shoegaze or punk bands."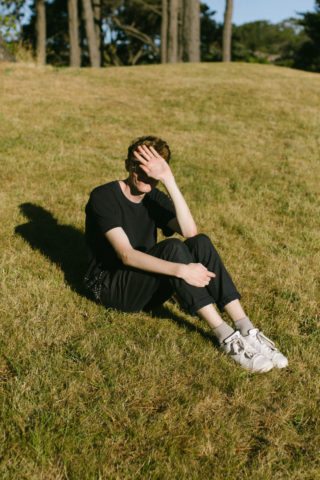 After a brief chat about the DIY scene in Wellington we find ourselves back at his album, a body of work he's clearly proud of. What's interesting, though, is his hesitation and self doubt, a trait that you can hear in Eddie's vulnerable vocal and lyrics. "Yeah, I get nervous about it. Some of the stuff I gained popularity from was the more electronic, more trendy stuff – the covers really. The idea with this album is trying to round up all of my musical influences from the last 5 years or so. So that means there are maybe some indie rock moods which don't translate as well on the Internet."
Tasked with condensing Eddie's broad taste (he's quoted everyone from Crowded House to MF Doom as inspiration in various interviews) into a collage of sound was Ali Chant, a Bristol based producer with an eclectic CV. From PJ Harvey to Perfume Genius, Chant has been drawn to original talent. "One of the main things he brought to the table was he kind of represented a general music listener," says Eddie. "I worked on the album a lot myself and had a lot of strong ideas but when I presented them to him he was like, a good judge for me and would tell me what would work and what wouldn't straight away, which was what I needed. Working in the bedroom by myself I am not the most skilled engineer so that was also really helpful."
I wonder what he made of the UK and if the country's grey skies walked within 'I'll Forget 17'. "I did enjoy Bristol," he says. "The UK always interests me because obviously New Zealand is a colony and it's been super cool seeing what aspects of the culture I am already familiar with. It was kind of scary when I had a cold in London I went and bought Strepsils and it was all these brands I recognised, so completely different to America where everything is brightly coloured and exciting. It was comforting, though, for the two or three weeks I was over."
Despite his obvious interest in RnB (Eddie lightly autotunes his vocals on a couple of tracks), I tell him that it's the rockier elements of his album that shine, although admittedly this changes with every listen. Certain builds can remind you of Mogwai or even the Twilight Sad. "Well, Ali seemed interested in my RnB elements and pop music but he kind of represented the indie rock side, which was good. That element was definitely needed. I was trying to mix like it was an RnB album when it should have been focusing elsewhere. Ali did the two most recent albums with Perfume Genius – that was kind of the appeal: they are an indie band who I thought were interesting and not just another guitar band."
Eddie also records under the name of Race Banyon, making strikingly different dance music that showcases his whip-smart ear for honing a sound. He's even supported Jamie XX on his recent stop off in Auckland. "I guess both projects are releases really. I love dance music; it's been a big part of the last few years as well. It just never felt like I should do it under the same name. In my head they're pretty separate. I am not interested in singing on a Race Banyon song – singing in a club just doesn't work."
It seems there cannot be a Lontalius interview though without Drake, whose music permeates right through everything Eddie touches and when you hear him talking about his favourite artist it's easy to see why. "I really adore him as a musician and the sound he is refining, and the artists that he works with. "As a person I don't really feel comfortable being tagged with him all the time but the sound that he is working on really resonates with me and probably a lot of people my age – that kind of late night, bittersweet feeling. That's really been the biggest drive for me when I started making music."
I ask tongue in cheek if he really is as sad as he sounds?
"No, no," he says. "When you're a teenager you have too many emotions. I love being an emotional person but as I get older it doesn't happen as much. That's what the album is about really, all those feelings. I am not super mature, recently at least… I have my moments."
So he really can be a brat but after this conversation it's hard to imagine. As we say goodbye I ask him when his birthday is. "I'm 19 today actually." He hangs up.
Free Protomartyr flexi disc with this month's magazine
Subscribers to Loud And Quiet now receive a limited edition flexi disc of a rare track with their copy of the magazine
This month's disc is from Detroit punk band Protomartyr