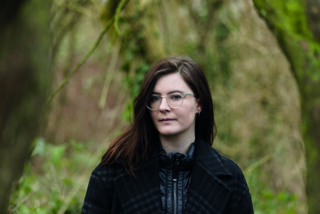 Lucy Gooch: An ambient musician takes it to the movies
Burning the candle at both ends with the Bristol-based experimental artist
"I feel like I go from one place to another trying to shut the world out, even more so nowadays." In a bid to shake off the all-too-familiar Zoom fatigue, Lucy Gooch is explaining her curious double life. "Forgive me, I have cases of word vomit on calls like this and anxiety spirals but at the moment I work at night all the time and I need to get out of the habit." It doesn't take long for Lucy to realise that burning both ends of the candle is unavoidable right now. "Society tells us that we must be up at 8am and back to bed at 10pm," she says, "but I have a day job and it's a battle to avoid the two worlds clashing. I think a lot of people talk about this don't they – the need to wait until the world shuts down before they can create." She gesticulates as she throws speech marks around the word 'create'. She's expressive, and more engaging in video calls than she lets on. 
The double life she refers to will be familiar to many other struggling musicians – artistry by night and a 9-to-5 to pay the bills. "It's not a nice feeling, being duplicitous and not being authentic," she says. "I don't talk about what I do at work and it would be really nice to not have that feeling. My head's always elsewhere and I think a lot of people have that struggle. You have to accept work where you can get it if you're a musician."
Lucy's frankness is refreshing as she balances an admin job at Bristol University with her light-footed ambient music. Ever since her dreamlike EP Rushing came out over 12 months ago she's been capturing imaginations with an evolving, multi-layered approach to her moonlight-made music. Now signed to Fire Records, and with a new body of work set for imminent release, Lucy is ready to emerge from her night-time daze into the light once more. "This time I have moved away from loop-based tracks and it's more about songwriting and twists and turns whilst keeping that ambient space. When someone like Fire Records gives you confidence in what you're doing you're able to lean into it more. I am really grateful that people are listening. It's made me pursue what I want to do, which is be more of a songwriter."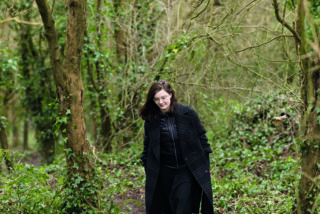 Surrounded by an ethereal fog, the new material is astonishing in its density. With echoes of Kate Bush and the Cocteau Twins, and driven by her remarkable, choral-like vocal, it's somehow extremely dramatic but elegantly understated at once – not surprising when you consider her schooling. "I'm from a theatre background," she tells me. "I studied theatre and visual arts but I never really went for it. I liked making puppets, painting and singing, and a lot of folk, but I never embraced making music until 2015. Then I bought an electric guitar and it changed everything. The next step was some loop pedals and that was the beginning of the songwriting journey for me." This time around Lucy has looked to influences close to home. "All of the new songs are based on a series of films by Powell and Pressburger that have always stayed in my mind," she says. "Black Narcissus and A Matter of Life & Death. There is so much passion in those films and they are very big and colourful. I saw them when I was a kid and I kept coming back to them through my teenage years. They really focus on women and repression and those themes are important to my music, so I used them as a vehicle to write with and in turn have made a bigger sound."
Full of visual strangeness, you can identify Powell and Pressburger's presence within Lucy's music, but there's something else that lingers long after consuming both, and that's the impact of landscape. Powell and Pressburger's Black Narcissus is a Himalayan technicolour dream, just as the soaring sound of the fresh tracks from Lucy are influenced by her surroundings. "Yes," she says. "I think this music feels full of colour. There are more neons and brighter colours. Rushing was more ambient and pastels with an earthy iciness to it. I have always been quite isolated and close to my environment. Growing up in North Norfolk, I really liked my space, although I wasn't doing any whimsical traipsing around fields or anything! Or maybe there was a bit of that." She laughs. "I guess it just gets into your music, doesn't it. I was imagining aerial photography and even nature documentary programmes, plus the feeling of flying over an amazing landscape, that's something that we all have as human beings. It's pretty stereotypical for ambient music isn't it." She laughs again.
The pastoral element of the music resonates more as you tune in to Lucy's unique vocal. "From about the age of seven I was in a youth choir and it was run by a very scary woman that I was terrified of. She'd get mad and her eyes would go really wide so everyone would take a deep breath. She would make us sing religious songs but also more experimental music too, like maybe Native American music; it was a little bit 'Orinoco Flow' – she was inspiring but scary!" What's interesting realising this is how Lucy has harnessed this memory and applied it to her work, layering vocal track over vocal track to re-create the church experience. "I think I just love the act of singing together and I always felt like I was free. A group of people singing is an amazingly powerful sound. I was never picked out as an individual, they didn't know I existed and because music is so elitist and I am not classically trained it's just a way of doing my own version of it, which I can be in control of and I can speak more directly with."
Before we say our goodbyes, I ask Lucy about going back to performing once the pandemic is over and her feeling of duplicity returns. "It does scare me," she admits, "because I care about it so much. When you see a gig and it sounds exactly like it does on the record, that can be underwhelming, but when someone tries to do their own version of a song, that can also be disappointing, so you can't win! That is my anxiety – do I try and emulate the record mathematically and accurately or do I do something looser? My conclusion is I just need to be true to myself and it took me a long time to get there last year; the minute I try to be someone else it goes wrong. It got to the point at the end of 2019 where I had been hating my day job and I told myself you have to start enjoying gigs, this is your time now. I started to love it and it was a totally different experience. It was funny that just as I started to enjoy playing live everything shut down, so I am hoping that I will be able to hold on to that memory of being in the moment."
Photography by Richard Luxton
Gift subscriptions are now available
It's been a long time coming, but you can now buy your pal/lover/offended party a subscription to Loud And Quiet, for any occasion or no occasion at all.
Gift them a month or a full year. And get yourself one too.
Whoever it's for, subscriptions allow us to keep producing Loud And Quiet and supporting independent new artists, labels and journalism.