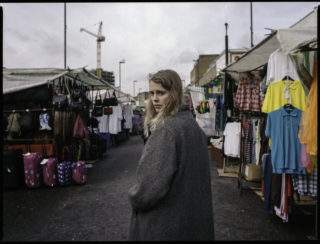 Marika Hackman is in a brazen mood because her new album sounds nothing like her old album
The London artist is done with writing introverted songs
Boy is Marika Hackman full of herself. I don't mean that in an arrogant-Marika-knows-best kind of way. This is something different – something charming and life affirming. "Even if people turn around and shout, 'FUCK OFF MARIKA! What have you done? Why have you changed?' It's still a risk I think every artist should take, otherwise what are you doing?"
Hackman is laying it all out on the pub table. The reason she is in a bullish mood is because her new album sounds nothing like her old album and it's quite refreshing. "In a way, if someone did shout fuck off, that might actually be good for me because it would show I have managed to do something completely different and not just get stuck in a hole of woeful, introspective songs," she says. There is a shot of relief deep within her loud laugh – the laugh of an artist liberated by change.
'I'm Not Your Man' arrives two years after 'We Slept At Last' and Hackman is startlingly honest about the differences. "I am a lot happier than I was before," she says. "This record represents me more as a human than the last record did, which seems like more of an artistic endeavour, whereas this feels more like an open, frank and personal thing. I wanted a different sound; I wanted something upbeat so I kind of just let go. When it came to writing I wasn't over thinking it, I was just letting it flow freely and thinking about how it will translate live and how it would lend itself to a much more fun touring experience – more inclusive for the audience rather than the purely introspective feeling you would have had if you came to see me play before."
I ask if she is excited because she certainly sounds excited. "It is exciting!" she says. "It could be quite scary but only if you overthink it too much. If you're not happy with what you have done it could be contrived but this felt like a really natural evolution to me. I am just really excited to see how people react. I feel more confident as an artist now. This works with the lyrics as well. I am a lot more frank and I am not hiding behind metaphors, you know, like nature metaphors. I am not hiding who I am or any kind of deep and meaningful stuff."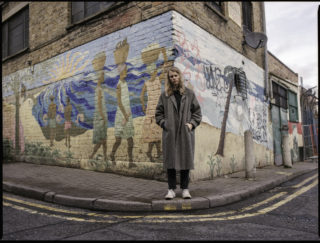 In 2015 the reaction to Marika was one of sincerity. Labelled indie-folk (which she openly hated) and consistently bracketed in with Laura Marling (whom she openly loves) the Hackman career road map was seemingly drawn out. Now though, along strides a song like 'Boyfriend' to rip it all to shreds. "The response to 'Boyfriend' has been the strongest for anything I have released up to this point," she says. "And it's nice because when you are changing up something it can be nerve-wracking, but I feel everyone is on board with it, which is cool."
'Boyfriend' fizzes with personality. All sharp edges and overdriven guitars, it's a song to give indie-folk a body-slam. No wonder Hackman sounds so self-assured. "It's a much more upfront and direct listen," she says. "I am being open about me."
Supposedly a retort fired at all the sleazebag men that have crossed her path, 'Boyfriend' doesn't hold back. It's a funny song, admits Hackman, who says there's a much more explicit version of it that she decided not to use. "When it came to the crunch I bottled it," she says, "but it certainly has humour. It draws on personal experience but exaggerates things for comedic effect. It's a lot more brazen than you'd expect from me I guess!" That's the perfect word for it, I tell her. "Thanks, you can use it if you want," she chuckles.
Integral to the big, burly sound of 'Boyfriend' are Hackman's backing band, London's The Big Moon. "It was just one of those things where I had written a song and they were kind of like… this mix of grungy, funky, rocky, poppy. I had arranged it all and I needed a band to play it. By this point in my life I had become friends with The Big Moon, by going to gigs and meeting them, and I asked them if they wanted to be on the record and they said yes, so that was a really great thing for me. As a live band they are incredible to watch and they have this amazing energy – strong but fun, you know, with that 'I want to be with them' feeling. I wanted to capture that on the record. Obviously to bring in a band that I was already friends with, it was just a perfect match really and we had a lot of fun recording it."
It must have been a markedly different studio to the one that she recorded her quiet debut in, although she stuck with her producer, Charlie Andrew. "I remember playing him some demos and he was like, 'oooh what's this!?'. I don't think he saw it coming," she says. "He obviously was the usual Charlie and he enabled me to make the change I needed to. Bringing in a live band, we had never worked like that before, as it was always just him and me. But playing live to record it was really cool. You lose that control and that's a great let-go that allowed happy accidents. A lot of screams and whoops and all the noises that you can hear on there really make the record unique and special I think."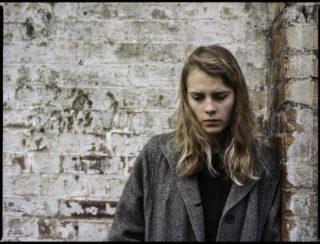 We discuss one such scream during 'Boyfriend' that really hops out of the headphones. "Yeah that's Jules (The Big Moon's lead singer) going, 'I can't go any higher' – that was an accident. I said who wanted to go in and scream and Jules was like 'Me!' So she went in and screamed so we left that bit in. The laugh at the beginning was a total accident as well. I think someone says, 'oh that was a crap take' at one point. You can hear counting under breath and pedals clicking, too. It's messy. I was always really keen on it sounding like we were in the room with you as you listened. Charlie always sets it up with loads and loads of mics so you feel like you are in there."
Both Charlie and The Big Moon feature on Marika's striking album art, too, an unusual choice of painting perhaps for a so-called solo artist.
"The artwork is made by a friend of mine called Tristan Pigott," Hackman tells me. "I have always been a huge fan of his work. When I was writing the album I was thinking about artwork and I knew that I wanted to approach him to see if he was up for doing a portrait. Then I thought the idea of having a group portrait that included the key figures in the making of the record would work well. So The Big Moon are in there. The room is split, rhythm section in the back, then the guitars in the front, which shows how we recorded it, which is cool to factor in. Then on the table there is a passport photo of Charlie Andrew and my friend Gina is on there as there is a song on the album called 'Gina's World', so we really included so many influences. It was really nice to portray that and not be scared by it. I wanted to give everyone space in the artwork, to be there and show how important it was for me."
Marika's own background is in Fine Art (after studying in Brighton), and she clearly has an eye for detail, so once we start on Pigott's painting we can't stop. Even the fallen cactus lying flaccid on the kitchen table gets a voice. "I am going to be giving away a free cactus with the pre-orders," she tells me. "It was a sort of group idea. The art work is so important to this record and such a big part of it, maybe because I studied art and obviously there was a lot of cacti flying around and hey who doesn't love a cactus!? I feel like all of mine are dying though… I can't really look after stuff!"
I ask if deep down there is some apprehension leading up to the launch of Marika Hackman MKII. "Yes, of course," she says. "Somewhere inside. The main emotion is excitement, though, and intrigue. How will people react?
"I am so far into this record. I spent over a year writing and recording it, and I have heard these songs a thousand billion times. I want someone to have fresh ears on it. I feel like I have challenged myself and I am definitely not playing it safe. I can sing sad songs standing on my head but this is so different and I am going to have to work hard and that is so exciting for me. I can't wait to be an animal on stage."
Loud And Quiet needs your help
The COVID-19 crisis has cut off our advertising revenue stream, which is how we've always funded how we promoted new independent artists.
Now we must ask for your help.
If you enjoy our articles, photography and podcasts, please consider becoming a subscribing member. It works out to just £1 per week, to receive our next 6 issues, our 15-year anniversary zine, access to our digital editions, the L&Q brass pin, exclusive playlists, the L&Q bookmark and loads of other extras.