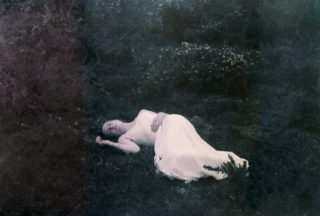 Martha Skye Murphy – The happiness of a heartbroken chanteuse
There's no crossbreed genre on streaming services that really gets it
Martha Skye Murphy is the kind of person you sit down with and feel like you've known for a very long time. It's early evening. In the upstairs of the Maison Bertaux, a couple of streets away from China Town, she sits with a chocolate éclair and a mille feuille to share between us. Pressing her fork into the top layer of pastry, she watches while the flakes fly and the custard mushrooms from its sides. She's a vegan, but when it tastes this good, it's just too good, you know?
The patisserie has been standing since 1871 – the oldest of its kind in London. Murphy's parents and their friends used to hang out here in the 1980s when this part of town was more of an artistic hub, and places like this could be gathering points for musicians and photographers. Forty years later, questionable pieces of art still line the walls, up the staircase and around the small tea room on the first floor. There are vague outlines of life drawings next to blotched watercolours, all faded from the glints of sun coursing through the window. Another patisserie – a more problematic "artisan" chain – is closing down around the corner. "It's amazing a place like this still exists in this city," she says, in a way that feels like a small victory.
Somewhere between the duality of her life as a musician and her other life as an actor, Murphy's also considering a job offer here. She teaches English and History of Art as a tutor and sells vintage clothes at trade fairs, if only to ease her own addiction to buying clothes. "Any job is kind of a compromise on everything else that you're about," she says, struggling with some of the social politics behind the various worlds she enters, "like, I don't feel fully comfortable helping privileged children get into Oxbridge, but you've got to play the game somehow."
Her debut EP, Heroides, was released last year on Slow Dance. A tolling piano grounds the heart of each track for Murphy's ethereal vocals to dance with. It was recorded at Abbey Road, but she really doesn't like The Beatles ("I mean, saying you like The Beatles literally means nothing"). It's a world away from the music she made when she was 15, she tells me, all of which accidentally included the digital metronome in the back of GarageBand. Her work sits in good company with the likes of Amanda Palmer and PJ Harvey; there are hints of 'Cloudbusting'-era Kate Bush on the melodramatic vocals of 'Soaked'. There's a dark theatricality to everything that makes it feel like you're being toyed with slightly – laughed at in a teasing way, similar to Aldous Harding's Paganist contortions on a song about a party, or Jessica Pratt's heavy-lidded dirge about just how fucking in love she is. You're compelled to keep coming back, if just to prove yourself worthy. Take Murphy's cover of Bill Callahan's 'Rock Bottom Riser', which accentuates the line "I bought this guitar to pledge my love to you," as she plays it on piano.
It's not ironic, though. You can hear her characters shifting deftly from the interior to exterior while still resonating with Amanda Palmer's philosophy: stop pretending art is hard, just limit yourself to three chords and don't practice daily.
When we talk about the music we like, she takes out a notebook and eagerly scribbles down the names of artists and films to look up later. "Have you heard of Mary Garden? She was an opera singer in the early 1900s – there's always something that doesn't sound quite right with her recordings. Like, she was always missing the note, or there was too much vibrato in her voice. But I really love that eccentricity." She talks about own her music with an academic interest, not only in the array of mythological references that appear in her songs, but in the concept of the characters she portrays. At one point she shows me a peculiar silent film made in Soviet Russia about space travel, that she describes as "sort of like a Man Ray photograph, sort of like The Clangers".
"When I go on stage, I'm still very nervous until the character takes over," she says. "I've been thinking a lot about how French chanteuse like Édith Piaf have this real grandeur and dramatic element. I love the fusion of the melodrama and the completely raw emotion. Everyone's obsessed with irony and satire at the moment, which is where I really don't think I fit in. But then again with a lot of the irony I wonder how ironic it actually all is. Surely singing in an ironic voice something like, 'it really upset me when I fucked you and then you left me the next day,' is just disguising something personal." She laughs. "Sorry, this is just me riffing lyrics. But that's why I'm so vulnerable when I'm on stage, because I'm not really disguising that much."
She's performed in some intimidating spaces, as well. In 2013, she lent her backing vocals to Nick Cave's Push The Sky Away and the subsequent tour. "I was still young when we were going around," she says. "I really admired his consistency in venue choice – every venue had its own historical context. We played this amazing building in Berlin, where it turned out Hitler used to go and watch children's choirs… Nick told me that just before we went on stage. Watching how he curated a crowd was just the most formative, influential thing. He had about thirty people with him, but had this phenomenal power to be the only person anyone noticed."
Despite the clear lines of sight these experiences gave her into the world of music, there's still a refreshing absence of pressure in Martha's approach to writing. She's unhurried, and the vast expanse is a space that her songs are inhabiting beautifully, with an assured but skeletal confidence. "I think pace is – who cares? I mean, everyone has different methods of working. But I really respect people like Jason Spaceman from Spiritualized – you know, you're lucky if you get an album in a decade. I really like that commitment to only releasing something once it's ready."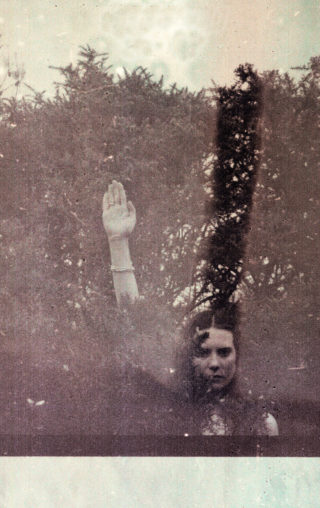 Her new release, 'Black Eye', is ready: a striking ballad, recorded at the 4AD studios with Fabian Prynn (Ex:Re). It's seeped in second wave surrealism, from the artwork inspired by Francesca Woodman and Daisuke Yokota to the lyrics rapt in André Breton's writing. "It's loosely about the state of being drunk or being present at night, but being lost in memory or thought of somewhere else. Existing in the present but thinking about other things." The opening line is taken directly from Paris Is Burning. "I like to re-appropriate things like this into this quite abusive narrative," she explains. "When I showed people this song they would assume so many things about its context: that it was about an abusive relationship, or someone I had been in love with. I want people not being able to identify a specific narrative in it. You have gestures of narrative and gestures to cultural references, but these references don't have to be made for it all to make sense.
"We're working on a music video at the moment actually, using that thread of the chanteuse and nouvelle vague cinema. The editor's friend watched it back and apparently asked if I was just really depressed." She laughs again, but I guess it's not a wholly unreasonable question for a song whose hook demands to know what makes someone cry. "I just love that idea that he watched it and was like 'ooooft, she's saaaad.' I don't know, it's good when you make people think and feel. It means they're responding at least."
In terms of visual influence, she talks about a Diane Arbus photograph she saw recently at the Barbican, depicting a woman with a huge sword in her throat… When these are your stimuli, it throws up a few logistical problems. There's no genre on streaming services for music that sounds like a crossbreed of a heartbroken chanteuse and the runaway circus. "And you can't call it singer-songwriter because then you get put next to KT Tunstall; you can't call it alternative because then you're next to Beck."
Maybe that's why Joanna Newsom still hasn't got on board with the digital world, we think; she's fine with the ethics of Spotify, but she's been trying to press the upload button for seven years in the midst of an existential genre-ing crisis.
"That was The Beatles' problem as well," Martha laughs, "they just didn't know what to call themselves." She adds, in a pitch perfect Scouse accent: "are we the greatest pop band in the world? Or are we just indie music?"
Photos by: Ceidra Moon Murphy
Free Protomartyr flexi disc with this month's magazine
Subscribers to Loud And Quiet now receive a limited edition flexi disc of a rare track with their copy of the magazine
This month's disc is from Detroit punk band Protomartyr