We met Solange at Primavera Sound
Independent Woman
At 15 years old, Solange Piaget Knowles lived in a world most teenage girls could only dream about. With a publishing deal and a record contract under her belt, she'd already toured as a dancer with her sister Beyoncé's megawatt power trio Destiny's Child and, with her manager father, stylist mother and a bulging book of contacts, the stage was set for her to shake off her chrysalis and flutter into the public eye a fully-fledged S.T.A.R.
But teenagers are unpredictable souls, as anyone who's been one can attest. Solange's debut album appeared at the beginning of 2003, but despite a glittering roll call of producers and writers (Timbaland, The Neptunes and Linda Perry, to name a few), its contemporary blend of stuttering, sparse beats and pizzicato strings failed to make a dent in the charts. Now out of print and virtually impossible to hear outside of YouTube, 'Solo Star', in hindsight, is a decent enough record, though its juddering Timbalandisms seem a couple of years behind the times when you consider that Beyoncé's 'Crazy In Love' was the deserved summer hit of that year.
Whether a response to the album's lukewarm reception or simply a flash of her defiantly contrarian nature, less than a year later Solange turned her back on singing, married her childhood sweetheart, became pregnant and upped sticks to a small town in Idaho, where her new husband was studying. Away from the pop industry and her huge family in Texas, she simply cooked, cleaned and brought up her baby, Juelz, and learned a few life lessons in the process.
"I think as an artist you have to go through those phases and those transitions," she says of the period between her debut and her eventual follow-up record five years later. "You have to take things into your own hands if you want them to reflect you wholeheartedly."
Solange is speaking to me backstage at Primavera, where she's just come off the Pitchfork stage after a convincing performance featuring a live band, slick dance moves and seriously impressive vocals. She's shed the lime green biker jacket she had on during the show and at our photo shoot this morning, but is still wearing the leather trousers and a lurid tropical print top. Her face, as expected, is immaculate – with kohl-rimmed eyes and glowing skin, she's even more beautiful now than she was as a slightly awkward teenage starlet.
"I think when I look back at my life and my career, really the timing has reflected where I was in my life," she says. "I got married young, I had a child very young, and once I had my son that was my entire existence. I moved to the country and had that whole romanticised life, for a while, but I think I had to go through that in order to grow as an artist."
Divorcing her husband not long after her son was born, she found herself a single mother with barely any time to record songs, let alone promote an album or go on tour. Still, she moved back to Houston and kept on writing, producing hits for her sister ('Get Me Bodied' and 'Upgrade U' from the album 'B'Day') and eventually completing her second record, 'Sol-Angel and the Hadley St. Dreams', in 2008.
"I've never ever stopped writing music, I've always written music and laid down things, it's just been a matter of putting them out or not," she says. "And when I think of the artists that I really love and admire, and aspire to have similar principles to in my career – the Sades, the Björks, the Kate Bushes – I think there are just different types of artists that really need to retreat and develop, and I think that is what I did. I had to retreat, I had to develop."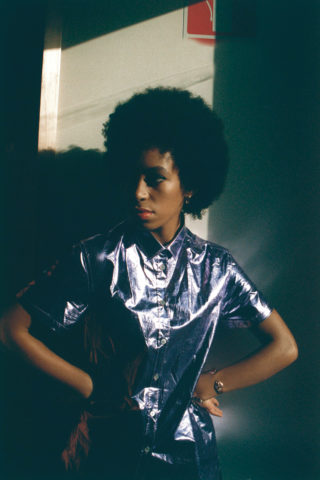 That second album was a riot of Motown-infused twisting and shaking, with production from Cee-Lo Green and Mark Ronson among others, and it hit the Top 10 confidently in the summer of 2008 on the back of lead single 'I Decided'. After that, Solange floated in and out of the spotlight, attracting attention for her sharply styled outfits as much as her music, which petered out as she locked horns with her label, eventually leaking the self-explanatory track 'Fuck The Industry (Signed Sincerely)'.
Another long gap was finally closed last November with the release of an EP, 'True', where she again took a sharp left turn, recording a set of smooth-as-butter '80s-inspired jams with none other than Dev Hynes, the bespectacled hipster chameleon known variously as Blood Orange, Lightspeed Champion and one third of 2006's flash-in-the-pan cult favourites Test Icicles.
It's this back-story, full of unexpected twist and turns, that hints at Solange's fascinating obstinacy, her continuing refusal to play by the rules. When you look like Beyoncé, can sing like Beyoncé and have access to the same team of producers, publicists and managers as Beyoncé, to avoid becoming simply a diluted version of Beyoncé takes quite some doing. And with a back catalogue spanning 10 years and not quite three albums, she must know the pop industry – and its darker side – inside out.
"For sure," she nods. "I mean, I grew up with a manager as a father and a sister as a massive star, so I got to see the development of her career from my living room to stadiums. I danced with Destiny's Child for a few years, and not only that, I actually signed my first publishing deal as a songwriter when I was 15."
Despite the pressure of professional commitments at such a young age, Solange says it didn't feel at all strange to be working with some of the biggest stars and songwriters in the world. "I was writing these songs and never really knew how to approach the situation," she says, "because I was so young and I felt like it was such a big girl industry, I was in 10th grade, you know. But I think that's really why it started out with my family, because they're the first people I played the songs to, and how they responded to them was just incredibly humbling and amazing for me.
"I think I've had an interesting perspective on the industry," she adds.
The latest phase in her career, Solange 3.0, was without a doubt heralded with her cover of Dirty Projectors' 'Stillness Is The Move', which caught the eye of the Pitchfork crowd back in 2009. And it's been her songwriting partnership with Dev that has laid the groundwork for what is inevitably her most mature release to date, inspired by the hit-making duo that brought Janet Jackson out of the shadow of her older brother in the early '90s.
"In some sense there was this magic chemistry between Dev and I," she explains, "but I certainly spent a year or so creating and developing this sound – studying Jimmy Jam and Terry Lewis, studying those records and the songwriting, really trying to understand why those songs were so powerful."
You can hear traces of that endeavour in the EP's lead track 'Losing You', a sultry groove that snakes around gushing synths and huge handclaps while Solange delivers a restrained and distinctly retro vocal over the top. But for all its smoothness, there's a rough edge to the production that hints at the song's indie credentials and makes it unlikely fodder for today's steroid-pumped, spray-tanned, maximum-volume charts.
Solange and Dev met while working on a track for rapper Theophilus London, and the unlikely pair immediately forged the kind of instinctive connection that's a rare find in the world of pop writing.
"I mean, I've been a songwriter since I was 13, and a lot of the stuff that I wrote for Destiny's Child or my sister was in these writing sessions where you don't know the producer very well, you have no background on who you're working with in terms of their lives or their walks of life," she says.
"Writing is a very personal and instinctual sort of process, so a lot of times I've been put into situations where every time you have a melody or a lyric and you project them out, there's this level of fear – do you think this is corny, do you think this is cheesy?
"And there are times when I've worked with people where it's very natural and you don't feel that energy of fear. It's never been that way with Dev, it's always been very seamless and I think that was for me the most important thing, that I could be in a space where I could create and execute all of my ideas with someone I felt comfortable with."
I ask what each of them brings to the partnership.
"It's very complex, it's hard to put it into words," she says. "For the most part I think where the magic really lies is that we both have very similar sonic tastes but very different ways of executing them.
"My last album definitely had some very experimental moments and, as Dev has said, some far more even than on this one. But I also have a pop muscle in terms of songwriting, and Dev acts on instinct a lot more as a songwriter and producer. He tends to have the idea, lay it out, and it is what it is.
"I approach things more in the sense of wanting it to have a formation, wanting it to have a hook and a bridge and a climax. More of a traditional pop sense. So I think that yin and yang makes for a really great project."
Dev is also on the road with her, at least for now, playing guitar alongside a full band and backing singers, who are all under the total direction of the show's star, right down to the shoes on their feet.
"I had a very specific vision for how I wanted the show to roll out," she says.
Sounds like you're a strict band leader.
"I'm not strict with them," she laughs. "I don't think that's the right term, but I definitely like us to be prepared. I watch a lot of SOS Band videos from the '80s, a lot of Teena Marie and a lot of Vanity 6 videos. The thing I really love about those bands and their live performances – like Sheila E, she's a huge inspiration – is that it was all about the music, but it also was about individual showmanship. My idea is that if everybody in the band is a star, then we're all projecting that even brighter and even stronger. I really looked for people who, if they were on stage by themselves, would be able to capture the audience themselves."
Every aspect of the show is under Solange's control, from the choreography – each of the musicians has to have competent dancing feet to keep up with the dance routines – to the set list and even the chord changes to transition between songs. "All of the stuff that might seem like it just happened was very premeditated," says Solange, smiling widely.
How did Dev feel about taking on the dancing?
"The first time I told him that I'd choreographed moves, I didn't really know how he'd receive it. But he was totally open to it and he completely understood the vision. I style the band as well."
That would explain Dev's very sharp suit and hat, then. (He looked unrecognisable tonight, in a leather Stetson over his old fluffy bear hat.)
"Of course, every single thing in the band. It's not an easy feat," she says, scrolling through a scrapbook of images on her iPhone. "All day I'm emailing designers, it's a lot of work."
That desire to manage each and every detail may be a result of her turbulent experiences in the industry, constantly battling labels to be allowed to do things her own way. But it also reveals a streak of that iron-hard Knowles industriousness, the single-minded commitment inherited from their father, who gave up his job to make stars of Destiny's Child, and which powered her sister through her boot camp upbringing.
So after releasing 'True' on Terrible Records, the label part-owned by Grizzly Bear's Chris Taylor and home to acts like Chairlift, Kindness and Twin Shadow, the next obvious step in Solange's quest for autonomy is of course to set up her own label – a move that she announced earlier this year.
"I'm so incredibly excited," she laughs, looking genuinely pleased to be taking on even more responsibility on top of the daily grind of writing, singing, performing, choreographing dance moves, styling her band and doing the school run.
"[With Terrible Records] I really felt like it was a collaboration in terms of putting it out, commissioning the videos – so many things that I really had absolutely no knowledge about, which I learned along the way.
"Now I think I'm just at a place where I want to be able to house my own projects and roll them out with 100% creative and artistic control."
Called Saint Records, the label will be home to her forthcoming album, as yet untitled but due for release later this year. While the songwriting partnership with Dev continues, other producers are also rumoured to be in the frame, including hip hop veteran Q-Tip – but she keeps her poker face intact when asked. Unsurprisingly, she also fancies having a go behind the controls this time round.
"For this next record I plan on producing a lot more and doing it sort of on my own," she says. "I spent so much time developing and working on this sound, and that's the hard part. Now things are rolling out a lot more seamlessly from a songwriting standpoint.
"I wrote the songs without any sort of musical background in mind, it's really about the lyrics and the emotions, and a lot of the things I'm writing about are extremely personal. It definitely is a lot more political and attacks a lot more social issues than relationship issues."
As well as her own album, she plans to release records by other artists, but surely she can't have enough time to run a label as well.
"I do, I do!" she insists. "If something is important to me then I make the time. And the projects that I'm looking to put out I've actually had planned for a long time, so to be able to execute them and share them is gonna be so incredibly exciting.
"You know, as a young woman, and especially as a young black woman, to have the opportunity to put out projects that I thoroughly enjoy, and to give them a voice and give them a home – I'm just so incredibly humbled and thankful to have that opportunity.
"Labels are generally run by people who are a lot older, who have been in it for a while, so it's exciting to see this next generation of kids, like Odd Future, who are really taking their artistry in their own hands."
It's an unusual reference point, given that Solange has been pursuing her pop career for over a decade. She may be just a few years older than the Odd Future crew, but the generation gap between them makes her seem old enough to be their mother.
What she does have in common with Tyler & co., though, is a fuck you attitude to the way artists are expected to play the game; a carefree disregard for the rules and mores of the music business. That, combined with a desperate, innate need to become a star and fulfil her genetic destiny, forms the two-way pull on Solange's psyche that explains her patchy, unpredictable career to date.
Where Beyoncé's life has been a perpetual boot camp to achieve a classic vision of glittering pop perfection, Solange seems to thrive on making life difficult for herself, trying out different flavours, seeing what fits. And if she can just keep up the momentum and get that third album on the shelves, it may finally be her time to shine.
"This next record is gonna be even more of a ride, because I did this all on my own," she announces proudly. "Everything from creating it, paying for it, rolling it out – and now I'm happy to have seen the fruits of my labour."
The more she takes on, the happier she is, it seems. With her dream of complete control now tantalisingly close at hand, "things are starting to get a little easier," she says.
Please support Loud And Quiet if you can
If you're a fan of what we do, please consider subscribing to L&Q to help fund our support of new musicians and independent labels
You can make a big difference for a few pounds per month, and in return we'll send you our magazines, exclusive flexi discs, and other subscriber bonus bits and pieces
Try for a month and cancel anytime