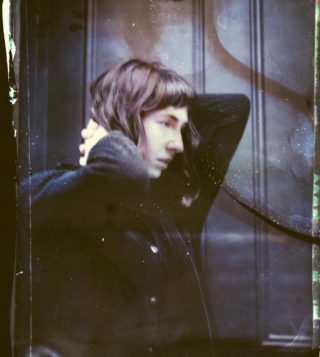 With Mothers, Kristine Leschper is exploring the sacrifice of creation
Kristine Leschper tells me: "When a female rabbit gets pregnant, she starts pulling out all her fur with her teeth." We're talking about how she came up with the idea for Mothers, the music project she developed while studying printmaking at the Lamar Dodd School of Art in Athens, Georgia. "They do this to build nests for their young before they're born. And I thought that was such an interesting concept – that absolute sacrifice."
Leschper began to write and compose the songs for Mothers' epic, searching debut album, 'When You Walk A Long Distance You Are Tired', in 2013. The opening track, 'Too Small For Eyes' – a searing exploration of self-esteem that perfectly encapsulates the inherent discomfort of just being in your own skin – shares its title with her senior thesis. This interdisciplinary method, the blurring of visual art and music, drives Leschper's approach and, I surmise in talking with her, is an expression of her frenetic personality. She has a frenzied, infectious intensity. She speaks with a wide-eyed, uncomplicated awe; fascinated and inspired by everything – childlike in her relentless positivity, despite the heartrending beauty and adult themes of her music. ("It's almost too good to be true!" she enthuses when I ask her how she's finding Shoreditch, which is where Mothers are based for this UK trip. "It was just an amazing opportunity, to come to London. And we went to Brighton too. Wow! I loved it, Brighton is so great.")
It was while exploring "vague" ideas about gender and masculinity for her thesis that Leschper stumbled across the theme of female sacrifice, which led her to more focused work on Mothers. "It came about because I was doing research into nesting habits. I had a pet rabbit at the time, and I was looking into how different animals behave when they have babies – that was the reason I really became interested in ideas of motherhood and childbirth." The revelation that rabbits tear out their own fur in the name of creation resonated. "It made sense to me as the creator of songs: there is a lot of sacrifice involved in creation, and it can be tragic."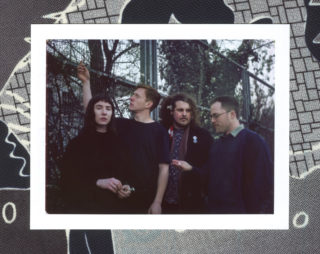 Sacrifice and absolute dedication have become integral to Leschper's music making, applying the skills she honed at art school to create rich, detailed, songs. "I was in college studying art and I became really interested in music as this other means of creation," she tells me. "I fell in love with it and started making music myself. Art school helped me to understand how to formulate a concept and to execute a concept so that other people understand what I'm talking about. I used that learning a lot making this record." She pauses, considering the crossovers between the different areas of her work. "Printmaking is very time consuming and process driven," she says. "Something you have to commit to and see through from start to finish. That has informed my songwriting in so far as giving me a really diligent work ethic."
When she describes her transition from visual art to music, it is as if Leschper is recalling some divine intervention; being moved from beyond herself. "It was this frantic period for me," she explains, "I was working on both my thesis and on my music. I was just manic, making as much as I could. The visual work I was doing informed what I was doing musically. Ideas carried over from my thesis into the record because I was making them both at the same time. I was exploring all these themes – of betrayal, ego, self-doubt, of self-discovery and acceptance – just, you know, just learning to deal with the person that you are. I was working with all these themes in my visual work and they kind of naturally connected to the songs at the same time."
What began as a solo exploration has led to an album and a tour of festivals across the US and UK with her band. And, yet, describing 'When You Walk A Long Distance You Are Tired' as an album and Mothers as a band feels, somehow, wrong. Partly because of the music, with its brooding, candid exploration of the human condition, and partly because Leschper herself frequently refers to the work as a 'project'. "I get that," she says, of my confusion, "I totally get it. I guess it's because I didn't want to write a couple of hit songs. I wanted to make a 'piece'. It is intended to be listened to all at the same time." That sense of the album as a 'piece' is certainly felt by me – it's a painful, haunting journey; a kind of dark fairytale, expressing a complex web of feeling that hangs together like something greater than a collection of songs. It is almost philosophical in its scope.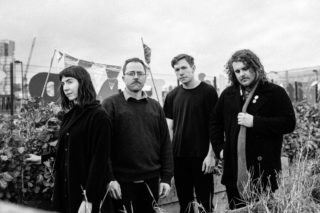 So is Mothers a band? "Yeah, but we want to consider it something other than a rock band. It's more than that. I don't want it to be this singular thing because we're making visual work and music. That's why I refer to it as a project rather than a band. We're doing more than one thing."
The term 'project' also points to Leschper's desire to integrate still more art forms into her practice, her hunger for creation and creativity. "I am very interested in expanding Mothers' range," she says. "I am really interested in so many forms – especially in visual performance and performance art. I want our shows to be immersive. We're working towards adding more visual elements to our live performance."
The 'we' refers to the other members of Mothers, drummer Matthew Anderegg, guitarist Drew Kirby and bassist Patrick Morales. They started working together in November 2014, when, after writing alone for some months, Leschper began collaborating with a range of musicians she respected and admired. "We went on to make a record really quickly," she says, "but we sat on it for a while, because we didn't have the means to put it out."
Leschper is evasive when I ask how Mothers write songs now – is it still more or less a solo project? Or do the other members chip in these days? She erms. And then laughs. "I guess it was very much from my perspective, but, um, other members of Mothers are all songwriters, so it's been great to have that perspective. It's a lot of stabbing in the dark, trying to latch onto something. We play loose versions of songs over and over again."
And then Drew cuts in, for the first time. "I have something to say about this," he tells me, firmly. "Sometimes it's insular for Kristine. We add what we can but sometimes we just get out of the way. We are getting to a place where we write together more. Matt and Kristine have a really close writing relationship. For more of the technical stuff we feed in at critical stages. Sometimes it's very raw ideas, we'll be working through them over a course of months waiting to make it happen. And then there are solo songs pretty much with arrangements. That's why we call it a project rather than a band. Our presence is felt but sometimes more by sitting back. It's about that balance."
Right now, the balance seems to lean towards Leschper as the author of the core creative content, but she and Drew suggest that as they grow together as a group, writing while they tour the album, a more collaborative sound will emerge. There are hints of what that sound might be like on the current record, in 'Copper Mines', the first song the band wrote together, and 'It Hurts Until it Doesn't,' which Leschper describes as "looking at the dichotomy of an artist's ego and sense of self-doubt." It was the first track she wrote that made her think Mothers might work as something bigger than a solo project. They hope to record their next record at the end of the year.
It's a daunting prospect, making the most of early success on a creative venture that has been a long time in the making, but Leschper is facing it with her characteristic optimism, determination and faith. "I just hope that people approach the record with a sense of openness, honesty and creativity," she says, when I ask what she is looking forward to the most. "I hope people can find something inside of it for themselves."