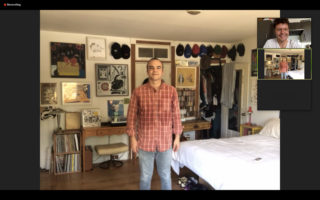 My Place: a virtual poke around the home of Future Islands' Samuel T. Herring
A special Zoom edition of our absolutely iconic My Place feature
Almost more than any other contemporary group you can name, Future Islands are known as a road band. That's because for more than a decade the trio barely came off tour. At last count, around the release of their fifth album, The Far Field, in 2017, the Baltimore unit had played in excess of a thousand shows. They played relentlessly – until people noticed them. For their charismatic frontman Samuel T. Herring, a third of his life has been spent in those mobile routines. So much so that he's been renting the same Baltimore bedroom from a friend since 2012 (a few years before his band's breakthrough), "because I was just never there". "My snail shell" is how he describes it, revealing that he recently daydreamed about booking into a local hotel to recreate the strange, dislocated feeling of comfort he's grown to love from being away.
2020 was full of promise and plans before covid-19 came along. In June, Herring was due to marry his partner, actress Julia Ragnarsson, and move to her native Sweden. Instead, months have gone by and he hasn't seen her – there's heartbreak in his voice as he explains the helpless situation: "We're used to distance but this one is different because there's not a foreseeable end. It's really sad."
Then there's the release of Future Islands' new album, As Long As You Are, due out in October. Ordinarily that would be supported by a packed schedule of live performances; right now, who knows when Herring will get the opportunity to coil a microphone lead around his wrist and crab his way around a stage in his recognisable manner.
Since March, the place he calls home, Baltimore, like many other major U.S. cities, has been in and out of lockdown. One of the first to enforce the wearing of masks, local authorities were also quick to open back up when the financial repercussions of closing down the area's economy became clear. "I've only gone to maybe four stores in the past four months," says Herring, who's taking a cautious approach. "Two groceries and a couple of liquor stores where I get my tobacco. My drive is to get back to my lady, and if I don't stay healthy then that doesn't happen."
He admits this spell has been tough on the brain, but that there have been positives: "The biggest thing I got out of this quarantine is probably growing stronger relationships with two of my roommates. We had to reach out to one another to have our human interactions. We started having dinner together, watching movies together, things we hadn't done before that made life easier. Before this, they were used to me not being here."
It means he's spent a lot of time with the same four walls of his bedroom. At least it's a bright space – three large windows inviting daylight in, illuminating the many pieces of art hung about the place. In one corner there's a desk (the one he's sat at, before graciously giving me a walking "Zoom tour" of his stuff); in another the bespoke set of shelves he made for his impressive vinyl collection. Either side of his neatly-made bed, a closet stuffed with shirts and a bunch of artfully arranged crates stacked with books, from Philip Larkin to Charles Bukowski.
"I just finished tidying my room just a couple of minutes ago," he says. "I'm hoping the people at Loud And Quiet can Photoshop some dust out of the shots. This is my cave!"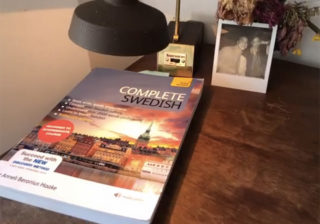 Complete Swedish – A language guide
I'm learning some Swedish while I'm on lockdown. I was ahead of the learning curve when I started this book, learning bits here and there because I spent so much time with Julia's family. But then, after I got about 70 pages in, I got to all the stuff I didn't know and I got lazy and let off for about a month. I gave into my apathy. Still though, I'm starting again. I can order a beer in Swedish.
Ram horn lamp and middle finger ashtray
These are a couple of gifts from my father. This ram horn lamp, my dad gave that to me when I was probably 15. Where he went to college, which is the team I grew up rooting for in basketball, is the Carolina Tar Heels. That's where Michael Jordan went before the pros. The ram is their mascot. It's kind of like a religion in North Carolina – college basketball. A big deal. The way college football is a big deal in Texas. My dad gave me the ashtray when I went to college, and it's just really fucking cool.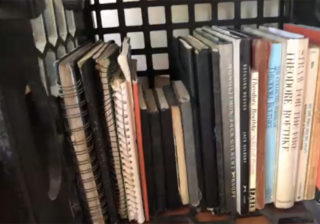 Lyrics and ideas notebooks
These are a bunch of filled notebooks from my writing over the years. Lots of Future Islands songs in there. They're probably not completely full but they're jam packed. If you ever lose a notebook that's 80% full it's heartbreaking, so they get retired. That's the old folks home of my notes. Usually I have three notebooks going at once. It's like whatever is closest at hand. In my bag right now I've got two. I always called myself 'the writer who never has a pen', I'm that guy. I've got all this paper and no pen whenever I have a good idea.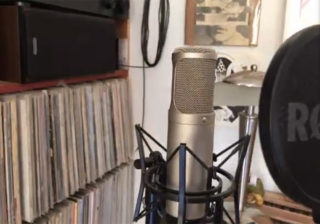 Half of a record collection
These are my record stacks. The other half is in storage. It's all cream – so many good records. I built these shelves myself. When I moved in I was still working in this concrete shop in Baltimore. I used to make concrete countertops and sinks, that was my day job. Luckily my boss, when I got off work, he would let me use the tools from the shop. I cut up and puzzle-pieced this together. There's probably about a thousand nails in the wall. There's about 1200 records in this room. Then I've probably got about 1000 in storage.
RØDE home recording microphone
My pro station for recording is here. I did the vocals for the DJ Shadow record [Our Pathetic Agein 2019] in this room. I never thought he would actually use it. I thought I was just recording a fancy demo! I set up here in front of the vinyl to do vocals. I think it's cool because I'm doing it in front of all the music I love. At some point you just want to get a bit more professional with the way you do things. There's some things I learned early on. If you're doing a feature for example, if you don't do as much as you can, you might end up with something you don't like in the end. I enjoy recording from home, it allows me the freedom to not have to be on somebody else's time. I can take all the time I need to get things right.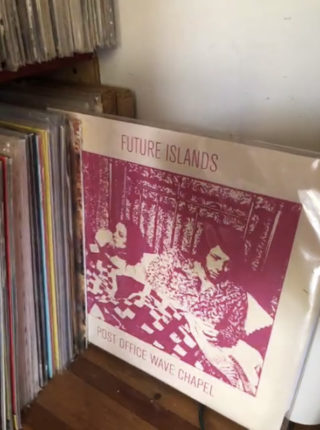 Future Islands' Post Office Wave Chapel
That's pretty rare, I could get some good money for that! This was the one and only remix record we ever did. I guess we did 500 [copies]? Victoria Lagrande is on one of the remixes. It was good friends who did remixes. The front is an image that I found in an old psychology book – I always loved this weird passage about dreams. I was like, 'this couple does not seem to like each other very much'. That goes amongst the Future Islands test pressings I have down in a little corner.
Teenage artwork
This is a drawing that I did when I was 17. It's about the passage of time. This guy's parents are behind his eyes. As you see, it's slowly slid off the backing it was attached to, so it's an ongoing art piece.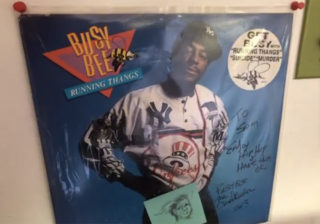 Signed copy of Busy Bee's Running Thangs
This is one of the only signatures that I have. Busy Bee was one of the first rappers that I ever loved. He's really old skool. Most famously, he was in Wild Style[1983 hip hop film directed by Charlie Ahearn]. He lives in Baltimore. I found out a buddy of mine knew him and I told him I was a huge fan, and he said, 'if you have anything, I'll get it signed for you'. It says, "To Sam, enjoy hip hop and have fun, okay". I love this guy. I met him once. In Baltimore there's this thing called hacking – if you've ever seen The Wireyou'll have seen it. Basically like unlicensed taxi hailing. I drove past Busy Bee hacking, so I flipped around the block. I pull up to him – the thing is, it's not really a thing in the white community, it's in the black community far back – and he starts walking away probably thinking 'who is this motherfucker?'. I was like 'Busy Bee Busy Bee, come back! Where'd you need to go, I'll take you anywhere. Jump in.' I was geeking out.
Collection of baseball caps
I'm a man of many hats. The funny thing about the hats is that my favourite hats get lost on the road. These are all my least favourite hats! Most of these don't fit my head quite right. That's why they're up there.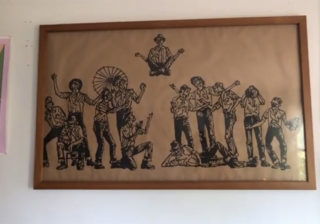 Nathaniel Rooney painting
I bought this at a record store in 2015, right after we got off the Singlestouring. I was really sad at the time, and I went to this record store feeling very lonely, and I was going to Ashville, Carolina, to visit my brother. One of my goals was to spend too much money in a record store. I picked out maybe $100 of records, didn't break the bank, but I found this drawing. Black ink on butcher's paper. I said, ?who is the artist?" "Oh, it's this guy Nathaniel Rooney." My buddy built this gorgeous frame for it and made it into a triptych, so I got all three framed and I gave one to Garrit [keyboards, Future Islands] and one to William [bass]. They each have a piece in their house. It's like the Hellfish Crew on The Simpsons– the last remaining Future Islands member gets all three pieces.
Copy of Carl Sandburg's Slabs Of The Sunburnt West
This book is really important to me. It is the first book of poetry I ever consumed. I was about 13-years-old. I put out a record with my buddy Kenny Segal last year, and there's a song on there called 'Slabs Of The Sunburnt West', which is named after this book. Carl Sandburg is a famous American poet, but he's also famous for writing this epic biography on Lincoln. He's very American. He used to ride the rails and learned the hobo songs – he collected American culture. That book is very much about love of old America. It also has a surrealist edge to it. There's a line in one of my favourite poems about this 50-foot giant who crumbles marble slab in his hand and sprinkles the dust on the earth. I read it, and you know when your head explodes as a kid? That. The feeling when you understand what you're supposed to be doing.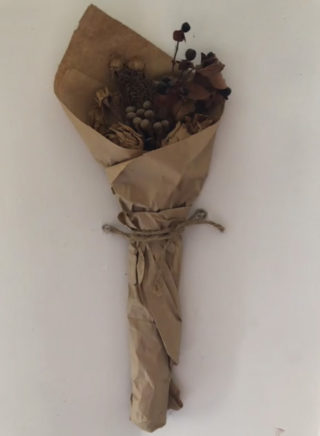 Flowers from the closing of Death By Audio
This is a bouquet of flowers from the last Death by Audio show which was a famous space [gig venue] in Williamsburg, Brooklyn. We played one of the last shows. They did a show every night as Vicewas trying to kick them out of the space. They did one last crazy month of shows and we came on as special guests at one of the gigs. That place was really special to us. After one of the shows, [venue owner] Matt Conboy gave me that bouquet of flowers and I've had it on the wall since 2014.
Loud And Quiet needs your help
The COVID-19 crisis has cut off our advertising revenue stream, which is how we've always funded how we promoted new independent artists.
Now we must ask for your help.
If you enjoy our articles, photography and podcasts, please consider becoming a subscribing member. It works out to just £1 per week, to receive our next 6 issues, our 15-year anniversary zine, access to our digital editions, the L&Q brass pin, exclusive playlists, the L&Q bookmark and loads of other extras.