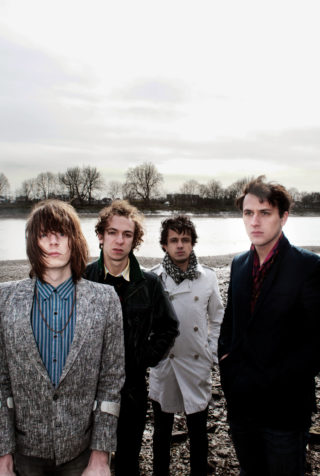 How Mystery Jets went from making skitty folk-pop on Eel Pie Island to Mark Knopfler's pristine studio
Brothers in arms
There are few bands you'd expect to find at the bottom of a west London mews in a recording studio owned by a millionaire guitar hero of the 70s and 80s; who'd be discussing snare sounds and wot-not with a man who has also produced Roxy Music, The Sex Pistols, U2 and Elton John, and mixed The Beatles' 'White Album' and Pink Floyd's 'Dark Side of the Moon'; who'd be recording their third album in the lushest of surroundings; who'd be recording a third album, period.
"It feels very natural," grins guitarist Will Rees. "Sometimes I do wake up and think, fuck, this is our third record, we're like old men, but y'know… it is quite a big thing. It feels natural because we're really good friends, and there's no way we'd stop anyway, even if we were dropped or if we sold no records, which is basically true anyway. We're not going to stop because we like each other. And I think you can see it in a band from a mile off whether they're going to make one record or whether they're going to make five."
Mystery Jets – a merry band of shambolic Eel Pie Islanders once responsible for the nutty 'Zoo Time', played on dustbin lids instead of cymbals – are not a band you'd expect to find here in Mark Knopfler's studio, being produced by Chris Thomas. And yet the more you think about their quite unique career, the more sense it makes.
The makeshift days of debut album 'Making Dens' never seemed more distant than when the band released 2008's 'Twenty One' – a vast departure from Mystery Jets' patchwork folk tunes. With the help of Erol Alkan they'd achieved what few new bands manage: they'd made a second record that didn't sound like 'part 2' of their previous effort. 'Making Dens' had largely been three 'pop hits' that charged around in Dexy's fashion ('You Can't Fool Me Denis', 'The Boy Who Ran Away' and 'Alas Agnes') and a collection of modest, slower ballads; 'Twenty One' was a packed arsenal of indie disco winners. Almost every track on it could have been released as a single.
"Really?!" questions Will. "I don't think so, but I'm open to that. It is an album that I really like, I have to say. I don't think it's a great record or anything, but I'm proud of it. I like the cover, and it's a warm record I think."
But lesser bands tour lesser records for two years these days. There was surely still a fair few miles in 'Twenty One'.
"What happened is we cut the touring short," explains frontman (of sorts) Blaine Harrison. "We only toured it for about 9 months, which sucked, and I spent quite a lot of time in hospital. So we thought, right to kick-start this again we'll do a stand alone single and we wrote a double 'A' side, which without knowing it became the seed of this album."
Despite 'Twenty One''s early retirement it had served its purpose, proving that Mystery Jets were no more eccentric neo-folk balladeers than David Bowie was the same vaudevillian performer he'd suggested at throughout his debut album by the time he reached his second record, 'Space Oddity'. And with a new home in Rough Trade Records ("It feels likes a real label," says bassist Kai Fish "like a real musician's label that don't care about the money at all.") the band were free to go wherever they liked next. So nine months ago they came here.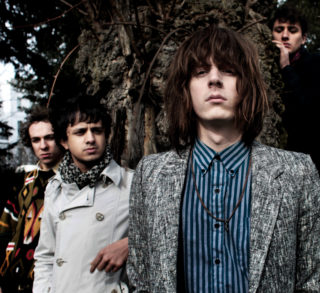 "Do you know how much that Strat is worth up there?" poses Blaine in reference to some of Knopfler's guitars we were nosing at a minute ago. "One hundred and forty four grand!" he exclaims.
We'd been asked to leave the room with the expensive toys in and were now sat in the vast space of Studio One, surrounded by the band's equipment. On the other side of a glass wall is Chris Thomas – a man with a CV so illustrious that even a Razorlight production credit (for 'Razorlight') has negligible damage – mixing a final track for the new album.
"[Making this record] has been quite straight forward in some respects," explains Will. "We wrote like 30 songs and then with Chris we just sat down and chose the strongest really. And he was really good with that because if there was anything that he'd heard before or thought was too referential… like we got really into ELO and there's a few songs that sound like ELO songs, and he was like, 'No, it's not happening!'."
"It was great getting that honesty," adds Blaine. "There were a couple of songs that we'd really laboured over, and fine tuned all the space ship sounds on top of it or whatever…
Will: "One of them sounds like it belongs on 'Heroes'. It's pure Bowie/Eno…"
Blaine: "Yeah, and within five seconds Chris was like, 'Urrgh, turn it off! Turn it off!', and he's not afraid to just tell you if he hates it, which is something we've really valued about working with someone who's worked with bands for so many years – he can hear a pastiche from a mile off."
Those ELO songs have definitely not made it onto the still untitled third album, but one of them has been shipped off to Jeff Lynne in the hope that he'll contribute some strings and backing vocals to it for a Christmas single release. "We thought, if it sounds so much like them, we might as well try and get him on there," reasons Will.
The album, perhaps thanks to Chris Thomas and his 'no pastiche' policy, perhaps due to having been recorded in a studio that 'Money For Nothing' and 'Brothers In Arms' built, sounds like the work of a hi-fi stadium filler from the late 70s and 80s… the one that never made it. It's infinitely more polished than 'Twenty One', and worlds away from 'Making Dens', and is sure to have names like Genesis, Fleetwood Mac and 10cc bouncing around it within a few months. These comparisons are not wholly inaccurate, nor are Wings or The Beatles, but they stand up due to the glossy production value more than the songs themselves.
"On a really simple level, this record sounds…" Will pauses "it's more quality. The word 'quality' sounds like something you use when you're selling veg, like, 'Yeah, this is well quality,'" he says in market trader mockney. "It's not a particularly nice word but I think if you put it up against our other records they sound thinner and weaker."
"It's all Chris," says Blaine. "Sometimes when you're mixing something you find that everything is fighting for attention whereas with Chris, things that you thought were a lead part he'll turn right down to give it a distance."
"Yeah, and you'd rather look at someone like that, and not like that," adds Will, moving his face to within an inch of drummer Kapil Trivedi's. "But when you write a song you're always going to be like, 'LOOK AT THIS!'." Will gets in Kapil's face once more.
Just like Erol left his mark on 'Twenty One' (its opening air raid siren was a particularly neat calling card), this record already feels like it could have only been made with Chris Thomas. The band have grown to trust him to such an extent that when they felt the record was near completion in December and he believed they still needed a couple of potential singles they went away to write what Kai calls, "songs with younger energy."
"What the record needed was a couple of dance tunes basically," says Blaine, matter-of-factly. "Songs the kids can start playing in clubs, which the record didn't have."
Mystery Jets don't mind talking about commercial tactics like snaring radio play with tracks they originally didn't have in mind for a particular album. It doesn't seem to be connected to the wider appeal of 'Twenty Ones'' pop underbelly and overcoat, more a case of seeing 'hit writing' as an impressive quality to possess. We arrive at that point via memories of 'Making Dens'… and discussions about These New Puritans.
"It's been weird over the past couple of months," says Kai "there's been a lot of love for 'Making Dens', especially in Europe, and we really reacted strongly against that album when we went into 'Twenty One' and that's why afterwards we were just playing 'Twenty One'."
"'Making Dens' was all part of the journey maaaan," offers Kapil in a faux spiritual, Yankee whine. "We had to go there."
Blaine settles for, "It was great fun to make," which seems to loosen the half-grimaces that the subject has brought.
"It was!" grins Will. "It was great fun to make because James [Ford] is a total character and also we totally went to town. We were getting handfuls of cutlery and throwing them at tiled floors to record it with reverb on…"
Blaine: "And attaching microphones to cats and chasing them…"
Will: "Yeah, and James' headphones kept popping up from the strength of his afro, and he's there throwing down this cutlery…"
Kai: "Some of the drumming on that is ridiculous – it's absolutely amazing. I'd almost scrap everything, keep the drumming and re-work everything into it."
Will: "It is weird. When you think of a song like 'Zoo Time', I can't believe we ever made it. It's so odd. So bloody weird. But we would have been 17 then. It's almost like something These New Puritans would come up with."
Will asks me what I make of 'Hidden', These New Puritans' latest album, which ignites a lengthy chat about the band, their music and our cover shoot from last month's issue. (Will is particularly a fan of the band). They are a band that show no signs of wanting to write a pop hit. If anything their new album is dead set against the idea.
"It's funny – we're from such a different stand point to that," says Will "because for us, writing a hit is very ambitious. It's part of what we want to do as musicians."
"Yeah," agrees Blaine "but it's a constant thing getting the balance right between writing something that's really poppy, and something that sounds like a Mystery Jets song."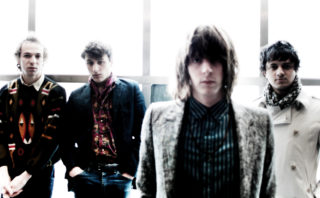 We can't say much about the bolted on 'dance tunes'. While the band are being photographed on river beds and against churches, the track that's most likely to be the album's lead single is still being mixed in the studio, and we don't even get to hear snippets of the second proposed floor-filler. The rest of the album is ours for a limited time only (it's not out until June, only almost finished and still untitled, so there was no way we were leaving the building with a copy) but intense repeated listening quickly gives you a strong idea of what it's all about.
The slickness is certainly unavoidable, but as well as the nods to oldies already mentioned (a personal favourite is the 'Paper Back Writer' bass of 'Lady Gray' – one of a few tracks that makes a fair mockery of the idea that this record is currently without 'a hit'), various younger contemporaries are peppered about also. 'Melt', which has a classic, waltzing chorus, begins with Telepathe electronics and a snapping drum machine that Kapil then thumps into the ground. It initially sounds like an outcast compared to its neighbouring 'Miracle', which is a hopelessly romantic ballad we've heard the likes of before from this band. The closing 'Lorna Doone' builds a snarling wall of sound like The Big Pink; 'Flash' begins with Super Furry Animals' cartoon-ish bombast, and is also the instant favourite, filled with witty refrains like, "Have you heard the birds and bees have all caught STDs" – lines that are separated with group whistles. Even the tedious chorus hook of "All you've got to do is do it/Y'know there's really nothing to it" – all head shaking and obvious, like 'I Wanna Hold Your Hand' – can't slow it down. The fact that they get away with it further points to how unique Mystery Jets' career is. They're like four young Paul McCartneys, chasing killer melodies rather than over-complexed cool.
It's a far less predictable record than anything else the band have produced. If you heard an isolated chorus from 'Girl Is Gone', for example, you'd never think that the verse before it sounds like Madonna's 'Crazy For You', but it does. The same goes for 'Melt', sliding from cold, hip beats to teenage, human soppiness. It's almost as if they've taken the serious, darker verses of 'Making Dens' and dropped them in front of the big pop choruses of 'Twenty One'.
"Aaaahhhh," they say, almost as one. "Okay… that's good, we like that."
"I think this album feels like the end of a trilogy for me," nods Will "because I think we've worked with great producers in James and Erol, but they're a bit younger and on the experimental edge. And with each record the label changed and now it's Rough Trade and Chris Thomas and it just feels like all of that experimenting and finding our feet has come into this really nice groove."
"Our next record's gotta be our 'Kid A'," says Kai.
"I think we've gotta get a bit of something like J Dilla in there," suggests Will. "I like that approach to making music because it's so lawless, and it all hangs off a groove, and it's just like sonic candy – there's constantly information coming into the headphones, like there's always movement and weird samples and sounds, and it totally tears up structure. It's just really playful," he says, smiling into the circle we're sat in.
The only time the band aren't as upbeat as you'd expect them to be considering their current situation is when we briefly discuss that they used to be 5 and are now 4. Henry Harrison – not just a driving force in the band but also Blaine's father – ceased being a fulltime Mystery Jet shortly before 'Twenty One' hit the shelves and road.
"It was difficult, and very difficult for Henry, seeing as…" Blaine trails off.
"It was a musical decision and a personal decision," explains Will "but I think it was more a personal decision, and I think the reason for that, when we came to that decision, is because we felt… we're a young band and we need that space to be a young band without that guiding influence. We need to feel like we're out there on our own, and feel like we could make our own stupid decisions if they felt like the right idea at the time. But it was quite hard, especially for Henry."
Blaine: "We wanted to feel like we're heading off to war."
"We've got a lot to prove," says Will "and I think we'll do it. We're not really chasing anything in the outside world, just in ourselves. We've got a lot to prove, but to each other."
Henry is still involved to a large extent. He's here today, as was he when we were here in November to listen to the record's first six tracks. And it was Henry and Blaine who wrote the first seed for this new album as half of that intended AA side, 'Too Late To Talk' (a song so brilliantly weepy that they could have flogged it to Leona Lewis). Largely though, Kai, Will, Blaine and Kapil are "at war" unsupervised and yet armed with their most mature and classic sounding album to date. To find them here isn't that unexpected at all. 'Making Dens' was as boyish and grubby-handed as its title suggested; 'Twenty One' as lustful and excited as…well…a twenty-one-year-old. This new album, considering its grand ideas, how it's been made and how the band behind it are close enough friends to "never stop", should probably be called 'Brothers In Arms'.