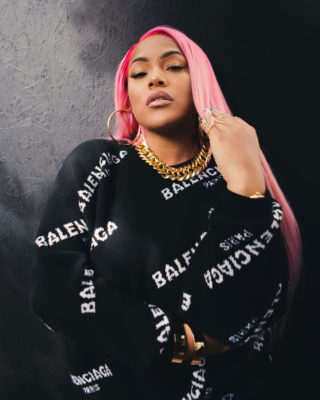 No compromise – a meeting with Stefflon Don
As her first official single goes Top 10, the London rapper discusses doing things her way, Cardi B's success and... setting off an Icelandic volcano
There's been a certainty about the rise of Stefflon Don. Even before the release of her 'Real Ting' mixtape in December 2016 she wore the air – and the pricey style – of a highly successful pop star. Her success, you feel, has been inevitable, to the extent that even though Stephanie Allen tried to jump the fence to get into the Wireless festival just two years ago, her name, half way down the bill this past summer, looked almost out of place. With everything she does Stefflon Don holds herself like a future headliner, and her career is just catching up.
Born in Birmingham to Jamaican parents, at an early age she and her family moved to Rotterdam, Holland, before she returned to live in London as a teenager. She decided at age eight that she wanted to be a musician, later discovering she was a skilled rapper as well as singer.
Her ascent so far has been typified by her self-confidence, focussed ambition and refusal to compromise. One example: she held off signing a record deal until her suitors (Universal) agreed to her terms of controlling her own imprint, V-IV.
'Hurtin' Me', released last month, is technically her first official single, and week by week it continues to creep up the charts (now into the Top 10). Sat in a hotel restaurant, I caught up with her recently to chat through a range of topics, including her performance at this year's Iceland Airwaves festival taking place next month.
'Hurtin' Me' – playlisted by the major radio stations, a video that's had eight million views, high in the charts… How has it felt to have that reception on your first official single?
It's really good, so good. You always say you're going to do it and then when you do it's like, 'okay'. I'm appreciative of all the support I get, I'm happy for it.
Did you have a goal in mind for what the song would achieve?
I always just say, I want good music. Obviously you always hope it does well. I said to my manager the other day, I don't want to just make songs that I feel like 'this is going to go number one' or 'this is going to go top 10'. It's all about whether I like a song. It might not go top 10 but I really like it. If it goes top 10 or whatever that's amazing, and if it doesn't that's still amazing. People are going to listen to it forever. I feel like the fans can tell as well, when you love a song.
Cardi B recently made history by going to number one in the US (the first solo female rapper since 1998 to do that) with 'Bodak Yellow' – what do you think of her achievement?
It's amazing. I love it, and I love her. I like the way she is. I feel like her personality has a lot to do with her going number one. I feel like everyone just loved her anyway. She's just such a character. She's a comedian. She's been on Love And Hip-Hop which also widens your audience. I don't know anyone who don't watch Love And Hip-Hop. She's just funny, down to earth, and I really like her. The song was really good. Azealia Banks, I think she was talking a lot of… do you know Azealia Banks?
Yeah. I didn't see what she was saying…
She was slating Cardi.
Azealia Banks has slated everyone at some point though, right? Isn't that a rite of passage?
<laughs> You need to be slated by Azealia, else you're not a real artist.
You just wait for it.
Crazy. Yeah, I just think everyone loves the song. Any club I go to, they play that song.
Who're you thinking about when you make your music – do you have a listener in mind?
Like a year ago, I would say – not even a year ago, just a few months ago – I just always thought my music was going to go to a certain type of people. Kind of. But then I released '16 Shots' and I saw all these people… and it would be like, you know, Tom from the office. I'd be like, 'Tom, you really like '16 Shots''? And he'd be like 'I love '16 Shots.'
You were surprised by the type of people connecting with your music?
I'm getting all these types of people – and they love it. Now, I realise, anyone can be your fan. I've had like an elderly lady come up to me and be like, 'you're Stefflon Don' and I'll be like, 'I didn't know you'd know about me.' You can't judge people.
What do your parents make of your live shows?
They love it. I actually did a show two days ago in Farringdon – I brought my little brother, my other brother and my mum because she hadn't been to one of my shows in a little minute. Thankfully the crowd was so lit, one of my littest crowds. They just enjoy it. I feel like my mum looks over at me all proud just like 'that's my daughter'. It's lit. So proud.
It's coming up for a year since you released the 'Real Ting' mixtape. What did you make of the reception to that in the end?
That's definitely put the stamp on things for me – on what type of artist I am. The variations of me. Because of that I had three good unofficial singles. I feel like people still talk about it today. I'm definitely happy with it, I'd do it all over again.
It told some of the story of Stefflon Don, but not everything. How much more is there to come?
So much more. It definitely told a little bit, especially 'Family Ties' which was featuring Dutch and Donaeo – that one was a little bit personal and a bit more open. I think there's so much more. You can't give it all away. I reach for everything for inspiration. Everyday life. It depends on how I feel.
How did moving from the UK to The Netherlands, back to the UK affect your character growing up?
It definitely made me adaptable. I'm in love with different cultures. Like, for example, if I see a lady with a hijab, like a Turkish lady or Moroccan, I just feel like mum almost. It feels like mum, almost. Because growing up my friends were Turkish or Moroccan, because in Holland it was a very heavy influence in schools. So when they had their traditions going on, school would always join in and make it feel like you're in Morocco. They'd have moroccan dinners, it would be so lit. Every Christmas as well, they would always ask all the parents to make something traditional – I'm so used to all these traditions and being around them. It's made me love people. I'm not secluded or boxed in. I definitely see everyone as equally the same.
Are you musically open-minded, too?
Definitely. I could listen to a Turkish song or an Indian song and take some inspiration form it and be like, 'I should maybe do this'. Put this part of the beat on a trap beat. So much more open. Growing up in all these countries has made me open and versatile musically as well.
You decided you wanted to do music from the age of eight – you appear to do everything with confidence and ambition – now the success is arriving, how does it feel?
Yeah, it's like you know it's going to happen and when it happens, it's like 'yeah, ok, I knew it' but I didn't know it. You know it, but you don't know the feeling because you've never done it before. I'm here now and I'm trying to just stay here and be better. I want to push. Even if I had a number one today – I'm gonna wanna make something better tomorrow. I want to challenge myself. I want to take longer to write lines, because I want to be like 'this line has to be better than the last line'. I want to be like that, I want to challenge myself and be better and make better stuff.
Will you always have that motivation?
I hope it never leaves. I'm a Sagittarius and that's in my star sign – for people that believe in star signs. We're definitely go-getters and very determined. Definitely always going to be that way.
You're going on tour with Future in the UK in a few weeks – how are you feeling about that?
I've never been on tour with someone before so I'm excited. I love Future. I'm gonna sneak my producer in, play some beats and hope he overhears it and be like 'What's that?'.
A sneaky way of starting a collaboration…
Innit. I'll lay like the sickest verse then I'll be like, 'turn it up, turn it up!' Open the door…

At the start of November you're heading to Iceland to play the Iceland Airwaves festival – have you been before?
No, never. I heard it's cold, though. Is it cold?
It is. When you're there it'll likely be close to freezing.
I'm allergic to the cold! It's totally brand new. I didn't even know that they've been hearing my music.
Iceland is know for its spectacular landscape – you can snowmobile on top of a snow-covered volcano, go whale watching, climb a glacier…
Maybe I should book to stay out there for an extra day?
You should. 
Yeah. I want to do all of that. It would be lit. Wait? There's a volcano? It's not like bubbling, is it?
No, it's snow covered at this point. You can get on a snowmobile and drive around on top of it…
Can you fall in the volcano?
It's not extinct. It is live. But it's been covered by years of snow but, in theory, could go off…
Is it? Any time, there needs to be something which triggers it?
You would get a warning, they monitor it…
Is it? Do you know what's the reason it would ever go off?
It'd start with a tectonic movement…
Yeah? Maybe if a real ting goes off really hard close by the volcano might start bubbling!
Steff, is your show going to set off an Icelandic volcano?
Imagine!
How'd you describe a Stefflon Don live show?
It's lit. It's turned up. There's no dull moments. You're going to feel like you've popped a Molly – not that I've ever done that. I don't know what that's like but I saw Azealia Banks saying today 'I popped a Molly hence why I was dancing to this song so crazily'. That's what the experience is going to be like. Not telling no one to do that, I've never done it myself. It's gonna be lit. It's a time that you'll never forget. It's a big party – oh my gosh, that's the one. In four words: it's a big party.
Last thing. Plans for next year?
I'm down for album, I'm down for mixtape, down for EP, down for more music. However I feel is what I'm gonna drop.
Stefflon Don plays Iceland Airwaves festival in November – more information and tickets.
Loud And Quiet needs your help
The COVID-19 crisis has cut off our advertising revenue stream, which is how we've always funded how we promoted new independent artists.
Now we must ask for your help.
If you enjoy our articles, photography and podcasts, please consider becoming a subscribing member. It works out to just £1 per week, to receive our next 6 issues, our 15-year anniversary zine, access to our digital editions, the L&Q brass pin, exclusive playlists, the L&Q bookmark and loads of other extras.