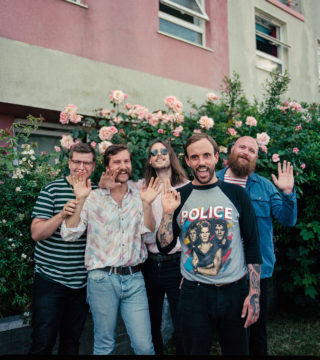 Now that IDLES have your attention they'd like to tell you everything
The most brutal thing about the Bristol punk band is their honesty
Talk to anyone from this part of north Bristol and before long they'll tell you that Gloucester Road is – or used to be – the longest continuous row of independent shops in Europe. It's a recycled point of local pride and certainly fits the bill; a seemingly endless parade of vegan eateries, craft beer bottle stores and hipster barbers. For all the turmeric lattes and Lebanese wraps on offer it still feels very genuine, very Bristolian. Some students are having a BBQ on a roof above a betting shop while drum 'n' bass bleeds out from a bedroom window.
This neighbourhood isn't where the members of IDLES are from, but it is where they first congregated and still consider "the heart of our group". It's a Wednesday lunchtime in early June, and the road it bustling – workers on their lunch breaks and pram-pushing young families blinking in the sunlight. Joe Talbot takes a seat at the back of a stylish cafe and orders a Cortado. It takes a few minutes for him to settle, as he, I and our photographer Dan wait for his guitarist bandmate Mark Bowen to arrive from London where he still works as a dentist – sometimes in a practice, other times in prisons. IDLES' frontman speaks with a husky voice in assertive bursts skipping between subjects. He tells me about his father (a sculptor artist), Love Island (he hates it) and how his sense of taste and smell has returned after he recently gave up alcohol. He's pleased to receive a phone message inviting him onto a future edition of Steve Lamacq's Radio 6 Music Roundtable. All this while he restlessly cleans his phone and his sunglasses with a napkin. "My OCD," he says, as Bowen walks through the door.
The band don't live in this postcode anymore, but they still know a lot of people. The two friends haven't left the cafe before they stop and talk to Geoff Barrow (BEAK>, Portishead, Invada Records). Out on the street it's the same; old mates stop for a chat and to shake their hands. Walking away from the centre of town, our first stop, The Golden Lion, is a yellow-painted boozer with a few benches scattered out the front facing the busy main road. "Dev (Adam Devonshire, bassist) and I used to live down there," says Joe, pointing down a street beside the building. "He used to work in the pub, and I used to drink in the pub. Every day for five years."
Go back almost a decade and that flat acted as a kind of preschool for IDLES. Originally, the two university pals, Dev and Joe, would set up a drum machine and a bass guitar amp. They'd get a bit pissed and Joe would bark into a light shade covering songs by TV On The Radio. A little later, says Joe, waving a finger at an upstairs window, they'd practice in one of the rooms above the pub.
"This place is important," he remarks, nodding towards a Sainsbury's Local three doors up before gesturing down the hill. "We'd get two trolleys, stick a pound in each and take our gear down there." By this time, they'd been joined by Bowen and drummer Jon Beavis (guitarist Lee Kiernan would come on board later). "Monday, Thursday, Sunday rehearsals. We did that for four or five years," says Joe pausing outside the next landmark. Through a set of locked gates, down a garden path, a couple of white "huts" are visible ­– inside these IDLES used to set up their gear. "It'd be baking in there on a day like this," says Bowen. Eventually they left when the guy who rented the space lost it one day and inexplicably started calling them names like "Irish" and "Billy Bunting".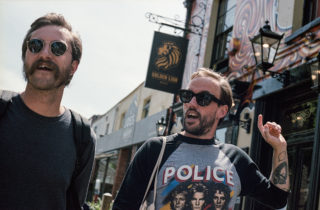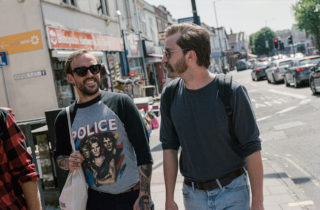 We walk on, to The Grace – a gastropub Joe worked in as a kitchen porter until a couple of years ago. "I've got OCD," he says, "so washing up is a dream. I fucking loved it. I soaked up loads of info about how to make good food." Not much further is the slightly grimier looking pub the Cat and Wheel. "It's what Bristol culture is all about," Joe smiles. "90-year-old alcoholics at the bar, and everyone in between. On Sunday they have karaoke. Vodka Redbull is a pound, I got a standing ovation for my version of 'My Way' once."
Soon we're passing the scene of the 2011 Stokes Croft riot – a night of violence that followed a police raid on a squat housing opponents to the opening of a new Tesco Express. The authority's actions were seen, by some, as overly heavy-handed, and resulted in bloody clashes with protesters. We stop in a cafe close to Fatty and Gareth's studios, the final place IDLES would rehearse in this area alongside bands like Spectres and Giant Swan before exploring other rooms around the city.
All this stuff goes back a while, as things have been a slow-burn for IDLES. They released their 'Welcome' EP in 2012, which sounds very little like they do now – it sounds kind of like The National. Then they had a realisation, embraced their abrasive intuition, stopped imitating the bands they liked and channeled their own frustrations. The result was a second EP called 'Meat', followed by their debut album, 'Brutalism', which no label wanted. Eventually, tired of rejection, they put it out themselves at the beginning of 2017 – it went on to sell more than 10,000 copies.
'Brutalism' couldn't have been more timely. On the surface it was a politicised punk record – 42 minutes of communal catharsis railing at classist snobbery ('Well Done'), flimsy high culture ('Stendhal Syndrome') and the privatisation of public services ('Divide & Conquer') delivered via urgent licks and sarcastic one-liners. Beneath the irritable topsoil it was also a window into the band's past – matters of family ('Mother'), pain-numbing pharmaceuticals ('Benzocaine'), mental health struggles ('1049 Gotho'), hometown drudgery ('Exeter') and damaging addition ('Slow Savage').
"No one believed in us," says Joe, thinking back, sitting on a wall alongside Bowen. "But now it feels good. We know we've built this."
Surviving Exeter
To understand where IDLES are going is to know where they've come from. The first time I met Joe Talbot was in April of this year. He was a guest on Sweet 16, a live podcast series Loud And Quiet was recording. It involved musicians revisiting their teenage memories, talking about their experiences and sharing some of the sounds they were into at the time ­– all conducted in front of a hundred or so audience members in east London.
Within the first minutes of the interview Joe spoke about how at the age of 16 his mother had suffered a stroke. "I felt like I'd lost my mum at that point," he began. "She didn't die, but a major stroke can sometimes take a lot away from someone. She was, without sounding crude, a vegetable after her stroke. She didn't recognise me, she lost her speech, she was paralysed down the right side. To a 16-year-old you've just lost your mum, and she was my best mate. It was very tough."
It set a tone for the evening – but not a morbid one. As heartbreaking as that event was, that night's conversation unveiled into something that was unapologetically honest, startlingly confessional and ultimately ­– as unlikely as it sounds – joyous. It also helps that Joe has a sardonic wit, and great comic timing.
Most of his childhood was spent in Exeter, Devon – the family had moved there after his mother took a job in the tax office. Born with a clubfoot, he had 11 operations at an early age. He was a "very fat kid" (which he loved) and went to school locally (which he also loved) and described himself as "romantic and optimistic". Art and English were his favourite subjects, because of the enthusiasm of the teachers. At 12 he discovered cigarettes and fighting, and alcohol at 13, not in a dangerous way, just because that's what you did in a city like that in the late nineties. "It was a safe place," he said, even if "Exeter was a fishbowl full of torrid little bellends." After studies he'd smoke three cigs on the bus, go home and watch movies. On his 16th birthday his mum took him for a drive in the car, where she told him for the first time that she'd been married before his father and that her first husband has been physically abusive. A couple of years after his mother's stroke his step-father passed away. That left Joe, an only child, as her primary carer; a situation that continued up until a couple of years ago.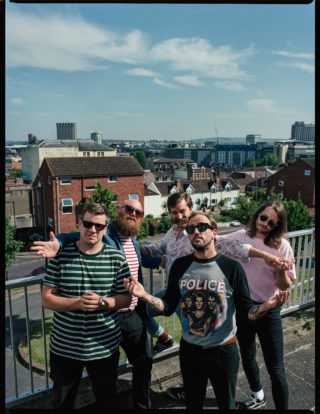 In the mid-00s, university took Joe to Bristol where he "discovered all the naughty stuff" and "nearly lost my mind". Mixed with his bitterness, sadness, confusion, resentment and grief – a lot of it silently internalised – life understandably took him off the rails for much of his twenties. "I didn't cope very well. I was a mess, and I was a bastard. A real bastard. But I had very loyal friends… a few years later I came through it," he admitted. The songs he brought to illustrate his 16th year for our Sweet 16 recording included So Solid Crew ('21 Seconds'), The Strokes ('Hard To Explain') and, most poignantly, 'Try A Little Tenderness' by Otis Redding, a track that reminded him of his family, and one that he couldn't listen to until recently without crying.
We know all this because he shared it. He wanted to share it. Needed to share it. "As soon as you bottle things up it doesn't go anywhere, it just goes on your back," he said then. "The more you put on your back, the more there is to drop. When it does drop, it's a big fucking weight."
After the recording, many of those in the room patiently queued up to speak with Joe. Some fans just wanted a selfie but most wanted to thank him for his openness and divulge their own difficult times. It has the feel of a group therapy session. "Our fans, I think they feel like they own us as a band, which is exactly what we want," he says. "There's a sense of responsibility that goes with that."
For an evening filled with traumatic detail, everyone left with a smile on their face. "This was why I was so keen to do it really, just to explore it," Joe had said midway through. "I've been in counselling recently and I realised that from the age of 16 to 32 I felt very lonely but surrounded by very lovely human beings. I didn't know why. It turns out, it's because I wasn't sharing."
Joy As An Act Of Resistance
It's five days on from what the members of IDLES unanimously agree was their favourite gig they've ever played. They say they weren't expecting many people to turn up when they stepped onstage at Primavera Sound, Barcelona, in the early hours of the previous Saturday morning because Tyler, The Creator and Ty Segall were clashing close by. But people did. A lot of people did. It was packed – from the lip of the stage right out to where the concrete turned to ocean. Frequent visitors to the festival in the past ("it's like a badge of honour to be asked," says Dev), they delivered the most urgent set of the weekend, somehow supercharged by the atmospheric backdrop of the Parc del Fòrum's monolithic concrete architecture. Like all IDLES live shows it was wild – Bowen in hawaiian swim shorts galloping circuits of the stage, Lee crowd surfing to the sound desk and Joe summoning so much intensity veins sprang from his forehead. Today Joe and Bowen, sat in a cafe, recall it with a grin. "Best feeling in the world that gig," Joe says.
All of this goes a long way to explaining why 'Joy As An Act Of Resistance' is such a resonant title for IDLES' forthcoming second album. It's not just six words that bind the 12 new songs on it together, but exists as an everyday maxim for the group. In their work, in their lives, at their shows. IDLES, as they reiterate at numerous points during the day, hold some fundamental governing principles close: they are human, they are vulnerable, they are open minded and hearted and their band is a platform to host uninhibited conversation and affect change. They don't mythologise or glamourise the reality of being in a rock band. In fact, Joe Talbot says: "I think that macismo-driven concept of rock 'n' roll will die, and I'll gladly be part of that."
But as it approaches anyone expecting 'Brutalism Part II' may be surprised. Joe says he's already bracing himself for fewer positive reviews "because it's not as cool, but it's more honest. It's better."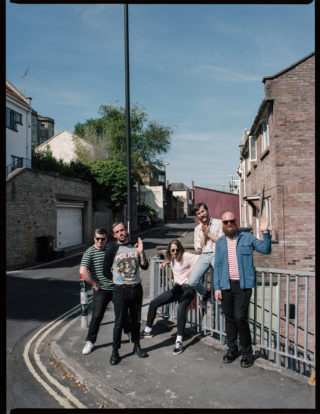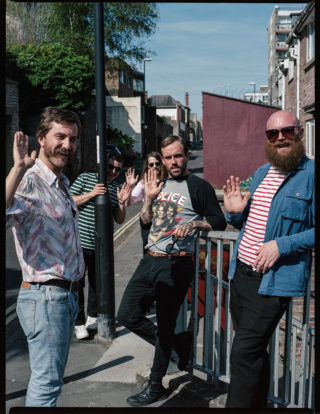 Work on the new material started also immediately after their debut was complete. At first the warm reception that LP received had them second-guessing their next move. "It went from, 'why don't people get it?' to 'oh, people get it, let's ingratiate ourselves to sustain that,'" says Bowen, "but the songwriting suffered because there wasn't belief or honesty". Fortunately, they recognised it, rediscovered their naivety and found themselves unthinking what is was to be a band making a second album. Instead, they had fun. A bit like they did when they used to wheel their drum kit down the Gloucester Road in a shopping trolley. "This album is a great example of allowing vulnerability to take control," notes Bowen.
If 'Brutalism' was a tight knot of pent-up history unfurling in one fireball release, then 'Joy…' very much lives in the present. Musically, compared to their debut, there's variation – the slower bits are slower, the faster bits are faster, everything is better placed but never overthought. There's opening track 'Colossus' a gradual-build drone-rock number that disappears altogether for a few seconds before returning like a West Country slant on Iggy Pop's 'Lust for Life'. Lead single 'Danny Nedelko' is a catchy punk-rock celebration of immigration. Lyrically, the rest of the album travels into the places that have been on IDLES' minds the past 18 months: that means the damage caused by traditional constructs of masculinity, the confused aftermath of Brexit and, of course, there's a few jabs at the Tories ('Never Fight A Man With A Perm' features the hum-dinging line "A heathen / From Eton / On a bag of Michael Keaton").
But there's also one human experience channeled into two tracks – 'June' and 'Television' – that appropriately sit in the heart of the album, and truly underline Joe's commitment to openness. In June 2017 Joe and his partner's daughter Agatha died – she was still-born. Understandably, they both continue to grieve and compute a tragedy that obliterated their world. "That came as a real fucking barrage of pain," Joe begins, when he brings up the subject. "With my mum, it was bearable no matter what because I knew she was dying and I had a long time to prepare for it. Obviously with my daughter dying in labour I had no time to prepare for it and my partner went through a lot more pain than I did. So I had to really step up and help her out."
I ask if there was any reluctance to include that pain publically in his work.
"No," he says without hesitation. "The whole reason I'm still here is because I was able to share my emotions. I want to use my situation to educate and help, because I was helped and educated by counselling. Sharing and offloading. It's a really dangerous thing to feel like you're a burden if you share your emotions. What our platform does is give people an example of 'fuck, if I can talk about my daughter dying' to hundreds of thousands of people then it's ok to talk about dead children.'" He takes a sip of water. "It's not embarrassing. It's not a burden. It happens a lot. A lot of people miscarry without talking about it, and it's shit. It's not healthy. My daughter wasn't a miscarriage, she died in labour. She was a baby that was alive and kicking and she died. But I'm saying beyond that… [this kind of thing] needs to be undirtied, unsullied, this is a regular occurrence."
'Television' is written as a message to his daughter. The sentiment of the track is a simple life strategy: "Fuck perfect. Love yourself."
"If you don't love yourself, you won't give yourself the time to improve," he explains. "You'll go and get shitfaced or do drugs or turn to people that treat you like shit because that's what you think you deserve. But if you give yourself the time to enjoy yourself you learn to love yourself – you look inward and you improve."
'June', slower in pace and more harrowing in tone, features the repeated line: "For sale: baby shoes, never worn." It's borrowed from a phrase often credited to Ernest Hemingway. Legend has it he was challenged in a bet to see if he could make a man cry in six words. The effect in the song is crushingly sad. Joe explains that he wrote the lyrics while he was in the shower two days after his daughter passed. "I was embarrassed because I felt that it was so naive and so indulgent, but that's the whole point with the pressures of being a man – you feel like you're being indulgent when actually you're just expressing your feelings. I spoke to Bowen about it, he was like, 'it's important we put it on, that's the whole point of this record.'"
The cruel paradox was that this agonising human event occurred at a time when the band were achieving success like they'd never tasted before – a summer filled with festival bookings, an unlikely slot supporting Foo Fighters and an autumn tour.
"I didn't really keep it together," says Joe. "I thought I was keeping it together. I had three weeks before we went on tour. Me and my partner just stayed at home and cried and talked and cried and talked. Our friends were amazing and helped us. Brought us food to the house. I went on tour, me and my partner had spoken about it, and we thought it would be alright – but then I turned to alcohol and drugs. I wasn't alright. I thought I was ready, but now looking back I was nowhere near ready. I shouldn't have gone on that tour, because something much worse could have happened. I should have stayed at home and fixed with my girlfriend."
Never fight a man with a perm
Later, Lee, Dev and Jon are sat on a grassy bank before having to go to work that evening (Lee works at a music college, Dev at a venue). I ask how they first reacted when Joe brought in such sensitive lyrics to the rehearsal space for the first time. "I laughed," says Lee, although clearly not in a harsh way, but in reaction to the astonishing rawness of it. "It was just like 'fucking hell mate!' It's a simple fact that we're just all really good friends. No matter what happens we're there for each other."
That loss doesn't define the album, but it is one of the subjects that revolve around the master theme of vulnerability. Knowing their past and present experiences it makes sense that all the strands of IDLES feed into that. When Joe shouts from the stage, like he often does, about how he loves the NHS it's because he and his family have benefited from its care. He's compelled to write songs that skewer "bullshit" macismo behaviour ('Colossos', 'Never Fight A Man With A Perm', 'Samaritans', 'Cry To Me') because without embracing his emotions he might not be here right now. "What it is to be a man needs to be crushed. A new way of being needs to come out of it," he says. "There's probably a horrendous amount of men who've killed themselves because of the phrase 'man up' or because of the phrase 'don't cry.'" He also just "fucking loves" immigrants ('Danny Nedelko'), is just as exhausted by Brexit as everyone else but wants to move forward ('Great') and hates The Sun ('Rottweiler'). On this new album he's also written his first love song, called 'Love Song'. "I'd never written a love song, which I thought was a bit of a shame. I love her so much. She's hard work and I am hard work. Staying together through our illnesses, I think that's something to celebrate."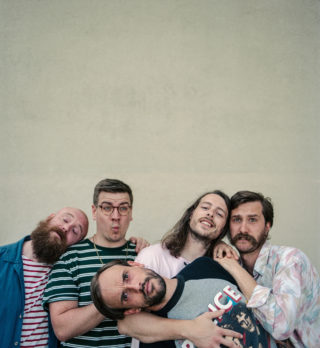 So, there's a lot of hurt in 'Joy As An Act Of Resistance'. The type of strife that can destroy people. But ruling over that is defiance. It's an album that rejects a stiff upper lip attitude; an album that says weep if you need to weep, laugh when you want to laugh. Together IDLES are still working through some dark times, but their sustained promise is to be truthful with each other. And if they look like they're having a ball on stage, or when they're messing about in their tour van in their Instagram videos, or kissing each other in photos, it's because they are. There's a lot of joy.
During a day where we talk about some weighty subjects there's a lot of laughs. Lee tells a story about their show at the O2 Arena with Foo Fighters where he met drummer Taylor Hawkins. "Somehow we talked about how important a morning poo is – it was talking about poo for five minutes then he was off. That was my only interaction with him. I'll remember it forever." At one point, during a particularly serious section of our conversation, I leave the table to pay for some drinks. A week later I discover a secret message on my recorder: Bowen makes spooky ghost noises, before Joe puts on a menacing voice: "This is a secret message to you. If you write a bad word about us, we're going to kill ya. We'll come round your house and break your legs. Oops…. you're coming back!"
After our conversation in the cafe the band walk up a steep road nearby and pose for photos with the early evening Bristol skyline in the background. Joe's partner arrives having finished work for the day at the local hospital where she's a nurse and he puts a tender arm around her shoulders before everyone goes their separate ways.
"What we didn't want to do is be a happy-go-lucky band that doesn't have any content," he says before he leaves. "We want it to be a real force of change and violence but with joy as the engine instead of negative energy. We're trying to change a narrative, to help people out with our art – ourselves included. This band is a selfish act as well as a selfless act. The whole point of this is that when you have a platform for art you can make a change. That's what all good artists do, that's how it works. It'll be a lot more rewarding in the end, but we'll probably look like Chris Martin while we're doing it. But, you know what? Fuck 'em."
Loud And Quiet needs your help
The COVID-19 crisis has cut off our advertising revenue stream, which is how we've always funded how we promoted new independent artists.
Now we must ask for your help.
If you enjoy our articles, photography and podcasts, please consider becoming a subscribing member. It works out to just £1 per week, to receive our next 6 issues, our 15-year anniversary zine, access to our digital editions, the L&Q brass pin, exclusive playlists, the L&Q bookmark and loads of other extras.