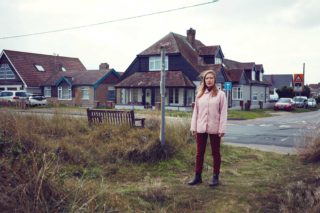 On Britain's strangest stretch of coast Julia Jacklin recounts the last two years that led to an album called 'Crushing'
And what that word can mean
On a late November day in 2018 I picked up Julia Jacklin in east London and we drove two hours to the edge of the country, to Dungeness. It felt like the right place to go, despite a number of things.
If I was trying to make Julia feel at home, I was doing a bad job of it, even by the usual standards of a British winter day welcoming an Australian visitor. The Blue Mountains that border Sydney, where Julia grew up, will have never seen a sky so low, or felt a wind so cruel. The Blue Mountains are luscious and green and impossibly beautiful and, as mountain ranges never fail to be, continuously undulating. Dungeness, chinning out from the Kent coastline into the freezing Channel, is exposed and grey and so flat and empty you could see a pigeon a mile away if it was standing on the ground. Its answer to the mountain's famous, monolithic Three Sisters rock formation is a nuclear power station owned by EDF.
"Actually, it's very me," says Julia as we stare out of a restaurant window. "Beautifully bleak. Not me as in my personality, I mean, but it's what I enjoy aesthetically."
Of course I wasn't expecting Dungeness to compete with or be remotely similar to the Blue Mountains any more than I'd expect Julia or anyone else to only feel contented in a place that reminds them of where they spent their childhood. And besides, it wasn't until she moved into Sydney and became involved with the live folk scene there that she "found her people". What Dungeness does have, though, which I intrinsically attach to Julia's music, is wilderness. Alt. country built from folk traditions often does, but on her 2016 debut album, 'Don't Let the Kids Win', Julia managed to imbue a sense of the great outdoors on tracks straight out of suburbia – on songs like the waltzing 'Pool Party', about a boyfriend who gets stoned too much. Julia wasn't pretending she was sat on a back porch singing to the prairie, it just sounded like she was.
It still sounds like it on 'Crushing', her startlingly open second album. Its slow-rolling lead single, 'Body', lives more explicitly in the wild in its perfectly pitched road-movie video full of shots of Julia at the wheel through the rearview mirror and wide angles of single-lane tarmac slicing through grassland.
Where music is concerned, the road is all part of the wilderness, and so we drove two hours to Dungeness.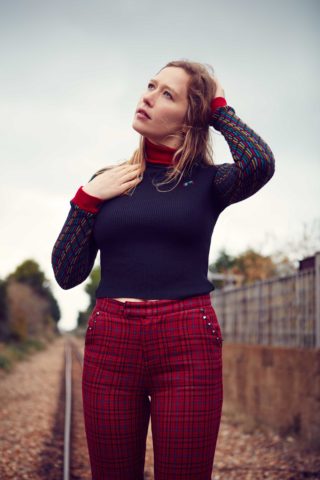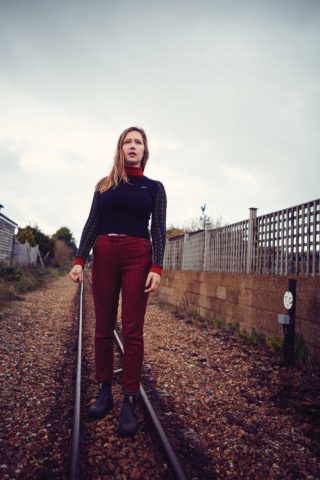 Julia knows the UK well. Her father is from Northampton – a fan of Billy Bragg and The Cure, who Julia grew up listening to alongside stars from the '40s and '50s, The Andrews Sisters and Doris Day. "My parents weren't helicopter parents at all," she says, "they were totally cool with me disappearing for days." Still, by the time she was almost a teenager the moment she cherished most of all was when her mum's car would pull out of the driveway in the direction of the grocery store. "Because it meant that I had half an hour to sing at the top of my lungs," she says. "I'd be so excited. A lot of the time it would be to the opening song from Jesus Christ Superstar."
She became a fan of musicals out of necessity. From the age of eleven she had decided that all she wanted to do was sing, and, in a school without any bands, the one available opportunity came via the drama society. She was a fan of Britney Spears, Avril Lavigne and Evanescence but singing Andrew Lloyd Webber was better than not singing at all.
So her mum would pull out of the driveway and she'd scream the house down.
She asked her parents for singing lessons and got them. Again, they weren't exactly what she'd hoped for, but the only type of classes available in her town were in classical singing, so she took them. Scales and arias were better than not singing     at all.
"I'd had one lesson and I thought I have to show my dad how good I am now, to prove that it's worthwhile. So the way I decided to show him was, I sat in the back of his car as he was driving me somewhere, I put on my Discman to Avril Lavigne's 'Complicated' and I just thought I'd sing along out loud. I'd then take my headphones off and dad would be like, 'woah, your voice is amazing', and I'd be like, 'oh, sorry, was I singing? I didn't realise.' I planned this all day, because I knew I was seeing dad that night.
"So, it went so wrong, because I took my headphones off and dad just goes, 'oh, is that what we're paying for!?' It was so brutal and so sad. It was like a knife to my chest. And I did this twice. I wanted to show my sister I could sing, and we went to a Sanity – a CD store – and you know you could put headphones on to listen to new releases, I did that and it was Madonna's 'Ray of Light'. I sang along to that in the record store and remember my sister grabbing the headphones off me and yelling that I was embarrassing her.
"It's moments like that where I have a lot of affection for my younger self. I was so desperate to perform, but I was too shy to know where I could do it. I didn't want people to think I was showing off."
Fired in an existential crisis, 'Don't Let the Kids Win' was perhaps always destined to become a sleeper hit, not that Julia knew how relatable it was when she was experiencing her own panic attacks about why her life wasn't working out as she thought it would. Twenty-four is a shit of an age, really – the first number you reach when you're no longer referred to as "only…". People can be shocked that you're "only 19", impressed that you've done so much and yet you're still "only 23", but by 24 you're just 24. Suddenly you feel like you're behind if anything.
Having begun harmonising in folk groups at the age of twenty, the growing anxiety of years playing weekly open mic nights where "people were just pumped that you knew how to plug your guitar in" made 'Don't Let the Kids Win' simmer with the nervous energy of a last chance saloon.
Julia says, "I feel a lot younger now than I did then", and that she'll now never dismiss anyone's concerns about their age. "But I also don't buy into it when people say, about musicians, 'you have all the time in the world.' You don't have all the time in the world. This is a young person's game – look at the industry, it totally favours young people – and having the fear of age is very motivating. So I think it is ridiculous but it can be necessary to get things done."
'Crushing' is relatable for its own reasons – predominately the frankness in which Julia presents the breakup of a long-term relationship – but its motivation is completely different to that of 'Don't Let the Kids Win'.
Her debut had to work or else, and you'd think that that pressure would have either remained or intensified. After all, if there's one thing more stressful than attaining what you most desire, it's holding onto it. "But it wasn't the pressure of writing a good second record," she says, "it was the pressure of being out there and people calling me a songwriter. 'But I haven't written a song in a year and a half. So I'm not a songwriter.' This is going to sound crazy, but I felt like I was a person impersonating my old self. Like, 'but me now – 26-year-old Julia – is not a songwriter. She was.'
"I felt like I was performing a cabaret version of who I used to be. I'm still wearing the same clothes and singing songs about a boyfriend I don't love anymore and haven't for a long time. You're performing these emotions every night that you don't feel anymore.
"And so I never felt the pressure of having to write something good for a second album. It was more that being a songwriter was who I am and I was not able to do that anymore. That was devastating.
"Once I accepted that that album was perhaps all I had in me I started writing again and it was fine. But 'Crushing' isn't the sequel to 'Don't Let the Kids Win', because 'Don't Let the Kids Win' feels like someone else wrote it. I'm such a different person now. That sounds so wanky, but I was just so glad that I could still write songs."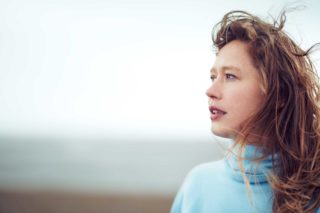 I previously met Julia when we filmed an episode of Loud And Quiet's Bands Buy Records video series in 2016 (when she confessed that she used to fill her iPod with obscure music that she didn't listen to, in case another kid at school picked it up and scrolled through it), and I spoke to her again the following year for our Sweet 16 column (where she told me about all the rugby she played at that age). In person, she has a cool, dry sense of humour, is patient and familiar to be around, and kind of shy but never awkward. A stereotypical, easy-going Australian, I guess.
When talking to her about her father I ask if he has any traits that she'd attribute to him being British. "I guess he's not very good at communicating," she says. "Is that an English thing?"
Yes, I say.
"My dad is famously tight with money. He said that his dad had a pocket book and every expense was written in this book. Like, if they went out for the day and he bought him an ice cream it would go in the book. My dad kind of does the same, and I've found myself being really weird with money. Like, I overthink things. I couldn't impulse buy anything, and I don't think it's a good thing.
"For example, I wore the same clothes for a decade." She laughs. "All the clothes I had as a teenager, I wore them well into my mid-twenties. I was like, these still work. I like them. They fit. They're me. But I was wearing the scummiest T-shirts. Honestly, it's only since I became a musician that I've realised that new clothes, a.) make you feel happy and clean and good, and b.) you're getting photos taken all the time, you're on stage every night for months on end – you need to have variety of clothes."
Although you didn't for 'Don't Let the Kids Win', I say. (Julia was rarely seen not in the clothes she wore on the album's sleeve – a Jamaican bobsled top, tartan skirt and white Reebok Classics.)
"Yeah, I wore that for a year," she says.
Julia has the kind of eye for aesthetics that tricks you into presuming she employs a team of stylists; not that she simply didn't throw out her clothes from ten years ago. When we arrive in Dungeness she springs open her suitcase and begins to consider what to wear for photos.
She does have one visual collaborator, and she's always been quick to credit Nick Mckk's input. It is Nick, after all, who directs, shoots and edits all of Julia's videos, and acts as her official photographer and karaoke duet partner.
'Crushing', Julia decided in response to the current colour trends of baby pink, baby blue and brown, has been set at green and orange. In an increasingly visual world, these become important calls, and yet once you hear the record you'll see how much Julia's voice belittles the point.
Throughout 'Crushing' her vocals are quite incredible, and it's here where the limited resources of her hometown and her desperation to sing anything at all come good for all of us.
On opening track 'Body' she keeps things low and husky, her voice hanging in the air like a curl of smoke as the track trundles on and never reaches a chorus. But an octave or two higher is never far from reach and she can get there quickly within the same song. Like on 'Head Alone', where she glides from a breathy beginning, through the kind of pretty birdsong phrasing found in mid-'60s pop songs, into an impassioned section that borders on operatic. Whichever tone she choses, she's boldly high in the mix throughout, and says that she didn't want any studio tricks getting the way of the album's simple elements. It makes her vocal performance all the more unbelievable.
In the restaurant I tell Julia how much I like 'Crushing' by blurting, "it's brutal," at her. My brain had tried to be more sophisticated in segueing into her searingly honest record, but it gave up almost instantly and went for "brutal," said in italics. She laughed.
It is a brilliant record, largely drawn from a breakup, but not only that. I must have listened to it nearly a hundred times now, and I'd probably still blurt "brutal", despite 'Crushing' deserving something far more nuanced than that. Maybe I can blame it on the title – when I heard that it was called 'Crushing' my mind went to a place of welcomed romantic agony; of harmless infatuation that doesn't feel harmless at the time; of one dreamy possibility that's only ever one un-replied text away from you hating yourself and then them; a place where you'll send one more text just incase, and replay your last interaction until they respond or kill you. Crushes are fun and awful, and Julia Jacklin has written an album about how stupid but real they are – this will be breezy.
'Crushing' has one or two near-breezy moments (relatively speaking), but it is very clearly a record full of pain, delivered so directly that you will experience it all. I seemed to have overlooked another sense of the word – 'crushing: causing overwhelming disappointment or embarrassment.'
Julia says it's a bit of both, admitting that she also needed a title weeks ago. "Classic me," she says, "I had a hard deadline for the album title that I had passed many times, and I just couldn't think of a title for this album. The first one was immediate – 'Don't Let the Kids Win' summed up how I was feeling. Nailed it. This one, I was looking at the song names but none of them are great.
"I had this word 'crush' in my head because when something is crushing it's that chest-caving feeling, but also 'crushing' in terms of being single again and meeting people and having these devastating teenage crushes… The highs and lows of a post-relationship time.
"I love how that word can also be, 'you crushed it tonight,'" she adds. "It's always said in such an intense way and this album is, in a word, intense. But calling a song 'Intense' wouldn't have been good. 'Intense Songs, by Julia Jacklin.'"
Which song is the most intense is hard to say. Six of the ten are undeniably about Julia's breakup. 'Body' gets the split going following her boyfriend's arrest on a plane when he's caught smoking in the toilet – 'That's when the sound came in,' she sings, poetically marking the final straw. 'Don't Know How To Keep Loving You' is similar in its slow-burn feel but sadder in its inevitability – the story of how predictability has killed an overly familiar relationship that's gone from comfortable to boring to dead. 'Good Guy' is straight up about loneliness after the fact and craving a one-night stand. 'Turn Me Down' – dreamy and a little '60s in its flange guitar – is the stand-out moment that Julia found most difficult to record, breaking down between takes and eventually turning in a cracked a beautiful middle section vocal performance that's practically unaccompanied as she begs to be turned down. Closing lullaby 'Comfort' is sweet and optimist, as is the ragged indie-rock of 'Pressure To Party' (about getting back out there), but even that track has a nervous energy to match the awkwardness of being tossed back into the dating pool by braying friends. The tempos fluctuate but all the songs are intense in one way of another.
"It's so funny," says Julia, "because I'm not necessarily a very intense person. It's funny that that record came out of me."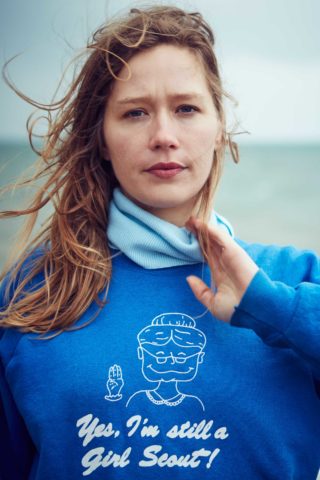 It's not just Julia's voice that blows you away here but her turn of phrase and ability to cover the disintegration of a relationship from all angles. "It's not like I'm saying this stuff happened and now the world is fucked and love is dead," she says. "That's not how I view the record."
We can all relate to being dumped and being forced to dump, but while sometimes your arrogant boyfriend makes it easy by smoking on a plane, other times love just seems to run out. It's on 'Don't Know How To Keep Loving You' – perhaps because of its complete lack of melodrama – that Julia feels most relatable of all, the line 'I want your mother to stay friends with mine' being a true representation of what people really fret over when they know it's over. 'Comfort' is just as concerned about how the other person's doing, and isn't that really how it is?
'Crushing' follows the aftermath too, in all its highs and lows, and saves room for a few other types of relationships that can be just as, y'know, crushing.
Julia says that, unlike 'Don't Let the Kids Win', which she still hasn't listened back to once, she's been proudly playing her new album, with the exception of one song. She wrote 'When The Family Flies In' about a late friend to whom she also dedicated her first album. It's beautiful, sparse and heartbreaking; her first piano-led song and 'Crushing''s midway point.
Away from that song, she says: "The album is about changing relationships, and part of that is my changing understanding of what a friend means – what is required to be a good friend, and what you can expect from friends." No doubt 'You Were Right' is the song that came out of that train of thought, a smart, fast-paced takedown of a friendship turned toxic.
These last two years have made Julia look at herself, too, and, she says, toughen up. She grew tired of being a "people pleaser", in interviews where journalists presumed her open lyrics meant her personal life was inbounds, and on the road as band leader, employer and manager of other people's emotions. "This time I'm more confident in myself," she says. "In interviews I'm more confident in potentially coming across as a bit cold. I don't think I am cold, but I'm not as worried now about what people might think."
On tour she's calling out bullshit, too, on her band if she needs to, and anyone else who treats her differently for being a woman. Which does happen.
"I think a lot of women experience daily micro aggressions that end up making you feel like you're going crazy," she says. "You're thinking, is this person treating me differently because of my gender, and because you're surrounded by men who aren't experiencing it, you're like, 'did you see that?', and they're like, 'oh yeah, but I'm sure it's fine,' so you're like, 'oh, yeah, you're right, you're right.' I think a lot of women experience that where you're going against your gut because no one else is there to validate it."
'Head Alone' is, in part, a related track – its chorus: 'I don't wanna be touched all the time/ I raised my body up to be mine.'
"It's about how, even with your close friends, as a woman it seems ok to give you less space. It's hard to explain but the way people touch you when they interact with you is different – everyone else gets a handshake. It seems like not a big thing, but after two year, when you have a lot of photos with people, they're always touching you a lot. There's so much touching."
I hadn't thought about it, but of course Julia is right. Photos of male celebrities with fans consist of the fan weirdly leaning beside their hero with that 'holy shit it's J Mascis' look on their face; photos with female celebrities often include an arm around them, "but it's usually around your waist, or just under your breast," says Julia, who's also kissed on the cheek by a lot of strangers. "It doesn't seem like a big deal," she says, "but those daily intrusions into your space can make you feel like you're just tiny."
Julia's shutting all that down. And working on how to deal with all the unsolicited advice – from dudes unable to buy a T-shirt from her at the merch stand without setting her straight on how she could "really fulfil her potential." Of course, it really does only ever come from guys.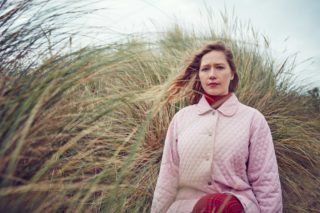 The more you listen to it the more you realise there is no better title for 'Crushing'. It might have been a panicked suggestion well past deadline, but how else could you sum up its raw emotions; devastated, lost and defiant.
If Julia had looked down the track-listing and found a title there, you imagine it would have been 'Body'. It would have looked terrible on the sleeve, but it's a word that rings through 'Crushing''s first four songs, in turn blunt and intimate, and strongest of all when Julia first sings, 'Heading to the city to get my body back,' on the opening track. That line seems to represent a lot of what Julia has been through since she turned her quarter-life crisis into the career she dreamed of since belting out Jesus Christ Superstar in an empty house.
Crushes are fun and awful and stupid and real, and love is pretty much the same. When it's gone wrong and you're heartbroken it's the only thing in the world. And that might be the greatest thing of all about 'Crushing' – how unapologetically selfish it is. How Trump-free. How void of a bigger picture, because when you're crushed by love, is there one?
"I've been worried that what was going to happen, especially with the first two songs ['Body' and 'Head Alone'], I was going to get a whole bunch of shit from people saying, 'here we go, a post-#metoo album. And as much as I'm a feminist I hate how basically being a female person who has a mouth, every time you sing about your personal experiences it becomes this thing that you're making a statement about the world rather than I'm just expressing something that's happened to me. I'm just singing about my life. I'm a folk singer who writes songs in that tradition.
"None of the songs are preachy," she adds, "and I'm not telling anyone how they should feel. I'm just singing them to myself and trying to process everything. But I'm aware that if you're not me, you'd be like, 'woah, this girl is intense!' But we all can be pretty intense, I just have this outlet to capture that intensity, and then I can be like, yeah, sweet, and now I'm me."
Loud And Quiet needs your help
The COVID-19 crisis has cut off our advertising revenue stream, which is how we've always funded how we promoted new independent artists.
Now we must ask for your help.
If you enjoy our articles, photography and podcasts, please consider becoming a subscribing member. It works out to just £1 per week, to receive our next 6 issues, our 15-year anniversary zine, access to our digital editions, the L&Q brass pin, exclusive playlists, the L&Q bookmark and loads of other extras.