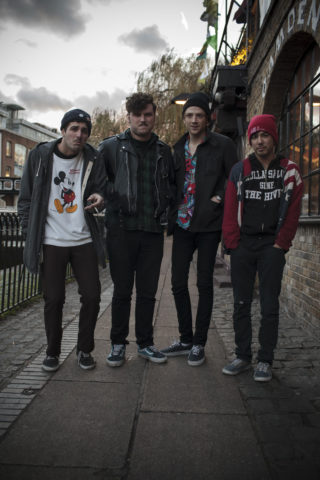 The one track mind of Fidlar
Wake. Bake. Skate.
Thirty-three years ago, Ian McKaye wrote 'Straight Edge', Minor Threat's denouncement of drink and drugs that turned him into an unwilling punk rock messiah. The point he was making was that punk, first and foremost, is about doing what you want, not what's expected of you, so legions of fans, oblivious to the irony, did as they were told and kicked everything. With the rise of emo, the uniform individuality of straight edge has been picked up by kids listening to Paramore and My Chemical Romance, but not by kids like FIDLAR, who want to drink cheap beer, "smoke weed until I die", "get head in a broken car", drop shitty pills and cheap cocaine, and, time permitting, skate. Other than that, they look and sound ripe for McKaye's Dischord label circa 1982. "I've got better things to do/Than sit around and fuck my head," said Minor Threat. "I drink cheap beer/So what? Fuck you!," bark FIDLAR.
The band's eponymous debut album starts thus, aping Black Flag with a dumbass group chant – a 'Six Pack' for a new generation. 'Cheap Beer''s verses yabber manically, with cock-an-ear hardcore vocals that brattishly bitch, "Forty beers later and a line of speed / A pound of blow and half a pound of weed / Heading down the tracks to Mexico / Fucked on beer and hysterical". Whether you are now or ever have been young, it's hard to not be instantly thrilled by it.
Unlike Black Flag, FIDLAR are neither hardcore purists, nor a band that wishes to attract such a crowd. For every 'Cheap Beer' and 'Cocaine' (which borrows as much from Beastie Boys' 'Sabotage' and 'Fight For Your Right' as it does any punk band), they have a retrograde garage number ('Stoked And Broke'), something for fans of Wavves ('No Waves') and a brazen, lip-curling love letter to The Ramones ('LDA'). They file it all not under punk or lo-fi or surf or garage, but simply "rock'n'roll" – a much neglected term in their hometown of Los Angeles, where Compton rap, dissonant noise pop and indie still rule, or did until very recently.
The night before we meet, FIDLAR played their biggest London show to date, where I saw just how ferociously their fans have taken to the band's acronym, Fuck It Dog, Life's A Risk – skate culture's own eloquently louche carpe diem. Kids took to the air and security guards swatted them down, like King Kong versus the bi-planes.
"Last night blew my mind," says band singer and frontman Zac Carper. "When we played 'Awkward', dude, those kids were yelling ALL the lyrics. It was insane."
Carper formed FIDLAR with second guitarist and sometime lead vocalist Elvis Kuehn after they met at the recording studio of Rob Schnapf, producer to Elliot Smith. Unbeknown to Schnapf, Carper was not only working in the studio as an engineer, but living there also. Elvis turned up as an intern. "Before FIDLAR, I was recording bands and doing lots of drugs," says Zac. Elvis was in college (graduating May 2012), his brother Max was "drumming in some really shitty bands", bassist Brandon Schwartzel was working a restaurant job and toying with a solo hip-hop project.
"We all like hip-hop," says Brandon. "I mean, we know those kids who are like, 'why are you listening to that? It's not punk!', or, 'hey, that's not on a punk label', but I think that's kind of dumb, because you're missing out on so much other good music."
Elvis notes the similarities between 'I Gotta Stay High' by Three 6 Mafia and FIDLAR's own 'Wake. Bake. Skate.'. "They're talking about getting fucked up and being rich, we're talking about getting fucked up and being broke," says Max.
Modern hip-hop's marriage to skate thrash and punk alike was truly consummated with Odd Future releasing Trash Talk's '119' last year; a partnership that saw the Sacramento hardcore band play an extended string of shows with OFWGKTA spin-off duo MellowHype. For all its dethroning of the music industry, such exploration is the Internet's lasting legacy; a place where "you can check out ABBA before having to buy a whole record of something that may or may not be your thing," according to Max.
"We believe in the Internet one hundred percent!" says Zac, itself a decidedly un-punk school of thought.
"But it has made everyone's attention spans so short," says Elvis. "People listen to, like, one song and then think, oh, I can't be bothered with this. I'm trying to listen to records all the way through, because that's how they're meant to be listened to."
FIDLAR's debut album is itself deceptively long – the quickest 39 minutes you're likely to experience all year. More blatant is its recurring theme of drugs and an overarching sense that the next party is only ever a sunset away. Hidden track 'Cheap Cocaine' (not a pointless half idea but rather a bluesy, stand alone highlight) is even knowingly placed at 4:20 on your stereo clock – a schoolboy reference to American stoner culture and the optimum time of day to light your first joint.
"Yeah, there's a lot of weed on there," concedes Zac, "and a lot of cocaine too. The album is basically about what it's like to be super fucking broke, living in Los Angeles, having no job, no place to live, trying to figure out your life. It's just about being twenty," he says.
Sometimes it's about Max, too, directly on 'Max Can't Surf' (a borderline parody of surf-pop daft enough to end with the childish taunt of "he's so ginger"), and more covertly on 'Whore', about the drummer's ex-girlfriend ("she was a whore, though," he nods). 'No Ass' from the band's 2012 EP 'Don't Try' is about Max too. He is, after all, one skinny dude. And yet there is at least one thing that FIDLAR take very seriously indeed – the recording of their songs. They concur that a good live show is essential, but that's not what they are – they are not Odd Future.
'FIDLAR' was recorded at the band's home, although not in the usual vein of four young caners hunched over a cassette deck, leaving the crackle on and operating on the fly. Home for FIDLAR is a proper recording studio inside a converted car dealership. The band wired the place themselves, putting to good use Zac's engineering past and Elvis' internship at Rob Schnapf's place.
"We're really nerdy about gear," says Zac, going on to enthuse about a particular revelation involving a microphone in a bathroom. He buzzes about altering the length of delay caused by tampering with a sliding door almost as feverishly as he does about all manner of illegal vices on the brilliantly ditsy skate pop track 'No Waves', a song he wrote while in rehab, and quite possibly the jolliest ode to cold turkey ever recorded.
Elvis explains how beneath the album's seemingly slapdash exterior, it's been meticulously tracked, with side A featuring their harder punk songs, and side B their more pop-driven melodies, "like 'Exile on Main Street'," he says. With 'Max Can't Surf' and 'Cocaine"s rupturing jugular so clearly out of place, it's debatable that such a concept has been fully realised, but FIDLAR have considered it nonetheless.
Behind the weed fug and nightly bar room blitz, they're a diligent lot, and for a band so stoney broke, FIDLAR have a wealth of party punk songs that make for a priceless, manic live show.
Gift subscriptions are now available
It's been a long time coming, but you can now buy your pal/lover/offended party a subscription to Loud And Quiet, for any occasion or no occasion at all.
Gift them a month or a full year. And get yourself one too.
Whoever it's for, subscriptions allow us to keep producing Loud And Quiet and supporting independent new artists, labels and journalism.