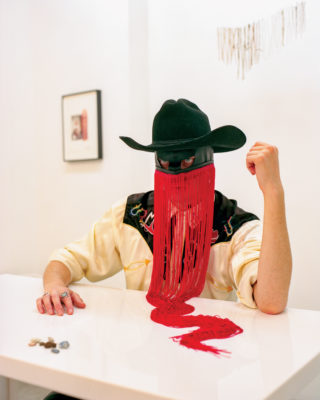 Orville Peck – The outlaw country singer who believes effort is king
Who is the cowboy in the fringed leather mask?
Even trying to establish the most basic facts about Orville Peck is tricky. "I'm kind of based all over the place, I move around a lot," he responds when I ask him about where he comes from. I know for a fact that he is in Toronto as we speak, but he's quick to blur the lines. "I have lived in five different countries now. Just in the last four years alone, I've moved nine times."
In one moment he will tell you that he isn't interested in trying to create a narrative of mystery, in the next he will point blank refuse to engage in a conversation about his earlier life. "To me, those biographical facts are probably the least interesting thing about me," he insists.
The singer-songwriter, who is never seen in public without his trademark fringed leather mask, is set to release his debut album, 'Pony', on Sub Pop in March. His music is bursting with personality, a 21st century-ready re-imagining of the classic outlaw country tradition, wherein tales of lost love are as likely to involve same-sex relationships as they are desert highways and worn out gamblers.
To Peck, it's about keeping control of the whole package. "I really like to put in an effort on the full story," he says. "I want to tell stories that are rich and that evoke something in people, and that includes a look and a sound. I think those things help tell a really good story."
But don't be fooled into thinking that everything about this guy is constructed. On the contrary – he is at pains to point out that his songs are bitingly real. "Everything I write and sing about is based on a real experience of mine. I think it's really transparent when artists are not putting in a full effort, or trying to construct something that isn't authentic.
"A lot of people will look at something like Orville Peck, because I wear a mask, and think it's a theatrical, constructed thing, but I think the really nice quality about seeing Orville live is that people really, really connect with it. It's coming from a truly authentic place and it really seems to resonate with people."
He has fourteen masks now, all self-made, and while he claims that the mask is not a comment on our image-obsessed society, he does lament the lack of effort that he sees amongst some of his peers. "The thing I don't like that I see a lot now is this return of a kind of nonchalant attitude to being a performer. I really just appreciate effort. If I'm going to pay a lot of money to go to a show I want someone to give me the full experience of what I pay for." He mentions Janelle Monae and Poppy as two from the current crop that seem to "get it".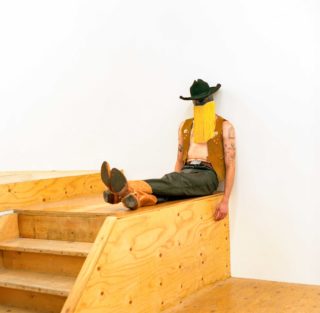 From the outside, there may appear to be inherent contradictions in Peck's arguments, but the effect is as intended. 'Pony' is a coherent, intriguing record that plays with your expectations and resists cliché or easy categorisation. He himself admits to being heavily influenced by the outlaw country of Merle Haggard and Johnny Cash, but it doesn't stop there. "I think if you know what you're listening for, you'll hear elements of Reba [McEntire], or '80s and '90s country, too," he explains. "The kind of country that I've always liked has always been rebellious in some way. Willie Nelson inspired me a lot, he was definitely very counter-mainstream as a country musician."
Peck's music might struggle to be fully embraced by the Nashville radio powers-that-be, but he is quick to point out that what he is doing is nothing new. "For a long time, country was dominated by white males, and to some extent it definitely still is. But there have always been queer country artists and female artists that push the boundaries. Now you have people like Kacey Musgraves, who just won a CMA, and she has a very distinct point of view that she brings to country music.
"There's more of a need for that mainstream part of the genre to start embracing fringe sounds and minorities, because every other genre in music on a mainstream level has embraced the differences. I think they're slowly starting to realise," he continues, although he is eager to call attention to the fact that country can be as much a victim of stereotyping as it is a purveyor of it. "You get that classic response from really open-minded people that don't get country music because they have already made up an opinion about what country is, or that it's about being conservative. I think country music has had a hard run at times. When I think of the country I like, it makes me think of breaking boundaries and rebelliousness and a lot of freedom."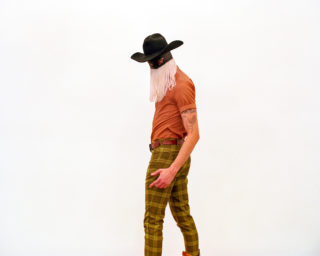 Inspired by such freedom, Peck took an auteur's approach to assembling his debut album, self-producing and playing the majority of the parts himself. He decamped to The Noise Floor Recording Studio in the picturesque Gabriola Island in British Columbia, a remote getaway that allowed him to emerge with a finished product that is in step with his vision of what Orville Peck exists for.
'Pony' is far from an album for genre purists, though. Tracks like 'Hope to Die' call to mind the folky dream pop of Mazzy Star and Peck speaks of the influence of shoegaze and '80s alternative bands on his compositions. In a rare, tantalising glimpse into his younger years, he admits to having played in punk bands that were formed out of his love for the Californian hardcore bands Angry Samoans, Adolescents and the Descendents. When I ask him whether he was part of any groups we might be aware of, he fails to deny it. So much for not creating a narrative of mystery. He later divulges that he lived in London for four years earlier this decade, including periods when he made music and "performed in other ways", but, regaining composure, refuses to narrow it down any further.
His tastes extend far wider than that, too. As well as naming Whitney Houston as "one of my top five artists of all time", he proclaims a seemingly legitimate love for the recording artist Paris Hilton. "I think it's incredible that somebody can so genius-ly tread the line between having everyone think that she's an idiot and keeping everyone so intrigued at the same time. People used to laugh that she was famous for nothing, but we live in a time when someone can just be an influencer, that's standard now. No-one even had a term for it back then."
The Hilton influence on Peck's music is a little harder to trace, but perhaps the attention to public display is not. Where the constructed meets the reality is surprisingly hard to ascertain, perhaps even for Peck himself. The more you know about him, the less you can get lost in the story. His success may just depend on keeping the mystery alive after all.
Photos by: Gordan Nicolas
Free Protomartyr flexi disc with this month's magazine
Subscribers to Loud And Quiet now receive a limited edition flexi disc of a rare track with their copy of the magazine
This month's disc is from Detroit punk band Protomartyr