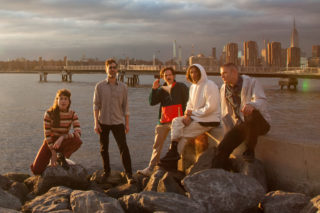 P.E. – When two bands realise they can make music with vacuum cleaners if they want to
In New York, the DIY scene has flourished once again
New York has a lot of underground scenes. Hand-lettered posters are given out in attic venues, Sharpie X's mark hands, and everyone ends up back at that bar they always end up in. At one such bar, Milo's Yard in Ridgewood, Queens, just on the border of Brooklyn, P.E. are DJing for the night. The bandmates mingle with the rest of the customers. Someone showers a girl at the bar with air kisses, then mans a turntable to change the record. Another musician gets up from one booth and immediately sits at the next for a chat. People laugh and take photos together and seem to relax, despite the Instagram post declaring it an Event.
In New York, the DIY scene has flourished once again, supported by a community of musicians, and P.E. – the Brooklyn-based band consisting of Jonny Schenke, Veronica Torres, Jonny Campolo, Ben Jaffe, and Bob Jones – are new to the landscape, even if their individual members are all veterans; a mix of musicians from two beloved bands, Pill and Eaters (hence the acronym). Their upcoming album, Person, out March 6 via Wharf Cat Records, is a major and celebrated step in the community they've joined and serenaded over the last decade.
P.E. officially came together when neither Pill nor Eaters were available, so a few artists from each took over the entertainment for a friend's party. "There were enough people that were like, 'Woah that needs to be a thing, how is that not a thing' that we kind of convinced ourselves that it was worth pursuing," Campolo says, gesturing to the rest of the band, all gathered on a cold, gray afternoon in Schenke's studio in Greenpoint. That party was June 1, 2018. The morning after, Wharf Cat emailed them begging to know if there would ever be more.
The band did get together more, playing shows and experimenting. They collected raw materials of improvised sounds – Schenke, the calm, reassuring, leader-type, distorting synths; a vacuum cleaner making rounds on the carpet; Jones, quietly sunny, and his dog playing in the studio. "It was so open-ended and playful from the very beginning, like getting goofy in a way that neither of our other bands did or maybe felt like they could," Schenke says. "So I think it allowed us to explore, consciously or not, just the things that maybe we always wanted to try."
The band all found a fascination with the in-between sounds of life while recording: radio feedback, the static of an old TV between channels. At times, Person is reminiscent of the '80s, the result of each band member's relationship to media consumption in their childhoods. There's a paranoid nostalgia in the record, with clashing synths and scratchy echoes bristling under Torres's vocals.
Campolo, squinting through round eyeglasses, is the emotional barometer for the band. He describes the record as "darkly optimistic". It's melancholy but gives listeners permission to dance and release their anxiety without ignoring it. While there's so much darkness in the United States now, P.E. explain there's also power in expressing yourself despite it. Catharsis under the clouds.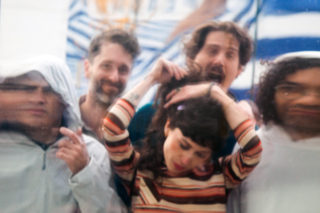 Listening to Person, start to finish, brings to mind an apocalyptic dance party. Party-goers might wear slick, sexualised military gear, akin to Aeon Flux, one of the band's aesthetic and psychological muses. P.E. don't necessarily look like this MTV dystopian cartoon. Jones' pastel yellow sweatshirt and Schenke's grey sweater next to Torres' mix of prints and patterns lead the eye in a zigzag to Jaffe's fuzzy cheetah-print hoodie and Campolo's neon-emblazoned t-shirt and painter's pants. They're unique but complement each other, in image and musical references – just one is whole-heartedly agreed upon: Black Devil Disco Club –which adds to the eclectic but collaborative nature of their work.
Their songs were recorded and written via experimental studio sessions before Torres came in to record the vocals on top. Each member of the group pushes the work of the others until they reach the point where no one knows who exactly is doing what, even live. Audiences are sometimes confused. "What you hear, and what's happening, it's much more fun when it's not explained right away," Jaffe says.
Jaffe cracks jokes at lightning speed, but turns earnest on a dime. Later, he leans forward on the couch and, amid a dissection of "experimental" music, insists, "If you're accepting the way things are made and given to you, then maybe you shouldn't be here. You've gotta always be examining things. You don't ever want to become inactive and complacent. Be excited about the people around you, the place you live, be interactive, get involved."
Part of the reason such experimentations and improvisations and "dueling feedback solos" are able to find their way onto the record is because of the band's support in Brooklyn. "The community here is really special, the DIY community that we have grown up in," Torres says. She means the people that come to every show, support each record release, pull free beers.
"If you don't keep making stuff the scene gets smaller and smaller because people don't stick around or they give up, and if you just want to make stuff and that's why you're in it, then you're gonna stick around," Jones says.
P.E.'s New York is the city of a sitcom dreamt up by aspiring young artists. People bouncing from studio to venue to bar to home and back again, where hanging with friends is oftentimes the same as working on the next project.
"And you're gonna eventually know everyone, because you've all just been doing it," Schenke says, after rattling off the names of a handful of old standby Brooklyn venues P.E. can be found at on any given weekend. "Every show that we've played, including that first one and the one at The Glove [a recently shuttered popular DIY venue], it's all with friends and people that either were fans of or played with either of our old bands. It's been very supportive and really lovely to hear feedback from people we've known for a long time, just genuinely excited about what we're doing."
The close community that heralds P.E. as one of its own also allows for sincere emotional risks in their music. "After the first [album I worked on] I was like, 'Am I still a musician?'" says Torres. "It was also the first project I made sober, which was really different. There's a nakedness that was really open." She speaks with intention, without rehearsal, and it's clear the visceral emotions in the lyrics are an accurate portrayal of their author. The songs, from 'Soft Dance', about the end of a relationship, to 'Mandarin', about reclamation of Torres' sexuality, are intimate, but revel in putting vulnerabilities up against a more abrasive sonic rawness.
As she wrote, authenticity as a motif revealed itself, and the band upheld that as a virtue of the record while admitting that everyone questions their own intentions sometimes.
"It's much harder to be vulnerable and raw than it is to be abrasive and loud," Campolo says. "There's such a bigger challenge in making it impactful, but the record has all of that. That's the odd pleasure of it – it's hard and soft, intimate and abrasive, dark and goofy, optimistic and nihilistic. There's a lot of contradictions in the music, and if you can be on the line instead of on one side or the other, that's the human part of it."
Photography: Andrew Jansen 
We're not being funny...
… but can you become a member please?
It's actually excellent value, and will help us continue to promote new independent artists and labels.
Sign up and you'll receive our physical magazines delivered to your door, our digital editions, exclusive podcasts and playlists and an actual bookmark, as if printing a magazine in 2021 wasn't old fashioned enough.
6-month and full year memberships are available now. Fancy it?