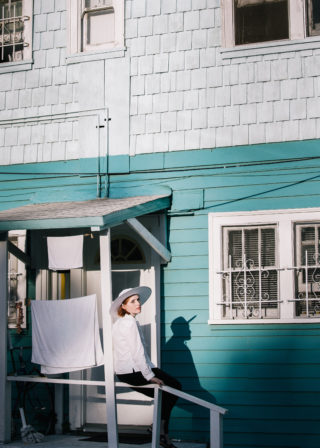 The reinvention of Veronica Falls' Roxanne Clifford, as Patience
Guitars for synths and London for Los Angeles
"It started as an experiment: I wanted to see if I could write like Robyn."
If you heard either of Veronica Falls' two albums you can be forgiven if that quote, from their singer and guitarist Roxanne Clifford, takes you aback. Their 2011 self-titled debut was a doomy goth-pop affair, thick with atmosphere and featuring a lead single named after a prominent suicide spot. Their second album (2013's 'Waiting For Something To Happen') was a little lighter, taking its jangle-pop cues from the likes of Camera Obscura and The Shop Assistants, but remaining firmly rooted around the guitar and a traditional band setup. There were melodies for days and no shortage of earworms, but we can safely assume that Veronica Falls were a band that viewed anything electronic as anathema. Which is why Clifford's first singles as a solo artist, under the name Patience, have disarmed the group's fans. The vocals are unmistakably hers; honeyed without being saccharine, expressive without being forceful. It's everything surrounding them that's changed. 'x', her latest release on the Night School label, does in fact sound a bit like Robyn. A programmed beat replaces live drums, and interlocking synth lines take over from breezy guitars. In short, this is all-out electro-pop.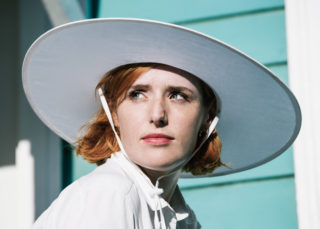 Once they finished touring that last album, Veronica Falls effectively disappeared. Their social media pages lie dormant, with the most recent posts dating to 2014 – the Internet equivalent of the post piling up and the grass growing long. Eventually, you have to knock on the door to see if everything's all right.
"There's nothing official to say, really," says Clifford over a transatlantic phone line; in keeping with this most stark of transformations, she recently swapped London for Los Angeles. "Patrick (Doyle), the drummer, has left the band, and the rest of us have been doing our own thing. We haven't really talked about the future of the band, but everything has a lifespan, and the band wasn't functioning after all that touring we did. I'll work with James (Hoare) and Marion (Herbain) again at some point, so something will take shape, even if it's not called Veronica Falls."
Doyle has not long since put out his first solo release, too, under the name Boys Forever, whilst Hoare has put his old bandmates to shame with his productivity, releasing his third album with Jack Cooper of Mazes, as Ultimate Painting, this month. If things look as if they've been altogether more of a slow burn for Clifford, it's because she's been through something of a musical identity crisis, continuing to play and write on the guitar whilst increasingly finding electronic textures more enjoyable to work with.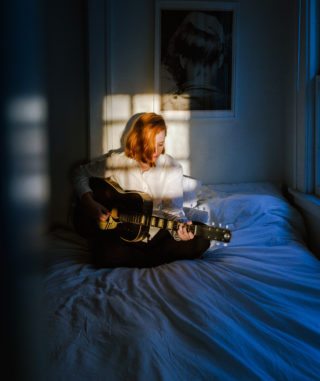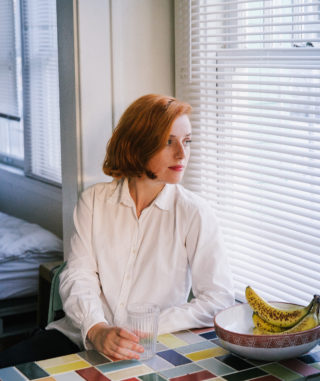 "I felt liberated, trying out all this new stuff," she explains. "It's funny, because in a lot of ways there's actually less freedom than you might get with the guitar. A good melody's a good melody, and with a guitar, you can just play it and sing it anywhere, whereas when you're using synths and things like that, it becomes much more of a jigsaw puzzle. It forces you to work in a more introverted way. You can't share your ideas as instantly."
As much as Patience is a solo endeavour, though, sharing her ideas has been crucial to Clifford's progression. She might never have had the confidence to pursue this particular musical avenue if it hadn't been for the affirmation of friends and peers, not least Michael Kasparis, the founder of Night School. "He's one of my oldest friends, so he had to put it out, really," laughs Clifford. "We used to live together when we were nineteen, so we go a long way back. All this stuff is something I saw as being very jokey and fun to begin with, and definitely not particularly serious. I didn't think it could be a legitimate project until I started to send it to a few people and found out that they all seemed to love it. It was nice to move myself out of my comfort zone, and not to care about preconceptions."
Clifford hints that Veronica Falls were burnt out by the time they polished off an exhaustive touring schedule for 'Waiting For Something To Happen', and confirms that there were attempts to write towards a third record. "We were working on music, and there's still a lot of unfinished songs," she tells me. For her own part, though, she wasn't necessarily tired of the guitar; it was more a case of wanting to forge another identity entirely away from the band. "I do really miss playing in a guitar band," she admits. "I've actually recorded a whole guitar-based album as well, but when it came to putting it out, there was just something about it that I didn't feel 100% on. It wasn't different enough."
Patience, then, has only truly come to fruition since Veronica Falls went their separate ways, although some of the ideas that have found their way into the songs stretch back to long before that point. "Some of the lyrics I've had for a while, and a lot of the influences are people I've admired for a long time. I mean, the name is a good example of that; I've sort of used Patience as a pseudonym for ages, on Internet things. I've always really liked that word and its connotations. That was very organic, especially because I've always liked how these disco artists tend to have one-word names, like Clio or somebody. And then, there's lyrics that go way back, like on the first song I finished, 'The Church'."
There's something about that first single that feels transitional, as if we're actually listening to the sound of Clifford putting clear water between Veronica Falls and her new project. Her vocals aren't as cool and snappy as on 'The Pressure' and its B-side 'Wait for You', and instead, everything feels a touch dreamier, with the synths slowly undulating amidst a general sense of lo-fi murk that seems to have since gone by the wayside. Clifford has been in transition personally and geographically, too, moving to California and leaving much of her old musical circle behind.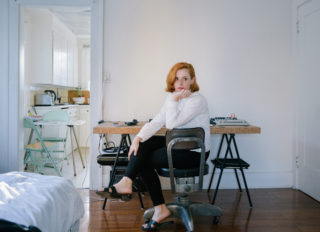 "I moved to LA because I'm going out with somebody who lives here, so I was already spending quite a lot of time here anyway. I absolutely love London, but this felt like a new perspective, with new people to be inspired by, in new surroundings. It's a great city, and somehow is still relatively affordable by way of comparison to the rest of the world. I suppose I was a little bit jaded by Britain, but now, I still feel like I'm on holiday every day. I don't know when that's going to wear off."
The music Clifford made with Veronica Falls always felt very much rooted in the British climate, from the all-encompassing gloom of their debut to the subdued introspection of its follow-up. It's hard not to jump to certain conclusions when you realise her first foray into out-and-out pop comes at the same time as she finds herself waking up to a blue sky every morning. "That does make a big difference," she admits, "but I think there's pluses and minuses to it overall. The main thing I miss is the British sense of humour; people are very different here. Plus, it's not just a case of missing my friends ­– it's the way I feed off of them, creatively, which I can't do long distance. I'm not a sun worshipper, either, and there's a lot I love about the weather in London, but the surroundings here have been inspiring in a completely different way. You can't help but be affected positively by the sun being out every day."
The precise future of Patience is yet to be fully determined, with nothing in the way of an album planned as yet, or any hint of live shows. She does confirm, though, that that's the way she sees the project going – she fully intends for it to be her main focus, and not a side project. "My aim now is to get a record together," she confirms. "I've got absolutely loads of songs, but the key is going to be to try to merge some of the songs from the guitar album that I didn't release with the electronic stuff. Once I've figured that out, I want to get the record done as soon as possible."
After that, she can turn her attentions to getting back out on the road. "I've been thinking about that a lot, too. I don't really like the idea of it being just me with a backing track; I'd want to incorporate live instruments. Things are moving a bit more slowly because I haven't got such a big network of musician friends out here; I'm only just getting to know some really lovely people now and playing with them. Everything's still early days, really – things are just starting to take shape."