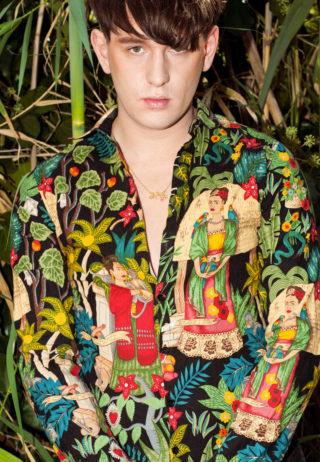 Patrick Wolf celebrates his 10th year in music with an orchestral album of reworks
Shooting and Madonna. October 10, 2012: Patrick Wolf's diary is suitably made up of firearms and showbiz, the lifeblood of Los Angeles. He can pretty much lick the Hollywood sign from Laurel Park's Canyon Retreat, a pseudo rustic cabin on the hillside made for cowboys of the entertainment industry. This is Joni Mitchell country, where she lived and recorded two of Wolf's favourite albums, 1970's 'Ladies of Canyon' and 1974's 'Court And Spark'. "Liberace lived here too," laughs Wolf. "He's definitely one of my favourite performers of all time. Who else? Crosby, Stills and Nash, Jimi Hendrix – the free love movement lived here. It's not so much like that now, there's just Rick Rubin and Ke$ha that live around here now. I'm trying to bring the other spirit back."
Patrick Wolf loves a challenge. It's been the one constant in a musical career that this month celebrates its tenth year with the release of 'Sundark And Riverlight' – a collection of reimagined Wolf tracks stripped to the bone and propped up by subtle, brooding strings.
Wolf is still just 29, a number that in itself makes hitting the ten-year mark all the more impressive, but one outdone by how he's got here – his uncompromising nature, his rip-it-up-and-start-again approach, the level of commercial success that still alludes him, his refusal to fuck off. "I don't see it as a career," he says. "I didn't go to the career advisor for it, do you know what I mean? It's been a 10-year… adventure!
"I've definitely gone a bit mad, but I don't think that's been detrimental to continuing, and luckily with my writing I can use that insanity and all the tiredness and rejections from the industry to carry on. I think that's why people relate to me as an outsider, and I have a lot of fans who are outsiders or loners."
Wolf's fans (The Wolf Pack) are as ardent as any; a loyal lot that gave us a taste of the things to come in 2008 when they helped their hero bypass the music industry altogether and deliver fourth album 'The Bachelor'. Today, we're well acquainted with PledgeMusic, but in '08 the idea of fans investing in and bankrolling the making of an album was borderline obscene. For Wolf it was made possible by the launch of BandStocks.com (coincidently created by the singer's lawyer), but it came at a strange time. Wolf was without a record label having released his third and most successful album still to this day, 2007's 'The Magic Position', his first and last for Polydor subsidiary Loog Records.
"Loog dropped me because they were terrified of me," he says. "You try and say to me, 'Patrick, now that you've got a boyfriend we think you'd be more marketable if you made a record that sounds like Erasure'. What kind of reaction do you think you'd get from that? And do you think you'd be terrified of me after that or not?
"The BandStocks thing was amazing because I was already halfway through the album, and Loog had heard my demos I'd done with Alec Empire, and then Mark Ronson got involved, in a very friendly, sweet, lovely way, but they jumped on that and wanted me to pay for Mark Ronson's production fees when I was already well into making an album with Alec. Mark had actually said that these demos don't sound like demos, they're perfect as they are and that he didn't think he needed to work on them. The album was pretty much finished and it was on the day I was recording the string section and the gospel choir that they dropped me, which was nice because otherwise I would have had to pick up the fees, which I obviously couldn't have afforded. They didn't even want to hear what I'd done once they'd heard the demos for 'Vulture' and 'Together'."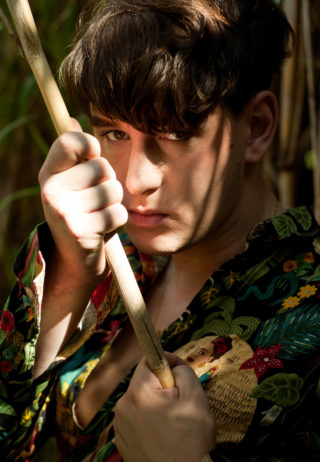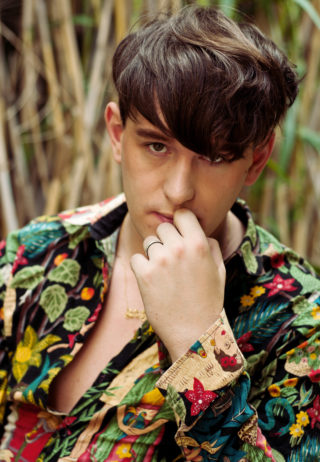 Wolf gathered together his hired string section, explained that they would now be contributing to an album without a home and asked each of them if they were happy to do so knowing that there would be a delay in their payment. He finished 'The Bachelor' and released it via his own Bloody Chamber Music imprint. "When in doubt, DIY," he says cheerily.
I note that most young men, having finally landed a large record deal only to lose it after seemingly giving the label what they wanted, would have been inconsolable.
"It's never over for me," he half yells. "Why would it be over just because some record label doesn't believe in you anymore?
"The thing is that before 'The Magic Position' I had been touring for five or six years, around Europe and America, all off my own back and sometimes without a visa, smuggling myself into countries. I'd put in a lot of groundwork before that label, so I really wasn't depressed when it was finished. I mean, thank god I had my audience and that wasn't my first record deal, it was my third. I just knew that I had to finish 'The Bachelor' record and find some financial support for that."
In 2012, the anti-wallowing-Wolf has signed five different record deals and been through one less management team, each one fuelling and reflecting his appetite for change and his refusal to re-tread where he's already been. "I just don't think life is about repeating your motions," he says. "I think it's about moving on to new things constantly."
It's a motto that Wolf applies to his live shows (he's rarely hit the same venue twice since his days as a 13-year-old playing the fiddle in London's folk clubs) and albums alike. From 2003's 'Lycanthropy' through to 2011's 'Lupercalia', Wolf has wildly veered from baroque pop to post-industrialism, to vogue-ish Depeche Mode electronics, to sombre folk, to lush '80s pop that belongs on Magic FM. This is the man that sang "Reruns get me so bored" on 'The Magic Position''s 'Get Lost'. "It's why it doesn't feel like ten years," he says. "Every time I make an album I wish I could erase all existence of all the other albums, because I learn so much from record to record I treat every one like it's a debut."
But how do you treat an acoustic covers album as a debut, especially when the covers are of your own songs? 'Sundark and Riverlight' is, "how I wish these songs always sounded," says Wolf. They are not direct repeats played a little quieter. Tracks taken from the more crystalline 'Lupercalia' ('Bermondsey Street', 'Together', 'House') might err on the side of songs that have been 'unplugged' above anything else, but with the intense, scurrying clutter gone from the likes of 'Oblivion', 'Paris' and 'Teignmouth', Wolf has reshaped his earlier material into the desired mould of Mitchell's 'Blue' album, Leonard Cohen and late Johnny Cash. It's the test of every songsmith, stripping away the bombast and seeing what's left. It's why The Black Eyed Peas will never record an unplugged session for MTV, and why 'Wonderwall' really is a stroke of contemporary genius. For Wolf, this project that stemmed from an invitation to write his autobiography (an offer he declined, citing it too early and fearing "I might die as soon as I had finished it") has given him a chance draw a line under his first decade in music, and us a chance to feel even closer to a man who's hardly been a wallflower when it comes to his emotions.
"I put it down to the fact that, in my personal life, I wouldn't be able to do this interview or feel as free and happy as I do now without psychotherapy," he says, "and with that you look back at your past in order to feel liberated about your future. So what I've done with my personal life I've now managed to do as a musician and look back at the past and feel as if I understand it and know it, but this is how I feel about it now. It's me publically saying what I relate to now."
Patrick Wolf is the man that sang "Reruns get me so bored", but he's also the man that sang "No, I don't care about cash", rather pointedly on 'The City', and not in a bogus 'Can't Buy Me Love' kinda way. It's key to longevity, he says. That and the determination to be heard.
"I feel that the joy of being a solo artist is that you really have to rely on yourself for all of your decisions," he says. "I mean, I've been through four different managers and four or five different record labels, but I have a determination to keep my work out there, and I have no shame in that. But I also don't have a big drive to make money, so if an album I make doesn't make money I don't care. I get dropped and move on to finding the finances some other way. My second album ['Wind In The Wires', 2005] was made for three hundred pounds. I scrabbled together the money I made on tour, and there was one PRS cheque from a karaoke bar in Sweden where they'd been singing 'Bloodbeat', which was for £330. That was all I had to work with, but longevity comes from the drive to keep creating, and as long as you don't care about the money you'll have a very long career. No, a very long adventure."
The fight of artist against solvency is a noble one, made all the easier by its romantic ideals. Great art, after all, often comes from great struggle, and there are no greater slog-fests than man versus cash. But Patrick Wolf has also needed to manhandle fashion to make it to a decade in music. A much scrappier fight.
Perhaps what's most astonishing about 'Sundark and Riverlight' is that its tracks are so evenly spread between Wolf's five albums, and without any noticeable bumps in the road. Of course some of his records are better than others, but by transforming these chosen tracks into smoky, autumnal ballads, you can't help but notice that the standard hasn't slipped too far from that set by 'Lycanthropy' and 'Wires In The Wind'. Patrick Wolf hasn't lost it; his popularity in recent years has dipped because you can't be approaching a decade of output and simultaneously be the new thing.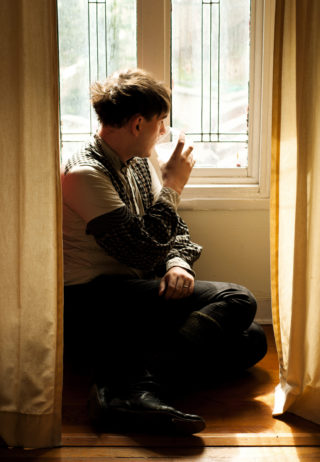 "So many of my favourite records by my favourite artists were totally misunderstood in their prime," he says, "and that makes them, at 80 years old, more intriguing and more wonderful. They've been through a story of complete rejection for their generation. And I'm not saying I've experienced that, but I've been through it in part, like total misunderstanding from the media, closed doors and being black listed from TV shows etcetera. I'm happy for that to be my present day when I'm in my twenties and don't give a fuck enough to change my tune, and I think that when I'm 80 it will make a very good story. Like Patti [Smith] or Buffy [Sainte Marie] – these are icons that weren't particularly icons of their time. People in retrospect are less scared of people who were challenging at the time."
Wolf shares a particular affinity with Smith, whom he played seven shows with in 2008. Other greats he's collaborated with include Arcade Fire, Marianne Faithfull (who provided backing vocals on 'The Magic Position' album track 'Magpie') and American photographer/artist Nan Goldin. "I still don't think that I've experienced myself at my best as 'Patrick Wolf the Solo Musician'," says Wolf, "and that'd been quite an emotional test over the past ten years. Looking back, the moments I've felt the least lonely were when I was collaborating with those other people, and playing the fiddle for them. The shows I did with Patti Smith were a real vitamin boost – a real courage boost as a writer. Those shows were very inspiring. And the thing that I did for Nan Goldin at the Tate Modern was really beautiful. I was the only person to ever write a soundtrack for one of her slideshows, so that was amazing. When I was younger Nan also used 'The Childcatcher' in a big show in Paris that was banned – it's these extra curricular activities that are more thrilling for me, because I find the 'Patrick Wolf' thing… I don't know… it's so personal to me, I constantly look out in the crowd and think that everyone hates me.
"But I'm planning something quite extreme," he says. "Just expect the opposite to what you're expecting."
He tells me that if he could go back in time and warn his 19-year-old self off anything in the music industry it would be the sex, drugs and rock'n'roll. And with that, Patrick Wolf heads out into the Hollywood Hills for an afternoon of shooting, followed by Madonna at The Staples Centre in town, a woman a few months away from three decades in music. Look out, Madge.
Please support Loud And Quiet if you can
If you're a fan of what we do, please consider subscribing to L&Q to help fund our support of new musicians and independent labels
You can make a big difference for a few pounds per month, and in return we'll send you our magazines, exclusive flexi discs, and other subscriber bonus bits and pieces
Try for a month and cancel anytime