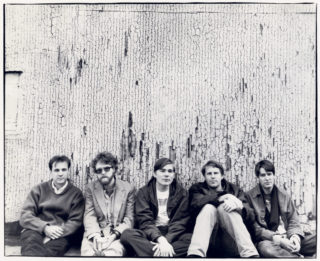 Are Pavement about to reform?
Let's hope so - we could do with it
The last few years have seen so many high-profile reunions – from the frustrating 'one night only' Led Zeppelin to Blur's recent cessation of hostilities – that it's hard to muster much enthusiasm for them any more. If John and George were still around we'd probably see a Fab Four residency at the O2. Californian indie legends Pavement would be top of our list though, and we can reveal that a reunion is looking more than likely to happen in the next few years, with band members all on good terms and the offers flying in…
Formed in 1989 in the urban wasteland of Stockton, California, by two bored guitarists – Stephen Malkmus (aka SM) and Scott Kannberg (aka Spiral Stairs) – an eccentric, older studio owner and drummer Gary Young, Pavement were the jewel in the 90s indie crown. As a trio, they released three ultra-trashy lo-fi EPs – 'Slay Tracks (1933-1969)', 'Demolition Plot J-7' and 'Perfect Sound Forever' – before unleashing their slightly-less-lo-fi debut album 'Slanted And Enchanted' in 1992. A ragged mixture of deadpan drums, bumblebee fuzz guitar and some of indie-rock's catchiest tunes, overlaid with Malkmus' labyrinthine wordplay, it's one of my favourite albums of all time.
"'Slanted…' is probably my favourite of the early stuff," Scott Kannberg tells us from his Seattle home. "'Crooked Rain Crooked Rain' was good and 'Slanted…' was good, but 'Slanted…' was with a different drummer, so I almost kind of consider that time a little different to the 'Crooked…', 'Wowee Zowee' and 'Brighten The Corners' eras."
Arguably even better, 1994's 'Crooked Rain Crooked Rain' saw a new drummer, a full band and some crossover success on MTV. Indie puritans through and through, Pavement appeared to intentionally sabotage this with the following year's eccentric and resolutely uncommercial 'Wowee Zowee'. Nearly all their albums have been lavishly reissued over the last seven years, with 1997's 'Brighten The Corners' receiving the deluxe treatment last December.
"It was probably one of the funnest records we ever made," remembers Kannberg. "It was kind of the first record we made going in as a band, you know, all playing in the same room at the same time. It was cool, and I think it translates to the record. It's probably our strongest record vibe-wise.
"All our other records we'd basically put down the drums then the guitar tracks, then overdub everything, so it always sounded very disjointed at times, whereas [with] this record it kind of feels like everything's in place, like a classic record should be."
After 'Brighten The Corners' it's widely thought that frontman Malkmus took total control of the band, preventing Spiral Stairs, or any of the other members, from contributing. Uh, not quite true – more like they just didn't have any songs to contribute, according to Kannberg.
"With Pavement, everything was very kind of haphazard and disorganised, you know," he explains. "On [final album] 'Terror Twilight' basically Steve kind of went through a little phase of writing a shitload of songs and the rest of us just didn't really have a chance to, you know, do that. We tried, but then we got Nigel [Godrich] involved to produce, so we were kind of under the gun of time constraints and so we decided to go with Malkmus doing all of his songs. They're still great songs and everybody contributed still. It's still a good record, I think. We just didn't know it would be the last Pavement record."
But surely relations weren't too good between you guys by the time you split in '99?
"You know, as with every relationship there's gonna be times where everybody gets sick of each other. There's a lot of stress, everybody was kind of away from their families. You know, we kind of worked very hard for ten years, and I think everybody was just ready to take a breather." Legendary status and an incredible back catalogue present and correct, then.
Since the split, Malkmus has carved out a successful solo career with his more complex, proggy band, The Jicks, bassist Mark Ibold has been playing with Pavement's idols Sonic Youth, Bob Nastanovic has become successful in the horse racing industry, and drummer Steve West fronts his band Marble Valley, while Kannberg has released two albums with his solo project Preston School Of Industry, and is set to release a third, under the name Spiral Stairs, this May. Reunion requirement no.2 – members on ok terms? Better than that.
"Everything's fine now," says Kannberg. "I just saw Malkmus the other night, I see Mark Ibold sometimes and I talk to Westie sometimes, and yeah, everybody's doing good. I think everybody's doing their own thing and having a good time."
You'd hope talk of a reunion would have been included in the Malkmus/Kannberg dinner party conversation (alongside arguments about which Swell Maps album is the best, and whether Jazzmasters or Strats work best with Big Muffs, of course), and you'd be right.
"There's talk about of doing it in the future, but I'm not sure when," reveals the guitarist. "Maybe in the next few years. 2009 would be our twenty-year anniversary too, so that'd be a good time to do it, but I think that's too soon, it might have to be pushed back later – most people have kids and I think we'd want to do it right, we wouldn't just want to do a one-off show and piss people off!"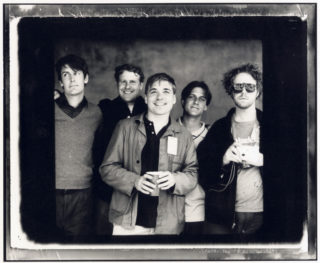 Don't hold your breath for any new material though.
"That kind of depends on how everybody feels, I think if you're going to do shows you might as well give the fans what they want – you know, if I was going to see a band I really loved getting back together I don't think I'd really want to hear any new songs, no matter how cool they were!"
It must have been their lo-fi dream when they started, but Pavement are now more famous and loved than when they were around, what with a host of new bands dropping them as influences and all the lovely deluxe reissues hitting the shops. Scott laughs at our suggestion that the group would be playing much bigger venues than ever before if they reformed, but he doesn't refute it.
"Oh yeah, for sure, that's the word on the street! I don't know, yeah, [we get offers], nothing that great. I don't know what we're worth. Nobody's got any money now! Coachella keep asking our booking agent, but our booking agent's pretty strong, you know, he's waiting for the right number I think."
Talk of the credit crunch and the global financial crisis might well be leaving us without jobs and clogging up our news, but those with a selfish streak can take heart – if the members of Pavement fall on hard times the reunion might come quicker. After all, with the release of the deluxe 'Terror Twilight' in late 2009 or 2010, there'll be no more Pavement archive stuff to release.
"Oh no, there sure is," Spiral Stairs chuckles. "We've got the very first show we ever did that I've still got to put out. It's like a radio show and a lot of the songs we did never even appeared anywhere, they've never even been recorded. It was right after we did 'Slay Tracks' and just before 'Demolition Plot'. We had this other guy drumming for us, my roommate from college. There's talk of releasing stuff on vinyl too, all these different kinds of things we've been talking about."
Then there'll be nothing left, though, right?
"Then we'll have to reform, ha! I don't see why not, you know, it could be a fun thing to do, go and play your favourite songs every night!"
With Pavement, the future's bright. But, unlike some, you can be sure it'll have nothing to do with a mobile phone company when this band do return.
Gift subscriptions are now available
It's been a long time coming, but you can now buy your pal/lover/offended party a subscription to Loud And Quiet, for any occasion or no occasion at all.
Gift them a month or a full year. And get yourself one too.
Whoever it's for, subscriptions allow us to keep producing Loud And Quiet and supporting independent new artists, labels and journalism.