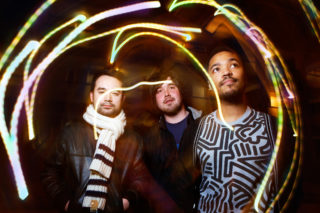 Plugs – the band Does It Offend You, Yeah? could have been
The morning after the Loud And Quiet Christmas party, Plugs guitarist Morgan is feeling enviably chipper. Maybe he simply holds his liquor better than us, perhaps his band's live set at the bash has steadied a turning stomach. Because Plugs couldn't have been better received last night. There were hands in the air (at Morgan's request, T4 On The Beach style), Santa-bating in the disco of 'Imaginary Friends' (sorry kiddies) and… wait for it… dancing! IN EAST LONDON! All from a band that are widely considered a side project to Morgan's other musical venture.
"I'm more into Plugs, definitely," says the singer when asked about his two bands. "One hundred percent, definitely," he reiterates. "That's my main group and it's been kinda nice because we've had a chance to introduce the band, but it is annoying sometimes because you get tarred with that brush and a lot of people don't like my other band for specific reasons. And it's annoying because some of those reasons are nothing to do with me. I may not have control of certain things that happen there but I'll get people saying, 'oh, this guy's in that band'."
That band, by the way, is Does It Offend You, Yeah?, thrashing heavy electronic sounds around like The Prodigy climaxing over Daft Punk's seated area. Morgan joined the then-duo of James and Dan in order for the band to recreate their studio monsters live, but due to being handed a guitar and lead vocal duties he wound up being considered the group's frontman and spokesperson. In Morgan's mind – the man on the inside – it's far from the case, and not only due to DIOYY?'s new album being largely written and sung by James. Plugs are where his heart lies. After all, this is a band that he formed nearly four years ago, an age before he joined James and Dan, turning side project allegations on their heads. And Morgan has always tried to keep both endeavours independent of each other.
He says: "It's funny actually, because I've always tried to make Does It Offend You? not get in the way of Plugs. If you go to the Does It Offend You? Myspace we're not in the top friends. We don't do bulletins through them. I rarely talk about the band in interviews, unless I'm specifically asked. I just wanted to do Plugs off our own backs. Some people reckon that Does It Offend You? are giving our band a perch and I'm like, 'That's bullshit, man'. If anything it's hurting us."
Loyalties solved, the inevitable discussed, on to Plugs.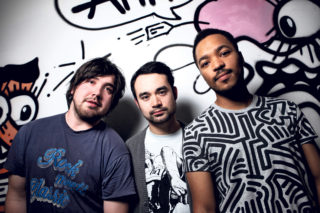 "We got together when I graduated uni," explains Morgan. "Me and Dave [bass] were studying electronic music, but we formed just a punk band. We recorded some stuff but it wasn't meant to be recorded, really, it was just meant to be heard played out. And in the end I think it felt like it just changed and I really wanted to do more of what I was doing before with electronics. We'd just played it out really. The whole band thing was a novelty for us. For three years people had just talked about sampling and all I wanted to do after that was play a guitar."
Through even the muddiest of hangovers this all makes sense to ears still ringing from a Plugs live show. Off the back of two limited singles – care of the People In The Sky label – we weren't expecting what we got last night. On record, 'Imaginary Friends' is dreamy, psychedelic pop with electronic frills, while 'That Number' is its computer-bred sibling, a little less up for the party, infinitely more prone to chemically expanding its mind in a solitary bedroom. Both are responsible for the banding around of Hot Chip when describing this trio, 'Imaginary Friends' being their 'Over And Over', 'That Number' a closer equivalent to 'The Beach Party'. And it's a comparison that stands up until you see Plugs live, harmonising to new wave pop, sometimes with Morgan's degree present, other times not.
"The Hot Chip thing, I can understand," admits Morgan "because there aren't many bands out there doing beaty stuff with just vocals. It's really cool that people do come up to us and say 'it's a lot different [live], but I really like it'. Once the album comes out I think people will get the total picture of the band."
The last trio that told us that were Klaxons, who's struggle to edge from their early pigeonhole proved relatively grease free once they delivered a debut album of clever, alternative electro, far broader than some thought them capable of. And now it's Plugs' turn, but not before they write the album this month and launch their task of releasing an independent download every month for the whole of 2009, for free. It's enough to make you sick. Speaking of which…
Please support Loud And Quiet if you can
If you're a fan of what we do, please consider subscribing to L&Q to help fund our support of new musicians and independent labels
You can make a big difference for a few pounds per month, and in return we'll send you our magazines, exclusive flexi discs, and other subscriber bonus bits and pieces
Try for a month and cancel anytime