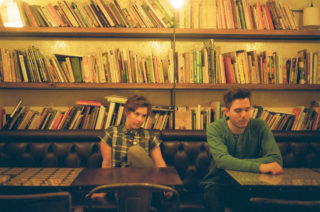 Purity Ring are making music from trap beats and diary entries
Good Witch/Bad Witch
In the basement of a Soho bistro, young Canadians Megan James and Corin Roddick look happy to have found a chair each. Their European tour ends tonight, after visa cock-ups that meant a missed train from Paris to London, a late sound check and now this, another interview in an endless line formed by those who've heard debut album 'Shrines'. Megan – porcelain doll-like, less blemished than her 24-years, even, and button cute – looks particularly beat. As Purity Ring's saintly singer, it's Megan who writes the lyrics she'll angelically recite on stage in an hour or two, and 'Shrines', for all its abstract vocal hooks, rather fittingly seems to explore sleep above anything else. "I think it's more a reference to dreams… and rest in general," she says. "I've been learning how important it is to take time out. That's been a big deal for me." I mention that her current career choice isn't too conducive to R&R. "No, there isn't much rest right now," she laughs, "but I'm not thinking about Purity Ring when I'm writing lyrics. I don't think that what we've been doing together should influence what I write. These are just things that I think about everyday, regardless of what I'm doing.
"I write about a lot of the same topics," she continues, nursing a raspberry lemonade. "A big one is… the body, and the separating of them, and coming together of them… but not sexually," she hastens to add.
Megan's sudden coyness isn't unfounded. To us her absurdist lyrics are just that, but they began as diary entries that weren't necessarily meant for prying eyes. She admits to never having had any ambitions to become a singer, but when Corin asked her to put vocals to his burgeoning electronic project, reaching for her journal felt strangely natural. And lines like "Drill little holes into my eyelids/That I might see you/That I might see you when I sleep" haven't been doctored for our amusement: "She just takes the line exactly as she's written it down and puts it in the track," notes Corin.
"In a sense, I'm always writing songs," Megan ponders. "But before Purity Ring started I was never writing for a musical project. I just wrote lullabies – I'd just walk down the street and sing a song and write it down."
And if what you'd written down felt a little too personal, you simply leave it be, right?
"No. I usually go through and find the things that I like best, and they're usually the most meaningful and the most personal. There aren't limits in that respect. I think it's easier for me because I feel like nobody understands it the way I do. Maybe they do, but it is quite cryptic."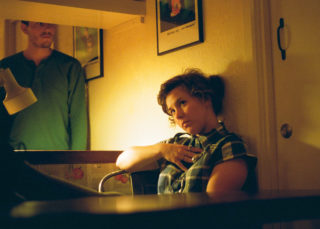 Corin's part of the deal is everything else. Megan is a trained pianist, but she didn't contribute any musical ideas to 'Shrines' or Purity Ring's early demos of 2011. It's Corin who will feature on this year's NME Cool List – the group's architect and electrical whiz kid with One Direction good looks.
As for 'Shrines', it distinctly feels like the good witch to Witch House's occult and doomy counterpart. Corin's multi-storey, sparkling synths and clipped RnB beats aren't all sweetness and light, but Megan's fairy-like singsong hoists the duo's debut album into bright sunlight. It helps that you can make out what Megan is singing, regardless of the double-dutch nature of her diary-written lullabies.
"People are afraid of letting the vocals be an up front thing," says Corin.
"But had you not asked me you would have probably done that," says Megan.
Corin: "Well, no, I wouldn't have… It's because it's usually the person singing themselves, and these bands usually have bad singers. Chillwave and Witch House, I mean, can you name one band that has a good singer?"
"Neon Indian," offers Megan. "Is he chillwave? I think he has a nice voice."
"Well, let's not get bogged down in what is and what isn't chillwave – genres are the most boring thing to talk about. But all those songs that are drenched in reverb, if you took that off and turned it up, you'd be like, 'Oooomph'." Corin grimaces. "I make Megan's voice clear and present because I'm really confident in her voice."
Megan notes that her vocals aren't completely unaffected, with Corin "making it into an instrument and playing with it."
"It's like we're heli skiing together," she says. "Y'know when you see people heli skiing and their tracks are going like this [Megan waves her hands in a lattice formation, like two people crisscrossing down a mountainside], it's like that."
As for the Witch House comparisons, Corin appears less au fait with it all than the swampy snare of 'Grandloves' and the black magic bossa nova keys of 'Obedear' suggest. "What are Witch House bands?" he asks. "I know that Salem is one, but I've never really listened to Salem. I like the idea of Witch House, but I can't actually think of a Witch House band that I like."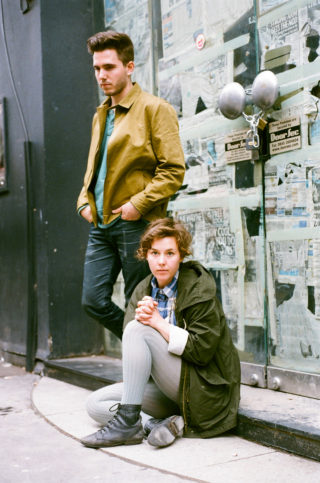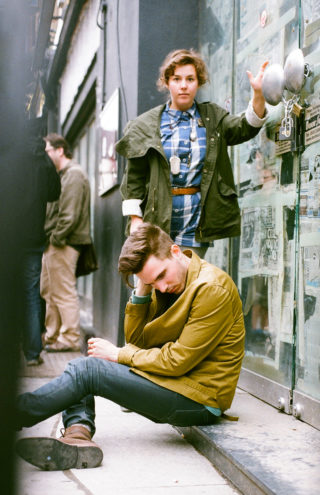 Despite the fatigue, Megan and Corin are not despondent interviewees; perhaps a sign of it, they occasionally bicker like brother and sister. When Megan mentions that Corin originally set her vocals low in the mix, Corin is quick to point out that they were "lower", not "low". When talk turns to why electronic music is doing so well right now (2012 has seen Grimes, Polica and now Purity Ring produce albums that are far more inventive than a vast majority of last year's ambient, IDM surge), Megan reasons, "it's because it's so easy", but Corin is quick to disagree.
"No, it's not easy to make," he insists. "Just as much work still goes into making it."
"But in as much as you can do it yourself," says Megan. "You don't need to tour with a big group of people."
"That's true," Corin nods. "People don't want to haul around gear. But also, I just don't want to make music with guitar and drums right now. I think it's harder and harder to make exciting new music with traditional instruments. It is still being made, but it's harder – no matter what you do with it, an acoustic guitar is still going to sound like an acoustic guitar."
"I still get really excited when someone's guitar sounds really good," says Megan. "I think it's a trend right now."
Corin: "I don't think it's a trend – I think it's musical progression."
Megan: "Yeah, but there's trends involved in that as well."
Megan listens to a lot of instrumental electronic music; Corin doesn't at all, noting that although he's recently been enjoying the new Rustie record, he's not generally a fan of music without vocals. Oddly enough, his varied, anti-monotonous backing tracks could be what instrumental dance music needs right now – he'd no doubt do very well, albeit to a different crowd, if he stripped out Megan's vocals altogether. "But I wouldn't want to," he says. "I wouldn't feel comfortable releasing anything instrumentally. I know some people would enjoy it, but to take things to the next level you need a great vocal."
There remains plenty that Purity Ring do agree on, of course – the optimum time and place for listening to their album ("in the dark, on headphones, on your own"), the encompassing feel of 'Shrines' ("satisfying" and "made for listeners"), the fact that their music is not sexy, despite it being a term splashed over many reviews and profiles, as tends to be the case when an early '90s RnB influence can be heard in the drums, and at a time when every new musician clambers to swear down at the alter of Aaliyah.
"I think it's more sensual and emotional," says Megan. "I don't think it's sexy at all, but I can see why people do, because it's easy to turn a lot of intimate emotions into sexual ones. I think a lot of people just don't hear all of it, or our intentions in it, and it makes them feel intimate, and then sexy."
"And that's ok too," assures Corin. "If people want to feel sexy to it, that's fine. But we didn't feel sexy when we made it."
A couple of hours after we meet, Purity Ring's European tour meets its end, and the attention to detail that pings from the light-footed 'Shrines' is realised in an equally well crafted live show. Megan appears like a hardened belle of the toy box ball, in a babydoll puff dress and black eyeliner, frequently holding a manic glare that frosts over her cutesy voice. Occasionally she beats a giant drum that lights up from within with every strike. Corin stands behind an even more ambitious contraption that's part Willy Wonka, part Whack-a-Mole. A drummer before he was a producer, he made "the machine" in his garage as a way to trigger samples and sounds percussively rather than from a boring old keyboard. Eight lanterns of changing colours surround him, all of them sparking varied sounds when thwacked. It's a light show and instrument in one, and when you consider that this is a club show that would have been happy with laptop karaoke, just how ambitious and fully formed Purity Ring already are is perhaps what's most impressive of all. "We're really critical about what we don't want to do," says Corin. "We're not negative people, we're just critical."
Please support Loud And Quiet if you can
If you're a fan of what we do, please consider subscribing to L&Q to help fund our support of new musicians and independent labels
You can make a big difference for a few pounds per month, and in return we'll send you our magazines, exclusive flexi discs, and other subscriber bonus bits and pieces
Try for a month and cancel anytime