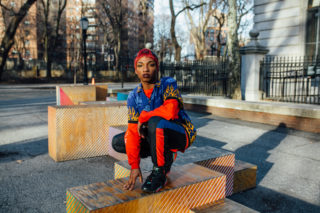 Quay Dash – repping trans hip-hop without being defined by it
"Being pigeon-holed as just a trans artist sucks"
The 2010s have given us a new group of hip hop artists – such as Junglepussy, Mykii Blanco and now Quay Dash – who are diametrically opposed to the hyper masculinity that's often tied to rap's roots, paving the way for a new wave of queer and trans MCs.
"Fuck him on a leather recliner / Smudging all my lipstick and my matte make-up liner," Quay Dash raps on her track 'Decline Him'. In the video she wears red PVC trousers and sparkly heart chokers while posing on a roof with prop guns. The video, much like her others, is an example of 2010s DIY glamour. An aesthetic championed by artists like Mhysa, Klein and Charli XCX.
With lyrics about Gucci and Bentleys you could be led to believe she lives the life of a lame manufactured pop star, but Quay had a tough upbringing in New York, spending time in foster homes and experiencing a tonne of transphobia after she came out at the age of 19. And despite being formerly a signed artist she is now self-managed and has complete creative control of her output. "I manage myself, I pick my own beats, I write my own music – I do everything."
Formerly a London-based artist, I ask her about the decision to leave the underground label Perth Records (who released her 'Transphobic' EP in 2017), which she says she can't tell me much about. What she does say is: "I needed to be independent again… Once I gained my independence back I wouldn't really need a record label." She adds that she felt it was mandatory to release a LP whilst signed to a label, and much prefers releasing music in a mixtape and EP format.
Born in the Bronx, being a rapper wasn't her childhood aspiration, and yet Quay has shown a huge amount of versatility. As an MC, she's rapped old school, club trap and recently collaborated with SOPHIE on the leather infused club rap banger 'Queen of this Shit!'.
"[SOPHIE] hit me up via email and we talked about working on a track together," she explains. "We got in the studio and I wrote down some lyrics to the beat she had, and we ended up fucking it up. 'Queen of this Shit!' was a really good experience – working with SOPHIE is just like magic; she is just really talented when it comes to engineering, sound and producing. I really appreciate her for looking out and helping a sister when in need."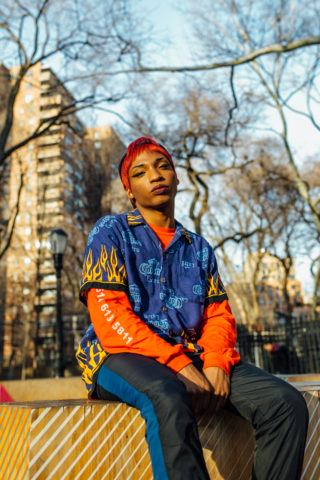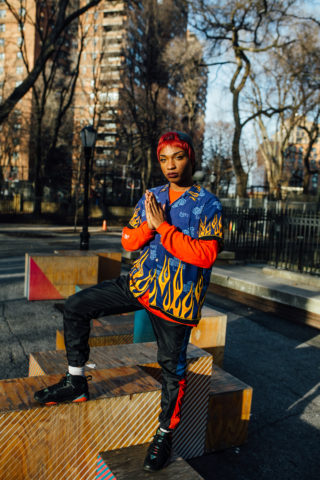 In person Quay has the same confidence and swagger that her persona on that collaboration would suggest. But when I ask her whether she'd collaborate with SOPHIE again she says: "Maybe not… I tend to move on and do my own thing." She also tells me she's going to be working on a track with Diplo, which is a big step for her as an underground rapper.
Despite the braggadocious lyrical content, she's humble in her aspirations telling me, "every rapper's dream is to be big, I just wanna keep this career going as long as it can go."
She's also produced in the past. "On a track called 'Bitches'," she says, "that I put out on my Soundcloud. I got so much heat over it… even family members, like my mum, they were just like, you should have rapped over it, but the thing was it was just a regular, rave track – it was just something I was into at the time. I'm still into rave/techno/dance music but I just wanted to put it up there to show I produce as well, to show that I make beats too."
As a transgender woman, Quay Dash is part of a small minority within her genre, working within a scene that's often been hounded for its misogynistic and at times anti-LGBT tropes. Often accused of toxic masculinity, countless other artists (from Eminem to Tyler, The Creator) have always spat notoriously homophobic lyrics. Just recently, Migos faced a backlash for their lyric "I don't vibe with queers" – not the first time they've caused a controversy, following their alleged refusal to perform with Drag queens during an SNL performance with Katy Perry in May 2017.
"They all grow up like that," says Quay, "it's just a way of being when your cisgender and straight – you're not always open. That's what they'll always be like until someone puts them in their place and lets them know. Until then, that's what it is, I guess."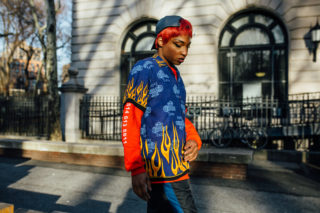 Migos aren't the only artists who've been criticised. Cardi B, perhaps the biggest female artist in hip-hop right now, rightly caused offence when a video emerged of her saying: "If my man cheat on me, I'm get him drunk and let a tranny rape him." In a time of turmoil for transgender rights, with media scaremongering in regards to public bathrooms and hate brigades from both the alt-right and 'trans exclusionary feminists', Cardi B's comments feel dangerously problematic.
"She's always talking, she's always saying something," says Quay. "She just runs her mouth a lot. Whatever she has to say she should just put it into music rather than running her mouth on social. It's not only her that's made transphobic comments, and I know she's the new female emcee, but I don't pay much attention to her. When she drops a song, you know, I listen to it, but I don't really look at Twitter or anything. But what else can we expect from Cardi B? Rather than her running her mouth?"
As much as Quay Dash is open and vocal about her transgender identity, with numerous tracks on the aptly titled 'Transphobic' addressing those issues, she doesn't want to be simply defined as the trans rapper she's often written as.
"Being pigeon-holed as just a trans artist sucks. People label you but I'm not going to stop representing for my community and doing what I have to do, for all trans girls out there but also women in general, because, you know, we need someone out there with a voice in the LGBT community setting an example."
Where it might seem reductive to tie Quay Dash to her trans identity, though, the notable lack of transgender representation not only in hip-hop but in music as a whole points to one thing. Her presence – like that of Mykii Blanco or Anohni or house and techno musician Octo Octa – is a sign of progression at a time when it's easy to think that there's none. "I wanna make history so that other girls can come up and do the same thing," she tells me. "You know, I have a voice, I'm gonna keep using it."
Please support Loud And Quiet if you can
If you're a fan of what we do, please consider subscribing to L&Q to help fund our support of new musicians and independent labels
You can make a big difference for a few pounds per month, and in return we'll send you our magazines, exclusive flexi discs, and other subscriber bonus bits and pieces
Try for a month and cancel anytime