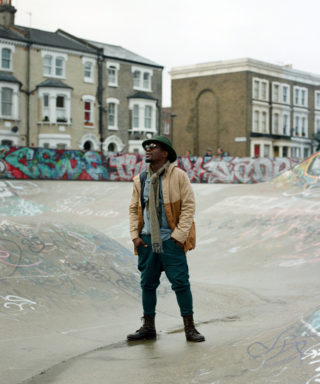 Roots Manuva walks and talks David Zammitt through his hometown of Stockwell
Rodney Hylton Smith nostalgic walking tour
When I arrive at Ninja Tune's Kennington Lane headquarters to speak to Rodney Hylton Smith, it becomes clear, quickly, which of us is the most nervous about our interview. As I clutch my neatly folded list of questions, the elder statesman of British hip hop is getting stuck into his Greggs in a pretty big way, barely looking up through round, pitch-black sunglasses as I'm introduced. "What did you get?" I enquire, trying to break the ice as an avalanche of crumbs tumble. "Huh?" comes the mumbled response, Smith's full mouth agape. "What did you get in Greggs?" "Bread puddin'!" is the terse reply when it eventually comes, as if to say, "What difference would it possibly make if it was a cream finger?"
He seems to be enjoying it, at least, and we settle into things swiftly, with Smith soon revealing himself to be a warm, beguiling soul; every bit as eccentric as the genre-defying work he makes as Roots Manuva. He is overwhelmingly confident; self-possession doesn't come close to describing the performance I'm treated to as he jumps, both from topic to topic and literally, springing to his feet and bounding around the room whenever a subject proves sufficiently inspiring. Perpetually spiralling off on apparently unrelated tangents, it is pure theatre as he flicks between characters and accents; acting out both sides of conversations he's had with scolding Jamaican aunts, a booming Pentecostal preacher father, and his own young sons.
But before we embark upon our trip to Stockwell, the South London neighbourhood where it all began, I'm keen to get a feel for what makes the 43-year-old veteran rapper tick. We discuss his latest offering, 'Bleeds', an album that takes its name from Smith having bled for his art. "I was put through the wringer doing it," he says. "An album made by committee is just a nightmare. I would never do it again. Management, label, everyone said their piece. And every piece had to be put into this jigsaw." He sighs heavily and counts the various interferences on his fingers. "The order of the tracks, the selection of the tracks, the number of the tracks, the title of the album. Everybody had a fucking input. Normally I just say, 'There it is. Gimme my money.' Not this time."
It seems strange that creative licence would be an issue so deep into a career that's garnered critical acclaim at every turn, but Smith explains that his options have become limited now he's signed solely to Ninja Tune's Big Dada imprint, handing the power to the label he's called home since dropping his bedroom-produced debut 'Brand New Second Hand' in the spring of 1999. "It's primarily because I'm not signed as Roots Manuva anymore. I'm signed as Rodney Smith. So it's hook, line and sinker. I've got no way out from this place." He laughs wryly and glances around at the four walls of the label's nerve centre. "I'm fucking stuck! Before, I had one foot in BMG, one foot here, one foot doing another thing but now I'm HERE." He looks up at the ceiling in faux anguish and shouts, fists clenched. "My two feet are here!"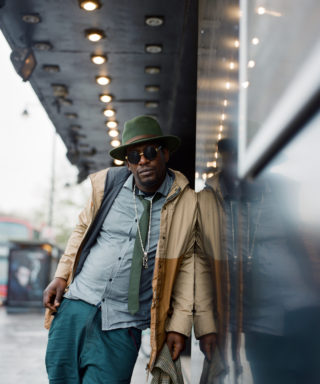 The reaction to Roots Manuva's new release, of course, has again been overwhelmingly positive but Smith is evasive when it comes to praise. "It's always good to get a good response but I can't really listen to an album for probably five to ten years. I can't listen to it properly. It's work for me – it's just noise. For the first time in ages I was able to detach myself and listen to 'Fighting For?', the last track on the new album, not to check if the snare's too loud or if the bass isn't deep enough. The first time that happened was a couple of days ago. And I was like, 'Ooh, this is quite good, innit?'"
Yes, it is quite good. The man who's worked with everyone from the Maccabees and Leftfield to Coldcut and Gorillaz has widened his sonic horizons yet further, bolstered by the hands of UK production heavyweights Four Tet, Adrian Sherwood and Switch to create a motley palette that mixes hip hop and grime with house, soul and funk so that Roots's 9th LP functions as a quasi greatest hits; a succinct sampler of the many musical masks he's held up over the years. From first track 'Hard Bastards', a caustic State of the Nation from the poet laureate of inner city London, to closer 'Fighting For?,' a stirring, piano-led call to arms, 'Bleeds'' dexterity is remarkable.
Its depth, however, means that the process of replicating it in a live setting has been a daunting one. "It's a pain in the arse because all the tracks have got so much detail in. I've got to get help on the cue points. I need tonnes of help because the arrangements aren't straight up." He leans forward, holding an imaginary mic as he mime-MCs over its intricate, non-linear structures. "Rap-then-stop. Rap-then-stop. There's a whole lot of shit going on, of different layers of production that's gone into it. A lot of the people that contributed to the album I haven't even met – I don't even know them!" He trails off, as though the mere thought is draining. "It was a big project. A big, big project. I don't like to think about it too much or else it makes my brain hurt."
On the plan for a 10th album, however, he's unequivocal. There isn't one. "At this point the plan is just to tour the album, but there's no rush to make and release more music because there's enough music there to play live and there's enough music there that I've never even played live. I'd like to do a Grateful Dead; buy my own tour bus and just keep going. Have the whole family living on the tour bus, going from place to place."
It's the first mention of a word that we return to time and time again. Family, his children in particular, is always top of mind, even if it isn't always straight forward. "It's very complicated. Some serious phone bills, some serious maintenance bills and emotional depletion. It's tough." He pauses, looks at the floor and reflects, pressing the tips of his fingers together. I'm not sure if it's as far as he's going to go on the subject, for it takes some time to tune into the jerky, idiosyncratic rhythm of a Roots Manuva conversation. Stories are relayed in staccato, long silences punctuated with stabs of frenzied energy, words fired with rapid velocity. A second later, however, he springs back into life, his head and limbs waking, marionette-like, from their slumber. "But it's good, man. The rewards are good!" He smiles and stares off into the distance as I ask him how the rewards manifest themselves. It instigates the first act of today's Rodney Smith play. "It happens when you're not looking. Like being out in Richmond Park this weekend with the wife and the son. The best buzz in the world. Here we are," he exclaims, mock-roaring into a mock-wilderness. "Beautiful surroundings! Beautiful people! I had a hand in making these people! This is my family, this is my choice. HERE I AAAM! RICHMOOOND! Running around Richmond Park with big sticks going, 'YEEAAHHH! WE'RE HERE! LOOK AT US!'"
Smith's relationships with both family and place are complex and interwoven, and when I ask about his mother, who died recently after moving back to Jamaica from Stockwell, his response reveals how life's paradoxical ebb and flow fits into his philosophy. "I'm still in the grieving process," he says, and he smiles as though dusting himself down in his mind. "But it's good – she left a really nice house! We've got a house in Jamaica now," he repeats, as though saying it out loud will make it seem more real. And while he doesn't make it to the Caribbean island so often, he's still discovering strands of the wider family at 43 years of age. "It's hard to keep up with the amount of cousins. It's hard to know which extended family are cool or not, so I stick to the ones I know. I keep meeting new cousins all the time. Lucky I'm a married man." There are some good-looking ones, then? "Yeah," he giggles. "Fucking hell!"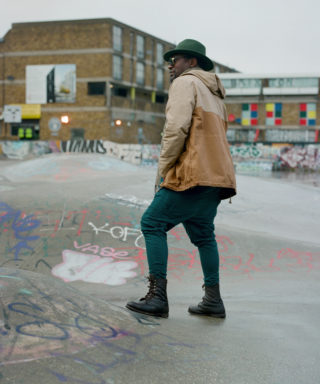 Having moved to the relatively leafy surroundings of Esher, Surrey when he was in his thirties, going back to his childhood home in Stockwell has become a strange experience. His father tried to sell the house a few years ago, but it never happened and so the building he grew up in is the one he brings his own children to when they're visiting Grandad. "It's like a museum. Just too weird, man. Being with my sons in the house I was born in and my sons calling my dad 'Grandad' and me telling my sons that I'm going to get my dad on you and they're like, 'He's not your dad, he's Grandad!' It's weird. He gets on with them, though, and takes them shopping."
Smith's own relationship with his family, however, is a little more complicated.
"It's funny," he says, "when I'm around family I just turn into a right idiot. I don't understand. I just regress into a daft fool that needs to be told off." And does he get told off? The answer comes quick as a flash. "Of course! By my dad, by my brothers, by my uncles…"
The South London he visits now is a very different beast to the one which shaped him through its skate parks, community recording studios and soundsystem culture. Since then, gentrification has pushed into Stockwell, squeezing its sides from the increasingly yuppie-fied Brixton to the south and Clapham to the west. Its incumbents, he says, aren't concerned with the idea of building a community. "It's more transient. People just come, throw in some money and move on. People move to Stockwell, stay for a few years and then move to Croydon. It's more like a dormitory. There aren't any kids playing in the street. No one stays for thirty, forty, fifty years." But there are pockets where the old way continues to exist and as Smith speaks of SW9's characters he laughs quietly at the pictures flickering in his brain. "There are some people there who have been doing the same thing for forty years! I just went to a DJ equipment shop that I used to go to for years. And the same guy that was there twenty years ago was still there when I went to get a new needle. Still there, bloody hell," he says, shaking his head. "These streets are still strong and there's still good bargains there! There's still crazy, angry groups of African women arguing with Cockney market traders. It's good to see."
When I ask where we should visit, he rhymes off a list of the places that shaped him. Stockwell Primary School, the area's skate park, and Angell Town Studio, where he first cut his teeth in the production game, are all rifled off without blinking. But it's the former site of the Fridge nightclub that is top of the list. "The Electric, which I still call the Fridge, used to be the ABC cinema. I went to see James Holden there recently and all these memories were flashing in my mind – these memories of being in there with my aunt when it was the cinema. The strangest feeling in the world. I'm 43 years old but things that I thought I should've forgot with the amount of drink and drugs that I've taken are just clearer than clear in my head. It's like, 'Fuck, I need some more drink and some more drugs to get rid of these memories.'" He howls with laughter but there's a melancholy that bubbles underneath. Unfortunately the Electric's beer has gotten so expensive he might struggle. "I complained, man. You need a mortgage to get a round in there!"
Also in Brixton, the Angell Town Studio had a huge impact on a rookie Roots Manuva as he manned the mixing desk for the first time in his teens. "That was there for years. It just fell apart because it couldn't get the funding to keep it going. The elements of the idea have morphed into totally different projects. There's a project that I'm a patron of called Respond Academy in Hastings. They've got a radio station and a studio and they work with expelled kids and the people who run that kind of came out of the Angell Town Studio." It taps into Smith's thesis that the spirit of a place can exist long after the place itself. "The studio ain't around but the whole idea of community multimedia efforts is still around. There's a kids' radio station in Brixton and there's a kids' magazine in Brixton as well and those ideas are what the studio was trying to build."
Though he never graduated beyond the basics – and getting his hands on the equipment was a perennial issue – Stockwell's skate park and its inhabitants had a strong influence on a young Smith. "I never really had a skateboard. I used to ride my BMX but I wasn't really that good at going down the big dip." He mimics the bike flying downwards – "fffsshheeeooo." But it was the vibe and the community that it gave birth to which attracted him and kept him coming back. "It was still such a great meeting place, a place that was a symbol of the escape from concrete jungle even though it's made from concrete. That was the beach – I think they even call it Brixton Beach!"
Stockwell Primary, on the other hand, is described in muted tones and I get the sense that Smith takes me there to exorcise some demons. "[It was] quite a shit school, really," he grins. "Lambeth Council back then was a bit corrupt so it didn't get much money. That school was designed to make criminals, I think." I ask if he has any good memories from the place. "Primary school, not that much. It was just like a warzone. Secondary school was good. It was a whole different world." Geography, music and R.E. were favourites. "Oh yeah, and Spanish. I liked it because I was taking the piss out of the teacher and he kept saying, 'That's good, that's what you need to do!'" Surely English was a forte for the budding lyricist, I suggest. "Yeah! I had a good teacher who used to explain things really well. She was arrogant. She said, 'People in my class always do well,' and she wooed me with that opening line. She was so cooooold," he says, play-crying. "She would cut people down with two words. It was like there was a gun underneath her desk or something."
While his past remains firmly anchored in South London – and he is firmly proud of his upbringing – when I press him about his Britishness he is resolutely antipathetic. "It doesn't mean shit. What's more important to me is this new European thing that's going on. The migration of all these European cultures coming together and people from France and Germany and all these places. That's much more important. Britishness is an old school, old-fashioned thing. The thing is, it's not about Brixton, and it's not about Stockwell. I'm a London-born European. It's different." Fittingly, as he speaks we wander past shops and restaurants run by Portuguese, Polish and beyond. "It's interesting to take the piss out of and dip your toe in but I'd rather wave a European flag. Me and Nigel Farage ain't gonna get on!"
As we finally make our way back to Kennington, I'm interested to know how the son of Jamaican immigrants feels about the UK's politics turning gradually inwards. As we return to a vision of Little England not seen since the 1980s, Roots is unperturbed. "It doesn't bother me. It's good to know who's who and what's what. It's good to rattle the consciousness of a nation to find out what everybody wants. If the old school want to hang on to their old riches then it's good to know." It all comes down to the fact that ultimately, for Smith, place may shape but it doesn't define. "It doesn't matter where you are. If you're a natural thief you'll be a thief, if you're a natural killer you'll be a killer. And if you're a natural trapeze artist you're gonna find something to swing from."
Gift subscriptions are now available
It's been a long time coming, but you can now buy your pal/lover/offended party a subscription to Loud And Quiet, for any occasion or no occasion at all.
Gift them a month or a full year. And get yourself one too.
Whoever it's for, subscriptions allow us to keep producing Loud And Quiet and supporting independent new artists, labels and journalism.