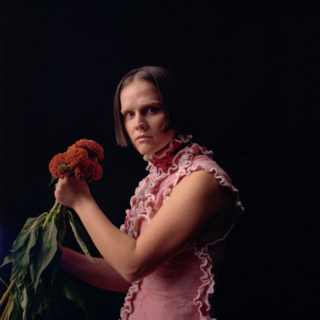 Sassy 009 – That 4am techno-pop, I want to be by myself feeling
Sunniva Lindgaard has always been an independent spirit
Despite describing herself as "super curious", Sunniva Lindgaard has always hung back in social situations. "As a child, I could stare at other kids playing in my street for hours without going over to them and saying hello," she explains over the phone from her Oslo apartment, laughing as she recalls eventually breaking the deadlock "after way too long staring".
Of course, there's a lot to be said for being reserved, and for embracing self-imposed solitude, which society tends to confuse for loneliness. Certainly, Sunni seems upbeat today discussing the decision to revert Sassy 009 to a solo project, following the departures of bandmates Teodora Georgijevic and Johanna Scheie Orellana at the start of the year. As she tells it, the whole process was "very natural, really", though she's polite yet firm in her refusal to reveal whether the split was amicable.
"I'm used to working alone with music," she insists, silencing my digging. "[When Sassy 009 was a three-piece] I made the music first on my own, and then we finished the tracks together. So the process now is just taking away the part of presenting my ideas to someone else who has their opinions and their input. And now it's about the friction inside myself instead of friction with other people."
Sunni has always been an independent spirit. Born to classically-trained musicians, she spent her early years immersed in music, first in Stockholm – where she was born – and then in Oslo, where she moved with her mother at the age of six, following her parents' separation. Concerts and recitals were a regular fixture of her childhood, as were music lessons, with Sunni picking up and subsequently quitting violin, cello, flute, piano and double bass. "I think I just had teachers that didn't really understand that I just wanted to play," she reflects. "And I was so caught up in playing beautifully, instead of practising techniques and methods… So I guess classical music has been a big part of my life, but I've also always been kind-of rejecting it."
Her epiphany came in eighth grade, when she signed up to her high school's music course. "I picked the course quite randomly, thinking we [would be] playing in a band or whatever. But we were given these different tasks on the computer, making covers of a song, like, actually producing music. So that was my strange route into understanding that [music] is something that I really, really love to do."
Inspired by watching female producers like Grimes thriving, Sunni started uploading her productions to SoundCloud, with her page's throwaway handle 'Sassy 009' adopted as a placeholder name for the project, which subsequently stuck. However, it was some time later, while attending folk school, that she invited childhood friends Teodora and Johanna to collaborate on the project. As Sunni recalls, from that point onwards things accelerated rapidly.
"I had never played in a band myself, so this was just a thing we threw out there. Everything just went so fast: it took half a year or something from when we became a band to when we met [producer] Andrew [Murray, AKA Baya] and things started going quite well."
Quite well counts as an understatement: their single 'Pretty Baby' received glowing praise from press in both the US and UK – who adored its techno-rooted take on electro-pop – and soon the trio were touring internationally, including performing before Norwegian royalty at SXSW. Their debut EP, Do You Mind, arrived in November of 2017. They didn't know it at the time, but it was to be their last release as a three-piece.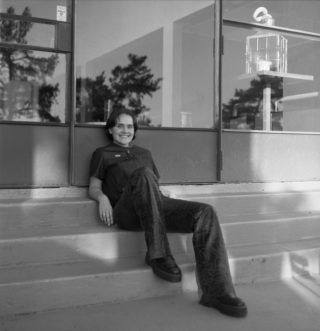 Now back after a break, Sunni is reclaiming Sassy 009 as a one-woman project with eight-song collection Kill Sassy 009, due at the end of November. Recorded in Baya's studios at Luft Recordings, just outside of Oslo, the EP pools Sunni's most experimental work yet. On lead single 'Thrasher', dreamy harmonies collide with distorted synth effects, like some fucked up cross-hybrid of Smerz and Crystal Castles. An ethereal yet abrasive mix of eerie vocals and skittering beats, 'Maybe In Summer' evokes Halfaxa-era Grimes, while 'Are You Still A Lover' channels Sunni's lifelong love of Joy Division, adding reverb-laden post-punk guitars and a Peter Hook-style bassline to the haunting soundscape.
As she explains – in terms that are deliberately vague – the EP was born out of a period of intense turbulence, and it captures the ensuing disorientation. "I realised that the songs that I picked for this record came together as a result of the emotions I'd been going through this last year," she says. "You know, just things that happen in your life and to people you love that you can't really choose. The songs were recorded at quite different times, so it was more picking about what felt true to me now. And it feels good to hear those songs put together.
"I had a really hard time picking a title for this record," she continues, warming to the topic. "Then I just thought, 'What's the strongest word that we have in our language?' And, in my opinion, 'kill' is. It's so dark and intense and strict. For a long time I'd been picking the songs for the record without having a title, and without knowing what the real thread was. The title came to me after I put these songs together, because I realised that Sassy 009 was so close to disappearing for me as well. I was so close to giving it up and doing something completely different, and I realised that this trial was the thing I had to go through to make a record. It's a very strong title. I love it."
In terms of the creative process, very little has altered from her earliest musical experiments, with Sunni still doing the lion's share of her composition using software synths in Logic, though her recent acquisition of a hardware synth suggests those methods are likely to change in the future. And without Teodora's and Johanna's input Baya proved an indispensable sounding board for ideas, as well as acting as co-producer. Though, as Sunni explains, she isn't entirely comfortable embracing with the tag of producer.
"I've been thinking a lot about this to be honest. I've been seeing myself as a producer for all these years – making songs and posting them on SoundCloud – but in the last couple of months I've realised that producing is a term I'm quite afraid of putting on myself, because it means so much. I think people are a little bit confused about what it means, because nowadays everyone can produce music with programmes and stuff. I've come to a point where I see myself more as a songwriter and composer than a producer."
And yet both terms feel like a major underestimation of Sunni's talents, and of her complex productions, which are a world away from straightforward singer-songwriter fare. She almost acknowledges as much in her description of EP-opener 'Okay' as a "very deconstructed song that somehow still feels constructed", and again later when discussing the genesis of 'Thrasher'.
"I was very inspired by the energy M.I.A. has in her music," she says, "and how [songs] can be strict and beautiful at the same time. So ['Thrasher'] is a track of extremities put together: sharp, intense beats and beautiful melodies, screaming and calming synths and harmonies. It was me trying to wrap a feeling into a track for a few minutes. When I made the track I was in a very dark place in my life, so I was letting myself know it's ok to feel these things. Because in that moment in my life I didn't really feel like things were going to be ok."
Thankfully, this period cuts a stark contrast with her life now, where there is much to look forward to. As well as the release of Kill Sassy 009, Sunni hopes to finally share the collaborative track she wrote with Clairo last November (tentatively entitled 'Lara', after the Tomb Raider protagonist). And then there's studio time booked in with Baya for December to work on new material. "I've been watching Stranger Things and I'm super inspired by it," she gushes.
For now, however, Sunni is simply excited for people to hear the new EP. "I feel like it's good music for when you're wanting to dig into something within yourself, perhaps while you're walking through the night." There's a pause, before she instructs with a smile, "Listen alone."
Photos by: Julie Lauritzen / Andreas Bjorseth
Please support Loud And Quiet if you can
If you're a fan of what we do, please consider subscribing to L&Q to help fund our support of new musicians and independent labels
You can make a big difference for a few pounds per month, and in return we'll send you our magazines, exclusive flexi discs, and other subscriber bonus bits and pieces
Try for a month and cancel anytime