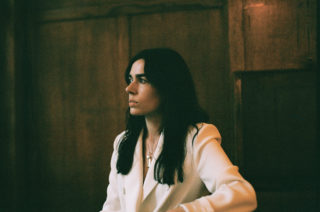 Sinead O'Brien – Irish Sprechgesang punk that embraces the feeling of unknown
A poet/singer embraces perpetual movement and expert tailoring
A couple of years ago Sinead O'Brien found herself comfortable. She was briefly settled – living in a "cosy" flat in Hoxton, east London – and the feeling didn't sit well. So she made a commitment: a pledge to disrupt her life and surroundings. "I had a year, it was called The Year Of The Yes Girls," she explains. Encouraging a club of friends to do the same, she spent 12 months "saying yes". It wasn't some haphazard scheme to chase thrills; rather, it was about actively inviting opportunity and seeing what stimulation could come out of that. "It was putting myself into situations with absolutely no second guessing. I can very easily do things when I say I'm going to do it. I'll just commit to it and make it happen afterwards." The resulting period "took some twists," she admits.
Some of those experiences were fleeting – spontaneously going dancing on a night out – others more lasting. Like moving home. Or, perhaps most pivotally, when she said yes to an invitation to appear at New Gums, a night of spoken word performances, collaboration and music at south London venue the Brixton Windmill. At that point the writer didn't even have a band, music or a plan, but still she accepted. "I think it's a healthy exercise to challenge yourself," she recalls, "saying yes to almost everything… well, what's not possible then?"
That night, because of her vow, she roped in her fellow Irish friend Niall Burns from indie-rock trio Whenyoung to compose and perform some backing music. It went well. Around the same time, and through similar circles, she also met Yuki from noise-rock outfit Bo Ningen, who she'd go on to create some early, abstract recordings with, followed by Will White – producer and former keyboard player with The Maccabees – who she'd later collaborate with on her arresting 2018 debut EP A List Of Normal Sins. The momentum continued, and then, after a Gently Tender show in London, Holly Mullineau from Goat Girl introduced her to Dan Carey; Kate Tempest collaborator and label boss at Speedy Wunderground Records (alumni: Black Midi and Bat For Lashes). Together they'd go on to record 'Taking On Time', O'Brien's punchy spoken/sung punk track released earlier this year. The song is a total tearaway; the kind of propulsive call to arms that urges people to fill the floor at an indie disco.
"I would love people to dance to it," she says. "It's the pace. I always try to do things faster than anyone will let me, then it gets pulled back just a tinge. Runaway, that's my feeling. Always."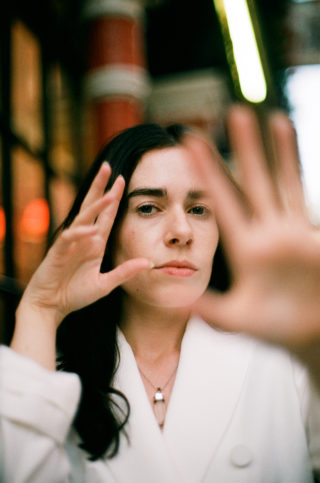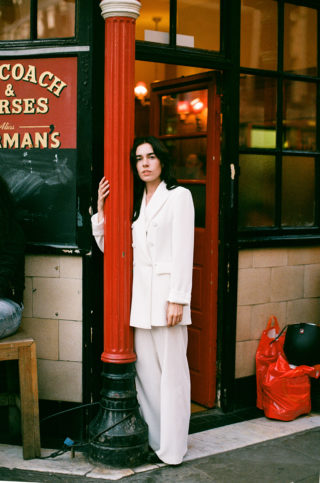 This evening, O'Brien is sat in the shaded corner of a pub garden in Clapton. Straight from work, she's wearing an immaculate suit, in smart contrast to the dog walkers and birthday parties jostling for a picnic bench and the final crumbs of late-summer sun. This is close to where she lives now, but during her six years in the city she's moved regularly (deliberately). Those spaces have varied, from an old toy factory in Old Street to a disused convent building, and not long ago a mansion in Hampstead shared with 50 other people. One of those is where the track 'Living With A Fugitive' was born after a specialist police unit came knocking looking for a tenant. "I'm not overly precious about the soil and the roots," she notes. "I'm happy to lightly tread between places."
O'Brien was born in Dublin before the family moved west to Limerick where she lived until she returned to the Irish capital to study in her late teens. Her love of words and music began to develop at an early age, though they wouldn't marry until much later. Sinead tells the story of how, when she was five or six, she would return from school with her 'spelling book' bulging with advanced new entries. Her parents grew suspicious and checked with the next-door neighbour (a primary teacher). "My dad was like, 'she's giving herself extra homework so that she can be better!" I was pretty keen on homework in general. I had a school bag before I had a school."
Music wasn't far behind either. "I was sitting in the car with my mum, I was six, and I completely remember. I just had this notion – I want to learn piano." Initially, lessons were at a chaotic School for Music before she swapped those for the more formal private tutorials administered by a stern old-fashioned antiques dealer. "She took care of my hands," remembers O'Brien. "Sometimes she would even take my nail varnish off. It was etiquette – you come like this to the class. I absolutely loved it." She kept taking lessons until she was 18. "I've always done best under very tough teaching," she says.
By her late teens the allure the big(ger) city – "my New York or something" – was growing. She had enlisted at college in Limerick, but after one year transferred onto a course in Fashion Design in Dublin – an intensive group with four teachers and twelve students. The rigorous mentoring style suited her, and towards the end of her studies O'Brien was selected to work at Dior in Paris for five months.
"John Galliano was fired right before I had gone there," she says. "His earplugs were in the bathroom, it was that fresh [the fashion designer was filmed making anti semitic comments in 2011 and subsequently lost his job]. There was a strange atmosphere but I was quite intent on picking up on it and talking to all of the employees. They were all severely heartbroken for him."
There, during her placement, she worked closely with Bill Gaytten (creative director), and assisted with fittings. "It just turned out that he liked the way I was working. I think I handed him a pin the right way around once instead of the spiky way. We started to get along." Style, and specifically tailoring remains a big passion for O'Brien. In fact, it's an area in which she still works. "It's a celebration, a craft. I'm obsessed by tailoring and suits, everything to do with clothing and costume."
However, it wasn't just in fashion where O'Brien became well versed in Paris. During any spare time she'd indulge in the French tradition of drinking in cafés and watching the world go by. "Cafés – my second home," she quips. As a distraction she began writing short observational poems. "At first they'd be more humorous – they were my way of entertaining myself. I would laugh and then maybe share it with a friend or something." Together with a pal they came up with a title for these playful short passages: Freak Watching In The City. Sometimes she'd share these stories with mates, posting her work on Facebook. They'd do the same. "I liked the back 'n' forth." Soon that work took a more philosophical turn, or in O'Brien's words, "became a bit bigger than funny shoes or something like that… but still looking at the daily things. The grit of it. People's coming and going."
When her stay in France concluded with a sad ferry boat ride (her mate accidentally booked onto the wrong ship) she arrived in London to fulfil a plan of meeting up with her friends from Limerick, Whenyoung. They'd get together on Friday nights, catch up and drink. Music would be shared and Sinead would read her latest poetry. The esteemed magazine London Review Of Books would later publish a short story of hers; a long way from her early adventures in writing, the tales of "nuns and priests having an affair" that she used to concoct with her childhood friend Aoife. John Cooper Clarke even invited her to support him on his spoken word tour.
"I got a handshake, like a welcome to the firm, kid. He was so welcoming and incredibly sociable. We stayed up all night at the hotel singing Velvet Underground together. He's the best conversationalist I've ever met while also valuing everything you say. He actually introduced me to the music of Mark E. Smith – probably one of my most valuable references ever."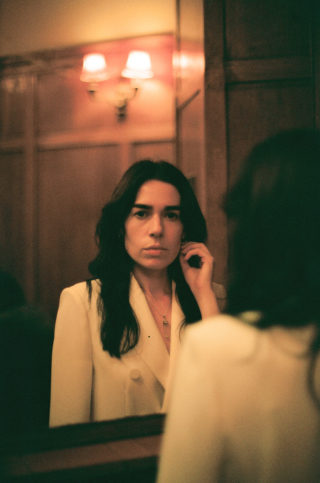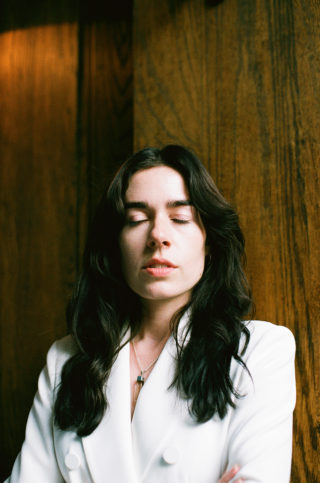 All of which brings us to now, and unlike the flux O'Brien sometimes likes to inhabit, her process sounds like it's beginning to settle. She writes lyrics regularly, sometimes in transit and always to the backdrop of music. And she's also careful to regulate her input, frequently attending theatre, art exhibitions and dance productions ("I would train in dance in a parallel life") in order to ignite inspiration. "I want to be overwhelmed almost and then to let the more intelligent part of my brain select," she reasons.
Sometimes that results in a creative streak. That's what the noir-rock of her addictive recent single 'A Thing You Call Joy' is all about – experiencing a spell of intense creative flow and how, if possible, that can be retained. "I'm quite pure, I will never take anything in my life. I drink a little, but not much," she says, having transferred to a quieter table inside the pub. "Everything has to come from effort for me. The song is how to keep and maintain that state."
The Sinead O'Brien live show is developing, too. When on stage she conducts the pace and intensity of the performance alongside bandmates Julian Hanson and Oscar Robertson. This past summer they played at a number of festivals including All Points East and Electric Picnic, and will support Pond and British Sea Power during the autumn. Each show, she says, should never be the same.
"I'm interested in it being different each time. I want it to do with what kind of day you had and what the place is like. I'm not interested in repeating or getting into a frenzied state of it being identical each time. You want to feel like that was the only time that was like that."
Now signed to Chess Club Records (Wolf Alice, Pumarosa, White Lies), there will be plenty more to come. After 'A Thing You Call Joy' more singles, maybe an EP, possibly at some stage an album. Who knows? "I change often, as I told you, with houses and things," she says. "It's going to be hard to pin me down."
Free Protomartyr flexi disc with this month's magazine
Subscribers to Loud And Quiet now receive a limited edition flexi disc of a rare track with their copy of the magazine
This month's disc is from Detroit punk band Protomartyr