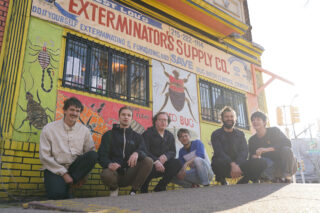 Six punks, one house and the new normal – meet Blood
"I think there's a growing sense of animosity towards celebrity"
For an act that relied on live shows not just for the thrill but as a sounding board for new material, an extended period of forced isolation for the post-punk sextet Blood may have proven fatal. While being restricted to the Philadelphia home shared by all six members did prove disruptive, it seems however that the insularity may have also allowed them to grow.
Formed in Austin, Texas, in 2017 by vocalist Tim O'Brien, Blood found their feet amongst the thriving noise/punk scene developing there at the time. Initiated as a fresh project by Tim following years of playing in other local acts, early attempts to find new band members included searching via Craigslist, which is where Tim found drummer Tyler Wolff. The current iteration, which also includes Ben McCamman-McGinnis (guitar), Caleb Parker (piano), Julian McCamman-McGinnis (guitar), Nino Soberon (bass/cello) and Zach Malett (synths and saxophone), was landed on over the course of late 2018 and early 2019. 
Calling from a sunny Memphis, in the midst of the band's current U.S. tour around new three-track EP, Bye Bye, Tim nods to the "really supportive community" in Austin as key to Blood's early development, with the live scene in particular integral to their sound and ethos. That influence is particularly notable on their debut EP, 2020's Why Wait Till '55, We Might Not Even Be Alive, four tracks replete with an atmosphere and ferocity that's audibly been forged in the heat of a gig.
Yet as the pandemic raged, the band began looking with increasing interest towards the East Coast, partly because it's easier to tour there – the cities are closer together – partly because most of the members originate from that part of America.
In early 2021, the decision was made to move to Philadelphia and hole up in a house which also acts as their de facto rehearsal space and recording studio. A potential recipe for disaster, the band say that instead it forced them to reconsider their sound, and to approach their songwriting detached from the heat and the eyes present when on stage.
Tim says: "[We] became a lot more intimate, a lot more like a community and we started having mental health check-ins, and became much more of like a band/co-living situation. Through that whole time, through the pandemic, we've just been writing non-stop, recording non-stop, and have just gotten a lot closer and really changed our sound a lot through the pandemic. Being closed-off from the world, and figuring out our sound, what turns us on, and what is interesting to us."
The new EP, which came out in July via London-based label Permanent Creeps, is a big step forward both in its performances and songwriting when compared to their 2020 debut. Opener 'Money Worries' is a caustic post-punk depiction of a letter Tim imagined sending to a previous landlord, written while in the midst of serious housing concerns, while closer 'Borstal Field' is a brooding and menacing piece about a kid spending time in prison, influenced by the novel Borstal Boy by Irish writer Brendan Behan.
The EP's highlight, however, is its middle track, 'Luck'. An electric amalgamation of anxious guitar lines and an explosive, almost euphoric finale, it tells the tale, in Tim's words, of "people's sense of religiousness about musicians that they worship, and artists and idols".
He continues: "I think there's a growing sense of animosity towards celebrity, but what remains and has only gotten worse is people getting out of touch with themselves and with their friends and family and the people around them, and everyone associating by the reference points of famous people and strangers."
With "two or three" albums' worth of music written since Bye Bye was all wrapped up and finished, Tim and Zach say that the band's aim now is to get a full-length out by next spring, schedules and global catastrophes permitting. Having lent into their 'new normal' and successfully found a groove as a new, more insular outfit, the pair say the group now just need to work out how to assemble what they have into something coherent. 
"Even if it just ends up being eight songs or something," said Tim, "it's really about assembling something cohesive, and together, that we're proud of."
Please support Loud And Quiet if you can
If you're a fan of what we do, please consider subscribing to L&Q to help fund our support of new musicians and independent labels
You can make a big difference for a few pounds per month, and in return we'll send you our magazines, exclusive flexi discs, and other subscriber bonus bits and pieces
Try for a month and cancel anytime