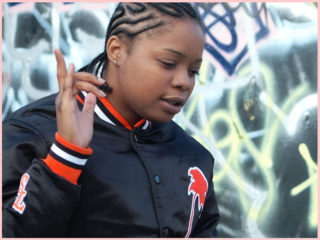 Speech Debelle makes hip hop to warm the heart
... even when it's minus 3 on a Sunday afternoon
"Wherever hip hop goes, police go," giggles Gypsy Hill's Speech Debelle as a neighbour in a dressing gown huffs back into her home. And within an hour the boys in blue arrive – they're actually park rangers, but it's close enough – due to the heinous racket being made by Speech on a nearby bandstand for gorilla-gigging website Bandstandgigs.com. The racket being made is of course neither heinous nor indeed a racket; drums gently padding to the sweet whispers of a young rapper with some personal stories to tell, and the parkies agree, enjoying the lo-key show with the rest of us already under Speech's poetic spell.
'The Key' is the 25-year old's debut single on her new label, 'Big Dada', and it's a track so melodic that at 1pm on the coldest Sunday of the year we're where we are and not huffing about in our dressing gowns.
"It's broken into two halves," explains the rapper of her new track "the first half being a story about lost friendship, the second half being about how, in hindsight, y'know, people have issues that affect the way they treat you, so it's not necessarily your fault why someone is acting quite mean or strange. Each person has their own issues, so it's best to keep moving."
Judging by last year's limited single, 'Searching', honesty continues to be the backbone of Speech's lyrics, as does the willingness to rap autobiographically, even if, musically, 'The Key' is a departure from the singer's goal of "taking Tracy Chapman's melodies and putting some rapping on them." Because while 'Searching' did just that – acoustic, downbeat, hushed and cathartic – 'The Key' is a jaunty pop number with a trio of clarinets entwined around the plods of a double bass. Momentarily the folk elements of Speech have been replaced by jazz, because Speech loves 'sound' over 'being hip hop', explaining why the first version of 'The Key' was canned due to being too sharp in the kicks; too heavy in the high hats; too… hip hop.
"I mean, I love hip hop," she explains. "It's the first music that gave me a sense of being part of something, musically. And hip hop has an effect that's different to any other music. I remember talking to a friend and he said, 'hip hop gets you in the neck', that's where it hits your body, in the neck, so you have to snap your neck. And it's very true; hip hop does have a very distinctive effect on the body, and it's such a skill. I love it. But at the same time I love just… sound, y'know, as opposed to the beat – scores, classical music, atmospheric stuff. I want to be able to do both those because, by default, anything I rap on becomes hip hop."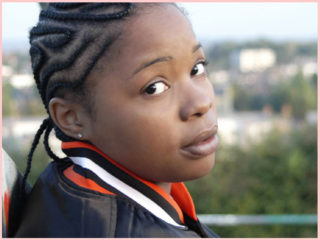 A debut album, called 'Speech Therapy', is due in May; a collection of songs that are likely to revert to Speech's acoustic and more poignant style. 'The Key' is a brilliant bit of light-footed fun, but the Tracy Chapman goal still applies. And besides, nothing accompanies personal poetry like acoustic instruments, and both personal and poetry is what 'Speech Therapy' is made up of – "I started writing in primary school and then changed into rapping in secondary school. I didn't do music for a while; it was just writing in my room as an expression, it wasn't for an audience. Those songs that I wrote at that time have become this album now, which is why they sound quite personal."
Da Brat is whom Speech cites as her primary influence, with DMX and Tupac quickly in tow. "When I listened to them it sounded like they wrote for the same reason that I did," she says, before explaining how a writing trip to Australia has helped her style stand out from other UK hip hop acts.
"I was saying the other day that a lot of people in the UK sound exactly the same, and the fact that I went to Australia really helped. Hip hop written in the UK… it's always grey here and cold, so to leave that and go somewhere sunny and warm, it changes your whole vibe. A lot of people that do hip hop music are usually people that feel like they're stuck in a rut, so if you get to travel to places it helps. If you don't do something, you spend a lot of time – especially when you're with people that are similar – just sat down moaning. Especially being young and being black, that's what we do, and we do it well. And out of that come some great philosophies – I met some people when I was 18/19 who could have been the greatest philosophers on the new age – but also out of that you can feel so suppressed."
Never count it out, but for now didgeridoo's remain uninvited to the emotional sound of Speech Debelle. She may have adhered to every Oz stereotype on her travels for all we know, but being British remains the most important influence on her music, which means that James Blunt is okay by her.
"Absolutely, the UK's important to me," she passionately nods. "I want to be, originally, like Tracy Chapman and also a hip hop version of Coldplay. I think there's something really good about English bands. Band s like Coldplay, and even James Blunt, there's something so unpolished about them. It's not too American where everything is very slick."
Speaking to Speech, she's refreshingly un-self-righteous. To drop James Blunt and the equally unfashionable Coldplay isn't to be ironic, or to send out a feet-stamping message that she's not hip hop, because she knows that she is. But, having patiently waited three years for Big Dada to offer her the deal she wanted, she seems to be wholly uninterested in pleasing anyone but herself. Luckily, she seems to have pleased the park police as well.