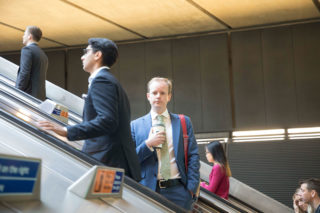 Suitman Jungle – Spoken word live drum and bass about your day job
'I just love working, in whatever form that is'
We are predisposed to hate our jobs because they are so inherently unfair. It doesn't even matter what you do; it's the fact that you have to do it. Sadder still is that mankind has made this rod for its own back. We've imprisoned ourselves in busying ourselves. So yes, I too have walked passed a dog on my way to work and thought 'I wish I was you'.
Some people are better than others at dealing with the reality of working for a living, but we'd all rather not ask someone else if we can please come in half an hour early tomorrow in order to leave half an hour early, to ensure that the company doesn't pay us for an extra 30 minutes of work that we definitely haven't carried out. And then there are the people who insist that they wouldn't give up work even if they won the Lottery. They are a sinister and unimaginative lot who you should distance yourself from.
Suitman Jungle doesn't have a solution to our employment problems, but in his music, at least, he feels our pain. He is, by day, Marc Pell – the talented drummer in Micachu and the Shapes, and, more recently, a member of Mount Kimbie's touring live band. Two days a week he's an office clerk in central London – a job he started as a temp, and one that has informed this solo project of his, although not quite how I'd presumed.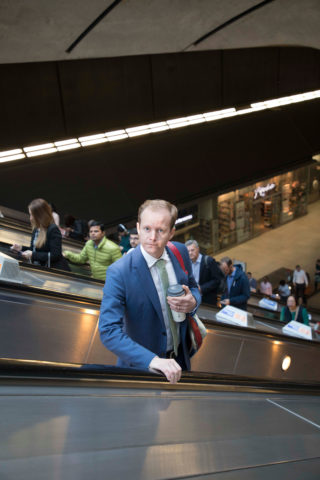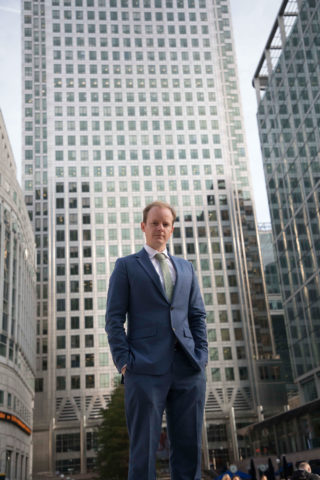 I meet Marc at the crack of dawn at Canary Wharf, where office workers arrive from hour-long train journeys. Although his own office job isn't based here he knows the business complex well – the new places to eat; the best place for coffee.
He grew up in the neighbouring borough of Newham where he still lives today. His dad was a drummer and he followed suit in his mid teens, playing orchestral, rock and then jazz drums before discovering electronics at college and going on to study at London Guildhall University. It was there that he met coursemate Raisa Khan and her flatmate Mica Levi – the three of them would form Micachu and The Shapes. He had drum lessons from 17 until he left uni, "but since then is where I've learnt the most about myself as a musician," he says. "I really don't think that that training was necessary."
Sat in a subterranean mall branch of Paul, I ask Marc where Suitman Jungle originated from – a solo project that combines spoken word with drum and bass and jungle, played live on a stand-up drum kit.
"I had two days off in LA when Raisa, Mica and I were touring our last album," he begins. "We were in Portland the day before and I went round some charity shops and saw a nice suit for 90 bucks and bought it. Then when I was in LA I went to this drum store and I walked in there and said can I have a little cocktail standing kit, please? Came back 45 minutes later, 120 bucks, they'd sculpted this thing from loose ends. Why did I do both of those things?" he questions. "Why did I buy a suit and a cocktail kit? Well, I'd always known that Hollywood was a very free place, and I think a few months prior to that I'd began to think about busking or doing something other than music, and just doing music as a side thing. So that would generally involve wearing a suit. And then in my lunch break I could go out and do what I want to do, and go back to work and earn loads of money.
"I wanted to take the money burden off," he says. "I was a bit younger then and I was worried about what I was going to do after the tour. So I thought, y'know what, I'm going to get a job."
Marc, I instantly realise, is a far more optimistic person than I am. He didn't see a 9-5 job as something to run away from at all costs, he saw it as a liberation; a way to peruse his love of music without the pressure of it having to support him financially. When I ask him how he felt about the situation as he realised it in Los Angeles, he says: "I was very excited about it. And I'm still doing that normal job alongside everything else, even though I've got a lot of music going on. The job has become a side thing to the music.
"I just love working, in whatever form that is. So I'll do a couple of days a week in Tottenham Court Road, which is just a desk job, and I'll enjoy that as much as any other aspect of my life. People are fascinating and I just love people, whether they're in an office or outside. It's just making the most of whatever situations you're in at that time."
That guy that says he wouldn't give up work even if he won the Lottery – that's kind of Marc. But let him put it this way: "When you meet someone you always ask them what they do, and I feel like everyone should be comfortable saying that what it is that they do is the thing that's really at the bottom of their soul. 'What do you do?' 'I'm a poet.' If you're a poet you're a poet. It doesn't matter how you pay you bills, it's where your mind is at."
When The Shapes flew home from L.A. Marc did two things – started temping in an office and began busking as Suitman Jungle. He loved both and still does, considering the joys of busking its welcoming community ("within an hour I knew the queuing system and I felt like I was already part of it – I'd recommend it to anyone") and the opportunity to play in a public forum with zero expectation of any response of engagement.
"I felt like I made it quite big with the project a few months ago," he says. "I made it onto the Shit London Facebook page. Someone had filmed me while I was busking and the feedback was wicked. A lot of people hated on it. I just loved it. Y'know, I was in this public place, and you don't get feedback from people whether they're enjoying it or not, and then two weeks later I saw what people thought of it.
"I love feedback. The more negative feedback the better for everyone. The standout comment was, 'this guy needs to learn that to be a drummer takes rhythm, coordination and timing.' And, like, yeah! I played really badly, and if this guy thinks that, I've got work to do."
What the most you've made busking, I ask.
"It was on Hollywood Blvd opposite Captain American and all those dudes. Some film crew started filming for some special event and they needed me to shut up, basically, so a cameraman came over and gave me 30 bucks. That's the single biggest hit I've made busking."
So they paid you to stop.
"Yes, they paid me to stop."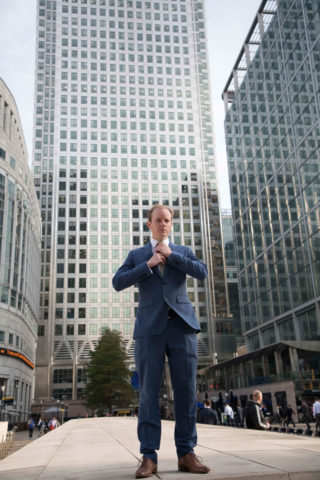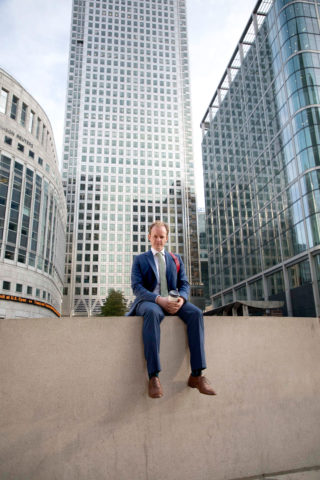 Marc has been playing Suitman Jungle shows for the last couple of years. I went to see one a week before we met at Canary Warf, at Brixton DIY venue The Windmill, where a dedicated crowd gave in to the old school jungle breaks and danced as if the room was twice as full.
A couple of weeks before that I was sent his debut album, 'Liquid Lunch' (out in the new year on Tape Club Records), and was instantly sold. It was too relatable to not love – especially the title track, in which Marc goes to the pub at lunch for five pints. "I'll return / To my desk / And I'll make / Loads of great decisions / I've no regrets / Because I know I've earned it / My liquid lunch / My liquid lunch." The bass drop winds up again and the drums skitter back in, from a man who listened to Hospital Records as a kid, and artists Landslide and London Electricity.
The next song on 'Liquid Lunch' is about a lift going up and down, while 'Nil Cash Option' is an interlude consisting of office chatter and what sounds like one plummy guy saying, "I'm fine being an accountant."
Talking to Marc and hearing how much he enjoys his office job, clearly I've been projecting in presuming that Suitman Jungle's debut is a record about hating your day job.
"It's not a record about someone who hates his job," he says. "Where it came from is… like I said, I love working. I'm reading Marcus Aurelius at the moment and he touches on it – to do just for the sake of doing is a bit of an illness and I think I've got that illness. This album is a release from that. 'Amen Break / Commercial Break' on the album is a track about wanting a break but also filling every single minute with something to do.
"Especially in London or any big city, you're rushing to eat, you're rushing get to work on time, you're rushing to go to bed. That song is, 'I want a break, I want a break, I want a break,' but there's nothing I can do about all this doing that has been ingrained in my brain from I can't even remember when."
Marc's album delivers this modern terror with more than a little good humour. It's key to 'Liquid Lunch''s relatability and takes the edge off the music's early '90s nostalgia. I thought it was a record about release, born from bitterness, and it can still be that. But it can also be a record about making the best of the situation you're in. Rather than wishing you were a dog.
Loud And Quiet needs your help
The COVID-19 crisis has cut off our advertising revenue stream, which is how we've always funded how we promoted new independent artists.
Now we must ask for your help.
If you enjoy our articles, photography and podcasts, please consider becoming a subscribing member. It works out to just £1 per week, to receive our next 6 issues, our 15-year anniversary zine, access to our digital editions, the L&Q brass pin, exclusive playlists, the L&Q bookmark and loads of other extras.