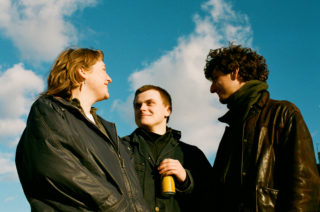 Tara Clerkin Trio – the experimental band who sound bigger as they shrink
When the "leftovers" of a project become something new and great
An icy wind is howling through the streets of South Tottenham today. Inside, Bagel, New River Studios' resident house cat, is curled up amongst the sofa cushions and doing his level best to sleep. Unfortunately, four humans have recently invaded his sanctum and appear dead set on ruining it for him, with their clinking bottles and constant coos of adoration. He opens up an eye and tries to get them to shut up by fluttering his ears. It doesn't work – it's time for the nuclear option. Standing up, he arches his back, stretching every muscle before flopping off the couch to strut off across the bar, looking for somewhere with less annoying people. "Come back!" Tara Clerkin calls after him, feigning outrage. "We're almost done." 
The bus that has brought her and her bandmates – brothers Sunny-Joe Paradiso and Patrick Benjamin – might have left Bristol early this morning, but none look all that worse for wear for it. The trio is warming up after their photoshoot by sinking beers and chatting excitedly. For some reason, our conversation has spontaneously focussed on ways to fill the long hours of hanging about while waiting for gigs to start. "Honestly, I don't mind this bit," says Clerkin when I ask how they deal with the waiting periods. "It's the hour before that I really don't like; that's when I start to get nervous."
Although the bar is quiet right now, in a few hours' time New River Studios will be buzzing. There is a lot of excitement swirling around the Tara Clerkin Trio right now. With echoes of acid jazz, off-kilter psych-pop and ethereal electronica, the group's sound sits nicely alongside experimental bands like Jockstrap. 
They are a product of Bristol – specifically, Bristol circa 2010, and the weird and wonderful experimental scene that grew up around cassette/record label/live promoters Howling Owl, which began when Joe Hatt and Adrian Dutt (both of noise band Spectres) moved to the city in an attempt to find somewhere in the South West where their band wouldn't be booed off the stage. Alongside record shop Stolen Recordings, this live music collective became a lightning rod for Bristol's DIY noise musicians, creating a ready-made community of collaborators and fellow travellers.

"It was a really tight scene – everyone always went to everyone else's gig," explains Benjamin. Even though he was at uni down the road in Bath, he often travelled to Bristol, and together with his brother found himself right in the middle of things. "It was a whole bunch of people doing experimental stuff gathered together under one banner really. Coming from where we came from, we were only really exposed to dubstep, house and disco, so Howling Owl really opened us to whole range of different things."
It was in this melting pot where Paradiso, Benjamin and Clerkin got started in music. In the decade since first meeting, the three have dabbled in a range of musical projects. Looking over it, the only thing that rivals the number of bands the three has been involved in is the variety of musical styles they've passed through. Here's an extremely truncated run down of what the various projects the members have been in: Benjamin and Paradiso both play in a punk band called Luxury Dad; Paradiso plays Oh Sees-inspired space rock in a group called Taos Humm; Benjamin releases his electronica compositions on Bulb Records; and Clerkin has put out an album's worth of Julia Holter-style folk, simply called Hello. It's the Tara Clerkin Band that is probably the most pertinent to our story, though. This eight-member psych-folk troupe was the first time the three worked on Clerkin's own compositions, and it's the act that most readily sowed the seeds for what would become the Tara Clerkin Trio.
"You could say the Tara Clerkin Trio started mainly because everyone else un-joined the Tara Clerkin Band," shrugs Clerkin while piecing together the transition from the big group to the small one. "A lot of the other members went travelling or had babies, so we're basically the leftovers."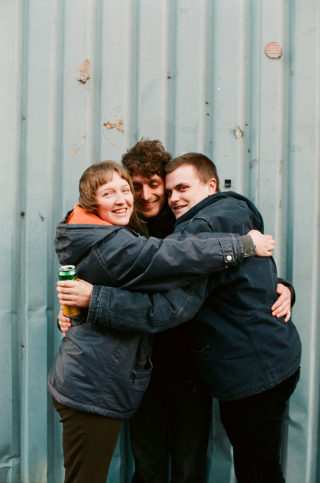 For a lot of acts, a reduction in band members usually leads to a stripping down in sound, but in the case of the Tara Clerkin Trio, this new project has allowed the group to go exploring with a whole new territory of soundscapes and influences. Their debut seven-track LP, recently released on Laura Lies In, finds naturalistic psych-rock replaced with coolly executed electronics and evocative soundscapes. This new direction could loosely be defined as jazz, but it actually manages to cover a wide range of sonic touchpoints; from soulful acid jazz and blissful pop. That's without mentioning the more avant-garde explorations, recalling the classic works of Steve Reich and Arthur Russell.
For Clerkin, the shift is style is simply the result of the band trying to make a break with old habits. "I wanted to get away from writing songs on the guitar," she says. "The problem is that I can't play the clarinet very well, hence why we started using the loop pedal. While we like acid jazz and things like that, we definitely stumbled into that genre. I was much more interested in doing something more minimal.
"If you don't start off with a guitar, you're going to make a song that sounds a lot different to the Oh Sees or whatever," adds Paradiso. "Also, it draws on a lot of things we'd been around but hadn't really explored. There's always been a lot of noise and free improv stuff in Bristol, but until recently it was always really underground. That coalesced with what we're doing, as well as what we were discovering on the internet. There was a short period a few years ago where it felt like every song was going down its own little rabbit hole."
The ingenuity of this way of writing really jumps out when you listen to the lead single 'I Know He Will'. Introduced by warm-sounding synths and airy piano loops, as the song builds, it's as if it has been co-written with the city of Bristol itself, with Clerkin's breathless vocals and breezy clarinet floating over the sounds of a busy building site. "It was completely accidental," Paradiso tells me when I ask where the idea came from. "While we were demoing the song, we'd left the window open without realising that there were scaffolders working outside. When we went to loop the clarinet, we realised we had their clangs on the track, so the idea grew from there."
"I should add that it's not the actual recording that you can hear on the record," says Clerkin, jumping in to clarify. "Unfortunately, that sounded absolutely shit, but I did manage to find a library track of scaffolders working, which is the one we used on the song."
The track captures the strange psychogeography that the Tara Clerkin Trio manage to weave into their music. Listening through the LP sometimes feels like cracking a window and listening to the sounds of the street. For me at least, it's the type of record that conjures up those, weird, surreal experiences you sometimes get when you live in a big city. Tracks like 'Hellinca' and 'Any of These', which have a lazy, disjointed energy, effortlessly evoke the feeling of aimlessly walking the streets, passively observing the strange rituals of your fellow citizens as they get on with their daily lives. When I put this to the band, Clerkin nods approvingly. "We didn't set out to make a concept record or anything like that, but I love the way that a certain tone of clatter can put you in a place," she says. "I really wanted to play with that concept. I wanted to do less storytelling and try and take snapshots of those little moments.
"For me, this record is more about this time in our lives than a place or feeling. I know this is coming across as pretentious, but this is more of an honest reflection of where we are right now. Before, I think we were slightly guilty of forcing things. It's nice to be upfront and let what comes out speak for itself, which is totally influenced by the context."
Out of nowhere, a man sidles up to our table and sheepishly waves at us to get our attention. As it turns out, he's the sound guy, and it's time to get the show on the road. As the band collect up their things, there's just time for one last question. I ask if this is just the start for the Tara Clerkin Trio, or as before will the group be moving on to explore new sonic pastures. "Oh, we'll be doing some more stuff," laughs Paradiso, glancing at his bandmates. "For one thing, Tara's mum says she needs to sing more, and we definitely don't want to let her down."
Loud And Quiet needs your help
The COVID-19 crisis has cut off our advertising revenue stream, which is how we've always funded how we promoted new independent artists.
Now we must ask for your help.
If you enjoy our articles, photography and podcasts, please consider becoming a subscribing member. It works out to just £1 per week, to receive our next 6 issues, our 15-year anniversary zine, access to our digital editions, the L&Q brass pin, exclusive playlists, the L&Q bookmark and loads of other extras.