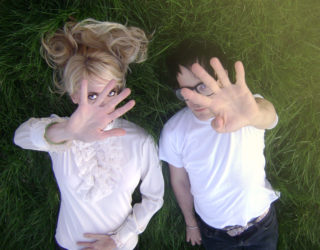 The Golden Filter are searching for powerful escapism
Not taking themselves too seriously
"Oh, for fucks sake!" throws up blonde Oz coo-er Penelope, her partner-in-shine having broken rule 1 of this interview. "We don't really go into our previous band," she'd adamantly stated at the beginning of our chat. "We're not talking about the past too much… in a good way." And now the second of two Golden Filters, Stephen, has begun discussing recent debut single, 'Solid Gold', as, "technically part of our last band…". It's enough to put a girl off her yoga, which is exactly what the singer tells us she is incorporating into our time together; them in their New York base, snow falling around them as if on a continual Home Alone film set, us in a dark, dank London that stenches more of a glum Albert than glitzy Times Square. Which is the exact reason we're calling The Golden Filter – we're in need of some powerful escapism.
"You've hit the nail on the head," says Penelope brightly. "I think everybody is looking for something that's not reality. [Our music] is definitely about having fun, and escapism."
"Band's definitely take themselves too seriously," continues Stephen. "If I hear some rock band that are serious, like Coldplay, I'm so bored by that. I don't wanna diss anybody so…"
Penelope: "You just did."
Stephen: "Yeah, but I don't think that's going to have too much of an effect on us."
Great, so we've dialled the right number for the reality-fudging hotline (read as 'right Skype address' – talking at a metallic MacBook is the only suitable way to get hold of a band as technology savvy as this cosmic pair), now what about this single that we can't stop playing?
"We thought, 'let's try it one last time, see if this works out'," explains Stephen of his and Penelope's first song as a duo; the same track that Dummy Records release this month. "The song didn't sound like our other band at all. It was kind of, 'this is it, if this doesn't work out we quit.'"
"We were actually on tour with our other project and all we were doing was listening to that song," laughs Penelope.
Stephen: "And we actually cancelled half our shows and were like, 'fuck this project.'"
Penelope [mimicking a time when she was sick of her old band]: "I'm not driving to Alabama, no way."
And so Stephen and Penelope's first band together was no longer for them, so much so that, as we now know, the pair refuse to even divulge their name. All we know is that they were "a little punky, electro deal – a bit more like Heartsrevolution".
"When we met, we were both really into photography and films and stuff like that," says Stephen "and then we were like, 'oh, we can both play music'. I discovered she could sing and I was making music so we started that band and that lived for a while and then we started another band, and that's The Golden Filter."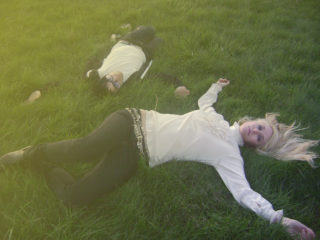 Before meeting, separately, the pair "went through rave phases", followed by "weird psychedelic ones", prompting Stephen to avoid banding the overused 'fate' phrase around while admitting that he feels he and Penelope have "pretty identical music tastes." And their joint love for imagery, photography and film has only added to the sense of adventure and abandonment felt whilst listening to The Golden Filter – "Follow the golden fox," purrs Penelope to the pulsing disco of 'Solid Gold', as we scramble out into those dark dank suburban streets in search of the glistening rodent; "through the golden door," she continues to deep synths, us hypnotised listeners convinced that we saw one of those the other day. It's The Golden Filter's dream of escapism swiftly realised, at the hands of electronic pop music.
"We're not pop," says Penelope, despite 'pop' being what everyone wants to be right now.
"We are, we're totally pop," interjects Stephen. "Everything that people have called us so far is pretty applicable, y'know, like new disco, and obviously some people say we're new romantic like Visage and stuff like that, which is cool. And pop's fine to me."
Whatever it is, there's plenty more where 'Solid Gold' came from, including the seductive and sparse 'Favourite Things', and the sweet, whispering Italo Disco of 'Hide It', all set to lift us from our daily drudgeries as soon as the band find a label to release their already completed album. "In the year we'd like to set up home with a label," says Stephen of immediate plans. "Releasing our album would be amazing. It's finished, it just needs a home."
Follow us if you like. We're hot-footing it after a golden fox, through a golden door where everything looks better with a golden filter.