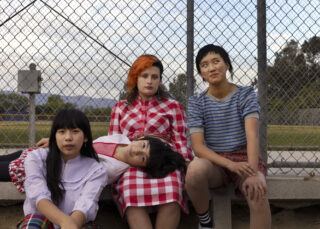 The Linda Lindas are growing up fast
But first: waffles
It's press o'clock for The Linda Lindas, and they've made waffles. Dialling in from their home city of L.A., all four are crammed in front of the camera, jostling elbows as they proudly show off their breakfast, perfectly formed Eggo rounds the size of drummer Mila's head. It's an unusual start to an interview, but one that feels refreshingly free of pretence, just like their world-igniting music.
Having formed back in 2018 for a performance at Girl School L.A. (an all-female festival championed by the likes of Karen O, Fiona Apple and Best Coast's Bethany Cosentino), The Linda Lindas were mastering their instruments one cover song at a time, rocking out for the sheer pleasure of it. But when the pandemic came, it sparked a new motivation; to use their words to speak out against world injustices. In the grips of an imminent lockdown, a classmate of Mila's had told her that his father had warned him to stay away from Chinese people, backing away when she tried to answer back. Hurt and confused, she told her bandmates, and together they crafted 'Racist, Sexist Boy', a furious takedown that went viral in the spring of 2021. 
"I think that we were really angry about Mila's experience, and just oppression in society in general," says bassist Eloise. "We had the 'racist sexist boy' part for a while, but when we actually started writing the full thing – over Zoom, because of the pandemic…"
"It was literally like five or six hours, but it all came out in one piece," nods Mila, finishing her bandmate's thought. "Initially it was very angry, but now I think it's kind of a proud song. It's about bringing people together, like against this…" she stops short, not quite finding the words to summarise her world-weary frustration. "You know, whatever this is."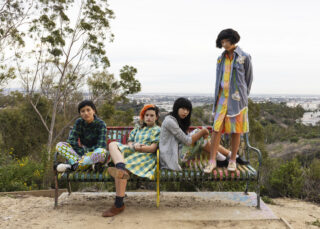 Navigating their formative years in a global pandemic, it's perhaps no surprise that the Linda Linda's often come across much wiser and smarter than their years. Age is not something that they wish to be their defining characteristic, so we'll get it out of the way early; 11-year-old Mila de la Garza (drums) is joined by her sister Lucia (frontwoman, 15), her cousin Eloise Wong (bassist, 14) and their family friend Bela Salazar (guitar, 17). Together, their fist-pumping Riot Grrrl rock has become an emblem for a new dawn of guitar music, one of improving inclusivity and representation. Though they're chipper about the "shockingly low amount of hate" they've received on their ascent to public visibility (somewhat saddening in and of itself) they do speak of the frustrations they've all felt from being pigeonholed in the press, underestimated because of their age. 
"That stuff wouldn't happen if we were boys," says Lucia. "If we were boys, people would be like, wow, they're so talented, they're so cool and powerful. But for us, we get like –"  
"'– Oh my god, that's so cute, you're in a band with a bunch of other girls?'" squeaks Mila, clutching her hands under her chin in a spot-on impression of a patronising journalist. "Awwwww!"
"Yeah. And that sucks,' says Lucia. "You know, because we feel like we're not being taken seriously, even though music is something that's super important to us and is what we're all about, you know?"
"People think that we might not understand things because we're kids," nods Mila. "And maybe we don't understand some things. But we do want to understand. So if we don't understand something, then you know, you should explain it to us?"
"We are able to form our own opinions," agrees Lucia. "People will say that racism doesn't happen anymore, and it's just like, DUDE. As kids, we can't afford to think like that. We have to be open minded to making the world a better place."
For anybody who has seen the YouTube clip of their now-legendary L.A. Library performance of 'Racist Sexist Boy', it is clear that The Linda Lindas have a serious talent for turning life's lemons into sparkling lemonade. Forget the adult pretensions of overwrought metaphor and complicated structure – when these girls get an idea, they go straight for it, drawing lyrical inspiration from issues big and small. As a result, their debut album Growing Up is an adventure through the multitudes of the teen experience, pooling their individual songwriting efforts and setting them to joyous three-chord power-punk melodies. While tracks like 'Fine' and 'Oh' continue the angst of 'Racist Sexist Boy', there are moments of gentler catharsis too; on 'Cuántas Veces', Bela embraces her Latin American heritage, singing in Spanish as both self-empowerment and shield.
It's really about people making fun of me, and me being tired of it," she explains. "But then at the end, I kind of figure out that those things that they're making fun of me for are the things that sets me apart. They write about really deep things" – she gestures to her bandmates – "but I just don't like to share what I'm feeling. So singing in Spanish felt like a way to share my feelings but still keep it a little bit more sacred."
  Even in more comfortable lyrical territory, the details can be tricky. Describing the hardest song on the record to finish, Bela chooses 'Nino', the riotous Joan Jett-esque ode to her beloved cat. "I'd written one already about my Siamese cat Monica which was really easy, but then for 'Nino', it was kind of hard, because, you know, I wanted it to be up to his expectations!" she explains. "When he would hear 'Monica', he would literally go and grapple her because he was so pissed that he did not get a song. So now he's got his own one, he's happy. He was purring when I started playing."
Though they all laugh at the idea of feline approval ("Imagine if Nino wasn't into it?!"), it is clear that music is helping all four members to come out of their own shells. Their sisterhood is obvious; when they're not finishing each other's sentences, they're waiting patiently for each other to speak, nudging one another encouragingly if they feel another of the group could answer best. It's a camaraderie that fuels the chorus of their album's title track, a feel-good testament to solidifying friendship; "We'll talk 'bout problems we share / We'll talk 'bout things that ain't fair…We'll sing to people and show / What it means to be young and growing up." 
Though they're reluctant to cite any one stylistic influence (seemingly shrewd to how it might pigeonhole them going forward), it is clear that each member is passionate about their individual expressions, fuelling their scrappy, colourful attitude. Bela often makes her own stage outfits, while Eloise is responsible for much of their artistic direction, from the hedges and flowers that framed their appearance on The Late Late Show to the impossibly precise papercutting of their album artwork, depicting all four members as rock and roll cats. 
Wanting to keep things in the family, they chose to record the album close to home; with Carlos de la Garza, the Grammy award-winning Paramore producer who also happens to be Mila and Lucia's dad. 
"He knows us all so well, so it was a lot easier to feel comfortable in telling him exactly what we wanted" says Lucia. "It was so cool seeing what he actually does when he goes off to work each day and to be a part of that, you know? [With him] when we're recording guitars and we mess up or something, it doesn't matter; we just call them funny muffins."
With the album done and dusted, there's nothing funny about their impending schedule. Eloise, the band's resident old-school music head, is visibly ecstatic to be touring with legendary punk rock band Jawbreaker later in the year, while all four are stoked about their impending visit to Japan, and to Las Vegas, where they'll be the youngest members of the deeply nostalgic When We Were Young Fest. "It's crazy, that line up is just like wow," beams Lucia. "Paramore's playing it, Wolf Alice is playing it, Meet Me At The Altar. That one is VERY exciting."
Acting might also be on the cards for the future; their cover of Bikini Kill's 'Rebel Girl' landed them a role as the house band in Amy Poehler's 2021 movie Moxie, highlighting the revolutionary power of teen feminist activism. "It was fun, because it was a new experience," says Eloise. "It was the first time we ever recorded in a studio, and filming was super fun; we got to skip school for a few days and they had a bunch of cool snacks."
"We did have to do some studio teaching, because y'know, we're kids," says Lucia. "Two hours doing homework was not fun, but we still managed to fit in a lot of Boggle."
Balancing academia and adolescence with perfect panache, to have so much promise at such a young age is testament to the encouraging environment that they have been raised in, but also the sincerity with which The Linda Lindas make their music. Wherever this thing takes them, they just want to keep learning and having fun. 
"When we first formed, our original set was 'Manic Monday' by The Bangles, 'Our lips Are Sealed' by the Go-Gos, and that was it," laughs Lucia. "Even though they were really easy versions of the songs, there was still an energy there; it was so great to embrace all the imperfections and still feel proud after. Now we've got 17 of our own songs, and we all just want to get better by being around each other. Right??"
She looks around her bandmates, all nodding enthusiastically. "I feel we're not super pros yet, but I hope that with each album, we're still proud of the music that we're making and the growth we're having," she continues. "We take what we do seriously, and we're really happy to have these memories hold on to." With schoolwork to get back to, we say our goodbyes, but her enthusiasm remains: "Let us know if you have any other questions!" 
Mila flashes a peace sign, while Eloise and Bela redistribute the waffles, a reward for a job well done. For both pastry and punk, the future appears to be in very good hands.  
Photography by Zen Sekizawa
Gift subscriptions are now available
It's been a long time coming, but you can now buy your pal/lover/offended party a subscription to Loud And Quiet, for any occasion or no occasion at all.
Gift them a month or a full year. And get yourself one too.
Whoever it's for, subscriptions allow us to keep producing Loud And Quiet and supporting independent new artists, labels and journalism.