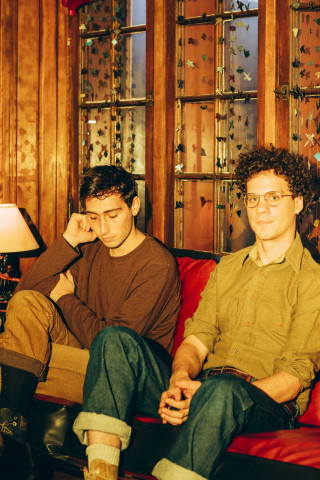 The story of Whitney: Country music from a couple of ex-indie guns
Max Kakacek and Julien Ehrlich used to be in The Smith Westerns – it's taken heartbreak, loss and crashing on couches to journey to their new band.
On his Twitter feed, Julien Ehrlich has  posted a message from his father. It's a screen grab of a comment about Whitney, the new band he has formed with Max Kakacek, since the Smith Westerns, of which they were both formerly members, went on permanent hiatus. "I come to Whitney for the guitar," says the comment, "and stay for the cute fuckable post-hipster bros." It's funny because it's true.
The band I meet are certainly cute, certainly, erm, fuckable, although they wear it lightly (Julien and Max have teamed up with five new recruits to make up Whitney: Tracy Chouteau, Malcolm Brown, Josiah Marshall, Charles Glanders and Will Miller, whom they have just given a rather fetching haircut). But the thing that strikes me most about them is their sincerity; their unabashed, unapologetic passion for the work and the obvious excitement they have for this new venture. If the hipster movement encompassed a counter-cultural cool that was about irony, kitsch and detached insincerity masquerading as depth, then Whitney, as the antithesis of that, are definitively post-hipster. "We're not going to pop up with a synth record any time soon," they tell me halfway through the interview, as if to prove a point.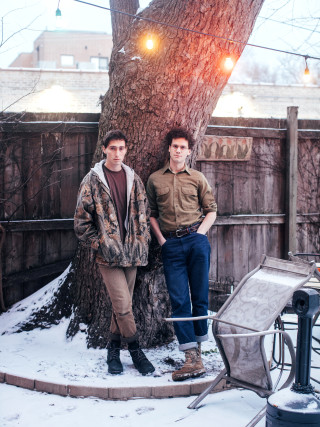 The forthcoming album sounds archetypally American, which struck me as odd given the Smith Westerns' well-documented Britpop influence. But this is a new project and the sound reflects the journey. "We discovered this dude called Jim Ford halfway through making the record and we realised his music is so awesome. It fortified the idea that we already had in our heads about the record we were making," Julien tells me. "We wanted to write poppy songs that also kinda sound like country songs."
You can hear that country influence in Whitney's music – it's epic, transitory; there's a sense of change and movement, with an enchanting, narrative quality. It's a cinematic sound. I tell them that 'No Woman', their latest single, could be on the soundtrack to a Coen brothers film and I'm relieved that they are pleased by the comparison. "I completely see that," says Max. "I don't think it was necessarily conscious, the transitional thing – but writing the album we were both in moments of transition. We were in and out of relationships at that point, we had both just left a band, things that had been steady in the past were gone."
YOU CAN HEAR THAT COUNTRY INFLUENCE IN WHITNEY'S MUSIC – IT'S EPIC, TRANSITORY; THERE'S A SENSE OF CHANGE AND MOVEMENT, WITH AN ENCHANTING, NARRATIVE QUALITY. IT'S A CINEMATIC SOUND.
They are keen for Whitney to be recognised in country music circles. Max tells me that they sometimes describe themselves as a country band. "People tell us, 'that doesn't sound like country music to me,' but to us this is what country music is. For us it was the most authentic way to make the kind of music we wanted to make. With a different style of music we might have come off as cheesy or overdramatic. Country has this nonchalant way of being really serious, but it's presented in a way that's listenable, and really pretty." Julien cuts in, as Max rolls his eyes, ("here we go"), "We make a point in every interview to say we wanna play Stagecoach, which is the country music version of Coachella. It's our goal to play there – but we know we're in more of an indie sphere, so we want to get that into every interview until they see us."
You want me to put that in print: Whitney wants to play Stagecoach? I ask him, because I can't quite tell if they're serious. They are. "Yeah. Definitely. That would be awesome."
Please support Loud And Quiet if you can
If you're a fan of what we do, please consider subscribing to L&Q to help fund our support of new musicians and independent labels
You can make a big difference for a few pounds per month, and in return we'll send you our magazines, exclusive flexi discs, and other subscriber bonus bits and pieces
Try for a month and cancel anytime