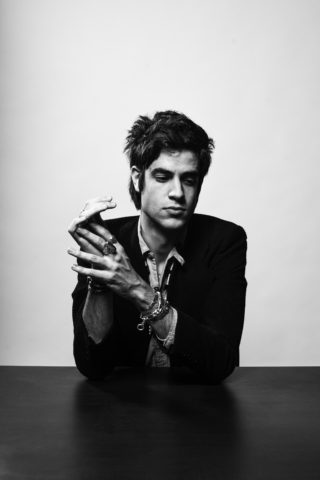 Thomas Cohen is the ex-S.C.U.M. frontman who has nothing to hide – first interview
A father of two children. A widower at the age of 23. Thomas Cohen has emerged from the distress of the death of his wife with a totally frank solo album.
"I'm not hiding anything. There's nothing hidden. There's nothing more a perverted ear with a certain outlook can find out from this record. There's nothing new to learn if you're looking for some tragedy."
Hiding just about anything has long since been impossible for Thomas Cohen. From the moment he married the daughter of one of rock's most famous elder statesmen, right through to his young wife's untimely death and even now in trying to move on from grieving her passing, Cohen's life has been made public property by a rabid gutter press. Yet if the telephoto lenses were predictably voyeuristic when Peaches Geldof was alive, they've become even more intrusive since she's been gone.
A widower by the age of 23 and with two small children to look after, one might have hoped Cohen would have been left alone to try and reassemble the shattered remains of his life. Unfortunately, we know all too well how the British tabloids work. So instead, between Geldof's death from a heroin overdose in April 2014 and today, the now-25 year-old has had to deal with a forensic examination of the relationship he shared with his late wife under the harsh glare of the public spotlight, the minutiae of a cruelly curtailed marriage and existence raked over by millions.
It's not as though Cohen's background especially prepared him for the experience either. Rather than being a member of the rock aristocracy, his dad is a social worker for Lewisham council, while his mother is an artist. Growing up in south London within a loving Jewish home, Cohen's first experience of the music scene was as a teenager, having formed post-punk band S.C.U.M. in 2008 with some school friends. The group released an album and a few singles, becoming associated with the likes of TOY and The Horrors in the process (not least because former S.C.U.M. member Huw Webb is the brother of Rhys Webb) before folding in 2013, by which point Cohen had married Geldof.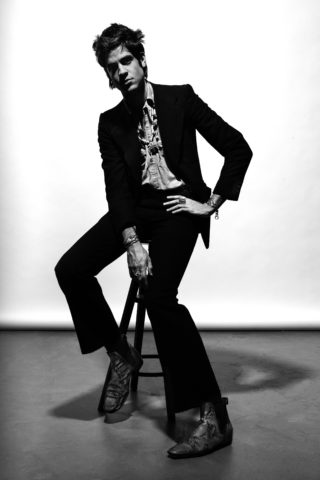 Sitting opposite Cohen in an East London photography studio for the first of two intimate interviews, the confident figure before me seems to have weathered his tumultuous emotional experiences well, at least outwardly. In fact, rakishly thin, dressed in all-black and enviably handsome, Cohen doesn't look like any kind of victim but a bona fide rock star, right down to the oversized silver jewellery dripping from his fingers. He reels off influences and speaks with considered confidence about 'Bloom Forever', his debut solo album set to be released in May on Stolen Recordings. Nearly two years after losing the mother of his children, Cohen is back doing what he so evidently loves: making music and talking about it.
"It's brutally honest and there are a few reasons for that," he says of the new record. "First, I wanted it to be, but second, it had to be, really. I didn't want to make something that was dishonest; I started out with this record wanting to do something in the vain of the musicians I love from the seventies. I mean go and listen to John Lennon's first album ('John Lennon/Plastic Ono Band') – it's painful, it's brutal, it's so honest.
"It was just the only way I could create. It made sense to listen to a record by (Texan singer-songwriter) Townes van Zandt, where he's just taking you through what you would perceive to be his depression. Now I don't have depression, but I did want to face those things that I had to face – well, I had to write songs about them."
It doesn't take much in the way of sleuthing to start unpicking Cohen's lyrics when the album is, he says, sequenced in the order that it was written – between 2013 and 2015. The title track, for instance, which is the second on the album, was written on the day his second son, Phaedra, was born in April 2013. "Obviously I didn't have my new-born son in one arm and my guitar in another," he helpfully clarifies.
By the time we reach 'Country Home' though, Cohen's words have begun to take on a sense of dark poignancy, as he sings: "Morning has gone / turning so cold / keep your eyes closed / you couldn't make it through." It turns out that the song represents the apex of Geldof's influence on the album. "I thought about it and it didn't feel wrong to write a whole record about it but I just thought, if I put [my feelings about her death] all into one song on the record then I will have really achieved something."
The track holds particular significance for Cohen because it chronicles the time he and Geldof spent in their country retreat in Kent. It's also where Geldof tragically overdosed on heroin one evening in Cohen's absence. The whole family – Cohen included – had battled tirelessly to prevent Geldof succumbing to her demons and emulating her late mother Paula Yates in the process, but in April 2014, her addiction finally got the better of her. In the months beforehand, she had allegedly also grown tired of life in the countryside and expressed a desire to return to London – a position apparently not endorsed by Cohen, not least because it would involve Geldof being within much closer reach of the city's dangerous vices.
'Country Home' is certainly where Geldof's presence is most acutely felt but she naturally casts a shadow over other parts of the record too. On 'Ain't Gonna Be No Rain' Cohen seems to allude to some of her all-too-publicised struggles with the temptations of London: "Take the city by its cold hand / What you been doing with your life?" Elsewhere, he seems to offer a protective vigil: "Hold on darling / lay down tonight" he sings on 'Only Us'. By final track 'Mother Mary', it seems as though Cohen if finally trying to let go ("Trying to leave part of me / in love with you"), though the singer himself suggests 'New Morning Comes' is more of a "conscious goodbye."
Cohen suggests that the scattered approach to writing and recording the album has somewhat diluted its focus on Geldof. All the same, I wonder whether there's any sense of apprehension about releasing what is such an honest album when there'll undoubtedly be a degree of press scrutiny involved regardless, given the circumstances. "Not at all," Cohen says firmly. "I think there was a point when I was [apprehensive], maybe straight after I'd made it, but I don't feel like that anymore. Then again, this is just my first interview."
So there's definitely no concern about how the papers will interpret all this then? "No, because I don't care," he says, slightly exasperatedly. "I think if I'd cared [about the press] and I'd thought about it and it was part of my life at the time when I was making the record then yes, maybe. But I'd made – it wasn't even a firm decision – the obvious thing to do was to just not have that be a part of my life. Because when you think about something else when you're creating, then you're not actually doing what it is you should be doing, which is creating!"
Cohen is still close to Sir Bob and the wider family – he spent the winter holidays with them, along with new girlfriend and friend of Peaches, model Daisy Lowe. Have they heard the record? Yes, apparently. I ask whether anybody has offered an opinion yet but I get given short shrift. "Yeah everyone's heard it, no-one's given me any thoughts," begins the rather terse reply. "Nobody has come to me and said I've done this great thing or had any opinion on it, since literally the basis of creativity is your experience and your life and you transform that and you turn it into something else." Fair enough, though it's still hard to imagine that the family wouldn't express an opinion about such a direct record.
Unsurprisingly, efforts to tease out much else in the way of lyrical commentary from Cohen are largely unsuccessful, though he does say that the candour of 'Bloom Forever' isn't as rare as we might think. "I'm sure every musician, pretty much whether they're making disco or grime or whatever, they're all trying to be or actually are being honest," Cohen argues. "That's music; that's being a lyricist and that's art. With their music there's nothing new, [the difference is] just that you don't already know their stories. They're telling you for the first time. A lot of times with songs you'll listen to something for ten years and only then you get what it's about."
Like David Bowie's final work before he died, I suggest, which was misconstrued when it was released – or was it? "Exactly! I mean when he put 'Blackstar' out it was meant to be about ISIS! It's only when you listen back to the song now…"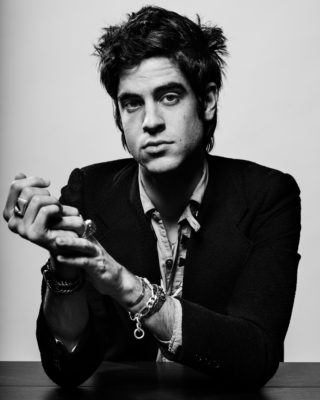 If Cohen is slightly evasive in discussing his lyrics, he's far more at ease talking about the new record from a musical perspective. A few days after our initial conversation, he speaks animatedly and candidly about his influences. For instance, it was in 2013, he says, listening to Scott Walker incessantly, that the seeds for 'Bloom Forever' were planted.
"I think Scott Walker is a good example of somebody who left a band and made music on their own terms, you know. That's what I did. I very much wanted to make a record which had my name on it, had an image of myself on the cover, much like a Scott Walker record or any solo musician's record. I wanted the same level of honesty – no particular alter-ego."
Like Walker's masterpiece 'Scott 4', 'Bloom Forever' is a proper singer-songwriter's album, the kind of rare full-scale affair that stands at odds with the sparse, DIY-style productions you'll find on most solo records nowadays. For anybody who's heard Cohen's work with his old band, this will all come as quite a shock: the icy, '80s-influenced post-punk of old has melted away and been replaced by '70s-tinged bluesy Americana and piano ballads. "I was fully conscious of the fact when I was making the record that I was making an entirely unfashionable, out-of-touch record that is really fucking weird," he says. "But that's what I am – entirely unfashionable, highly out-of-touch and really fucking weird! I don't fit into this high-profile projection of somebody else's concept of my life. At all."
So, people like Loudon Wainwright III, his son Rufus and Alex Chilton loom large, while Van Morrison was another major influence, Cohen says. "I really got into him on the record, while making it. What I did while making the record was find musicians who I really trusted, speak to them a bit, play them the songs, then allow them to just improvise on the top of it. I think it was that kind of element of them emotionally responding to what they were hearing and just playing in a certain style that I'd requested. Then we just improvised and improvised on the top – some of it was incredible and some of it we wouldn't use – and I found out later on that that was what Van Morrison himself did.
"We tried to keep instrumentation to a real minimum, too. I don't know if there's particularly any overdubbing or filling out. What you're hearing on the record at all times is just two guitars, bass guitar, drums, one vocal, backing vocal, a Rhodes and then there's a saxophone solo. For me that was an amazing way of making an album because it meant every mistake you could possibly make couldn't really happen, because you're not allowing yourself to overindulge in anything."
The album was written between 2013 and 2015 but was recorded in two stints in Reykjavik, Iceland – the first in August 2014, then again in 2015. The entire cast of session musicians involved were Icelandic and coupled with the tranquil environment surrounding the recording studio, it's entirely understandable that a sense of unhurried contemplation managed to permeate each of the nine tracks. The quirky limitations of the studio itself helped to lend the record some character too, Cohen says.
"We were in Reykjavik and I said, guys I really need a piano, but the studio didn't have one. We ended up locating one via my engineer. His brother owned the studio and his wife's great aunt had one, so we ended up heading over to her house – her piano was pretty much the only grand piano we could find in Reykjavik! Her husband was in his nineties but they were very sweet and accommodating while we were recording."
In keeping with the chronological sequencing, 'Honeymoon' was first recorded and released as a "non-single" back in 2013 before the rest – a six-minute, late-night stroll through Cohen's mind, replete with a jazzy saxophone solo. "I spent four months working on that one song, but that was at a time when I was able to do that – I had absolutely zero pressure or whatever," he says of the track, alluding to events to come. "Plus I needed to create what it was that I wanted to create, and figure out how to get there and do that. It was learning how to produce the music that I wanted to create without a label, without a manager or a band, and how you go about creating a six-minute song with a saxophone solo without all of those things!"
Certainly nobody could ever accuse Cohen of taking the easy route to solo success. Elsewhere across 'Bloom Forever' he takes in influences ranging from Big Star through to what he calls the "insane piano" of cult baroque pop singer Judee Sill in developing increasingly complex arrangements. "I'd much rather make a record that has some sense of fucking delusion in it than something that's perfect."
We're not being funny...
… but can you become a member please?
It's actually excellent value, and will help us continue to promote new independent artists and labels.
Sign up and you'll receive our physical magazines delivered to your door, our digital editions, exclusive podcasts and playlists and an actual bookmark, as if printing a magazine in 2021 wasn't old fashioned enough.
6-month and full year memberships are available now. Fancy it?