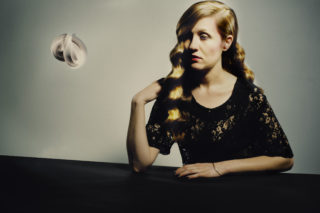 The understated, alluring RnB of Jessy Lanza
Sexy Back
Since signing to UK label Hyperdub, there's been quite a buzz building around Jessy Lanza. The Hamilton, Ontario native who has until now worked as a music teacher in order to pay the bills is on the cusp of something big, though you wouldn't know it to talk to her. As she laughs her way through our call with a disarming coquettishness, it's clear that she's excited at the prospect of her new life. Though I'm speaking to someone who is going through her opening spars with the music industry, the future is blindingly bright as Lanza faces up to a life of performing and recording full-time. And it seems that she couldn't be happier.
While she is quite clearly agog to get on the road and tour her work around the States and Europe, Jessy doesn't feel a sense of relief at leaving her current life behind. Indeed, it's telling how quick she is to point out the sense of duty she feels towards the children who attend her lessons. "It's kind of a struggle this Fall because school is starting again and I have to leave to go do tour stuff in November, so I'm wondering if I should start with my kids again. I think that it will take over," she ponders. "The recording and performing will be prioritised for a little while but I do love teaching, just because kids are hilarious, you know?" She giggles. "And although a lot of the music they listen to is really kind of terrible, I like knowing what 10-year-old girls are into. It's an insight that you wouldn't really get unless you had kids yourself, which I don't. Doing piano lessons or singing lessons with kids is fun. I love doing it."
In case you aren't familiar, Lanza's music is a gorgeously ethereal brand of RnB-infused pop. Sexy and yet smart, its delight often comes in the gaps between the sounds; a confident minimalism that's charged with electricity and void of the gratuitous close-ups that's lead pop music to where we find it today – with Miley Cyrus licking the air and rampantly twerking for the pleasure of Robin Thicke, a man estranged with subtlety and class. It feels like the imprint from the night before, the spectre left behind at the scene, not the car crash as it happens. While it's easy to describe music, especially that which is underpinned by predominantly electronic sounds, as nocturnal, Lanza's debut LP, 'Pull My Hair Back', seems to exist during that strange 5am twilight. It feels half-day, half-night. Wistfully ephemeral.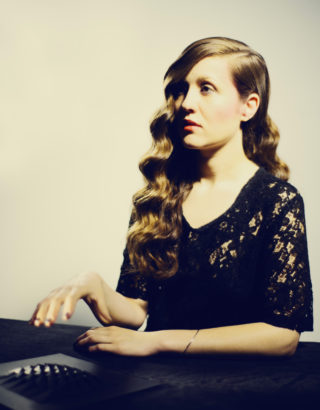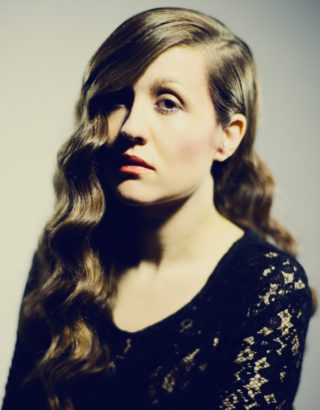 Her breathy, delay pedal vocals are a key component of that sultry sound, but she's coy on her abilities behind the microphone, saying, "I have always liked to sing but I always think of myself as being more of a piano player. I always admire people who have really strong voices, like soul singers like Evelyn King or Melba Moore, those crazy voices." She pauses and opens up. "I don't have a voice like that. But I think the vocals being treated and kind of washy is more a reflection of my anxiety of my own voice and my insecurity of it."
It's an interesting insight into her approach. She is careful to make the best of what she has, acknowledging her shortcomings and emphasising her abilities. "I like to make it interesting and idiosyncratic rather than it being this – boom! – presence. I don't have a voice like that so it's seeing how I can make it interesting or engaging without trying to be something that I'm not. That sounds like a really clichéd way to end it but that's what I've gone for."
A natural entry point for her sound is the album's lead single, the infectious 'Kathy Lee'. Its tinny snares skitter and stutter along, led by synth stabs which are wrapped around by Lanza's lighter than air vocal lines. When its climax finally comes, it arrives with subtlety, its ghostly chords weaving around the beats to devastating effect. The accompanying video pans around her hometown in the small hours, with the singer always just out of focus. I ask if mystique is something that is important to her, but my point is dispensed with straight away. "It's not one of those things I want to maintain," she says, "like a mystery about what I look like. I've got other promotional pictures where you can see my face fine. I thought for the video it would be more interesting to have me as a peripheral person and have this guy, Jed, who's the dancing guy in the video. There are so many videos with female artists where it's all just them and they're really boring to me."
For anyone wondering about the enigmatic star of the video, he wasn't pulled from a casting agency. Instead, he was found on the streets of Hamilton, another hint at Lanza's DIY ethic and her ability to make something out of nothing. "He's just some guy who dances around Hamilton. We literally call him Jed the dancing guy. He just dances around. He's religious. You see from afar and you think that this guy is schizophrenic but he's actually…" She's careful to make sure she chooses the correct words. "Well, I'm not saying that he's a normal guy. He's definitely weird but he's not crazy or anything. I think that something happened in his life. His mother was sick or something and then she got better and he said that, if she got better, he would dance or sing for God every day. He's very evangelical. That's his schtick."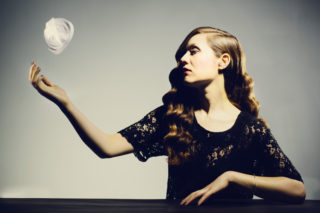 Taking the bleak landscape of the town as its setting, I am keen to find out if Hamilton has had an influence on a sound that, for all its breathiness, has some unashamedly cold, hard edges. She politely says that it hasn't, though the two things work beautifully together. "I do all my listening in my house through the Internet," she says, "but I grew up in Hamilton. Jer [Jeremy Greenspan of Junior Boys, who's responsible for a majority of the production on 'Pull My Hair Back'] is from Hamilton as well. We both love the city for different reasons. I'm trying to think of some of the shots in the video. It's one of those places that was a really great city but then in the 70s it totally went to shit. It has some hard-hit areas but it's pretty amazing in some ways. Like, there are amazing buildings and neighbourhoods. It is pretty desolate in places but that makes it interesting."
An interesting arc to Lanza's narrative is that quite a bit of the equipment she uses to make her music was inherited from her father, who passed away when she was in her mid teens. "It's weird," she says. "He bought this 909 that my cousin swooped in on and got a long time ago. It sucks. There's nothing I can do, but it's fair and square. My dad passed away when I was 16, so I was just getting to the age where you start to get perspective on your parents as people. The Polymoog, I remember he used a bit. But my parents played in rock bands, so I'm not sure… I think that he'd heard the 909 and thought, 'This is the best new drum machine.' And he was a teacher as well so he had extra money to throw around. He had a studio in the basement and that was his place that was his get away from the family."
Sadly, there was no overt passing of the baton from Mr Lanza to his daughter, but it's a nice legacy for her father to leave to Jessy and the family. "For sure," she says. "It definitely makes my mom happy. And me."
Though Jessy's music benefits from minimalist, butter-slick hip-hop percussion and textures lifted from modern electronica, her abilities are built upon a knowledge of the workings of jazz. She did her undergraduate degree in the art, and she believes this has allowed her to dismantle the songs she loves and work out how they're put together before synthesising something entirely new. She says: "With studying jazz, a big thing is learning other people's songs and having the ability to hear and lift chord progressions. I got really into learning other people's stuff." This led her to an understanding of RnB that permeates her recent work. "A lot of chords that are in RnB songs are jazz chords that are simplified and played on different instruments and synths," she explains, naturally a teacher. "But it's a lot of the same repertoire of chords. So it's kind of easy for me to learn my favourite, I dunno, SWV song. So it was a natural progression." Yet it wasn't until a chance meeting between Jeremy Greenspan and Steve Goodman of Hyperdub that things began to get serious.
"The album definitely came first," she says, "except that we added a couple of tracks at the end. Jeremy and Steve are friends from a long time ago, so they go back a long way. And they saw each other last year at a gig somewhere and Steve was asking him what he was working on and could he hear some tracks and he played him some of the stuff that we were working on and he actually liked it, which I was really blown away by. We sent him everything we had done to that point and there were a couple of tracks that he was just like, 'I don't want to use this so you guys need to come up with something else.' So the majority of it was done and then we had to add a couple of tracks to fill out the album."
As well as the transatlantic recognition that's been bestowed upon her, the realisation of her sounds in a live forum is also a relatively recent development. Jessy's been playing live sets for a little over 12 months, gradually mastering her simple set-up of a couple of synths, a laptop and a delay pedal for her voice. "I've done shows here in Canada but it's only been a year that I've been playing live really. It's just been in Hamilton and Toronto so far."
The good news is that we'll be able to see her enact her one woman show on British shores soon. "In late November I'm going to come to do a bunch of shows in Madrid, London, Amsterdam. We're ironing things out but I'm definitely going to come over end of November, start of December."
Before we say our goodbye's, as with any emerging artist, I'm keen to find out what Jessy would view as success for her debut work to which she errs on the side of caution, beginning each of her desires with the word 'just'. "Just the ability to tour and keep on making tracks," she says. "That's all I want. Just that people are interested. I want to be able to play and for people to be interested in what I'm doing." With the depth of positivity that her music has been garnering of late, that already looks like a very modest request indeed.