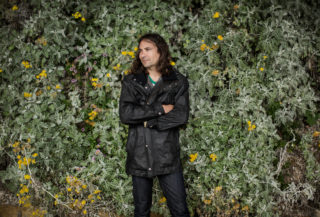 The War On Drugs personal battles are long and enduring, but they gave us 'Lost In A Dream'
I'm deep in the middle of a sell-out show on Brighton seafront when Adam Granduciel takes the stage. It's hot and the assembled crowd juggle drinks and jostle elbows for space. In two days time Granduciel and his bandmates will play the Pyramid Stage for a performance that isn't simply their Glastonbury debut, but a career milestone that caps off a troubled but productive period. Granduciel has been on something of a journey, from wrenching anxiety and paralysing self analysis to the release of what many will consider the album of the year.
The last time The War on Drugs played in Brighton, Granduciel could have died, from the seismic electric shots coming from his microphone. While the show was stopped to fix the fault, the band went to their green room, picked up their rider, returned to the stage and shared it out amongst the crowd. "Looking back, it was a really good time".
Tonight's atmosphere is surprisingly joyous, considering most of the songs from the project's third album, 'Lost In A Dream', encompass depression, fear, anxiety, loss and self-doubt.
The next time I see Graduciel is the following afternoon, when we meet in the breezy confines of a beachfront café. The added danger here comes from flying volleyballs from a series of sandy courts adjacent to our table. In person Granduciel is an eloquent, friendly and insouciant figure, taller and younger than he looks on stage, with a mop of dark curly hair, a well-worn T-shirt and a clear speaking voice that belies the gruff, wistful tones of his recordings.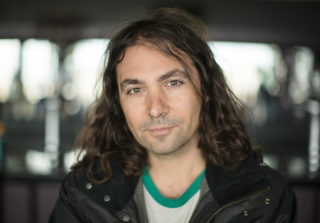 It's fairly fast that talk turns to last night's performance and Granduciel's enjoyment of the live experience. Nowadays, The War On Drugs are a taught act, but this wasn't always the case. "Back in 2007, me, Kurt (Vile), Dave (Hartley) and some other drummer would go to New York and play, but we wouldn't even practice," he says. "People would show up at our gigs and write about how unprofessional and awful we were but… I mean, they were right, we were shitty. We didn't know how to play half of our songs, we were out of time and while there might have been a few moments of magic, for the most part it was a train wreck to watch. But last week we played an outdoor show in New York to four and a half thousand people and it was excellent. It made me feel like we've come so far, which is great for all the people who've stuck with us from the start."
"I mean live, even if we are just blasting through songs and it sounds like shit to me it still sounds good, because I have a great sound guy and I'm surrounded by great players.
"I had an awful Primavera experience, for example. Everything about it was super fucked up. I couldn't hear myself, I was pissed off and I played the whole set thinking I'd embarrassed myself. Then I watched a video of the gig and we were fucking incredible." He pauses for a moment. "Y'know, this band is like a rare commodity now… we're a real rock and roll band and I think people appreciate that"
"I guess I'm just constantly selling myself short or think that everything is fleeting, but I'm just starting to recognise – like in the last two months – that this is something that won't be fleeting thing in my life. I always assume that if we have a bad show then everyone will just write us off. But looking at it now, I feel like we've worked hard over the years to build a fanbase of people that love the music and the live shows, and that's great because they're the people who'll stay with you for a long time."
Granduciel's disbelief in his own achievements is an endearing trait in the face of the near universal acclaim that 'Lost In A Dream' has generated. "I couldn't rely on an income from music until maybe two years ago, so I guess it still feels like kind of a surprise," he says. "Before then I had a bunch of jobs, but my favourite was in a carpet store, where they manufactured, imported and sold rugs. I worked in wholesale and I think I was pretty good at it, I was just this kid who chained smoked and sat on the phone all day; it was me and these two women who'd worked there for fifteen years and were always bickering."
Granduciel talks highly of his past employer and his commitment, not only to the sale of rugs, but to the high quality of the product. It's clear that it's the kind of integrity to the creative process – be it making a rug or making an album – that he admires. "Oh no, I'm never going back," he laughs when I ask if he liked the job enough to return to it one day.
Born Adam Granofsky, Granduciel grew up in Dover, a small town 40 minutes southwest of Boston; a place where by his own reckoning there was "literally nothing going on." The middle child of three, he found his own way into music rather than through his parents or siblings. "My dad is 20 years older than my mom," he says, "so he was into classical music, and big band Jazz. Frank Sinatra was probably too renegade for him and free jazz was just hippy shit.
"My mom was a child of the '60s, so she listened to Roy Orbison and George Harrison. I remember when I was a teenager I uncovered her record collection at my grandmother's house and was like, 'Ooooh shit, this is where all the good stuff is!' And for a while, I felt weird, cause I would always meet other musicians who'd had this musical inheritance ingrained in them from their family and I'd think, maybe there was something wrong with me, maybe I'm not supposed to do this because it doesn't come naturally or it's not in my blood or something. But I've learned that it doesn't have to be that way." He pauses for a beat. "I mean, maybe my Mom and dad had it too, but they just never tapped into it, right?"
Granduciel didn't go straight into music after leaving home and instead took the path to college, he says, at request of his father – a man who was big on education. He studied art history and fine art, with a love for painting but without the patience for it. "I wanted to step straight into the role of the tortured artist," he says, "but y'know, you can't just start weird, you have to have technique and form before you can get weird. It's like music too – there's still a lot of techniques I could get better at but I don't mind the journey, unlike painting where I lacked the discipline. It all worked out, because what I was studying has influenced the way I work now, and I try to approach music the way some of my favourite Modernist painters did, by throwing a bunch of paint on a canvas to get a really big wash of colour, then scraping away at it until they had something that worked."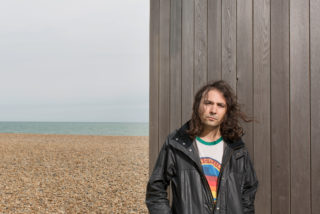 After graduating, Granduciel went to California and started to actively pursue a career in music in between waiting tables. A restless couple of years followed, before he was ready to move on again, this time to Philadelphia, the place that – a decade on – he still calls home. And while this move wasn't prompted by education or adventure (it was for a girl), it saw him fall in with Philly's burgeoning music scene. "I hadn't grown up in a place where music was a career option. I mean, aside from listening to music and going to shows, no-one I knew was doing it. Even kids at high school who were super serious about music ended up going to college and getting real jobs; it was never something they would pursue for a living. But in Philly I'd go to local pubs like The Kyber and see my friend's band playing and they'd sold out the hundred capacity venue, which I thought was the coolest thing ever. I would think, these guys are going to be huge, and of course they weren't, but on a Friday night, in that bar, in that town, everyone thought they were fucking awesome. And later I'd see them around town and be sort of intimidated by these guys in these tiny rock bands, because there's wasn't a world I'd come from".
It may not have been a place that felt natural to Granduciel but, after a chance meeting with Kurt Vile, the pair began what was to become a long time collaborative friendship, and the genesis of The War On Drugs. The pair formed the group's first incarnation in 2005, when they self-released a debut EP.
'Lost In A Dream' is a stunning album by any normal standards; swirling guitars and densely packed layers of synth jammed into ten of the most cinematic, straight-up guitar songs you'll hear all year. It feels like the next evolution for The War On Drugs; if 'Wagonwheel Blues' – written in collaboration with Vile – set up their humble beginnings, and 'Slave Ambient' – Granduciel's first album working alone – applied its focus on crafting dense soundscapes, then this is the first LP in his catalogue to feel like it has a genuine authorial stamp. It's something Granduciel intended.
"At the time, 'Slave Ambient' was the most experimental record I could conceive, just because how it was done and the amount of time it took, but you can only do something that way once. So for 'Lost In A Dream' I wanted to step out as a writer instead of just a front man of an indie rock band and make a record that might change and evolve over time. I wanted to see if I could write songs that could stand alone and didn't need to be locked into sounds and samples.
"It's all about the mood in these songs; that's what I tend to chase. That's not to say I want to keep them small and lo-fi or anything, I just want to capture the feeling I was in at that moment. And it's those sounds that excite me – something mysterious, dark and a little bit melancholy but can also be crafted into a larger work, which sounds like a full band.
"After the second record, I knew in my heart I was a musician and how seriously I took the process of creating those songs," he says, "but I wanted to take the writing side a little more seriously too and really think about what I was saying, or what I wasn't saying. All my favourite artists are singer-songwriters, with, for better or worse, an on-going story. I don't know what my story is yet necessarily, but I guess I just wanted to write songs that I could look back on and feel proud.
"I read recently that some people think that once artists find their muse – that first thing that forced them to create, whether it's a feeling, an emotion or a relationship – that's what they always go back to and I am still going back to that moment when I was in California and feeling directionless about my life. I still feel like I am trying to capture whatever I was feeling back then."
Much has been made of just how personal 'Lost In A Dream' feels, which is in no small part due to Granduciel's openness about the issues he experienced with anxiety and depression during the recording of the album. There's a darkness to the record that belies its upbeat tone and carries the listener on a journey from dark to light; from the chaos of instability to serenity in the unknown. It's such a strong through line on the album, you have to wonder, with everything that's been written, if this sequencing wasn't thoroughly intentional?
"I guess the first half is a little… errr… not dark, but it's certainly about tension and then as the album progresses it becomes about opening yourself up to the world, or opening yourself up to whatever might happen in life. I could tell there was a story in my song cycles, but I guess it was unconscious because I was so close to the music.
"Looking back, it's funny because I'd had already given names to the songs 'Under the Pressure' and 'Suffering' long before I was feeling stressed. It's not like I wrote those songs specifically about what I was going through. I didn't write 'Suffering' because I was in the middle of a panic attack, but when I was listening back six months later I was like, 'Oh, shit, I've been working on this song and only now I'm in this fucked up state.'"
Granduciel's period of illness was spurred on by a confluence of events, as he found himself in the middle of a break-up from his long term girlfriend, adrift from his community – years spent on the road (not only with The War On Drugs, but as part of Vile's backing band The Violators) left him feeling isolated from his friends in Philadelphia. And it began to affect everything about the way he once worked.
"I just wasn't losing myself anymore," he says. "I had a studio in my house but I wasn't staying up at night getting high and fucking around on my tape machine because I was too scared to smoke weed in case I had a complete nervous breakdown. I was resigned to not leaving my bedroom and just listening to a handful of demo's I'd finished before I went into this mental collapse and I started having physical manifestations of this panic and anxiety."
Perhaps unsurprisingly for someone as determined as Granduciel, this period didn't totally prohibit him from working, although it's clear the single-minded way in which he wanted to get things done fanned the flames of his health.
He explains: "I was still actively writing, I just didn't want to be at home and I didn't want to have a fucking bunch of half baked ideas recorded on tape. I think that my anxiety fed into wanting to work on the album all the time in a real studio and make it sound awesome. I wanted to come up with ideas, practise at home, go into the studio six weeks later, have six songs to work on and know what I wanted to do on those songs. I thought if I could be super focused on the music, then I wouldn't be focused on the sensation in my neck that I was convinced was cancer. In my house, working on music when it's only me, I had too many fucking distractions and those distractions were fucking me up.
"I found the wait in between sessions awful. I originally thought we were going to block out four months so we could work on the record, but because of scheduling for Jeff (Ziegler – Granduciel's long-time engineer) we just couldn't. All we'd have was four days and no more time for two months. I just felt upset that I could only work on the thing I wanted to devote all the time to in little blocks of four days or six days. I mean, I love Jeff – he's my closest musical confidant, closer than anyone in the band. I trust him to make decisions that make the music sound awesome; he's the only guy I would ever let have any influence over my vision. I hope to work with him for a really long time, and I'd like to think he knows that. But at the time I felt like, 'I'm your biggest fucking client right now and you're fucking me!'
"Of course, none of this is unique to me, a lot of people deal with it, but it's a crazy way to live life. I mean, it's not gone away, I still get weird moments, but now it doesn't send me into a cave like it would have a year ago. I'm just trying to think more rationally and less emotionally. You have to just get to that point where you feel that twinge in your neck and you ignore it, because it might be a brain tumour but it might be nothing, and you can't do anything about it either way."
With such a turbulent and elongated period of recording and realising the album in its finished structure, one of Granduciel's biggest worries was momentum, and much like the restless movement in his youth, he found himself losing focus on what excited him while he got too comfortable in one place. "There was a point in the summer when Jeff and I had been working on the album for over a year, but I was worried all the life has been sucked out of it. "I mean, it's my music and I can't expect everyone else to be interested in the never ending possibilities of a song. I realised that if I wanted stay enthusiastic, I would have to go somewhere else to finish it, so I went to the Rare Book Room in New York and that was where the songs took their final shape.
"So much good came out of those sessions," he says. "I mean, 'In Reverse' was basically written in mixing through a series of beautiful coincidences, while I hated the version we mixed of 'An Ocean In Between The Waves' so much I re-recorded it from scratch over a two and a half day period. It had gotten away from me and I knew exactly what I wanted it to be so I went back to the original demo and started again. I think everyone thought I was crazy, but I'm happy I did it because it's an entirely different version of the song. I guess I've just learned to trust my instincts a little more now and to take advantage of whatever enthusiasm you have, because you might not have that forever."
It's an interesting thought and one which I press Granduciel on – was there ever a time when he thought the album might not get completed? Was there a moment when it seemed insurmountable considering all the mental effort he was devoting to it?
"I never really felt like I wouldn't finish it, no, but I wanted to make sure that I finished it the way I wanted too and that was by being excited about each song right up to the very end of the process."
When I mention the record's clear success a wry grin breaks across Granduciel's face. "Oh man, yeah… okay so I'm grinning because I get embarrassed" he laughs. "I guess I'm coping with that by forcing myself to remember what made it so special, remember the opportunities that that has opened up for the band now and to not necessarily take those things for granted. And to still respect why people are connecting with it. I have to remember that people dig 'Red Eye', for example, not because it sounds like Springsteen, but because I spent a year and a half working on the arrangement before I recorded a note of that song. I suppose what I mean is, while I am thankful for the acclaim and I love that I can do this for a living, I can't forget that none of this comes naturally to me. I'm not the guy who sits in the back of a tour bus, writes a song, plays it for my friends and it's amazing. This takes some time and a lot of effort"
"Some people are raised with a lot of self confidence but for some reason I have this fear… like crazy fear, and maybe it is as black and white as I don't want to fail. But I just want to be as awesome as I can be and I think that will always be there. I mean it would be nice if I could just make a record, think this is what it is and I hope you like it, but I still have to go through that process where I capitalise on as many moments of inspiration as I can and that will hopefully translate onto my music."
Granduciel and I wander back to the tour bus outside the venue and catch a few moments of tUnE-yArDs soundchecking for her show this evening. We say our goodbyes and he heads off to explore the town. The following day he's on my television, on Glastonbury's Pyramid Stage. 'Red Eyes' has reached its chorus and, in one of those fortuitous moments that only happens at Glastonbury, the sun broaches the clouds and lights up the site. It's a moment that both the crowd and the Granduciel seem to find surprising, and as the crowd cheer and the band come alive I'm reminded that we're all just scratching away at the surface.