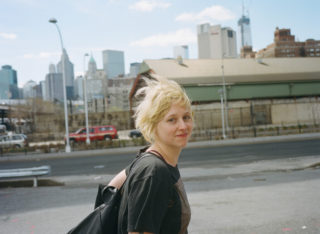 Waxahatchee and her confessional brand of lo-fi acoustic indie rock
Salt of the earth
The delay on the line between London and Philadelphia means that the opening few minutes of my conversation with Katie Crutchfield prove tougher than anticipated. We repeatedly talk over each other before settling into a rhythm, and she sheepishly admits that she had forgotten I was going to call. She sounds a little hoarse but she's in a sunny mood, eager to proffer as much information as she can. Considered in her responses, she politely but firmly ensures that her story won't be written for her.
With acclaim being bestowed upon her from all angles since the release of her second album, 'Cerulean Salt', it must be strange to get all this attention. "It must take a little getting used to," she agrees. "It's fine, talking to people and stuff, but it's a little bit weird. I did an interview yesterday and someone called me from Ohio or somewhere, and they called like four times and I was like, 'Who the hell is this calling me?' And then I realised."
Katie takes her nom de plume from Waxahatchee Creek in her native Alabama, where her parents have a house, and it's a worthy metaphor for a musical oeuvre that is deceptively deep. Indeed, if at first it seems like 'Cerulean Salt' is a straightforward affair, it's only because you haven't taken the time to dive into its carefully constructed dramas and astonishingly stark confessions.
On the surface, her songs reprise the lo-fi indie rock and acoustic sounds of the 1990s, finding antecedents in The Breeders, Pavement, Neutral Milk Hotel and, at their most tender, a fledgling Cat Power. However, it's when engaging with her brutally honest words and achingly detailed visual scrapbook of personal scenes that the songs really begin to unfurl and reveal their understated power. "I had a dream last night, we had hit separate bottoms," she sings on 'Lively' with a vocal delivery that's wilfully dry, prizing wryness and subtlety over literalness and bombast.
"Part of the reason I don't really write happy songs or really angry songs… I feel like my delivery's sort of key," she says. "I feel that if it was melodramatic I couldn't deliver it in a way that wasn't completely cheesy. So it's on purpose, this sort of matter of fact delivery. I think that's my style and I couldn't do it otherwise."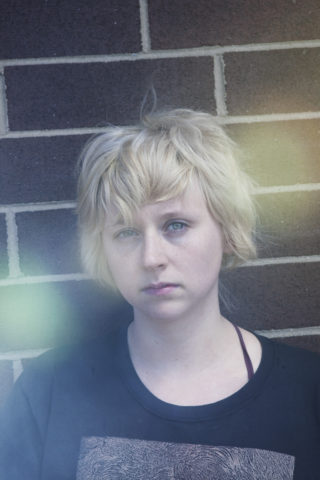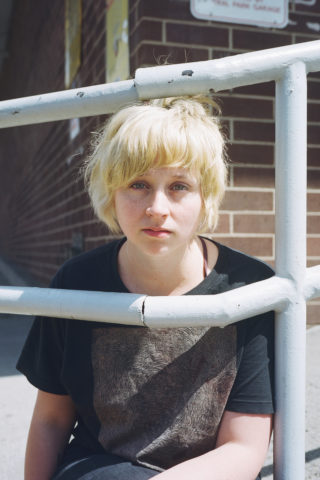 The sun slipping into the darkened bedroom in 'Blue Pt II', or her boyfriend's playful honk of the car horn as he tries to hurry her up on 'Swan Dive', are imbued with an almost imagistic sharpness of focus. It gives the songs a personal, human quality that's rarely seen in any of the arts, let alone in indie rock. "I think specifically for the new record a lot of the songs are pretty nostalgic," she says. "So me depending on my senses and my memory in order to remember a specific time. I feel like that's something that I probably do anyway; rely on my senses and what I felt and what I saw; the little things that paint the picture of what I was doing, or physically where I was. I feel I need that because, you know, it's just me writing about a thing that happened to me. And if people can put themselves in that position or relate to that then that's really great, but I've used the little nuances to paint the picture for myself."
Katie's own creative narrative has a definite punk vein pulsing through it and her ethic is very much driven by a desire to use whatever resources she has at her fingertips at any given time. Her boyfriend is one quarter of Philadelphia pop-punks Swearin', for example, a band that also acts as a creative outlet for Katie's sister, Allison, since the Crutchfields' own band, P.S. Eliot, split up. They both feature on her songs.
Katie explains: "I went to Alabama with my boyfriend, Keith Spencer, with the intention of me working on my record and him keeping me company and we ended up sort of putting them to drums and adding instruments and he sort of helped me. I really had fun with that collaboration."
'Cerulean Salt', however, was a much more complex process than her 2012 debut, 'American Weekend'; an altogether more pared-down, acoustic affair compared with its younger, more dynamic sibling's bent for electricity. "I wrote the songs sort of in the same way," say Katie. "I didn't write them all in one week, but it was… like, I wrote five in a week and then I wrote two more in the weekend. I wrote them all very quickly. And then the process of fleshing them out took a lot more time and energy. We ended up recording a version of the record the same way I did 'American Weekend', so it was pretty lo-fi, but it didn't transfer in the same way – with all the instruments it was too blown-out.
"We ended up re-doing the record with Kyle Gilbride, my room mate, who's in Swearin' with Keith. The three of us just sort of collaborated. So it's my songs, my lyrics, my melodies, but all of the little nuances and a lot of the fleshed-out versions of the songs were more collaborative, and I found that process a lot more fulfilling."
Indeed, you get a sense that Crutchfield and co. have managed to create a fertile scene all of their own in Philadelphia, taking the ethic of the fabled London and New York punk communities and condensing it down into miniature. "Everything's connected between Waxahatchee and Swearin' and a few other bands," Katie enthuses. "I mean, Swearin' practise in my basement."
On the break-up of P.S. Eliot, however, Katie wants to make clear that the project has disbanded. "We've [herself and Allison] never really written music together, but we're still hopelessly involved in each other's lives. That transition was interesting because the three of us that were the core members for the longest time – Catherine, Allison and myself – the three of us live together now and we're all best friends still. But we weren't doing anything with P.S. Eliot. Our focus had shifted but the rest of the world's focus hadn't shifted yet."
Katie's begun writing songs with Keith too, harnessing a creative spirit that seems to abhor repose.
"We have a band together, just the two of us, called Great Thunder. Genre-wise it's all over the place, and a lot of the time we write together. That's the first time I've done that with anybody. It's fun – for me, at least, it's completely different from my Waxahatchee. My technique in that band is to… as soon as I get a tiny bit of an idea, I put it down and make a song out of it immediately, whereas with Waxahatchee it's a little more complex. Lyrically, it's more personal. Great Thunder is more abstract. It satisfies different elements of my creative energy," she says with a burst of laughter.
But writing songs – often emotional songs – with your boyfriend, isn't that dangerous ground for unintentionally revealing thoughts and feelings best left unsaid?
"I find myself more, in that process, being like, 'Oh yeah, that's perfect. I knew that you thought that, and you put it down in a really eloquent way and that's awesome'. It's more often that than a weird confessional," Katie laughs again.
The idea of place is extremely important to Crutchfield, too, and she's become something of a musical itinerant in her quest to balance friends, family and a blossoming career by existing between Alabama, Philadelphia and New York. The constant movement can be a nuisance.
"I said to my sister the other day that it's just not natural to exist in so many places in such a short amount of time. I could see eventually wanting to pare that down a little. I live in Philly but I'm in Alabama all the time and I'm in New York a lot of the time. Just going back and forth between those three places is a lot, and then when you throw touring into the mix it's a lot of travel." Katie pauses. "I say that it gets old, but I've been in Philly for less than a week now and I'm already ready to go somewhere else."
'Cerulean Salt' has been picked up by London indie Wichita Records who'll release the album in Europe this coming June. It means that a much bigger trip for Waxahatchee is on the cards this summer, and Katie's excitement at indulging her wanderlust is obvious.
"I've never been outside of the country, other than Canada, so I haven't been to any of the places that we're going," she buzzes. "I've been touring here for seven or eight years so I've been just about everywhere you can go in this country. There's so much potential and I don't know what I have to look forward to.
"I do love touring but once you've done it so many times, it's so much time out of your year so it gets a little bit old. Like, I love San Francisco but do I need to go there again this year?"
Having released albums in 2012 and 2013, it would be a shame if touring commitments stifled Waxahatchee's prolific recorded output, but she's circumspect when it comes to her next move. "I haven't really even started writing another record yet 'cause I've been really busy and I also have other bands and we've been working on a couple of releases, so I think once it all starts to slow down in the Fall I'll start to focus." With a nascent back catalogue as perfectly formed as her own, Katie Crutchfield can take all the time in the world.
Please support Loud And Quiet if you can
If you're a fan of what we do, please consider subscribing to L&Q to help fund our support of new musicians and independent labels
You can make a big difference for a few pounds per month, and in return we'll send you our magazines, exclusive flexi discs, and other subscriber bonus bits and pieces
Try for a month and cancel anytime