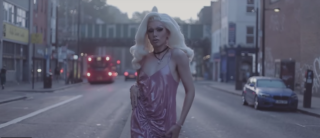 EERA's new video has Douglas Dare dancing at daybreak as his alter ego Ruby Waxwork
'I Wanna Dance'
Douglas Dare is best known for the two albums he's released on the excellent Erased Tapes label.
Outside of music he's also passionate about drag, and more, specifically his current alter ego Ruby Waxwork. And Ruby has just made her first appearance on camera, in the video for Norwegian London-based artist EERA's – Anna Lena Bruland – latest track 'I Wanna Dance'.
It couldn't be more appropriate. In the city's dawn light, Ruby dances her way around east London's deserted streets, only a few night buses and pigeons for company. Presumably it was either a very late night, or an early start.
It provides a glamorous counterpoint, to the noir-rock shades of EERA's infectious songwriting.
Following up her self-titled EP last year, EERA is due to release her debut album 'Reflection of Youth' via Big Dada on 3 November. She plays Rough Trade in Nottingham on 7 November, and Rough trade East in London on the 9th. And, just announced, she'll be supporting Ghostpoet on his forthcoming UK tour, which calls at the following places:
Liverpool, Invisible Wind Factory – 25 October
Newcastle, Riverside – 26
Glasgow, Broadcast – 28
Sheffield, Plug – 29
Leeds, Brudenell Social Club – 30
Birmingham, Mama Rouxs – 31
Cambridge, Junction – 2 November
Oxford, Academy 2 – 3
Dover, The Booking Hall – 4
Leicester, Academy 3 – 6
Nottingham, Rescue Rooms – 7
Brighton, Concorde 2 – 8
London, Printworks – 10
Manchester, Academy 2 – 11
Norwich, Arts Centre – 12
Portsmouth, Wedgewood Rooms – 13
Bristol, Marble Factory – 14
Free Protomartyr flexi disc with this month's magazine
Subscribers to Loud And Quiet now receive a limited edition flexi disc of a rare track with their copy of the magazine
This month's disc is from Detroit punk band Protomartyr